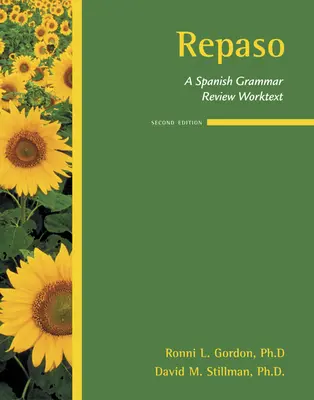 Repaso: A Spanish Grammar Review Worktext
2nd Edition
By Ronni Gordon and David Stillman
ISBN10: 0073534366
ISBN13: 9780073534367
Copyright:
2007
Product Details

+
McGraw-Hill World Languages is pleased to include Repaso among our titles for the Intermediate Spanish course. This single volume textbook, now in its second edition, provides a comprehensive grammar review. Ideal as a stand-alone text for intermediate grammar review courses or used in conjunction with a separate literary or cultural reader, Repaso reviews and refines students knowledge of Spanish grammar; it is also suitable as a grammar reference for students at all levels.
Read more +
---
Instructors: choose ebook for fast access or receive a print copy.
---
Program Details
Chapter 1: Present Tense
Chapter 2: Stem-changing Verbs and Verbs with Spelling Changes.
Chapter 3: Ser and estar
Chapter 4: Preterit Tense
Chapter 5: Imperfect Tense
Chapter 6: Future and Conditional Tenses
Chapter 7: Reflexive Verbs
Chapter 8: Past Participles and Perfect Tenses
Chapter 9: Passive Constructions
Chapter 10: Gerund and Progressive Tenses
Chapter 11: Subjunctive: Present and Present Perfect
Chapter 12: Subjunctive: Imperfect and Past Perfect
Chapter 13: Subjunctive in Adverb and Adjective Clauses
Chapter 14: Commands
Chapter 15: Infinitives
Chapter 16: Nouns and Articles
Chapter 17: Adjectives
Chapter 18: Demonstratives and Possessives
Chapter 19: Pronouns: Subject, Object, Prepositional
Chapter 20: Relative Pronouns
Chapter 21: Adverbs
Chapter 22: Prepositions
Chapter 23: Interrogative Words and Question Formation
Chapter 24: Negative and Indefinite Words