Our Commitment to Social Responsibility
Creating a Brighter Future for Learners Around the World
As a Learning Science company, our vision is to unlock the full potential of each learner by providing high-quality instructional materials that are intuitive, engaging, efficient and effective – grounded in research. At McGraw-Hill, we also give the best of ourselves – within the communities in which we live and work, through our environmentally responsible business practices and in our unwavering commitment to transparency and integrity in all we do. Working together, we are helping to create a brighter future for learners around the world.
Supporting Education and Our Communities (2018 Results)
Honoring Educators Who Unleash Human Potential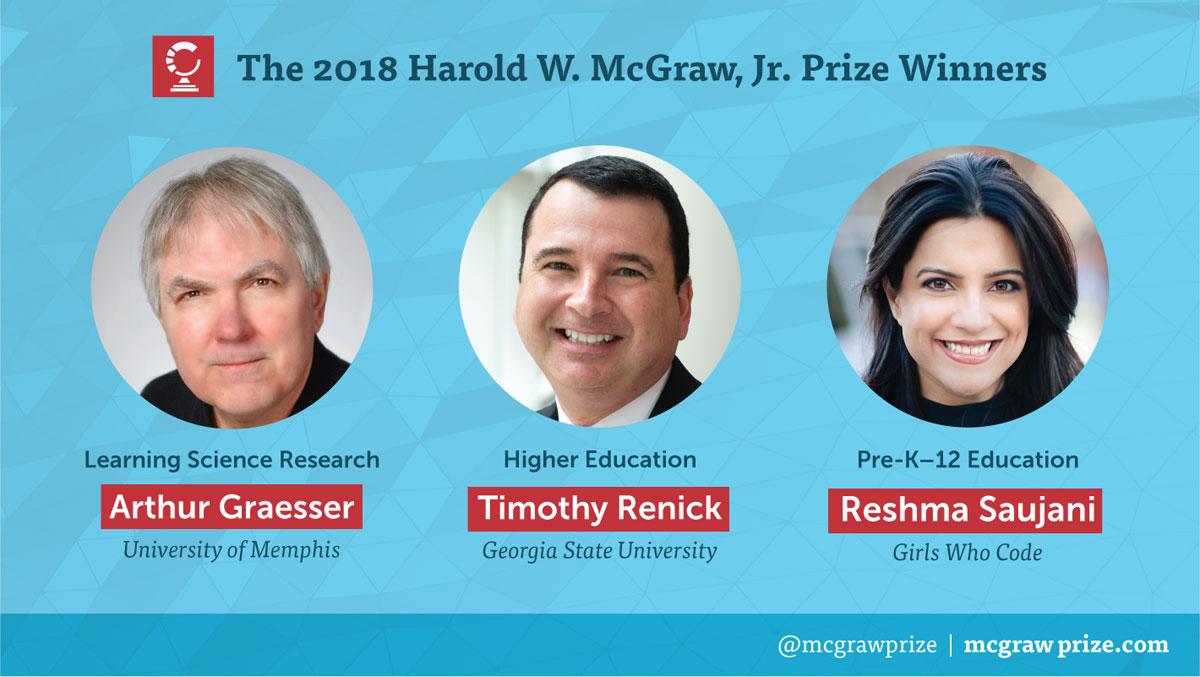 The Harold W. McGraw, Jr. Prize in Education acknowledges individuals and their efforts to elevate human potential in education in three categories: Pre-K-12 Education, Higher Education, and Learning Science Research. McGraw Prize winners come from across the globe and have included such visionaries as Geoffrey Canada, Wendy Kopp and Sal Khan.
Managing Our Carbon Footprint
We use third-party chain-of-custody forest certification for the paper we purchase directly in the U.S. In 2018, we obtained certification on more than 99 percent of our purchases.
We require endorsement of our paper policies by all manufacturing vendors that supply us with paper in the U.S. Additionally, in 2018 we issued a survey to all international paper mills we use to ensure compliance with environmental regulatory requirements. We do not buy paper that uses fiber from High Conservation Value Forests.
We actively manage a global real estate portfolio of offices and warehouses. Since January 2014, we have reduced our footprint by nearly 1.5 million square feet through the implementation of new office design standards and a global warehouse consolidation initiative. Our 139,000 square-foot building in Dubuque, Iowa is Gold LEED certified and exemplifies our long-term commitment to smart environmental construction and real estate management. We also participate in environmentally smart initiatives, such as recycling, landfill avoidance and demand-response programs to help reduce stress on the electrical grids in our communities.
Acting with Transparency & Integrity
McGraw-Hill and its employees are committed to integrity, honesty, and good faith in all of our dealings. We maintain a Code of Business Ethics (COBE) on which all employees receive training each year. Each employee is required to acknowledge and agree to abide by the COBE annually as a condition of employment.
Committed to Diversity and Inclusion
Maintaining a diverse and inclusive work environment is reflected in the core values of McGraw-Hill. We rely on the unique perspectives, skills, and backgrounds of our employees to give us a truly global perspective. We're committed to the principles of equal employment opportunity for all employees and applicants for employment. Learn more.