Connect Instructor Support
Tools and Best Practices
Learn how to organize assignments, sync with a Learning Management System (LMS), access instructor resources, and more! Let us provide the Connect help you need.
New to Connect? Watch These Videos to Get Started on the Right Track.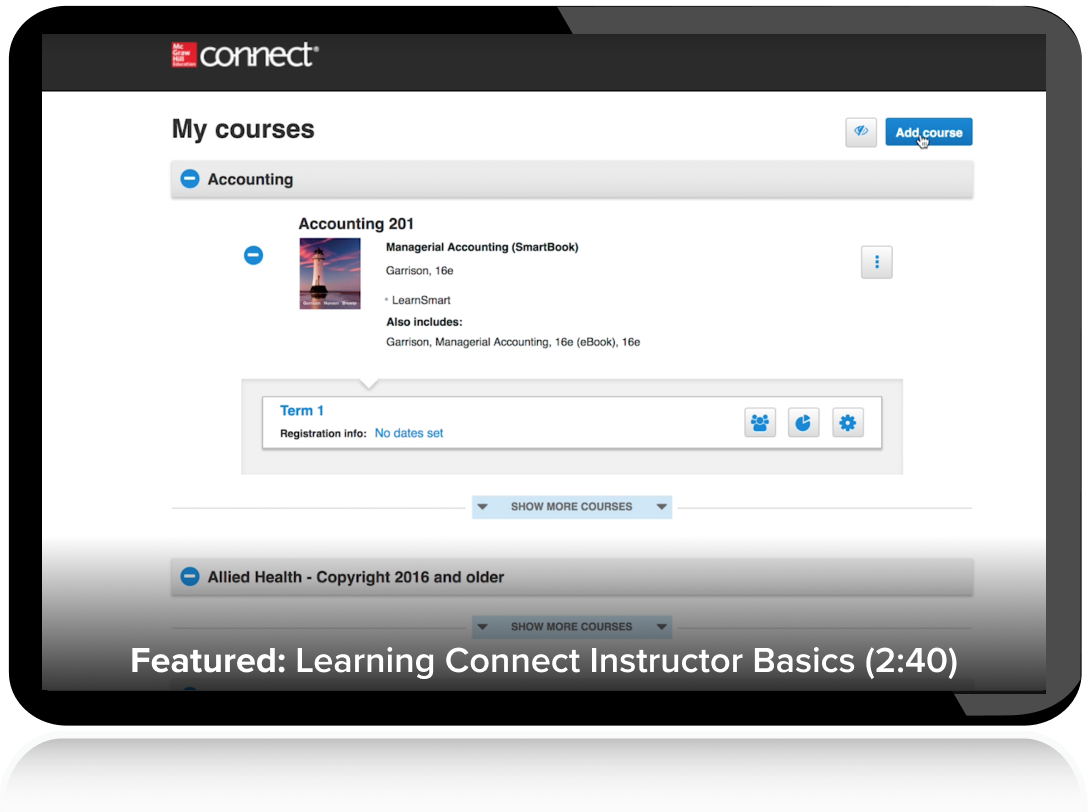 Syncing Your Course with Your Learning Management System (LMS): Select your LMS and watch the how-to video.
Looking for More Connect Support?
Below are videos and guides for the most common Connect instructor support topics.
Please contact us if you can't find what you need, and our team will be happy to assist.
From setting up basic policies to syncing with a Learning Management System, we've got you covered.
Reusing Your Connect Course For a New Term

Learn how to take an existing Connect course and reuse it for a new term.



How do I copy or share my Connect course section?

Follow these easy steps to copy and share your sections with another instructor.



Sync Your Connect Section with Blackboard - Initial Pairing

Learn how to sync Connect with Blackboard by following a few simple steps.


SmartBook 2.0 - Instructor Overview

Learn about SmartBook 2.0 and how it tracks student progress and activity.


Set and Manage Due Dates for your Connect Course

Learn how to manage assignment due dates within Connect.


Proctorio Settings Checklist

Use this checklist to determine which options to use in your proctored assignments.


Grading & Reporting (View All)
Discover everything you need to know about grading and reporting, including how to identify and help at-risk students.
SmartBook 2.0 Reports in Connect

Learn how to use SmartBook 2.0 reports to understand your course data.


Helping At-Risk Students

Discover key metrics to identify and help at-risk students.


Connect Reports: Assignment Statistics, Item Analysis, and Category Analysis

Learn the basics of assignment statistics, item analysis, and category analysis reports.

New!

Student Engagement Tips (View All)

Learn how adaptive technology and helping students avoid procrastination can lead to increased student engagement.
Access Training Curriculum for Specialized Topics
Writing Assignment Training

Looking to incorporate writing assignments into your class? This course provides you with McGraw Hill training materials and peer insights from a professor who uses the Writing Assignment tool in her class.


Start Writing Assignment Training
Stay in the Know with McGraw Hill Connect Platform Status Updates
Visit and bookmark status.mheducation.com to see the latest service updates, view scheduled maintenance, and subscribe to receive email notifications for McGraw Hill Connect.
Want to Chat? Our Team is Available to Help.