McGraw Hill ALEKS
Personalized for Each Student. Flexible for Your Approach.
---
In one learning platform, design your math or chemistry course
to support your approach and meet each student where they are.
Meet Adrian, a student at Triton College. Adrian shares how starting in the right place while working in ALEKS gave him the confidence to pursue a STEM degree.
Commitment to
Accessibility
We're committed to developing products that meet or exceed the WCAG 2.0 AA guidelines, so all learners can achieve better outcomes.

ALEKS for math does not rely exclusively on color to convey critical information, so it is fully accessible to students who are colorblind. A full navigational keyboard is an alternative to a mouse and the content does not rely on audio, making it accessible to students with hearing impairments. Students with visual impairments can access ALEKS through the use of screen reader technology and screen magnification when Accessibility Mode is enabled. You can see our full listing of ALEKS math courses that include Accessibility Mode.
Download Accessibility Statement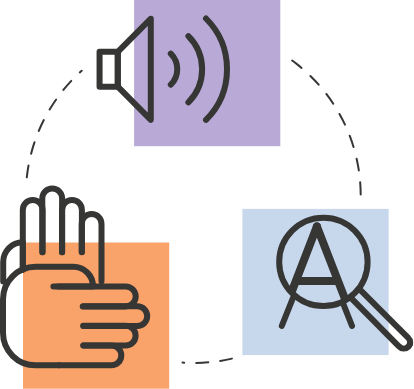 Contact your learning technology representative or email us at accessibility@mheducation.com to request a VPAT today.


"I was incredibly nervous going into this class after not taking math for several years. I feel like ALEKS has caught on to all of the things I have needed review on and REALLY makes sure that I am learning them."
Courtney Provence - Student, Linn-Benton Community College
"ALEKS is a powerful online platform that meets students where they are. This approach allows them to progress in a way that makes sense to them. I have always worked so hard to pinpoint the piece of the puzzle the student is missing, ALEKS does this for me allowing me to work smarter in the classroom. ALEKS allows me to be more impactful in the classroom thereby creating a true learning environment."
Jessica Huffman - Math Program Chair, Ivy Tech
"The key to ALEKS' success comes right in this Learning Path. ALEKS is here to help you truly master the concept before introducing more on top of it. If you have trouble with a concept, I would recommend writing down the example problem at the start of each concept in your learning path."
Justice Dunnett - Student, The University of Toledo
"I evaluated many different options, and ALEKS provided, by far, the best cycle of assessment and learning that allows for individualized instructional paths… no other program matches ALEKS."
Michelle D. - University of Minnesota
"ALEKS pinpoints where each student needs to remediate to be successful in our coreq. ALEKS' flexibility and structure saved our coreq!"
Deanne Williams - Dyersburg State CC (TN)