Connect for Student Success
As a learning science company, we create interactive learning content that engages students and supports higher order thinking skills. Click on each tab below to learn how each Connect component helps students prepare for their future by driving a deeper level of understanding and application.


Connect for Career Development
---
Personalize Your Course
Combine your course specific content with ours to create a truly tailor-made course solution.
Find Your Fit
Find the right College Success / First Year Experience product for you and your students
Need help finding the right First Year Experience / College Success product for your students?
Review our 5 titles and find the right fit for you and your students.
Connect Master

NEXT-LEVEL LEARNING
FOR TODAY'S GENERATION
Students often struggle to connect concepts to application. Connect Master takes students higher, with adaptive questioning and activities that allow them to demonstrate what they know and apply their learning to real-life situations and challenges.
Prepare – Organize – Work – Evaluate – Rethink = POWER
The POWER framework teaches students the skills needed to succeed in college, career, and life.

Hear from Dr. Robert Feldman, McGraw-Hill author and Deputy Chancellor UMass Amherst, on his research-based and proven student success approach (P.O.W.E.R):
Equity in Action
Equity is one of the greatest challenges in higher education because every student has a different starting point. Listen to how Connect Master Student Success bridges the achievement gap.
Student Workshop Video – The Power of Purpose, Passion, and Persistence
As part of the How to Thrive in College & Your Career Student Workshop Series, LaShana Stokes, presents on The Power of Purpose, Passion, and Persistence.
Click the link below to access other workshops in the series.
College Smarter, Not Harder.
Students want to achieve the best grades possible with the limited time they have to study. And McGraw-Hill is here to help them do just that. Connect is a personalized digital learning assistant that makes acing exams, earning better grades, managing time, and getting work done easier, quicker and more convenient than ever.
See how McGraw-Hill partners with students to provide relevant, useful content to make college smarter, not harder. And provide your students with tips and ideas on how to be successful both in and outside of the classroom.
Connect Tools, Tips, and Tricks
Whether you're looking for self-serve resources or personalized help
before, during, or every step beyond the first day of class – we've got you covered.
---
Seamlessly link your Learning Management System to Connect, for single sign-on and gradebook synchronization, with all-in-one ease for you and your students.
Featured Products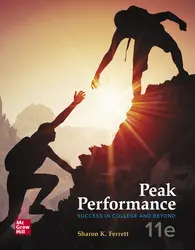 Peak Performance: Success in College and Beyond
11th Edition