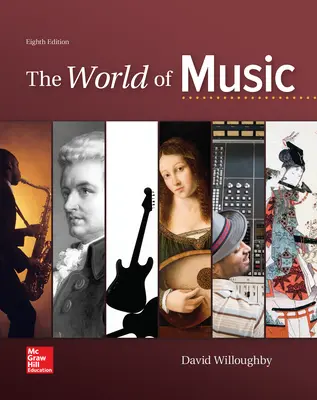 Loose Leaf for The World of Music
8th Edition
By David Willoughby
ISBN10: 0077720571
ISBN13: 9780077720575
Copyright:
2017
Product Details

+
* Connect: A highly reliable, easy-to-use homework and learning management solution that embeds learning science and award-winning adaptive tools to improve student results.
* Students will be able to recognize different styles of music and appreciate their different functions, and will acquire a solid foundation for continued learning in areas that inspire them personally.
* A newly revised Twenty-First-Century Perspectives chapter is available for instructors who want to incorporate more textual material on contemporary music.
Read more +
---
Instructors: choose ebook for fast access or receive a print copy.
---
Program Details
World of MusicTable of Contents
Part One: Preparation for Listening
Chapter 1: Introducing the World of Music 4
The Infinite Variety of Music: A Global Perspective
The American Mainstream and Ethnic Diversity
Music in Culture
Music Labels: Help or Hindrance?
Artists and Artistry
The Business of Music
Manufacturing and Merchandising
Performance of Music
Music Publishing and Copyright Laws
Music in Advertising
Music in the Community
Summary
Chapter 2: The Nature of Music: Vocabulary for Listening and Understanding 18
Definitions of Music
Music as a Science
Expressive and Functional Qualities of Music
Music Is Sound and Silence
Music Moves through Time
Music Is an Art
Music Is Universal
Music Is a Means of Expression
Music Can Be Functional
Music Is a Changing Art
The Creative, Performing, and Listening Experiences
Participating in Active Listening
The Elements of Music
Melody
Harmony
Rhythm
Loudness
Tone Quality
Interaction of the Elements
To Create a Style: Musical Concepts
Texture
Genres and Forms
Melodic Growth and Character
Goals for Listening
Summary
Part Two: Listening to American Music: Folk, Religious, Jazz, and Pop
Chapter 3: Folk Music Traditions 42
Goals for Listening
The Roots of Traditional Folk Music
Types of Folk Music
The Blues
Folk Music: An Expanded View
The Urban Folk Revival
Urban Blues
Summary
Chapter 4: Religious Music Traditions 56
Goals for Listening
The Roots of American Protestant Music
Psalm Singing and Psalters
Lining Out, Singing Schools, and the Shape-Note System
Traditional Black Gospel Music
White Gospel Music: Revival and Evangelical Hymns
Popular Contemporary Styles
Summary
Chapter 5: Jazz Styles 72
Goals for Listening
What Is Jazz?
The Jazz Style
The Feel of Swing
Instruments
Improvisation
The Roots of Jazz
Jazz Styles
New Orleans and Chicago Jazz
Stride and Boogie Woogie
Swing and Big Band Jazz
Bebop
Cool Jazz, Hard Bop, Soul Jazz, and Free Jazz
Modern Jazz, Fusion, and Smooth Jazz
Summary
Chapter 6: Popular Music
Goals for Listening
The Definition and Scope of Popular Music
Pre-Twentieth Century
Twentieth Century and Beyond
Tin Pan Alley
Vaudeville
Musicals
Film
Radio and Recordings
Country Music
Hillbilly
Cowboy Songs and Western Swing
Bluegrass
The Nashville Sound
Contemporary Country
Early African American Influences
Motown
Gospel
Rhythm and Blues
Soul
Contemporary Styles
Rock
Rap/Hip-Hop
Other Genres
Summary
Part Three: Listening to World Music
Chapter 7: Music of the Americas 132
Goals for Listening
Native American Music
Style and Context
Assimilation and Preservation
Ethnic Music in the United States
Reggae
Latino Music
Cajun and Zydeco Music
Music of South America, Mexico, and the Caribbean
Indigenous Folk Culture
Musical Instruments
Folk Songs and Dances
Religious Influences
Summary
Chapter 8: Music Beyond the Americas 152
Goals for Listening
Music in India
Classical Music
Popular Music
Music in Japan
The Performance Context
Musical Genres
Gagaku
Kabuki
Koto, Shakuhachi, and Shamisen
Music in Sub-Saharan Africa
Music in Context
Instruments
Rhythm
Popular Music
Music in Eastern Europe
Indonesian Gamelan and Popular Music
Jewish Music
Cultural Context
Liturgical Music
Klezmer Music
Celtic Music
Instruments
Artists
Altan
Clannad
Solas
The Chieftains
Summary
Part Four: Listening to Western Classical Music
Chapter 9: Music to 1600 184
Goals for Listening
The Beginnings of Western Music (until 1450)
Gregorian Chant
Notation
Polyphonic Music
The Renaissance (1450–1600)
Choral and Vocal Music
Mass
Motet
Madrigal
Instrumental Music
The Reformation
Featured Composers
Josquin des Prez
Giovanni Pierluigi da Palestrina
Giovanni Gabrieli
Summary
Chapter 10: Music of the Baroque Period (1600–1750) 212
Goals for Listening
Musical Characteristics
Texture
Major-Minor Tonal System
Continuo
Word Painting
Other Musical Characteristics
Instruments
Musical Forms and Genres
Opera
Orchestral Works
Chamber Music
Keyboard Works
Choral Music
Featured Composers
Johann Sebastian Bach
George Frideric Handel
Other Notable Composers
Summary
Chapter 11: Music of the Classic Period (1750–1820) 234
Goals for Listening
Musical Characteristics
Instruments
Genres
Instrumental
Vocal, Choral, and Opera
Forms
Sonata Form
Theme and Variations Minuet and Trio
Rondo
Featured Composers
Franz Joseph Haydn
Wolfgang Amadeus Mozart
Ludwig van Beethoven
Summary
Chapter 12: Music of the Romantic Period (Nineteenth Century) 252
Goals for Listening
Musical Characteristics
Forms and Genres
Instrumental Forms and Genres
Opera and Ballet
Keyboard Forms and Genres
Songs
Featured Composers
Johannes Brahms
Frédéric Chopin
Felix Mendelssohn
Franz Schubert
Pyotr I'yich Tchaikovsky
Giuseppe Verdi
Richard Wagner
Other Notable Composers
Summary
Chapter 13: Music of the Twentieth Century 272
Goals for Listening
General Characteristics
Stylistic Developments and Featured Composers
Impressionism: Claude Debussy
Experimental Music: Igor Stravinsky
Atonal Music and Serialism: Arnold Schoenberg
Electronic Music: Edgard Varèse
Chance Music: John Cage
Nationalism: Béla Bartók
Nationalism: Charles Ives and Aaron Copland
Additional American Composers
Amy Cheney Beach
Ruth Crawford
Ellen Taaffe Zwilich
Ulysses Kay
Henry Cowell
George Gershwin
William Grant Still
Neoclassical Music
Minimalism
Traditional Sounds
Summary
Chapter 14 (Create): Twenty-First-Century Perspectives
Featured Composers
Mickey Hart
Foday Musa Suso and the Kronos Quartet
Bela Fleck
Wu Man
Tan Dun
Terry Riley
John Adam
Jennifer Higdon
Summary
Selected Internet ResourcesAppendix: Classification for instruments according to Methods of Tone Production
Glossary
Bibliography
Credits
Index
Connect
By prompting students to engage with key concepts and by continually adapting to their individual needs, Connect activates learning and empowers students to take control. This increased engagement results in better grades and increased retention rates. Proven online content integrates seamlessly with our adaptive technology and helps build student confidence outside of the classroom.
Learn More
SmartBook
Available within Connect, SmartBook actively tailors content to the individual student- The more a student interacts with SmartBook, the better it gets to know what they know and what they don't know, helping students to maximize study time. By providing students with a safe place to make mistakes, showing them the areas they need to work on most, and by giving them consistent, personalized feedback at the exact moment they need it, SmartBook helps them to bridge their knowledge gaps and come to class prepared.
Learn More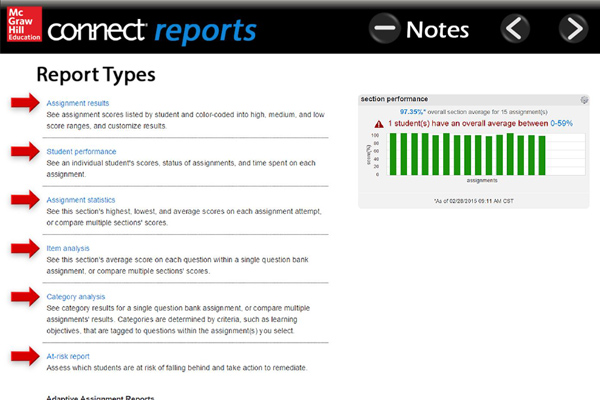 Connect Reporting
View complete, at-a-glance reports for individual students or the whole class. Generate powerful data related to student performance across learning outcomes, specific topics, level of difficulty and more. Additionally, you can compare student performance in different sections of the course.
Learn More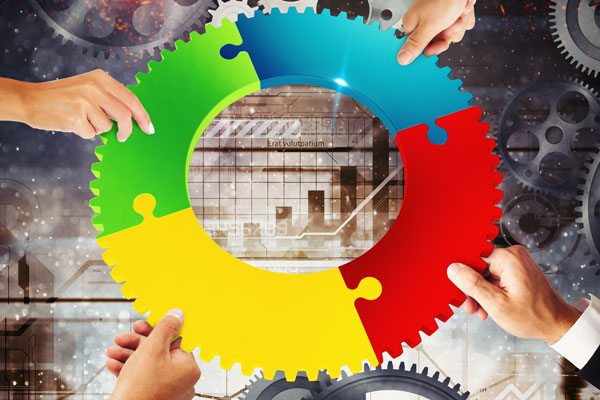 LMS Integration
With a single point of access, Connect seamlessly integrates with every learning management system on the market today. Quickly access registration, attendance, assignments, grades, and course resources in real time in one, familiar location.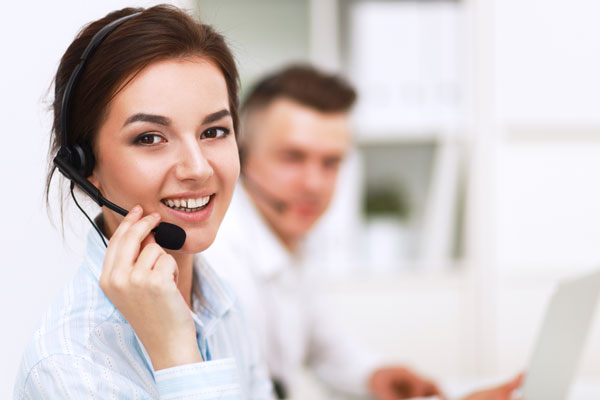 Implementation and digital support
We provide self-directed resources, local, on campus training, and live webinar sessions, to get you up and running in a way that works for you, and to help you get the most out of Connect. We maintain a technical support team available to both instructors and students for any questions that might arise while using Connect.
Learn More
Accessibility Rubric
Creating accessible products is a priority for McGraw-Hill. We have put in place processes to make accessibility and meeting the WCAG AA guidelines part of our day-to-day development efforts and product roadmaps.
Please review our accessibility information for this specific product.
In future editions, this rubric will be reformatted to increase accessibility and usability.
McGraw-Hill sites may contain links to websites owned and operated by third parties. These links are provided as supplementary materials, and for learners' information and convenience only. McGraw-Hill has no control over and is not responsible for the content or accessibility of any linked website.
For further information on McGraw‐Hill and Accessibility, please visit our accessibility page or contact us at accessibility@mheducation.com