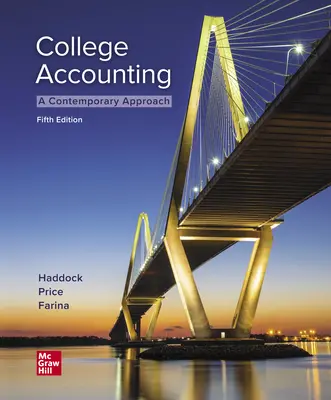 College Accounting (A Contemporary Approach)
5th Edition
By M. David Haddock and John Price and Michael Farina
ISBN10: 1260780317
ISBN13: 9781260780314
Copyright:
2021
Product Details

+
Appropriate for All Students: Readable, many opportunities for practice, makes accounting relevant for all.
No Special Journal Coverage: A streamlined version of Price College Accounting, with the same author team, designed for instructors teaching the course without covering special journals.
Connect: A highly reliable, easy-to-use homework and learning management solution that embeds learning science and award-winning adaptive tools to improve student results.
Read more +
Program Details
Ch. 1 Accounting: The Language of Business
Ch. 2 Analyzing Business Transactions
Ch. 3 Analyzing Business Transactions Using T Accounts
Ch. 4 The General Journal and the General Ledger
Ch. 5 Adjustments and the Worksheet
Ch. 6 Closing Entries and the Postclosing Trial Balance
Ch. 7 Accounting for Sales, Accounts Receivable, and Cash Receipts
Ch. 8 Accounting for Purchases, Accounts Payable, and Cash Payments
Ch. 9 Cash
Ch. 10 Payroll Computations, Records, and Payment
Ch. 11 Payroll Taxes, Deposits, and Reports
Ch. 12 Accruals, Deferrals, and the Worksheet
Ch. 13 Financial Statements and Closing Procedure