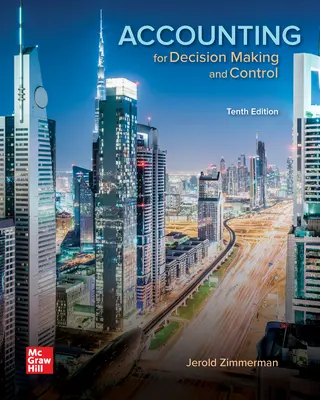 Accounting for Decision Making and Control
10th Edition
By Jerold Zimmerman
ISBN10: 1259969495
ISBN13: 9781259969492
Copyright:
2020
Product Details

+
Provides students with an understanding of the strengths and limitations of an organization's accounting system, creating more intelligent users of these systems.
Connect is the easy-to-use assignment and digital learning solution that empowers students to achieve better outcomes and instructors to become more efficient.
SmartBook 2.0 closes knowledge gaps through an adaptive reading and questioning experience that helps students master key chapter concepts.
Program Details
Ch. 1 Introduction
Ch. 2 The Nature of Costs
Ch. 3 Opportunity Cost of Capital and Capital Budgeting
Ch. 4 Organizational Architecture
Ch. 5 Responsibility Accounting and Transfer Pricing
Ch. 6 Budgeting
Ch. 7 Cost Allocation: Theory
Ch. 8 Cost Allocation: Practices
Ch. 9 Absorption Cost Systems
Ch. 10 Criticisms of Absorption Cost Systems: Incentive to Overproduce
Ch. 11 Criticisms of Absorption Cost Systems: Inaccurate Product Costs
Ch. 12 Standard Costs: Direct Labor and Materials
Ch. 13 Overhead and Marketing Variances
Ch. 14 Management Accounting in a Changing Environment
Solutions to Concept Questions
Glossary
Index