PreK–12 educators will see school pricing in their cart after logging in.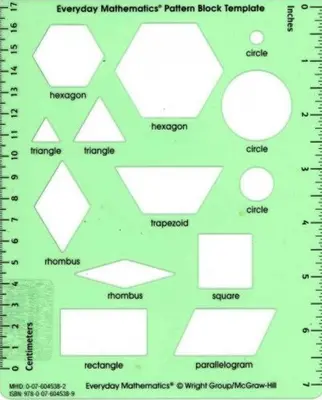 Everyday Mathematics 4, Grades 1-3, Pattern Block Template
MHID: 0076045382 | ISBN 13: 9780076045389
Payment Options: During checkout, you can pay with a P.O. (simply enter the number), Credit Card, or PayPal.
Product Details:
A clear, green, plastic tracing template contains a variety of geometric shapes with six of the shapes matching the sizes of the pattern blocks.
Included are two hexagons, two triangles, two rhombuses, one square, one trapezoid, one rectangle, one parallelogram,and three circles
Template edges include a 7" ruler on one side and a 17 cm ruler on the other. 6" by 7 1/2"
| Title | ISBN 13 | Price |
| --- | --- | --- |
| Comprehensive Student Materials Set Grade 1 | 9780021441969 | $60.40 |
| EM4 Spanish Comprehensive Student Materials Set Grade 2 | 9780021420179 | $60.40 |
| Comprehensive Student Materials Set Grade 2 | 9780021441976 | $60.40 |
| EM4 Spanish Comprehensive Student Materials Set Grade 3 | 9780021420186 | $60.40 |
| EM4 Spanish Comprehensive Student Materials Set Grade 1 | 9780021420162 | $60.40 |
| Comprehensive Student Materials Set Grade 3 | 9780021441983 | $60.40 |
| Everyday Mathematics 4, Grade 2, Comprehensive Student Material Set, 1 Year | 9780021328499 | $62.20 |
| EM4 Comprehensive Spanish Student Materials Set Grade 1, 1-Year Subscription | 9780021424283 | $62.20 |
| Everyday Mathematics 4 National Comprehensive Student Material Set, 1-Year, Grade 2 | 9780076983834 | $62.20 |
| Everyday Mathematics 4, Grade 1, Comprehensive Student Material Set, 1 Year | 9780021302789 | $62.20 |
| Everyday Math 4 Comprehensive Student Materials Set, 1-Year, Grade 1 | 9780076952106 | $62.20 |
| Everyday Math 4 Comprehensive Student Materials Set, 1-Year, Grade 3 | 9780076952151 | $62.20 |
| EM4 Comprehensive Spanish Student Materials Set Grade 3, 1-Year Subscription | 9780021423422 | $62.20 |
| Everyday Mathematics 4, Grade 3, Comprehensive Student Material Set, 1 Year | 9780076746514 | $62.20 |
| EM4 Comprehensive Spanish Student Materials Set Grade 2, 1-Year Subscription | 9780021423415 | $62.20 |
| Everyday Math 4 Comprehensive Student Materials Set, 1-Year, Grade 2 | 9780076952113 | $62.20 |
| Everyday Mathematics 4 National Comprehensive Student Material Set, 1-Year, Grade 1 | 9780076983803 | $62.20 |
| Everyday Mathematics 4 National Comprehensive Student Material Set, 1-Year, Grade 3 | 9780076983841 | $62.20 |
| Indiana Everyday Mathematics 4, Grade 2, Comprehensive Student Materials Set, 1-Year | 9781266451256 | $63.40 |
| Indiana Everyday Mathematics 4, Grade 1, Comprehensive Student Materials Set, 1-Year | 9781266447808 | $63.40 |
| Indiana Everyday Mathematics 4, Grade 3, Comprehensive Student Materials Set, 1-Year | 9781266452376 | $63.40 |
| Everyday Math 4 Comprehensive Student Materials Set with Arrive Math Booster, 1-Year, Grade 3 | 9780076948864 | $71.12 |
| Everyday Math 4 Comprehensive Student Materials Set with Arrive Math Booster, 1-Year, Grade 2 | 9780076948451 | $71.12 |
| Everyday Math 4 Comprehensive Student Materials Set with Arrive Math Booster, 1-Year, Grade 1 | 9780076948444 | $71.12 |
| Everyday Mathematics 4 National Comprehensive Student Materials Set with HomeLinks, 1-Year, Grade 1 | 9780076985135 | $72.24 |
| Everyday Math 4 Comprehensive Student Materials Set with Redbird, 1-Year, Grade 3 | 9780076947461 | $73.36 |
| Indiana Everyday Mathematics 4, Grade 1, Comprehensive Student Materials Set with Arrive Mathematics Booster, 1-Year | 9781266469626 | $72.48 |
| Everyday Math 4 Comprehensive Student Materials Set with Redbird, 1-Year, Grade 1 | 9780076947393 | $73.36 |
| Indiana Everyday Mathematics 4, Grade 3, Comprehensive Student Materials Set with Arrive Mathematics Booster, 1-Year | 9781266469749 | $72.48 |
| Everyday Mathematics 4 National Comprehensive Student Materials Set with HomeLinks, 1-Year, Grade 3 | 9780076985173 | $72.24 |
| EM4 Comprehensive Student Materials Set with HomeLinks, 1 Year Subscription, Grade 2 | 9780076849420 | $72.24 |
| Everyday Math 4 Comprehensive Student Materials Set with Home Links, 1-Year, Grade 1 | 9780076971770 | $72.24 |
| EM4 Comprehensive Student Materials Set with HomeLinks, 1 Year Subscription, Grade 1 | 9780076849413 | $72.24 |
| Everyday Math 4 Comprehensive Student Materials Set with Home Links, 1-Year, Grade 2 | 9780076971787 | $72.24 |
| Everyday Mathematics 4 National Comprehensive Student Materials Set with HomeLinks, 1-Year, Grade 2 | 9780076985142 | $72.24 |
| EM4 Comprehensive Student Materials Set with HomeLinks, 1 Year Subscription, Grade 3 | 9780076849437 | $72.24 |
| Indiana Everyday Mathematics 4, Grade 2, Comprehensive Student Materials Set with Arrive Mathematics Booster, 1-Year | 9781266469671 | $72.48 |
| Everyday Math 4 Comprehensive Student Materials Set with Home Links, 1-Year, Grade 3 | 9780076971824 | $72.24 |
| Everyday Math 4 Comprehensive Student Materials Set with Redbird, 1-Year, Grade 2 | 9780076947430 | $73.36 |
| Indiana Everyday Mathematics 4, Grade 1, Comprehensive Student Materials Set with Redbird, 1-Year | 9781266460340 | $74.76 |
| Indiana Everyday Mathematics 4, Grade 3, Comprehensive Student Materials Set with ALEKS (via my.), 1-Year | 9781265961800 | $74.72 |
| Indiana Everyday Mathematics 4, Grade 3, Comprehensive Student Materials Set with Redbird, 1-Year | 9781266461019 | $74.76 |
| Indiana Everyday Mathematics 4, Grade 2, Comprehensive Student Materials Set with Redbird, 1-Year | 9781266460753 | $74.76 |
| Everyday Mathematics, Grades 1-3, Pattern Block Template 3rd Edition (Set of 10) | 9780076045396 | $76.56 |
| Everyday Math 4 Comprehensive Student Materials Set with Redbird and Arrive Math Booster, 1-Year, Grade 3 | 9780076949229 | $80.04 |
| Everyday Math 4 Comprehensive Student Materials Set with Redbird and Arrive Math Booster, 1-Year, Grade 1 | 9780076949175 | $80.04 |
| Everyday Math 4 Comprehensive Student Materials Set with Redbird and Arrive Math Booster, 1-Year, Grade 2 | 9780076949212 | $80.04 |
| Indiana Everyday Mathematics 4, Grade 1, Comprehensive Student Materials Set with Redbird and Arrive Mathematics Booster, 1-Year | 9781266446238 | $81.56 |
| Everyday Math 4 Comprehensive Student Materials Set with Home Links and Arrive Math Booster, 1-Year, Grade 1 | 9780076976591 | $81.16 |
| Everyday Math 4 Comprehensive Student Materials Set with Home Links and Arrive Math Booster, 1-Year, Grade 3 | 9780076976638 | $81.16 |
| Indiana Everyday Mathematics 4, Grade 3, Comprehensive Student Materials Set with Redbird and Arrive Mathematics Booster, 1-Year | 9781266447464 | $81.56 |
| Indiana Everyday Mathematics 4, Grade 2, Comprehensive Student Materials Set with Redbird and Arrive Mathematics Booster, 1-Year | 9781266446542 | $81.56 |
| Everyday Math 4 Comprehensive Student Materials Set with Home Links and Arrive Math Booster, 1-Year, Grade 2 | 9780076976621 | $81.16 |
| Everyday Math 4 Comprehensive Student Materials Set with Home Links and Redbird, 1-Year, Grade 3 | 9780076973743 | $83.36 |
| Everyday Math 4 Comprehensive Student Materials Set with Home Links and Redbird, 1-Year, Grade 2 | 9780076973699 | $83.36 |
| Everyday Math 4 Comprehensive Student Materials Set with Home Links and Redbird, 1-Year, Grade 1 | 9780076973651 | $83.36 |
| Everyday Math 4, Chicago Public Schools, SPANISH Comprehensive Student Materials Set, 3-years, Grade 1 | 9780076711277 | $86.28 |
| Everyday Math 4, Chicago Public Schools, Comprehensive Student Materials Set, 3-years, Grade 3 | 9780076711239 | $86.28 |
| Everyday Math 4, Chicago Public Schools, SPANISH Comprehensive Student Materials Set, 3-years, Grade 2 | 9780076711284 | $86.28 |
| Everyday Math 4, Chicago Public Schools, Comprehensive Student Materials Set, 3-years, Grade 1 | 9780076712977 | $86.28 |
| Everyday Math 4, Chicago Public Schools, SPANISH Comprehensive Student Materials Set, 3-years, Grade 3 | 9780076711291 | $86.28 |
| Everyday Math 4, Chicago Public Schools, Comprehensive Student Materials Set, 3-years, Grade 2 | 9780076711222 | $86.28 |
| Everyday Math 4 Comprehensive Student Materials Set with Home Links, Redbird and Arrive Math Booster, 1-Year, Grade 3 | 9780076976379 | $90.08 |
| Everyday Math 4 Comprehensive Student Materials Set with Home Links, Redbird and Arrive Math Booster, 1-Year, Grade 2 | 9780076976317 | $90.08 |
| Everyday Math 4 Comprehensive Student Materials Set with Home Links, Redbird and Arrive Math Booster, 1-Year, Grade 1 | 9780076976263 | $90.08 |
| Everyday Math 4 Comprehensive Student Materials Set, 2-Years, Grade 1 | 9781264725977 | $98.76 |
| Everyday Math 4 Comprehensive Student Materials Set, 2-Years, Grade 3 | 9781264729104 | $98.76 |
| Everyday Math 4 Comprehensive Student Materials Set, 2-Years, Grade 2 | 9781264728725 | $98.76 |
| Everyday Math 4 Comprehensive Student Materials Set with Arrive Math Booster, 2-Years, Grade 3 | 9781264662616 | $109.88 |
| Everyday Math 4 Comprehensive Student Materials Set with Arrive Math Booster, 2-Years, Grade 2 | 9781264662340 | $109.88 |
| Everyday Math 4 Comprehensive Student Materials Set with Arrive Math Booster, 2-Years, Grade 1 | 9781264662081 | $109.88 |
| Everyday Math 4 Comprehensive Student Materials Set with Redbird, 2-Years, Grade 2 | 9781264740178 | $112.64 |
| Everyday Math 4 Comprehensive Student Materials Set with Redbird, 2-Years, Grade 1 | 9781264740024 | $112.64 |
| Everyday Math 4 Comprehensive Student Materials Set with Redbird, 2-Years, Grade 3 | 9781264741045 | $112.64 |
| Everyday Math 4 Comprehensive Student Materials Set with Home Links, 2-Years, Grade 2 | 9781264674831 | $119.08 |
| Everyday Math 4 Comprehensive Student Materials Set with Home Links, 2-Years, Grade 1 | 9781264674077 | $119.08 |
| Everyday Math 4 Comprehensive Student Materials Set with Home Links, 2-Years, Grade 3 | 9781264676828 | $119.08 |
| Everyday Math 4 Comprehensive Student Materials Set with Redbird and Arrive Math Booster, 2-Years, Grade 3 | 9781264668533 | $121.00 |
| Everyday Math 4 Comprehensive Student Materials Set with Redbird and Arrive Math Booster, 2-Years, Grade 1 | 9781264665303 | $121.00 |
| Everyday Math 4 Comprehensive Student Materials Set with Redbird and Arrive Math Booster, 2-Years, Grade 2 | 9781264666119 | $121.00 |
| Everyday Math 4 Comprehensive Student Materials Set with Home Links and Arrive Math Booster, 2-Years, Grade 1 | 9781264757763 | $130.20 |
| Everyday Math 4 Comprehensive Student Materials Set with Home Links and Arrive Math Booster, 2-Years, Grade 3 | 9781264759439 | $130.20 |
| Everyday Math 4 Comprehensive Student Materials Set with Home Links and Arrive Math Booster, 2-Years, Grade 2 | 9781264758180 | $130.20 |
| Everyday Math 4 Comprehensive Student Materials Set with Home Links and Redbird, 2-Years, Grade 3 | 9781264750665 | $134.08 |
| Everyday Math 4 Comprehensive Student Materials Set with Home Links and Redbird, 2-Years, Grade 1 | 9781264745364 | $134.08 |
| Everyday Math 4 Comprehensive Student Materials Set with Home Links and Redbird, 2-Years, Grade 2 | 9781264747368 | $134.08 |
| Everyday Mathematics 4 National Comprehensive Student Material Set, 3-Years, Grade 2 | 9780076983933 | $135.28 |
| Everyday Math 4 Comprehensive Student Materials Set, 3-Years, Grade 3 | 9780076816866 | $135.28 |
| EM4 Comprehensive Student Material Set, Grade 1, 3-Years | 9780021431748 | $135.28 |
| Everyday Math 4 Comprehensive Student Materials Set, 3-Years, Grade 2 | 9780076816859 | $135.28 |
| Everyday Math 4 Comprehensive Student Materials Set, 3-Years, Grade 1 | 9780076816811 | $135.28 |
| EM4 Comprehensive Student Material Set, Grade 2, 3-Years | 9780021431755 | $135.28 |
| EM4 Comprehensive Student Material Set, Grade 3, 3-Years | 9780021431762 | $135.28 |
| Everyday Mathematics 4 National Comprehensive Student Material Set, 3-Years, Grade 1 | 9780076983926 | $135.28 |
| Everyday Mathematics 4 National Comprehensive Student Material Set, 3-Years, Grade 3 | 9780076983964 | $135.28 |
| Everyday Math 4 Comprehensive Student Materials Set with Home Links, Redbird and Arrive Math Booster, 2-Years, Grade 3 | 9781264767212 | $143.56 |
| Everyday Math 4 Comprehensive Student Materials Set with Home Links, Redbird and Arrive Math Booster, 2-Years, Grade 1 | 9781264764648 | $143.56 |
| Everyday Math 4 Comprehensive Student Materials Set with Home Links, Redbird and Arrive Math Booster, 2-Years, Grade 2 | 9781264766185 | $143.56 |
| Everyday Math 4 Comprehensive Student Materials Set with Arrive Math Booster, 3-Years, Grade 2 | 9780076817832 | $148.60 |
| Everyday Math 4 Comprehensive Student Materials Set with Arrive Math Booster, 3-Years, Grade 1 | 9780076817177 | $148.60 |
| Everyday Math 4 Comprehensive Student Materials Set with Arrive Math Booster, 3-Years, Grade 3 | 9780076817863 | $148.60 |
| Everyday Math 4 Comprehensive Student Materials Set with Redbird, 3-Years, Grade 2 | 9780076817030 | $152.00 |
| Everyday Math 4 Comprehensive Student Materials Set with Redbird, 3-Years, Grade 1 | 9780076816996 | $152.00 |
| Everyday Math 4 Comprehensive Student Materials Set with Redbird, 3-Years, Grade 3 | 9780076817047 | $152.00 |
| Everyday Math 4 Comprehensive Student Materials Set with Redbird and Arrive Math Booster, 3-Years, Grade 3 | 9780076818044 | $162.00 |
| Everyday Math 4 Comprehensive Student Materials Set with Redbird and Arrive Math Booster, 3-Years, Grade 2 | 9780076818013 | $162.00 |
| Everyday Math 4 Comprehensive Student Materials Set with Redbird and Arrive Math Booster, 3-Years, Grade 1 | 9780076817979 | $162.00 |
| Everyday Math 4, Chicago Public Schools, Comprehensive Student Materials Set, 6-years, Grade 2 | 9780076709779 | $164.32 |
| Everyday Math 4, Chicago Public Schools, Comprehensive Student Materials Set, 6-years, Grade 1 | 9780076709762 | $164.32 |
| Everyday Math 4, Chicago Public Schools, Comprehensive Student Materials Set, 6-years, Grade 3 | 9780076709946 | $164.32 |
| Everyday Math 4, Chicago Public Schools, SPANISH Comprehensive Student Materials Set, 6-years, Grade 1 | 9780076711628 | $164.32 |
| Everyday Math 4, Chicago Public Schools, SPANISH Comprehensive Student Materials Set, 6-years, Grade 2 | 9780076711635 | $164.32 |
| Everyday Math 4, Chicago Public Schools, SPANISH Comprehensive Student Materials Set, 6-years, Grade 3 | 9780076711659 | $164.32 |
| Everyday Math 4 Comprehensive Student Materials Set, 4-Years, Grade 2 | 9781264796472 | $172.20 |
| Everyday Math 4 Comprehensive Student Materials Set, 4-Years, Grade 1 | 9781264796120 | $172.20 |
| Everyday Math 4 Comprehensive Student Materials Set, 4-Years, Grade 3 | 9781264796830 | $172.20 |
| Everyday Math 4 Comprehensive Student Materials Set with Arrive Math Booster, 4-Years, Grade 1 | 9781264807147 | $187.80 |
| Everyday Math 4 Comprehensive Student Materials Set with Arrive Math Booster, 4-Years, Grade 3 | 9781264812066 | $187.80 |
| Everyday Math 4 Nevada Comprehensive Student Materials Set with Home Links, 7-Years, Grade 3 | 9780079014580 | $187.44 |
| Everyday Math 4 Comprehensive Student Materials Set with Arrive Math Booster, 4-Years, Grade 2 | 9781264811564 | $187.80 |
| Everyday Math 4 Nevada Comprehensive Student Materials Set with Home Links, 7-Years, Grade 1 | 9780079014542 | $187.44 |
| Everyday Math 4 Nevada Comprehensive Student Materials Set with Home Links, 7-Years, Grade 2 | 9780079014573 | $187.44 |
| Everyday Math 4 Comprehensive Student Materials Set with Redbird, 4-Years, Grade 1 | 9781264801640 | $193.92 |
| Everyday Math 4 Comprehensive Student Materials Set with Redbird, 4-Years, Grade 2 | 9781264802203 | $193.92 |
| Everyday Math 4 Comprehensive Student Materials Set with Redbird, 4-Years, Grade 3 | 9781264802876 | $193.92 |
| Everyday Math 4 Comprehensive Student Materials Set with Redbird and Arrive Math Booster, 4-Years, Grade 3 | 9781264825981 | $207.84 |
| Everyday Math 4 Comprehensive Student Materials Set with Redbird and Arrive Math Booster, 4-Years, Grade 1 | 9781264824908 | $207.84 |
| Everyday Math 4 Comprehensive Student Materials Set with Redbird and Arrive Math Booster, 4-Years, Grade 2 | 9781264825868 | $207.84 |
| Everyday Mathematics 4 National Comprehensive Student Material Set, 5-Years, Grade 2 | 9780076984060 | $209.08 |
| Everyday Math 4 Comprehensive Student Materials Set, 5-Years, Grade 1 | 9780076957606 | $209.08 |
| Everyday Mathematics 4 National Comprehensive Student Material Set, 5-Years, Grade 1 | 9780076984039 | $209.08 |
| Everyday Mathematics 4 National Comprehensive Student Material Set, 5-Years, Grade 3 | 9780076984077 | $209.08 |
| Everyday Math 4 Comprehensive Student Materials Set, 5-Years, Grade 3 | 9780076958344 | $209.08 |
| EM4 Comprehensive Student Material Set, Grade 1, 5-Years | 9780021451999 | $209.08 |
| EM4 Comprehensive Spanish Student Materials Set, 5 Year Subscription, Grade 1 | 9780076704170 | $209.08 |
| Everyday Math 4 Comprehensive Student Materials Set, 5-Years, Grade 2 | 9780076958290 | $209.08 |
| EM4 Comprehensive Spanish Student Materials Set, 5 Year Subscription, Grade 2 | 9780076704194 | $209.08 |
| EM4 Comprehensive Student Material Set, Grade 3, 5-Years | 9780021429417 | $209.08 |
| EM4 Comprehensive Spanish Student Materials Set, 5 Year Subscription, Grade 3 | 9780076704200 | $209.08 |
| EM4 Comprehensive Student Material Set, Grade 2, 5-Years | 9780021452019 | $209.08 |
| Everyday Math 4 Comprehensive Student Materials Set with Home Links, 4-Years, Grade 1 | 9781264634613 | $212.76 |
| Everyday Math 4 Comprehensive Student Materials Set with Home Links, 4-Years, Grade 3 | 9781264641604 | $212.76 |
| Everyday Math 4 Comprehensive Student Materials Set with Home Links, 4-Years, Grade 2 | 9781264640256 | $212.76 |
| Everyday Math 4 Comprehensive Student Materials Set with Arrive Math Booster, 5-Years, Grade 3 | 9780076970261 | $226.92 |
| Everyday Math 4 Comprehensive Student Materials Set with Arrive Math Booster, 5-Years, Grade 1 | 9780076970216 | $226.92 |
| Everyday Math 4 Comprehensive Student Materials Set with Arrive Math Booster, 5-Years, Grade 2 | 9780076970254 | $226.92 |
| Everyday Math 4 Comprehensive Student Materials Set with Home Links and Arrive Math Booster, 4-Years, Grade 3 | 9781264852918 | $228.32 |
| Everyday Math 4 Comprehensive Student Materials Set with Home Links and Arrive Math Booster, 4-Years, Grade 1 | 9781264838622 | $228.32 |
| Everyday Math 4 Comprehensive Student Materials Set with Home Links and Arrive Math Booster, 4-Years, Grade 2 | 9781264851652 | $228.32 |
| Everyday Math 4 Comprehensive Student Materials Set with Home Links and Redbird, 4-Years, Grade 1 | 9781264830039 | $235.60 |
| Everyday Math 4 Comprehensive Student Materials Set with Redbird, 5-Years, Grade 2 | 9780076953448 | $235.84 |
| Everyday Math 4 Comprehensive Student Materials Set with Home Links and Redbird, 4-Years, Grade 3 | 9781264833825 | $235.60 |
| Everyday Math 4 Comprehensive Student Materials Set with Home Links and Redbird, 4-Years, Grade 2 | 9781264831104 | $235.60 |
| Everyday Math 4 Comprehensive Student Materials Set with Redbird, 5-Years, Grade 1 | 9780076953400 | $235.84 |
| Everyday Math 4 Comprehensive Student Materials Set with Redbird, 5-Years, Grade 3 | 9780076953455 | $235.84 |
| Everyday Mathematics 4 National Comprehensive Student Material Set, 6-Years, Grade 3 | 9780076984152 | $246.00 |
| EM4 Comprehensive Student Material Set, Grade 3, 6-Years | 9780076686308 | $246.00 |
| Everyday Mathematics 4 National Comprehensive Student Material Set, 6-Years, Grade 2 | 9780076984145 | $246.00 |
| Everyday Mathematics 4 National Comprehensive Student Material Set, 6-Years, Grade 1 | 9780076984138 | $246.00 |
| Everyday Math 4 Comprehensive Student Materials Set, 6-Years, Grade 1 | 9780076951628 | $246.00 |
| Everyday Math 4 Comprehensive Student Materials Set, 6-Years, Grade 3 | 9780076951802 | $246.00 |
| EM4 Comprehensive Student Material Set, Grade 1, 6-Years | 9780021339778 | $246.00 |
| EM4 Comprehensive Student Material Set, Grade 2, 6-Years | 9780021339853 | $246.00 |
| Everyday Math 4 Comprehensive Student Materials Set, 6-Years, Grade 2 | 9780076951703 | $246.00 |
| Everyday Math 4 Comprehensive Student Materials Set with Home Links, Redbird and Arrive Math Booster, 4-Years, Grade 3 | 9781264849406 | $250.60 |
| Indiana Everyday Mathematics 4, Grade 3, Comprehensive Student Materials Set, 6-Years | 9781266442483 | $250.68 |
| Everyday Math 4 Comprehensive Student Materials Set with Home Links, Redbird and Arrive Math Booster, 4-Years, Grade 2 | 9781264847563 | $250.60 |
| Indiana Everyday Mathematics 4, Grade 1, Comprehensive Student Materials Set, 6-Years | 9781266440823 | $250.68 |
| Indiana Everyday Mathematics 4, Grade 2, Comprehensive Student Materials Set, 6-Years | 9781266441844 | $250.68 |
| Everyday Math 4 Comprehensive Student Materials Set with Home Links, Redbird and Arrive Math Booster, 4-Years, Grade 1 | 9781264844890 | $250.60 |
| Everyday Math 4 Comprehensive Student Materials Set with Redbird and Arrive Math Booster, 5-Years, Grade 3 | 9780076985425 | $253.64 |
| Everyday Math 4 Comprehensive Student Materials Set with Redbird and Arrive Math Booster, 5-Years, Grade 1 | 9780076985388 | $253.64 |
| Everyday Math 4 Comprehensive Student Materials Set with Redbird and Arrive Math Booster, 5-Years, Grade 2 | 9780076985418 | $253.64 |
| Everyday Math 4 Comprehensive Student Materials Set with Home Links, 5-Years, Grade 1 | 9780076972975 | $259.52 |
| EM4 Comprehensive Spanish Student Materials Set with Home Links, 5 Year Subscription, Grade 3 | 9780076704965 | $259.52 |
| EM4 Comprehensive Student Materials Set with HomeLinks, 5 Year Subscription, Grade 3 | 9780021431816 | $259.52 |
| Everyday Math 4 Comprehensive Student Materials Set with Home Links, 5-Years, Grade 3 | 9780076973026 | $259.52 |
| Everyday Mathematics 4 National Comprehensive Student Materials Set with HomeLinks, 5-Years, Grade 2 | 9780076984961 | $259.52 |
| Everyday Mathematics 4 National Comprehensive Student Materials Set with HomeLinks, 5-Years, Grade 1 | 9780076984954 | $259.52 |
| EM4 Comprehensive Student Materials Set with HomeLinks, 5 Year Subscription, Grade 2 | 9780021431809 | $259.52 |
| EM4 Comprehensive Spanish Student Materials Set with Home Links, 5 Year Subscription, Grade 1 | 9780076704941 | $259.52 |
| EM4 Comprehensive Spanish Student Materials Set with Home Links, 5 Year Subscription, Grade 2 | 9780076704958 | $259.52 |
| Everyday Math 4 Comprehensive Student Materials Set with Home Links, 5-Years, Grade 2 | 9780076973019 | $259.52 |
| EM4 Comprehensive Student Materials Set with HomeLinks, 5 Year Subscription, Grade 1 | 9780021431793 | $259.52 |
| Everyday Mathematics 4 National Comprehensive Student Materials Set with HomeLinks, 5-Years, Grade 3 | 9780076984992 | $259.52 |
| Everyday Math 4 Comprehensive Student Materials Set with Arrive Math Booster, 6-Years, Grade 3 | 9780076949045 | $263.80 |
| Everyday Math 4 Comprehensive Student Materials Set with Arrive Math Booster, 6-Years, Grade 1 | 9780076948994 | $263.80 |
| Everyday Math 4 Comprehensive Student Materials Set with Arrive Math Booster, 6-Years, Grade 2 | 9780076949038 | $263.80 |
| Indiana Everyday Mathematics 4, Grade 2, Comprehensive Student Materials Set with Arrive Mathematics Booster, 6-Years | 9781266466687 | $268.84 |
| Indiana Everyday Mathematics 4, Grade 3, Comprehensive Student Materials Set with Arrive Mathematics Booster, 6-Years | 9781266467295 | $268.84 |
| Indiana Everyday Mathematics 4, Grade 1, Comprehensive Student Materials Set with Arrive Mathematics Booster, 6-Years | 9781266465581 | $268.84 |
| Everyday Math 4 Comprehensive Student Materials Set with Redbird, 6-Years, Grade 3 | 9780076948314 | $272.72 |
| Everyday Math 4 Comprehensive Student Materials Set with Redbird, 6-Years, Grade 2 | 9780076948277 | $272.72 |
| Everyday Math 4 Comprehensive Student Materials Set with Redbird, 6-Years, Grade 1 | 9780076948260 | $272.72 |
| Indiana Everyday Mathematics 4, Grade 2, Comprehensive Student Materials Set with Redbird, 6-Years | 9781266455438 | $277.92 |
| Indiana Everyday Mathematics 4, Grade 3, Comprehensive Student Materials Set with Redbird, 6-Years | 9781266456251 | $277.92 |
| Indiana Everyday Mathematics 4, Grade 1, Comprehensive Student Materials Set with Redbird, 6-Years | 9781266455308 | $277.92 |
| Everyday Math 4 Comprehensive Student Materials Set with Home Links and Arrive Math Booster, 5-Years, Grade 2 | 9780076976805 | $277.40 |
| Everyday Math 4 Comprehensive Student Materials Set with Home Links and Arrive Math Booster, 5-Years, Grade 1 | 9780076976775 | $277.40 |
| Everyday Math 4 Comprehensive Student Materials Set with Home Links and Arrive Math Booster, 5-Years, Grade 3 | 9780076976812 | $277.40 |
| Indiana Everyday Mathematics 4, Grade 3, Comprehensive Student Materials Set with ALEKS (via my.), 6-Years | 9781265964177 | $277.60 |
| EM4 Comprehensive Spanish Student Materials Set, 7 Year Subscription, Grade 3 | 9780076706044 | $280.76 |
| Everyday Mathematics 4 National Comprehensive Student Material Set, 7-Years, Grade 1 | 9780076984206 | $280.76 |
| EM4 Comprehensive Spanish Student Materials Set, 7 Year Subscription, Grade 1 | 9780076706020 | $280.76 |
| EM4 Comprehensive Student Material Set, Grade 1, 7-Years | 9780021369850 | $280.76 |
| Everyday Math 4 Comprehensive Student Materials Set, 7-Years, Grade 2 | 9780076958658 | $280.76 |
| EM4 Comprehensive Spanish Student Materials Set, 7 Year Subscription, Grade 2 | 9780076706037 | $280.76 |
| Everyday Math 4 Comprehensive Student Materials Set, 7-Years, Grade 3 | 9780076957545 | $280.76 |
| EM4 Comprehensive Student Material Set, Grade 3, 7-Years | 9780076674411 | $280.76 |
| EM4 Comprehensive Student Material Set, Grade 2, 7-Years | 9780021339440 | $280.76 |
| Everyday Mathematics 4 National Comprehensive Student Material Set, 7-Years, Grade 2 | 9780076984213 | $280.76 |
| Everyday Math 4 Comprehensive Student Materials Set, 7-Years, Grade 1 | 9780076958627 | $280.76 |
| Everyday Mathematics 4 National Comprehensive Student Material Set, 7-Years, Grade 3 | 9780076984220 | $280.76 |
| Everyday Math 4 Comprehensive Student Materials Set with Home Links and Redbird, 5-Years, Grade 3 | 9780076973507 | $286.28 |
| Everyday Math 4 Comprehensive Student Materials Set with Home Links and Redbird, 5-Years, Grade 2 | 9780076974108 | $286.28 |
| Everyday Math 4 Comprehensive Student Materials Set with Home Links and Redbird, 5-Years, Grade 1 | 9780076974054 | $286.28 |
| Everyday Math 4 Comprehensive Student Materials Set with Redbird and Arrive Math Booster, 6-Years, Grade 3 | 9780076949403 | $290.56 |
| Everyday Math 4 Comprehensive Student Materials Set with Redbird and Arrive Math Booster, 6-Years, Grade 2 | 9780076949397 | $290.56 |
| Everyday Math 4 Comprehensive Student Materials Set with Redbird and Arrive Math Booster, 6-Years, Grade 1 | 9780076949359 | $290.56 |
| Indiana Everyday Mathematics 4, Grade 1, Comprehensive Student Materials Set with Redbird and Arrive Mathematics Booster, 6-Years | 9781266438035 | $296.12 |
| Indiana Everyday Mathematics 4, Grade 2, Comprehensive Student Materials Set with Redbird and Arrive Mathematics Booster, 6-Years | 9781266439186 | $296.12 |
| Indiana Everyday Mathematics 4, Grade 3, Comprehensive Student Materials Set with Redbird and Arrive Mathematics Booster, 6-Years | 9781266440595 | $296.12 |
| Everyday Math 4 Comprehensive Student Materials Set with Arrive Math Booster, 7-Years, Grade 2 | 9780076970438 | $298.56 |
| Everyday Math 4 Comprehensive Student Materials Set with Arrive Math Booster, 7-Years, Grade 3 | 9780076970445 | $298.56 |
| Everyday Math 4 Comprehensive Student Materials Set with Arrive Math Booster, 7-Years, Grade 1 | 9780076970391 | $298.56 |
| Everyday Math 4 Comprehensive Student Materials Set with Home Links, Redbird and Arrive Math Booster, 5-Years, Grade 1 | 9780076978823 | $304.08 |
| Everyday Math 4 Comprehensive Student Materials Set with Home Links, Redbird and Arrive Math Booster, 5-Years, Grade 2 | 9780076978861 | $304.08 |
| Everyday Math 4 Comprehensive Student Materials Set with Home Links, Redbird and Arrive Math Booster, 5-Years, Grade 3 | 9780076978878 | $304.08 |
| Everyday Mathematics 4 National Comprehensive Student Materials Set with HomeLinks, 6-Years, Grade 1 | 9780076985074 | $306.00 |
| EM4 Comprehensive Student Materials Set with HomeLinks, 6 Year Subscription, Grade 1 | 9780021366545 | $306.00 |
| Everyday Mathematics 4 National Comprehensive Student Materials Set with HomeLinks, 6-Years, Grade 2 | 9780076985081 | $306.00 |
| Everyday Math 4 Comprehensive Student Materials Set with Home Links, 6-Years, Grade 2 | 9780076973194 | $306.00 |
| Everyday Math 4 Comprehensive Student Materials Set with Home Links, 6-Years, Grade 1 | 9780076973156 | $306.00 |
| Everyday Mathematics 4 National Comprehensive Student Materials Set with HomeLinks, 6-Years, Grade 3 | 9780076985098 | $306.00 |
| Everyday Math 4 Comprehensive Student Materials Set with Home Links, 6-Years, Grade 3 | 9780076973200 | $306.00 |
| EM4 Comprehensive Student Materials Set with HomeLinks, 6 Year Subscription, Grade 3 | 9780021361786 | $306.00 |
| EM4 Comprehensive Student Materials Set with HomeLinks, 6 Year Subscription, Grade 2 | 9780021445653 | $306.00 |
| Everyday Math 4 Comprehensive Student Materials Set with Redbird, 7-Years, Grade 2 | 9780076953622 | $307.48 |
| Everyday Math 4 Comprehensive Student Materials Set with Redbird, 7-Years, Grade 3 | 9780076953639 | $307.48 |
| Everyday Math 4 Comprehensive Student Materials Set with Redbird, 7-Years, Grade 1 | 9780076953585 | $307.48 |
| Everyday Mathematics 4 National Comprehensive Student Material Set, 8-Years, Grade 1 | 9780076984275 | $316.92 |
| EM4 Comprehensive Student Material Set, 8 Years, Grade 3 | 9780076663989 | $316.92 |
| EM4 Comprehensive Spanish Student Materials Set, 8 Year Subscription, Grade 1 | 9780076708345 | $316.92 |
| Everyday Math 4 Comprehensive Student Materials Set, 8-Years, Grade 2 | 9781264213900 | $316.92 |
| Everyday Math 4 Comprehensive Student Materials Set, 8-Years, Grade 1 | 9781264213894 | $316.92 |
| Everyday Math 4 Comprehensive Student Materials Set, 8-Years, Grade 3 | 9781264213917 | $316.92 |
| Everyday Mathematics 4 National Comprehensive Student Material Set, 8-Years, Grade 3 | 9780076984299 | $316.92 |
| EM4 Comprehensive Student Material Set, 8 Years, Grade 2 | 9780076663965 | $316.92 |
| EM4 Comprehensive Student Material Set, 8 Years, Grade 1 | 9780076663958 | $316.92 |
| Everyday Mathematics 4 National Comprehensive Student Material Set, 8-Years, Grade 2 | 9780076984282 | $316.92 |
| EM4 Comprehensive Spanish Student Materials Set, 8 Year Subscription, Grade 2 | 9780076708369 | $316.92 |
| Everyday Math 4 Comprehensive Student Materials Set with Home Links and Arrive Math Booster, 6-Years, Grade 1 | 9780076976492 | $323.80 |
| Everyday Math 4 Comprehensive Student Materials Set with Home Links and Arrive Math Booster, 6-Years, Grade 2 | 9780076978564 | $323.80 |
| Everyday Math 4 Comprehensive Student Materials Set with Home Links and Arrive Math Booster, 6-Years, Grade 3 | 9780076978601 | $323.80 |
| Everyday Math 4 Comprehensive Student Materials Set with Redbird and Arrive Math Booster, 7-Years, Grade 3 | 9780076985609 | $325.32 |
| Everyday Math 4 Comprehensive Student Materials Set with Redbird and Arrive Math Booster, 7-Years, Grade 1 | 9780076985562 | $325.32 |
| Everyday Math 4 Comprehensive Student Materials Set with Redbird and Arrive Math Booster, 7-Years, Grade 2 | 9780076985593 | $325.32 |
| Everyday Math 4 Comprehensive Student Materials Set with Home Links and Redbird, 6-Years, Grade 2 | 9780076973736 | $332.68 |
| Everyday Math 4 Comprehensive Student Materials Set with Home Links and Redbird, 6-Years, Grade 3 | 9780076973781 | $332.68 |
| Everyday Math 4 Comprehensive Student Materials Set with Home Links and Redbird, 6-Years, Grade 1 | 9780076973682 | $332.68 |
| Everyday Math 4 Comprehensive Student Materials Set with Redbird, 8-Years, Grade 3 | 9781264213986 | $346.96 |
| Everyday Math 4 Comprehensive Student Materials Set with Redbird, 8-Years, Grade 2 | 9781264213979 | $346.96 |
| Everyday Math 4 Comprehensive Student Materials Set with Redbird, 8-Years, Grade 1 | 9781264213962 | $346.96 |
| EM4 Comprehensive Spanish Student Materials Set with Home Links, 7 Year Subscription, Grade 3 | 9780076709472 | $350.88 |
| Everyday Math 4 Comprehensive Student Materials Set with Home Links, 7-Years, Grade 3 | 9780076973385 | $350.88 |
| Everyday Mathematics 4 National Comprehensive Student Materials Set with HomeLinks, 7-Years, Grade 3 | 9780076985326 | $350.88 |
| Everyday Mathematics 4 National Comprehensive Student Materials Set with HomeLinks, 7-Years, Grade 2 | 9780076985319 | $350.88 |
| Everyday Math 4 Comprehensive Student Materials Set with Home Links, Redbird and Arrive Math Booster, 6-Years, Grade 3 | 9780076979059 | $350.52 |
| Everyday Math 4 Comprehensive Student Materials Set with Home Links, 7-Years, Grade 1 | 9780076973330 | $350.88 |
| EM4 Comprehensive Student Materials Set with HomeLinks, 7 Year Subscription, Grade 2 | 9780021389056 | $350.88 |
| Everyday Math 4 Comprehensive Student Materials Set with Home Links, Redbird and Arrive Math Booster, 6-Years, Grade 2 | 9780076979042 | $350.52 |
| Everyday Mathematics 4 National Comprehensive Student Materials Set with HomeLinks, 7-Years, Grade 1 | 9780076985302 | $350.88 |
| EM4 Comprehensive Student Materials Set with HomeLinks, 7 Year Subscription, Grade 1 | 9780021419937 | $350.88 |
| Everyday Math 4 Comprehensive Student Materials Set with Home Links, Redbird and Arrive Math Booster, 6-Years, Grade 1 | 9780076979004 | $350.52 |
| EM4 Comprehensive Student Materials Set with HomeLinks, 7 Year Subscription, Grade 3 | 9780021362752 | $350.88 |
| Everyday Math 4 Comprehensive Student Materials Set with Home Links, 7-Years, Grade 2 | 9780076973378 | $350.88 |
| EM4 Comprehensive Spanish Student Materials Set with Home Links, 7 Year Subscription, Grade 2 | 9780076709465 | $350.88 |
| EM4 Comprehensive Spanish Student Materials Set with Home Links, 7 Year Subscription, Grade 1 | 9780076709441 | $350.88 |
| Everyday Math 4 Comprehensive Student Materials Set with Home Links and Arrive Math Booster, 7-Years, Grade 3 | 9780076973972 | $368.68 |
| Everyday Math 4 Comprehensive Student Materials Set with Home Links and Arrive Math Booster, 7-Years, Grade 2 | 9780076973927 | $368.68 |
| Everyday Math 4 Comprehensive Student Materials Set with Home Links and Arrive Math Booster, 7-Years, Grade 1 | 9780076973866 | $368.68 |
| Everyday Math 4 Comprehensive Student Materials Set with Home Links and Redbird, 7-Years, Grade 3 | 9780076976362 | $377.60 |
| Everyday Math 4 Comprehensive Student Materials Set with Home Links and Redbird, 7-Years, Grade 2 | 9780076976324 | $377.60 |
| Everyday Math 4 Comprehensive Student Materials Set with Home Links and Redbird, 7-Years, Grade 1 | 9780076976270 | $377.60 |
| Everyday Math 4 Comprehensive Student Materials Set with Home Links, Redbird and Arrive Math Booster, 7-Years, Grade 3 | 9780076979615 | $395.44 |
| Everyday Math 4 Comprehensive Student Materials Set with Home Links, Redbird and Arrive Math Booster, 7-Years, Grade 2 | 9780076979578 | $395.44 |
| Everyday Math 4 Comprehensive Student Materials Set with Home Links, Redbird and Arrive Math Booster, 7-Years, Grade 1 | 9780076979561 | $395.44 |
| EM4 Comprehensive Student Materials Set with HomeLinks, 8 Years, Grade 1 | 9780076664009 | $397.24 |
| Everyday Mathematics 4 National Comprehensive Student Materials Set with HomeLinks, 8-Years, Grade 2 | 9780076985432 | $397.24 |
| Everyday Mathematics 4 National Comprehensive Student Materials Set with HomeLinks, 8-Years, Grade 3 | 9780076985449 | $397.24 |
| Everyday Mathematics 4 National Comprehensive Student Materials Set with HomeLinks, 8-Years, Grade 1 | 9780076985401 | $397.24 |
| EM4 Comprehensive Student Materials Set with HomeLinks, 8 Years, Grade 3 | 9780076664047 | $397.24 |
| EM4 Comprehensive Student Materials Set with HomeLinks, 8 Years, Grade 2 | 9780076664016 | $397.24 |
| EM4 Indiana Print Classroom Resource Package, Grade 3 | 9780076768967 | $485.48 |
| EM4 Indiana Print Classroom Resource Package, Grade 1 | 9780076768943 | $485.48 |
| EM4 Indiana Print Classroom Resource Package, Grade 2 | 9780076768950 | $485.48 |
| Everyday Math 4 National Print Classroom Resource Package PPK, Grade 2 | 9780079004802 | $516.88 |
| EM4 Print Classroom Resource Package PPK, G2 | 9780021408085 | $516.88 |
| Everyday Math 4 National Print Classroom Resource Package PPK, Grade 1 | 9780079004796 | $516.88 |
| EM4 Spanish Print Classroom Resource Package, Grade 1 | 9780021399048 | $516.88 |
| Everyday Math 4 Print Classroom Resource Package, Grade 3 | 9780021391004 | $516.88 |
| Everyday Math 4 National Print Classroom Resource Package PPK, Grade 3 | 9780079004819 | $516.88 |
| Everyday Math 4 Print Classroom Resource Package, Grade 2 | 9780076983773 | $516.88 |
| EM4 Spanish Print Classroom Resource Package, Grade 3 | 9780021398645 | $516.88 |
| EM4 Spanish Print Classroom Resource Package, Grade 2 | 9780021398638 | $516.88 |
| Everyday Math 4 Print Classroom Resource Package, Grade 1 | 9780076983766 | $516.88 |
| EM4 Print Classroom Resource Package PPK, G1 | 9780021408078 | $516.88 |
| Everyday Math 4 Print Classroom Resource Package, Grade 3 | 9780076983810 | $516.88 |
| Indiana Everyday Mathematics, Grade 1, Print Classroom Resource Package PPK | 9781264388936 | $526.72 |
| Indiana Everyday Mathematics, Grade 2, Print Classroom Resource Package PPK | 9781264398522 | $526.72 |
| Indiana Everyday Mathematics, Grade 3, Print Classroom Resource Package PPK | 9781264403516 | $526.72 |