PreK–12 educators will see school pricing in their cart after logging in.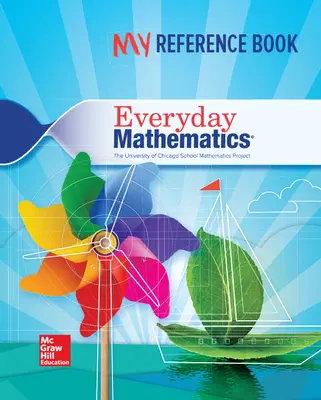 Everyday Mathematics 4, Grades 1-2, My Reference Book
MHID: 0021383510 | ISBN 13: 9780021383511
Payment Options: During checkout, you can pay with a P.O. (simply enter the number), Credit Card, or PayPal.
Product Details:
This hardcover resource contains explanations of key mathematical content, with directions to the Everyday Mathematics® games.
| Title | ISBN 13 | Price |
| --- | --- | --- |
| Comprehensive Student Materials Set Grade 2 | 9780021441976 | $64.64 |
| Comprehensive Student Materials Set Grade 1 | 9780021441969 | $64.64 |
| Everyday Math 4 Comprehensive Student Materials Set, 1-Year, Grade 1 | 9780076952106 | $66.56 |
| Everyday Mathematics 4 National Comprehensive Student Material Set, 1-Year, Grade 2 | 9780076983834 | $66.56 |
| Everyday Math 4 Comprehensive Student Materials Set, 1-Year, Grade 2 | 9780076952113 | $66.56 |
| Everyday Mathematics 4, Grade 1, Comprehensive Student Material Set, 1 Year | 9780021302789 | $66.56 |
| Everyday Mathematics 4 National Comprehensive Student Material Set, 1-Year, Grade 1 | 9780076983803 | $66.56 |
| Everyday Mathematics 4, Grade 2, Comprehensive Student Material Set, 1 Year | 9780021328499 | $66.56 |
| Indiana Everyday Mathematics 4, Grade 1, Comprehensive Student Materials Set, 1-Year | 9781266447808 | $67.84 |
| Indiana Everyday Mathematics 4, Grade 2, Comprehensive Student Materials Set, 1-Year | 9781266451256 | $67.84 |
| Everyday Math 4 Comprehensive Student Materials Set with Arrive Math Booster, 1-Year, Grade 2 | 9780076948451 | $76.12 |
| Everyday Math 4 Comprehensive Student Materials Set with Arrive Math Booster, 1-Year, Grade 1 | 9780076948444 | $76.12 |
| Everyday Mathematics 4 National Comprehensive Student Materials Set with HomeLinks, 1-Year, Grade 1 | 9780076985135 | $77.32 |
| Everyday Math 4 Comprehensive Student Materials Set with Home Links, 1-Year, Grade 2 | 9780076971787 | $77.32 |
| Everyday Math 4 Comprehensive Student Materials Set with Redbird, 1-Year, Grade 2 | 9780076947430 | $78.52 |
| Everyday Math 4 Comprehensive Student Materials Set with Redbird, 1-Year, Grade 1 | 9780076947393 | $78.52 |
| Indiana Everyday Mathematics 4, Grade 1, Comprehensive Student Materials Set with Arrive Mathematics Booster, 1-Year | 9781266469626 | $77.56 |
| Everyday Mathematics 4 National Comprehensive Student Materials Set with HomeLinks, 1-Year, Grade 2 | 9780076985142 | $77.32 |
| Everyday Math 4 Comprehensive Student Materials Set with Home Links, 1-Year, Grade 1 | 9780076971770 | $77.32 |
| EM4 Comprehensive Student Materials Set with HomeLinks, 1 Year Subscription, Grade 2 | 9780076849420 | $77.32 |
| Indiana Everyday Mathematics 4, Grade 2, Comprehensive Student Materials Set with Arrive Mathematics Booster, 1-Year | 9781266469671 | $77.56 |
| EM4 Comprehensive Student Materials Set with HomeLinks, 1 Year Subscription, Grade 1 | 9780076849413 | $77.32 |
| Indiana Everyday Mathematics 4, Grade 2, Comprehensive Student Materials Set with Redbird, 1-Year | 9781266460753 | $80.00 |
| Indiana Everyday Mathematics 4, Grade 1, Comprehensive Student Materials Set with Redbird, 1-Year | 9781266460340 | $80.00 |
| Everyday Math 4 Comprehensive Student Materials Set with Home Links and Arrive Math Booster, 1-Year, Grade 1 | 9780076976591 | $86.84 |
| Indiana Everyday Mathematics 4, Grade 1, Comprehensive Student Materials Set with Redbird and Arrive Mathematics Booster, 1-Year | 9781266446238 | $87.28 |
| Everyday Math 4 Comprehensive Student Materials Set with Home Links and Arrive Math Booster, 1-Year, Grade 2 | 9780076976621 | $86.84 |
| Everyday Math 4, Chicago Public Schools, Comprehensive Student Materials Set, 3-years, Grade 1 | 9780076712977 | $86.28 |
| Everyday Math 4 Comprehensive Student Materials Set with Redbird and Arrive Math Booster, 1-Year, Grade 2 | 9780076949212 | $85.64 |
| Everyday Math 4 Comprehensive Student Materials Set with Redbird and Arrive Math Booster, 1-Year, Grade 1 | 9780076949175 | $85.64 |
| Everyday Math 4, Chicago Public Schools, Comprehensive Student Materials Set, 3-years, Grade 2 | 9780076711222 | $86.28 |
| Indiana Everyday Mathematics 4, Grade 2, Comprehensive Student Materials Set with Redbird and Arrive Mathematics Booster, 1-Year | 9781266446542 | $87.28 |
| Everyday Math 4 Comprehensive Student Materials Set with Home Links and Redbird, 1-Year, Grade 2 | 9780076973699 | $89.20 |
| Everyday Math 4 Comprehensive Student Materials Set with Home Links and Redbird, 1-Year, Grade 1 | 9780076973651 | $89.20 |
| Everyday Math 4 Comprehensive Student Materials Set with Home Links, Redbird and Arrive Math Booster, 1-Year, Grade 1 | 9780076976263 | $96.40 |
| Everyday Math 4 Comprehensive Student Materials Set with Home Links, Redbird and Arrive Math Booster, 1-Year, Grade 2 | 9780076976317 | $96.40 |
| Everyday Math 4 Comprehensive Student Materials Set, 2-Years, Grade 2 | 9781264728725 | $105.68 |
| Everyday Math 4 Comprehensive Student Materials Set, 2-Years, Grade 1 | 9781264725977 | $105.68 |
| Everyday Math 4 Comprehensive Student Materials Set with Arrive Math Booster, 2-Years, Grade 1 | 9781264662081 | $117.60 |
| Everyday Math 4 Comprehensive Student Materials Set with Arrive Math Booster, 2-Years, Grade 2 | 9781264662340 | $117.60 |
| Everyday Math 4 Comprehensive Student Materials Set with Redbird, 2-Years, Grade 2 | 9781264740178 | $120.52 |
| Everyday Math 4 Comprehensive Student Materials Set with Redbird, 2-Years, Grade 1 | 9781264740024 | $120.52 |
| Everyday Math 4 Comprehensive Student Materials Set with Home Links, 2-Years, Grade 2 | 9781264674831 | $127.44 |
| Everyday Math 4 Comprehensive Student Materials Set with Home Links, 2-Years, Grade 1 | 9781264674077 | $127.44 |
| Everyday Math 4 Comprehensive Student Materials Set with Redbird and Arrive Math Booster, 2-Years, Grade 1 | 9781264665303 | $129.48 |
| Everyday Math 4 Comprehensive Student Materials Set with Redbird and Arrive Math Booster, 2-Years, Grade 2 | 9781264666119 | $129.48 |
| Everyday Math 4 Comprehensive Student Materials Set with Home Links and Arrive Math Booster, 2-Years, Grade 2 | 9781264758180 | $139.32 |
| Everyday Math 4 Comprehensive Student Materials Set with Home Links and Arrive Math Booster, 2-Years, Grade 1 | 9781264757763 | $139.32 |
| Everyday Math 4 Comprehensive Student Materials Set with Home Links and Redbird, 2-Years, Grade 2 | 9781264747368 | $143.48 |
| Everyday Math 4 Comprehensive Student Materials Set with Home Links and Redbird, 2-Years, Grade 1 | 9781264745364 | $143.48 |
| Everyday Math 4 Comprehensive Student Materials Set, 3-Years, Grade 2 | 9780076816859 | $144.76 |
| EM4 Comprehensive Student Material Set, Grade 1, 3-Years | 9780021431748 | $144.76 |
| EM4 Comprehensive Student Material Set, Grade 2, 3-Years | 9780021431755 | $144.76 |
| Everyday Mathematics 4 National Comprehensive Student Material Set, 3-Years, Grade 2 | 9780076983933 | $144.76 |
| Everyday Math 4 Comprehensive Student Materials Set, 3-Years, Grade 1 | 9780076816811 | $144.76 |
| Everyday Mathematics 4 National Comprehensive Student Material Set, 3-Years, Grade 1 | 9780076983926 | $144.76 |
| Everyday Math 4 Comprehensive Student Materials Set with Home Links, Redbird and Arrive Math Booster, 2-Years, Grade 1 | 9781264764648 | $153.64 |
| Everyday Math 4 Comprehensive Student Materials Set with Home Links, Redbird and Arrive Math Booster, 2-Years, Grade 2 | 9781264766185 | $153.64 |
| Everyday Math 4 Comprehensive Student Materials Set with Arrive Math Booster, 3-Years, Grade 2 | 9780076817832 | $159.00 |
| Everyday Math 4 Comprehensive Student Materials Set with Arrive Math Booster, 3-Years, Grade 1 | 9780076817177 | $159.00 |
| Everyday Math 4 Comprehensive Student Materials Set with Redbird, 3-Years, Grade 2 | 9780076817030 | $162.64 |
| Everyday Math 4 Comprehensive Student Materials Set with Redbird, 3-Years, Grade 1 | 9780076816996 | $162.64 |
| Everyday Math 4, Chicago Public Schools, Comprehensive Student Materials Set, 6-years, Grade 2 | 9780076709779 | $164.32 |
| Everyday Math 4, Chicago Public Schools, Comprehensive Student Materials Set, 6-years, Grade 1 | 9780076709762 | $164.32 |
| Everyday Math 4 Comprehensive Student Materials Set with Redbird and Arrive Math Booster, 3-Years, Grade 2 | 9780076818013 | $173.36 |
| Everyday Math 4 Comprehensive Student Materials Set with Redbird and Arrive Math Booster, 3-Years, Grade 1 | 9780076817979 | $173.36 |
| Everyday Math 4 Comprehensive Student Materials Set, 4-Years, Grade 1 | 9781264796120 | $184.28 |
| Everyday Math 4 Comprehensive Student Materials Set, 4-Years, Grade 2 | 9781264796472 | $184.28 |
| Everyday Math 4 Comprehensive Student Materials Set with Arrive Math Booster, 4-Years, Grade 2 | 9781264811564 | $200.96 |
| Everyday Math 4 Nevada Comprehensive Student Materials Set with Home Links, 7-Years, Grade 2 | 9780079014573 | $200.56 |
| Everyday Math 4 Comprehensive Student Materials Set with Arrive Math Booster, 4-Years, Grade 1 | 9781264807147 | $200.96 |
| Everyday Math 4 Nevada Comprehensive Student Materials Set with Home Links, 7-Years, Grade 1 | 9780079014542 | $200.56 |
| Everyday Math 4 Comprehensive Student Materials Set with Redbird, 4-Years, Grade 2 | 9781264802203 | $207.52 |
| Everyday Math 4 Comprehensive Student Materials Set with Redbird, 4-Years, Grade 1 | 9781264801640 | $207.52 |
| Everyday Math 4 Comprehensive Student Materials Set with Redbird and Arrive Math Booster, 4-Years, Grade 2 | 9781264825868 | $222.40 |
| Everyday Math 4 Comprehensive Student Materials Set with Redbird and Arrive Math Booster, 4-Years, Grade 1 | 9781264824908 | $222.40 |
| EM4 Comprehensive Student Material Set, Grade 1, 5-Years | 9780021451999 | $223.72 |
| Everyday Math 4 Comprehensive Student Materials Set, 5-Years, Grade 2 | 9780076958290 | $223.72 |
| Everyday Mathematics 4 National Comprehensive Student Material Set, 5-Years, Grade 1 | 9780076984039 | $223.72 |
| Everyday Math 4 Comprehensive Student Materials Set, 5-Years, Grade 1 | 9780076957606 | $223.72 |
| EM4 Comprehensive Student Material Set, Grade 2, 5-Years | 9780021452019 | $223.72 |
| Everyday Mathematics 4 National Comprehensive Student Material Set, 5-Years, Grade 2 | 9780076984060 | $223.72 |
| Everyday Math 4 Comprehensive Student Materials Set with Home Links, 4-Years, Grade 2 | 9781264640256 | $227.68 |
| Everyday Math 4 Comprehensive Student Materials Set with Home Links, 4-Years, Grade 1 | 9781264634613 | $227.68 |
| Everyday Math 4 Comprehensive Student Materials Set with Arrive Math Booster, 5-Years, Grade 1 | 9780076970216 | $242.80 |
| Everyday Math 4 Comprehensive Student Materials Set with Arrive Math Booster, 5-Years, Grade 2 | 9780076970254 | $242.80 |
| Everyday Math 4 Comprehensive Student Materials Set with Home Links and Arrive Math Booster, 4-Years, Grade 1 | 9781264838622 | $244.32 |
| Everyday Math 4 Comprehensive Student Materials Set with Home Links and Arrive Math Booster, 4-Years, Grade 2 | 9781264851652 | $244.32 |
| Everyday Math 4 Comprehensive Student Materials Set with Redbird, 5-Years, Grade 1 | 9780076953400 | $252.36 |
| Everyday Math 4 Comprehensive Student Materials Set with Redbird, 5-Years, Grade 2 | 9780076953448 | $252.36 |
| Everyday Math 4 Comprehensive Student Materials Set with Home Links and Redbird, 4-Years, Grade 1 | 9781264830039 | $252.12 |
| Everyday Math 4 Comprehensive Student Materials Set with Home Links and Redbird, 4-Years, Grade 2 | 9781264831104 | $252.12 |
| Everyday Math 4 Comprehensive Student Materials Set, 6-Years, Grade 2 | 9780076951703 | $263.24 |
| Everyday Mathematics 4 National Comprehensive Student Material Set, 6-Years, Grade 1 | 9780076984138 | $263.24 |
| Everyday Math 4 Comprehensive Student Materials Set, 6-Years, Grade 1 | 9780076951628 | $263.24 |
| EM4 Comprehensive Student Material Set, Grade 1, 6-Years | 9780021339778 | $263.24 |
| EM4 Comprehensive Student Material Set, Grade 2, 6-Years | 9780021339853 | $263.24 |
| Everyday Mathematics 4 National Comprehensive Student Material Set, 6-Years, Grade 2 | 9780076984145 | $263.24 |
| Indiana Everyday Mathematics 4, Grade 1, Comprehensive Student Materials Set, 6-Years | 9781266440823 | $268.24 |
| Indiana Everyday Mathematics 4, Grade 2, Comprehensive Student Materials Set, 6-Years | 9781266441844 | $268.24 |
| Everyday Math 4 Comprehensive Student Materials Set with Home Links, Redbird and Arrive Math Booster, 4-Years, Grade 2 | 9781264847563 | $268.16 |
| Everyday Math 4 Comprehensive Student Materials Set with Home Links, Redbird and Arrive Math Booster, 4-Years, Grade 1 | 9781264844890 | $268.16 |
| Everyday Math 4 Comprehensive Student Materials Set with Redbird and Arrive Math Booster, 5-Years, Grade 2 | 9780076985418 | $271.40 |
| Everyday Math 4 Comprehensive Student Materials Set with Redbird and Arrive Math Booster, 5-Years, Grade 1 | 9780076985388 | $271.40 |
| EM4 Comprehensive Student Materials Set with HomeLinks, 5 Year Subscription, Grade 2 | 9780021431809 | $277.68 |
| Everyday Math 4 Comprehensive Student Materials Set with Home Links, 5-Years, Grade 1 | 9780076972975 | $277.68 |
| EM4 Comprehensive Student Materials Set with HomeLinks, 5 Year Subscription, Grade 1 | 9780021431793 | $277.68 |
| Everyday Mathematics 4 National Comprehensive Student Materials Set with HomeLinks, 5-Years, Grade 2 | 9780076984961 | $277.68 |
| Everyday Math 4 Comprehensive Student Materials Set with Home Links, 5-Years, Grade 2 | 9780076973019 | $277.68 |
| Everyday Mathematics 4 National Comprehensive Student Materials Set with HomeLinks, 5-Years, Grade 1 | 9780076984954 | $277.68 |
| Everyday Math 4 Comprehensive Student Materials Set with Arrive Math Booster, 6-Years, Grade 1 | 9780076948994 | $282.28 |
| Everyday Math 4 Comprehensive Student Materials Set with Arrive Math Booster, 6-Years, Grade 2 | 9780076949038 | $282.28 |
| Indiana Everyday Mathematics 4, Grade 1, Comprehensive Student Materials Set with Arrive Mathematics Booster, 6-Years | 9781266465581 | $287.68 |
| Indiana Everyday Mathematics 4, Grade 2, Comprehensive Student Materials Set with Arrive Mathematics Booster, 6-Years | 9781266466687 | $287.68 |
| Everyday Math 4 Comprehensive Student Materials Set with Redbird, 6-Years, Grade 1 | 9780076948260 | $291.84 |
| Everyday Math 4 Comprehensive Student Materials Set with Redbird, 6-Years, Grade 2 | 9780076948277 | $291.84 |
| Everyday Math 4 Comprehensive Student Materials Set with Home Links and Arrive Math Booster, 5-Years, Grade 1 | 9780076976775 | $296.84 |
| Everyday Math 4 Comprehensive Student Materials Set with Home Links and Arrive Math Booster, 5-Years, Grade 2 | 9780076976805 | $296.84 |
| Indiana Everyday Mathematics 4, Grade 1, Comprehensive Student Materials Set with Redbird, 6-Years | 9781266455308 | $297.40 |
| Indiana Everyday Mathematics 4, Grade 2, Comprehensive Student Materials Set with Redbird, 6-Years | 9781266455438 | $297.40 |
| Everyday Mathematics 4 National Comprehensive Student Material Set, 7-Years, Grade 1 | 9780076984206 | $300.44 |
| Everyday Math 4 Comprehensive Student Materials Set, 7-Years, Grade 1 | 9780076958627 | $300.44 |
| Everyday Math 4 Comprehensive Student Materials Set, 7-Years, Grade 2 | 9780076958658 | $300.44 |
| Everyday Mathematics 4 National Comprehensive Student Material Set, 7-Years, Grade 2 | 9780076984213 | $300.44 |
| EM4 Comprehensive Student Material Set, Grade 2, 7-Years | 9780021339440 | $300.44 |
| EM4 Comprehensive Student Material Set, Grade 1, 7-Years | 9780021369850 | $300.44 |
| Everyday Math 4 Comprehensive Student Materials Set with Home Links and Redbird, 5-Years, Grade 1 | 9780076974054 | $306.32 |
| Everyday Math 4 Comprehensive Student Materials Set with Home Links and Redbird, 5-Years, Grade 2 | 9780076974108 | $306.32 |
| Everyday Math 4 Comprehensive Student Materials Set with Redbird and Arrive Math Booster, 6-Years, Grade 2 | 9780076949397 | $310.92 |
| Everyday Math 4 Comprehensive Student Materials Set with Redbird and Arrive Math Booster, 6-Years, Grade 1 | 9780076949359 | $310.92 |
| Indiana Everyday Mathematics 4, Grade 1, Comprehensive Student Materials Set with Redbird and Arrive Mathematics Booster, 6-Years | 9781266438035 | $316.88 |
| Indiana Everyday Mathematics 4, Grade 2, Comprehensive Student Materials Set with Redbird and Arrive Mathematics Booster, 6-Years | 9781266439186 | $316.88 |
| Everyday Math 4 Comprehensive Student Materials Set with Arrive Math Booster, 7-Years, Grade 2 | 9780076970438 | $319.48 |
| Everyday Math 4 Comprehensive Student Materials Set with Arrive Math Booster, 7-Years, Grade 1 | 9780076970391 | $319.48 |
| Everyday Math 4 Comprehensive Student Materials Set with Home Links, Redbird and Arrive Math Booster, 5-Years, Grade 1 | 9780076978823 | $325.36 |
| Everyday Math 4 Comprehensive Student Materials Set with Home Links, Redbird and Arrive Math Booster, 5-Years, Grade 2 | 9780076978861 | $325.36 |
| EM4 Comprehensive Student Materials Set with HomeLinks, 6 Year Subscription, Grade 1 | 9780021366545 | $327.44 |
| EM4 Comprehensive Student Materials Set with HomeLinks, 6 Year Subscription, Grade 2 | 9780021445653 | $327.44 |
| Everyday Mathematics 4 National Comprehensive Student Materials Set with HomeLinks, 6-Years, Grade 2 | 9780076985081 | $327.44 |
| Everyday Mathematics 4 National Comprehensive Student Materials Set with HomeLinks, 6-Years, Grade 1 | 9780076985074 | $327.44 |
| Everyday Math 4 Comprehensive Student Materials Set with Home Links, 6-Years, Grade 1 | 9780076973156 | $327.44 |
| Everyday Math 4 Comprehensive Student Materials Set with Home Links, 6-Years, Grade 2 | 9780076973194 | $327.44 |
| Everyday Math 4 Comprehensive Student Materials Set with Redbird, 7-Years, Grade 2 | 9780076953622 | $329.00 |
| Everyday Math 4 Comprehensive Student Materials Set with Redbird, 7-Years, Grade 1 | 9780076953585 | $329.00 |
| Everyday Math 4 Comprehensive Student Materials Set, 8-Years, Grade 1 | 9781264213894 | $339.12 |
| EM4 Comprehensive Student Material Set, 8 Years, Grade 2 | 9780076663965 | $339.12 |
| EM4 Comprehensive Student Material Set, 8 Years, Grade 1 | 9780076663958 | $339.12 |
| Everyday Math 4 Comprehensive Student Materials Set, 8-Years, Grade 2 | 9781264213900 | $339.12 |
| Everyday Mathematics 4 National Comprehensive Student Material Set, 8-Years, Grade 2 | 9780076984282 | $339.12 |
| Everyday Mathematics 4 National Comprehensive Student Material Set, 8-Years, Grade 1 | 9780076984275 | $339.12 |
| Everyday Math 4 Comprehensive Student Materials Set with Home Links and Arrive Math Booster, 6-Years, Grade 1 | 9780076976492 | $346.48 |
| Everyday Math 4 Comprehensive Student Materials Set with Home Links and Arrive Math Booster, 6-Years, Grade 2 | 9780076978564 | $346.48 |
| Everyday Math 4 Comprehensive Student Materials Set with Redbird and Arrive Math Booster, 7-Years, Grade 2 | 9780076985593 | $348.12 |
| Everyday Math 4 Comprehensive Student Materials Set with Redbird and Arrive Math Booster, 7-Years, Grade 1 | 9780076985562 | $348.12 |
| Everyday Math 4 Comprehensive Student Materials Set with Home Links and Redbird, 6-Years, Grade 2 | 9780076973736 | $356.00 |
| Everyday Math 4 Comprehensive Student Materials Set with Home Links and Redbird, 6-Years, Grade 1 | 9780076973682 | $356.00 |
| Everyday Math 4 Comprehensive Student Materials Set with Redbird, 8-Years, Grade 1 | 9781264213962 | $371.28 |
| Everyday Math 4 Comprehensive Student Materials Set with Redbird, 8-Years, Grade 2 | 9781264213979 | $371.28 |
| EM4 Comprehensive Student Materials Set with HomeLinks, 7 Year Subscription, Grade 2 | 9780021389056 | $375.44 |
| Everyday Math 4 Comprehensive Student Materials Set with Home Links, 7-Years, Grade 1 | 9780076973330 | $375.44 |
| Everyday Mathematics 4 National Comprehensive Student Materials Set with HomeLinks, 7-Years, Grade 1 | 9780076985302 | $375.44 |
| Everyday Mathematics 4 National Comprehensive Student Materials Set with HomeLinks, 7-Years, Grade 2 | 9780076985319 | $375.44 |
| Everyday Math 4 Comprehensive Student Materials Set with Home Links, Redbird and Arrive Math Booster, 6-Years, Grade 2 | 9780076979042 | $375.08 |
| Everyday Math 4 Comprehensive Student Materials Set with Home Links, 7-Years, Grade 2 | 9780076973378 | $375.44 |
| EM4 Comprehensive Student Materials Set with HomeLinks, 7 Year Subscription, Grade 1 | 9780021419937 | $375.44 |
| Everyday Math 4 Comprehensive Student Materials Set with Home Links, Redbird and Arrive Math Booster, 6-Years, Grade 1 | 9780076979004 | $375.08 |
| Everyday Math 4 Comprehensive Student Materials Set with Home Links and Arrive Math Booster, 7-Years, Grade 2 | 9780076973927 | $394.52 |
| Everyday Math 4 Comprehensive Student Materials Set with Home Links and Arrive Math Booster, 7-Years, Grade 1 | 9780076973866 | $394.52 |
| Everyday Math 4 Comprehensive Student Materials Set with Home Links and Redbird, 7-Years, Grade 1 | 9780076976270 | $404.04 |
| Everyday Math 4 Comprehensive Student Materials Set with Home Links and Redbird, 7-Years, Grade 2 | 9780076976324 | $404.04 |
| Everyday Math 4 Comprehensive Student Materials Set with Home Links, Redbird and Arrive Math Booster, 7-Years, Grade 2 | 9780076979578 | $423.12 |
| Everyday Math 4 Comprehensive Student Materials Set with Home Links, Redbird and Arrive Math Booster, 7-Years, Grade 1 | 9780076979561 | $423.12 |
| Everyday Mathematics 4 National Comprehensive Student Materials Set with HomeLinks, 8-Years, Grade 1 | 9780076985401 | $425.08 |
| EM4 Comprehensive Student Materials Set with HomeLinks, 8 Years, Grade 2 | 9780076664016 | $425.08 |
| Everyday Mathematics 4 National Comprehensive Student Materials Set with HomeLinks, 8-Years, Grade 2 | 9780076985432 | $425.08 |
| EM4 Comprehensive Student Materials Set with HomeLinks, 8 Years, Grade 1 | 9780076664009 | $425.08 |
| EM4 Indiana Print Classroom Resource Package, Grade 1 | 9780076768943 | $519.48 |
| EM4 Indiana Print Classroom Resource Package, Grade 2 | 9780076768950 | $519.48 |
| Everyday Math 4 National Print Classroom Resource Package PPK, Grade 1 | 9780079004796 | $553.08 |
| Everyday Math 4 Print Classroom Resource Package, Grade 2 | 9780076983773 | $553.08 |
| EM4 Print Classroom Resource Package PPK, G2 | 9780021408085 | $553.08 |
| Everyday Math 4 National Print Classroom Resource Package PPK, Grade 2 | 9780079004802 | $553.08 |
| Everyday Math 4 Print Classroom Resource Package, Grade 1 | 9780076983766 | $553.08 |
| EM4 Print Classroom Resource Package PPK, G1 | 9780021408078 | $553.08 |
| Indiana Everyday Mathematics, Grade 2, Print Classroom Resource Package PPK | 9781264398522 | $563.60 |
| Indiana Everyday Mathematics, Grade 1, Print Classroom Resource Package PPK | 9781264388936 | $563.60 |