Workforce Education
Prepare students for success in the workplace.
Combine academic and essential skills instruction within workplace contexts to guide adult learners on a path to a living wage and a sustainable career path. Aligned with WIOA requirements, our workforce solutions promote best practices for integrating academic and occupational skills to prepare students for postsecondary education and training, and, ultimately, success throughout their careers.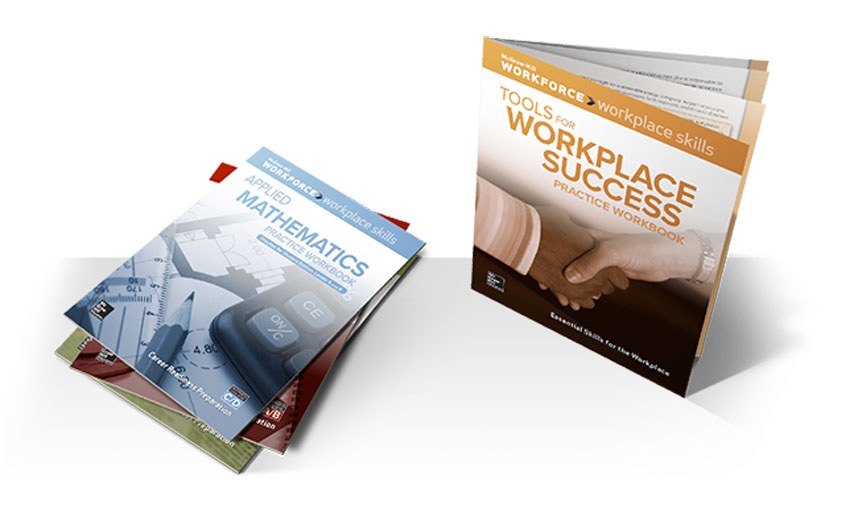 Workforce Skill Development: Instruction
CAREER READINESS PREPARATION SERIES
ESSENTIAL SKILLS FOR THE WORKPLACE
Writing for Work
Provides applied workplace writing activities designed to help students develop their written communication skills within real-world situations, including critical skills such as responding to workplace issues and effectively relaying workplace information.
Tools for Workplace Success
Provides essential "soft" skill instruction through scenario-based modeling and application of workplace decision-making processes. Instruction focuses on skills employers most commonly require from their employee as defined by the Department of Labor workplace competency models.
Workforce Skill Development: Practice
Workplace Skills Practice Workbooks
NEW!
Provides extra practice of core workplace skills to supplement any College and Career Readiness Standards-aligned, workplace-contextualized academic and essential skills instruction or can serve as stand-alone materials for practicing these skills.
Resources:
Career Companions Series
Career exploration and industry-specific contextualized skills practice based on 16 career clusters.
Workforce Skill Development: Integration
Workforce Access
Online pre-bridge courses develop the academic and technical skills needed for postsecondary success in high-growth industries.
Learn More