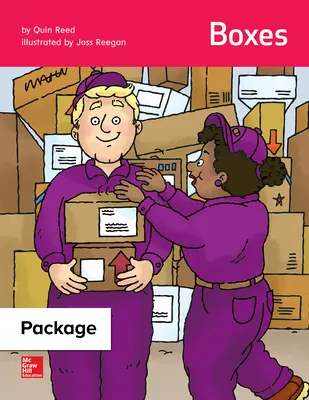 Open Court Reading Practice Pre-Decodable/Decodable Individual Set Grade K (1 each of 42 titles)
MHID:
0076693449 |
ISBN 13:
9780076693443
Product Description
Each story supports instruction in new phonics elements and incorporates elements and high frequency words that have been previously taught.
Purchase this product
Price :

$194.67

Quantity :

Total :

$194.67
The purchase quantity range should be
1
-
29
for this product.
Pricing subject to change at any time. We only ship to US locations.
| Title | Isbn13 | Quantity Included |
| --- | --- | --- |
| Open Court Reading Practice Pre-Decodable 2: The Gift, Grade K | 9780021321988 | 1 |
| Open Court Reading Practice Pre-Decodable 3: A House, Grade K | 9780021322022 | 1 |
| Open Court Reading Practice Pre-Decodable 4: The Toy Box, Grade K | 9780021322039 | 1 |
| Open Court Reading Practice Pre-Decodable 5: The Nap, Grade K | 9780021322077 | 1 |
| Open Court Reading Practice Pre-Decodable 12: Pictures, Grade K | 9780021412563 | 1 |
| Open Court Reading Practice Pre-Decodable 6: Up and Down, Grade K | 9780021322084 | 1 |
| Open Court Reading Practice Pre-Decodable 7: Paper Flowers, Grade K | 9780021404469 | 1 |
| Open Court Reading Practice Pre-Decodable 8: A Sandwich, Grade K | 9780021404476 | 1 |
| Open Court Reading Practice Pre-Decodable 9: Boxes, Grade K | 9780021404513 | 1 |
| Open Court Reading Practice Pre-Decodable 10: Snow, Grade K | 9780021404520 | 1 |
| Open Court Reading Practice Pre-Decodable 11: A Bike, Grade K | 9780021412556 | 1 |
| Open Court Reading Practice Pre-Decodable 1: A Dog's Day, Grade K | 9780021408962 | 1 |
| Open Court Reading Practice Pre-Decodable 13: A Game, Grade K | 9780021412570 | 1 |
| Open Court Reading Practice Pre-Decodable 14: Boxes of Bags, Grade K | 9780021412600 | 1 |
| Open Court Reading Practice Decodable 14: Nate and Kate, Grade K | 9780021304554 | 1 |
| Open Court Reading Practice Decodable 2: Tad and Pat, Grade K | 9780021327591 | 1 |
| Open Court Reading Practice Decodable 9: Fun at Six, Grade K | 9780021434343 | 1 |
| Open Court Reading Practice Decodable 10: Max Zaps Spot, Grade K | 9780021434374 | 1 |
| Open Court Reading Practice Decodable 18: Eve Is Like Me, Grade K | 9780021447343 | 1 |
| Open Court Reading Practice Decodable 21: Sad Fred, Grade K | 9780021447459 | 1 |
| Open Court Reading Practice Decodable 22: Brad Has a List, Grade K | 9780021447626 | 1 |
| Open Court Reading Practice Decodable 23: Spike Likes Ham, Grade K | 9780021447633 | 1 |
| Open Court Reading Practice Decodable 24: On a Trip, Grade K | 9780021447657 | 1 |
| Open Court Reading Practice Decodable 25: Six Hats and a Box, Grade K | 9780021447886 | 1 |
| Open Court Reading Practice Decodable 3: Sad Nan, Grade K | 9780021449347 | 1 |
| Open Court Reading Practice Decodable 4: A Pin, Grade K | 9780021449415 | 1 |
| Open Court Reading Practice Decodable 11: Kip and Wags, Grade K | 9780021449460 | 1 |
| Open Court Reading Practice Decodable 12: A Red Quilt, Grade K | 9780021449538 | 1 |
| Open Court Reading Practice Decodable 13: Yes! Cats Win!, Grade K | 9780021449651 | 1 |
| Open Court Reading Practice Decodable 19: Hope to Hop, Grade K | 9780021449699 | 1 |
| Open Court Reading Practice Decodable 20: Grab, Grade K | 9780021449743 | 1 |
| Open Court Reading Practice Decodable 1: A Dad, Grade K | 9780021450176 | 1 |
| Open Court Reading Practice Decodable 5: Cal Naps a Bit, Grade K | 9780021450282 | 1 |
| Open Court Reading Practice Decodable 6: Spot and Mom, Grade K | 9780021450374 | 1 |
| Open Court Reading Practice Decodable 7: Grab a Big Bag, Grade K | 9780021450404 | 1 |
| Open Court Reading Practice Decodable 8: Fast in a Jam, Grade K | 9780021450428 | 1 |
| Open Court Reading Practice Decodable 15: A Wild Ride, Grade K | 9780021450558 | 1 |
| Open Court Reading Practice Decodable 16: No, Smoke!, Grade K | 9780021450565 | 1 |
| Open Court Reading Practice Decodable 17: A Cold Cube, Grade K | 9780021450619 | 1 |
| Open Court Reading Grade K Practice Decodable 28, Zip, Zap, Blip | 9780021362554 | 1 |
| Open Court Reading Grade K Practice Decodable 26, A Cute Van | 9780021447282 | 1 |
| Open Court Reading Grade K Practice Decodable 27, Tag! Get Me! | 9780021457793 | 1 |