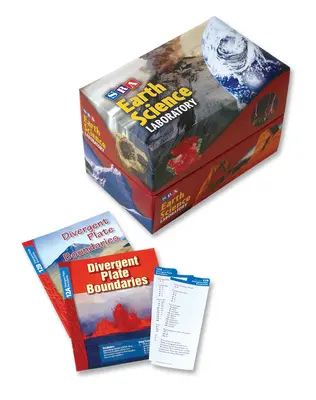 Science Laboratory, SRA: Life, Earth, Physical
Three SRA Science Laboratories provide a change of pace within your middle school science curriculum.
The SRA Science Laboratory gears science for middle school students with engaging images and content, a self-paced format, and includes middle school science activities. Students learn and retain core science vocabulary and ideas by working independently at their own reading levels with science content area readings. Students build confidence and increase science reading comprehension by practicing with test questions that are modeled after science standardized tests.

The Life, Earth, and Physical Science Laboratories teach your students science with the same leveled instructional methods of the SRA Reading Laboratory!
Science topics are aligned to state and national standards
Each SRA Science Laboratory contains 180 Science Activity Cards covering key science concepts and vocabulary at two different reading levels
Easily supplements other science programs
SRA Science Laboratory contains two reading levels of Science Activity Cards - the "A" cards, which are below grade level, and the "B" cards, which are at grade level. The same core science content and highlighted vocabulary are presented at each reading level. The reading selections and skill exercises are designed to help students master science content in the areas of Life Science, Earth Science, Physical Science.
With the SRA Science Laboratory, you can meet the needs of individual learners with one classroom package that:
Enables students with varying reading abilities to acquire specific science concepts through differentiated instruction
Diagnoses each student's level of comprehension
Provides writing activities and vocabulary computer games that help motivate students, while also reinforcing potentially difficult science vocabulary
Charts each student's progress
By offering self-paced learning, students are able to:
Manage their own time
Work independently
Correct their own work
Monitor their own progress
Assessment is incorporated throughout the program in the form of:
Pretests that will identify the level of comprehension of science content and related vocabulary words. The results of the pretest help assign students to the level at which they should begin
Posttests that assess students' progress
SRA Science Laboratory includes:
180 Science Cards in each SRA Science Laboratory (each topic contains two cards, written at two different reading levels).
180 Answer Key Cards (1 for every Science Card)
Student Record Books (5)
Teacher's Handbook
Classroom Resource CD-ROM
The comprehensive Teacher's Handbook includes:
Pretests and posttests for diagnostics and assessment
Outline of vocabulary and topics
Classroom routine suggestions
Hands-on labs for inquiry options
Electronic or paper tests to meet your classroom needs
The Classroom Resource CD-ROM provides:
Pretests and posttests automatically scored by the computer
Assigns appropriate cards based on each student's pretest results
Motivating science vocabulary games
Classroom management and tracking tools
Writing strategies in science