Language for Learning 2008
Grade Levels: PreK-5
Language for Learning provides young learners with the knowledge and understanding of language they need to achieve proficiency and reading comprehension. This oral language program teaches children the words, concepts, and statements important to both oral and written language, and helps enable them to extend this knowledge to other areas of their development. Designed for kindergarten and primary age school children, as well as ELL learners, Language for Learning gives early students the essential tools and understanding to foster continued educational success!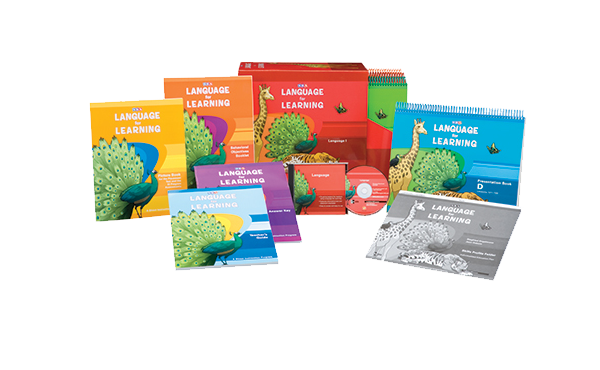 About the Program
The research-proven content of Language for Learning is based on analyses of the words, concepts, and sentence structures that are used for teaching, as well as an analysis of the directions and content of textbooks and other instructional materials in grades K-2.
Features and Benefits:
Carefully organized sequences of daily exercises assure varied and thorough instructional delivery.
Detailed and easy-to-follow teacher materials maximize instructional time spent with students.
Additional resources such as picture cards, skills folders, and support for ELL students extend the program's effectiveness to a wide range of young learners.
Comprehensive tools for performance management, tracking, and assessment promote consistent achievement for all students in the program.
A Fast Cycle option allows advanced students to move through the program at an accelerated rate to match their capabilities.
With the addition of technology-based resources for both student instruction and professional development, Language for Learning helps teachers optimize each minute spent in the classroom.
Program Components
Language for Learning PreK-2, Differentiated Instruction

Language for Learning, Español to English Teacher Materials Kit

Language for Learning, Language Centers for Young Learners (Pre-K Guide)

Language for Learning, Picture Cards Package

Language for Learning, Read-Aloud Library Package

Language for Learning, Series Guide

Language for Learning, Skills Profile Folder (Package of 15)

Language for Learning, Teacher Materials Kit

Reading Mastery Language Arts Strand Grade K-5, Series Guide
Language for Learning PreK, SRA Read-Aloud Library Teacher Edition

Language for Learning, Español to English Teacher Guide

Language for Learning, Language Activity Masters Book 1

Language for Learning, Language Activity Masters Book 2

Language for Learning, Picture Book Assessment

Language for Learning, Presentation Book A

Language for Learning, Presentation Book B

Language for Learning, Presentation Book D

Language for Learning, Teacher Guide
Language for Learning Complete Teacher Subscription, 1-Year

Language for Learning Complete Teacher Subscription, 3-Year

Language for Learning, Workbook A & B

Language for Learning, Workbook C & D
Narrow by
Clear All Filters
Products
To learn about the specific purchase options for this program, please contact our Customer Service team at 800-338-3987
Additional Details & Resources