PreK–12 educators will see school pricing in their cart after logging in.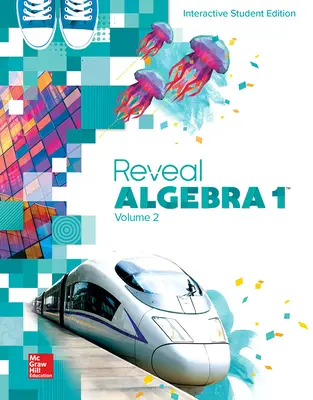 Reveal Algebra 1, Interactive Student Edition, Volume 2
MHID: 0078997437 | ISBN 13: 9780078997433
Payment Options: During checkout, you can pay with a P.O. (simply enter the number), Credit Card, or PayPal.
Product Details:
Students explore, collaborate, and reflect to build confidence in their Algebra 1 math abilities using this volume 2 of 2 interactive student write-in text.
| Title | ISBN 13 | Price |
| --- | --- | --- |
| Reveal Algebra 1, Alabama Student Bundle, 1-year subscription | 9781265888534 | $45.60 |
| Reveal Algebra 1, Alabama Student Bundle with ALEKS via my.mheducation.com, 1-year subscription | 9781265893392 | $54.92 |
| Reveal, Algebra 1, Student Bundle with MH, 1-year subscription | 9781265466725 | $55.80 |
| Reveal Algebra 1, Alabama Student Bundle with ALEKS.com, 1-year subscription | 9781265893934 | $54.92 |
| Reveal Algebra 1, Alabama Student Bundle with Additional Lessons Workbook, 1-year subscription | 9781264498413 | $56.00 |
| Reveal, Algebra 1, Student Bundle with ALEKS and MH, 1-year subscription | 9781265342814 | $65.76 |
| Reveal, Algebra 1, Student Bundle with MH, 2-year subscription | 9781266673979 | $118.80 |
| Reveal, Algebra 1, Student Bundle with MH, 3-year subscription | 9781266671531 | $139.64 |
| Reveal, Algebra 1, Student Bundle with ALEKS and MH, 2-year subscription | 9781266629730 | $140.28 |
| Reveal Algebra 1, Alabama Student Bundle, 6-year subscription | 9781265885809 | $157.36 |
| Reveal, Algebra 1, Student Bundle with MH, 4-year subscription | 9781266671333 | $161.28 |
| Reveal Algebra 1, Alabama Student Bundle with Additional Lessons Workbook, 6-year subscription | 9781264496259 | $168.28 |
| Reveal, Algebra 1, Student Bundle with ALEKS and MH, 3-year subscription | 9781266628740 | $173.40 |
| Reveal, Algebra 1, Student Bundle with MH, 5-year subscription | 9781266670947 | $174.64 |
| Reveal Algebra 1, Alabama Student Bundle with ALEKS via my.mheducation.com, 6-year subscription | 9781265891442 | $181.36 |
| Reveal Algebra 1, Alabama Student Bundle with ALEKS.com, 6-year subscription | 9781265893880 | $181.36 |
| Reveal, Algebra 1, Student Bundle with ALEKS and MH, 4-year subscription | 9781266627118 | $185.96 |
| Reveal, Algebra 1, Student Bundle with MH, 6-year subscription | 9781265464004 | $191.04 |
| Reveal Algebra 1, Alabama Student Bundle with Additional Lessons Workbook and ALEKS via my.mheducation.com, 6-year subscription | 9781265123987 | $192.28 |
| Reveal Algebra 1, Alabama Student Bundle with Additional Lessons Workbook and ALEKS.com, 6-year subscription | 9781265124649 | $192.28 |
| Reveal, Algebra 1, Student Bundle with ALEKS and MH, 5-year subscription | 9781266625268 | $198.56 |
| Reveal, Algebra 1, Student Bundle with MH, 7-year subscription | 9781266670893 | $211.12 |
| Reveal, Algebra 1, Student Bundle with ALEKS and MH, 6-year subscription | 9781265341695 | $214.28 |
| Reveal, Algebra 1, Student Bundle with MH, 8-year subscription | 9781266670657 | $228.20 |
| Reveal, Algebra 1, Student Bundle with ALEKS and MH, 7-year subscription | 9781266624155 | $233.64 |
| Reveal, Algebra 1, Student Bundle with ALEKS and MH, 8-year subscription | 9781266624070 | $249.96 |