PreK–12 educators will see school pricing in their cart after logging in.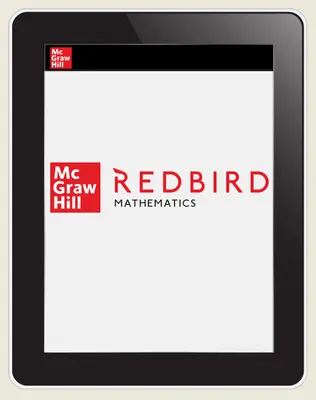 Redbird Mathematics Student subscription, 1 year
MHID: 0078986729 | ISBN 13: 9780078986727
Payment Options: During checkout, you can pay with a P.O. (simply enter the number), Credit Card, or PayPal.
Product Details:
*For Institutional Purchase Only*
This is a 1-year, Student Edition subscription to Redbird Mathematics (priced per student). Please contact sales for multiple year subscriptions.
 
Redbird Mathematics uses adaptive technology to meet all learners (grades K-7) where they are and accelerate learning. At its heart, Redbird Mathematics is an engaging program that enables students to understand, apply, and create at their specific point on the learning continuum.
• Delivers high-quality, differentiated instruction and support
• Helps learners build confidence in their abilities, engaging in productive struggle that helps them learn how to learn
• Supports success for all students with learning scaffolds, including hints, feedback, and a variety of interactive modes
• Deepens mathematical understanding by approaching material in a variety of ways, using multiple representations
 
Learn more at redbirdlearning.com
| Title | ISBN 13 | Price |
| --- | --- | --- |
| Redbird Math Digital 1 Teacher 1 Student 1 Year Subscription Bundle | 9781265732448 | $13.32 |
| Redbird Math and Language Arts & Writing 1 teacher 1 student digital bundle, 1 year subscription | 9781265735937 | $19.96 |
| Redbird Mathematics/Arrive Math Booster Student Subscription Bundle, 1 year | 9780076947287 | $20.40 |
| Florida Reveal Math, Grade 4, Digital Student Resource A, 1-year | 9781266312373 | $34.08 |
| Florida Reveal Math, Grade K, Digital Student Resource, 1-year | 9781266265044 | $34.08 |
| Florida Reveal Math, Grade 3, Digital Student Resource A, 1-year | 9781266311994 | $34.08 |
| Florida Reveal Math, Grade 5, Digital Student Resource A, 1-year | 9781266313431 | $34.08 |
| Florida Reveal Math, Grade 1, Digital Student Resource, 1-year | 9781266265242 | $34.08 |
| Florida Reveal Math, Grade 2, Digital Student Resource, 1-year | 9781266265792 | $34.08 |
| Indiana Everyday Mathematics 4, Grade K, Essential Student Materials Set with Redbird, 1-Year | 9781266418181 | $36.64 |
| Everyday Math 4 Essential Student Materials Set with Redbird, 1-Year, Grade K | 9780076950232 | $35.96 |
| Florida Reveal Math, Grade 4, Digital Plus Student Bundle A, 1-year | 9781266275074 | $37.44 |
| Florida Reveal Math, Grade 2, Digital Plus Student Bundle, 1-year | 9781266268465 | $37.44 |
| Florida Reveal Math, Grade 5, Digital Plus Student Bundle A, 1-year | 9781266275494 | $37.44 |
| Florida Reveal Math, Grade 1, Digital Plus Student Bundle, 1-year | 9781266268458 | $37.44 |
| Florida Reveal Math, Grade 3, Digital Plus Student Bundle A, 1-year | 9781266274220 | $37.44 |
| Florida Reveal Math, Grade K, Digital Plus Student Bundle, 1-year | 9781266267987 | $37.44 |
| Georgia Reveal Math, Grade 4, Digital Student Bundle with Redbird, 1-Year | 9781265383589 | $39.00 |
| Georgia Reveal Math, Grade 1, Digital Student Bundle with Redbird, 1-Year | 9781265379513 | $39.00 |
| Georgia Reveal Math, Grade 3, Digital Student Bundle with Redbird, 1-Year | 9781265380885 | $39.00 |
| McGraw-Hill My Math, Grade K, Mississippi, 1-year Student Bundle with Redbird | 9780076983070 | $40.20 |
| Reveal Math, Grade 5, MH Student Digital Bundle with Redbird, 1-year | 9781265423957 | $40.52 |
| McGraw-Hill My Math, Grade 1, Mississippi, 1-year Student Bundle with Redbird | 9780076983117 | $40.20 |
| Reveal Math, Grade 1, MH Student Digital Bundle with Redbird, 1-year | 9781265415235 | $40.52 |
| Indiana Reveal Math, Grade 1, Student Digital Bundle with Redbird, 1-year | 9781266487507 | $39.68 |
| McGraw-Hill My Math, Grade 5, Mississippi, 1-year Student Bundle with Redbird | 9780076982707 | $40.20 |
| Reveal Math, Grade K, MH Student Digital Bundle with Redbird, 1-year | 9781265415020 | $40.52 |
| Indiana Reveal Math, Grade 4, Student Digital Bundle with Redbird, 1-year | 9781266489471 | $39.68 |
| Indiana Reveal Math, Grade 2, Student Digital Bundle with Redbird, 1-year | 9781266487545 | $39.68 |
| Reveal Math, Grade 3, MH Student Digital Bundle with Redbird, 1-year | 9781265421113 | $40.52 |
| Indiana Reveal Math, Grade K, Student Digital Bundle with Redbird, 1-year | 9781266487309 | $39.68 |
| Indiana Reveal Math, Grade 3, Student Digital Bundle with Redbird, 1-year | 9781266489198 | $39.68 |
| Georgia Reveal Math, Grade K, Digital Student Bundle with Redbird, 1-Year | 9781265376161 | $39.00 |
| Georgia Reveal Math, Grade 2, Digital Student Bundle with Redbird, 1-Year | 9781265380106 | $39.00 |
| Georgia Reveal Math, Grade 5, Digital Student Bundle with Redbird, 1-Year | 9781265383855 | $39.00 |
| McGraw-Hill My Math, Grade 4, Mississippi, 1-year Student Bundle with Redbird | 9780076982684 | $40.20 |
| McGraw-Hill My Math, Grade 2, Mississippi, 1-year Student Bundle with Redbird | 9780076983131 | $40.20 |
| Reveal Math, Grade 2, MH Student Digital Bundle with Redbird, 1-year | 9781265418748 | $40.52 |
| Reveal Math, Grade 4, MH Student Digital Bundle with Redbird, 1-year | 9781265422776 | $40.52 |
| Indiana Reveal Math, Grade 5, Student Digital Bundle with Redbird, 1-year | 9781266489938 | $39.68 |
| McGraw-Hill My Math, Grade 3, Mississippi, 1-year Student Bundle with Redbird | 9780076982288 | $40.20 |
| Florida Reveal Math, Grade 3, Standard Student Bundle A, 1-year | 9781266273681 | $42.40 |
| Indiana Reveal Math, Grade 1, Student Digital Bundle with Redbird and Arrive Math Booster, 1-year | 9781266523212 | $43.40 |
| Indiana Reveal Math, Grade 5, Student Digital Bundle with Redbird and Arrive Math Booster, 1-year | 9781266525162 | $43.40 |
| Indiana Reveal Math, Grade 4, Student Digital Bundle with Redbird and Arrive Math Booster, 1-year | 9781266524912 | $43.40 |
| Indiana Reveal Math, Grade 2, Student Digital Bundle with Redbird and Arrive Math Booster, 1-year | 9781266524349 | $43.40 |
| McGraw-Hill My Math Student Bundle with Redbird, 1-Year, Grade 2 | 9780076990504 | $42.48 |
| Georgia Reveal Math, Grade 5, Digital Student Bundle with Redbird and Arrive Math Booster, 1-Year | 9781265502430 | $42.64 |
| McGraw-Hill My Math Student Bundle with Redbird, 1-Year, Grade 4 | 9780076990535 | $42.48 |
| McGraw-Hill My Math Student Bundle with Redbird, 1-Year, Grade 5 | 9780076990566 | $42.48 |
| Georgia Reveal Math, Grade K, Digital Student Bundle with Redbird and Arrive Math Booster, 1-Year | 9781265497620 | $42.64 |
| Florida Reveal Math, Grade 1, Standard Student Bundle, 1-year | 9781266247101 | $42.40 |
| Alabama McGraw-Hill My Math 1-year Student Bundle with Redbird, Grade 1 | 9780077029838 | $42.00 |
| South Carolina McGraw-Hill My Math 1-year Student Bundle with Redbird, Grade 5 | 9780077020187 | $44.80 |
| South Carolina McGraw-Hill My Math 1-year Student Bundle with Redbird, Grade 3 | 9780077020132 | $44.80 |
| South Carolina McGraw-Hill My Math 1-year Student Bundle with Redbird, Grade 1 | 9780077020088 | $44.80 |
| Indiana Everyday Mathematics 4, Grade K, Essential Student Materials Set with Redbird and Arrive Mathematics Booster, 1-Year | 9781266432859 | $43.96 |
| Indiana Reveal Math, Grade K, Student Digital Bundle with Redbird and Arrive Math Booster, 1-year | 9781266523076 | $43.40 |
| Georgia Reveal Math, Grade 2, Digital Student Bundle with Redbird and Arrive Math Booster, 1-Year | 9781265501167 | $42.64 |
| Everyday Math 4 Essential Student Materials Set with Redbird and Arrive Math Booster, 1-Year, Grade K | 9780076952243 | $43.12 |
| McGraw-Hill My Math Student Bundle with Redbird, 1-Year, Grade K | 9780076990481 | $42.48 |
| McGraw-Hill My Math Student Bundle with Redbird, 1-Year, Grade 1 | 9780076990498 | $42.48 |
| Everyday Math 4 Essential Student Materials Set with Home Links and Redbird, 1-Year, Grade K | 9781265100629 | $43.60 |
| Georgia Reveal Math, Grade 3, Digital Student Bundle with Redbird and Arrive Math Booster, 1-Year | 9781265501839 | $42.64 |
| Georgia Reveal Math, Grade 4, Digital Student Bundle with Redbird and Arrive Math Booster, 1-Year | 9781265502232 | $42.64 |
| McGraw-Hill My Math Student Bundle with Redbird, 1-Year, Grade 3 | 9780076990528 | $42.48 |
| Alabama McGraw-Hill My Math 1-year Student Bundle with Redbird, Grade 4 | 9780077029869 | $42.00 |
| Florida Reveal Math, Grade 5, Standard Student Bundle A, 1-year | 9781266274053 | $42.40 |
| Florida Reveal Math, Grade 4, Standard Student Bundle A, 1-year | 9781266273803 | $42.40 |
| Alabama McGraw-Hill My Math 1-year Student Bundle with Redbird, Grade 5 | 9780077029876 | $42.00 |
| Georgia Reveal Math, Grade 1, Digital Student Bundle with Redbird and Arrive Math Booster, 1-Year | 9781265498566 | $42.64 |
| Alabama McGraw-Hill My Math 1-year Student Bundle with Redbird, Grade 3 | 9780077029852 | $42.00 |
| Florida Reveal Math, Grade 2, Standard Student Bundle, 1-year | 9781266248276 | $42.40 |
| Florida Reveal Math, Grade K, Standard Student Bundle, 1-year | 9781266246265 | $42.40 |
| Alabama McGraw-Hill My Math 1-year Student Bundle with Redbird, Grade K | 9780077029821 | $42.00 |
| Alabama McGraw-Hill My Math 1-year Student Bundle with Redbird, Grade 2 | 9780077029845 | $42.00 |
| Indiana Reveal Math, Grade 3, Student Digital Bundle with Redbird and Arrive Math Booster, 1-year | 9781266524578 | $43.40 |
| South Carolina McGraw-Hill My Math 1-year Student Bundle with Redbird, Grade 2 | 9780077020125 | $44.80 |
| Everyday Math 4 Comprehensive Student Materials Set with Redbird, 1-Year, Grade K | 9780076947386 | $44.36 |
| South Carolina McGraw-Hill My Math 1-year Student Bundle with Redbird, Grade 4 | 9780077020170 | $44.80 |
| Indiana Everyday Mathematics 4, Grade K, Comprehensive Student Materials Set with Redbird, 1-Year | 9781266459931 | $45.20 |
| South Carolina McGraw-Hill My Math 1-year Student Bundle with Redbird, Grade K | 9780077020071 | $44.80 |
| McGraw-Hill My Math, Grade 4, Mississippi, 1-year Student Bundle with Redbird and Arrive | 9780076982363 | $46.20 |
| McGraw-Hill My Math, Grade 1, Mississippi, 1-year Student Bundle with Redbird and Arrive | 9780076982325 | $46.20 |
| McGraw-Hill My Math, Grade 3, Mississippi, 1-year Student Bundle with Redbird and Arrive | 9780076982356 | $46.20 |
| McGraw-Hill My Math, Grade K, Mississippi, 1-year Student Bundle with Redbird and Arrive | 9780076982318 | $46.20 |
| McGraw-Hill My Math, Grade 5, Mississippi, 1-year Student Bundle with Redbird and Arrive | 9780076982394 | $46.20 |
| McGraw-Hill My Math, Grade 2, Mississippi, 1-year Student Bundle with Redbird and Arrive | 9780076982332 | $46.20 |
| Alabama McGraw-Hill My Math 1-year Student Bundle with Redbird and Arrive, Grade 3 | 9780077030100 | $48.00 |
| Alabama McGraw-Hill My Math 1-year Student Bundle with Redbird and Arrive, Grade 4 | 9780077030117 | $48.00 |
| Alabama McGraw-Hill My Math 1-year Student Bundle with Redbird and Arrive, Grade 2 | 9780077030087 | $48.00 |
| Alabama McGraw-Hill My Math 1-year Student Bundle with Redbird and Arrive, Grade K | 9780077030063 | $48.00 |
| Alabama McGraw-Hill My Math 1-year Student Bundle with Redbird and Arrive, Grade 5 | 9780077030124 | $48.00 |
| Alabama McGraw-Hill My Math 1-year Student Bundle with Redbird and Arrive, Grade 1 | 9780077030070 | $48.00 |
| McGraw-Hill My Math Student Bundle with Redbird and Arrive Math Booster, 1-Year, Grade 1 | 9780076990870 | $49.36 |
| McGraw-Hill My Math Student Bundle with Redbird and Arrive Math Booster, 1-Year, Grade 5 | 9780076990917 | $49.36 |
| McGraw-Hill My Math Student Bundle with Redbird and Arrive Math Booster, 1-Year, Grade K | 9780076990863 | $49.36 |
| McGraw-Hill My Math Student Bundle with Redbird and Arrive Math Booster, 1-Year, Grade 2 | 9780076990887 | $49.36 |
| McGraw-Hill My Math Student Bundle with Redbird and Arrive Math Booster, 1-Year, Grade 4 | 9780076990900 | $49.36 |
| McGraw-Hill My Math Student Bundle with Redbird and Arrive Math Booster, 1-Year, Grade 3 | 9780076990894 | $49.36 |
| Florida Reveal Math, Grade 5, Standard Spanish Student Bundle A, 1-year | 9781266296963 | $50.92 |
| Florida Reveal Math, Grade K, Standard Spanish Student Bundle, 1-year | 9781266259432 | $50.92 |
| Everyday Math 4 Essential Student Materials Set with Redbird, 1-Year, Grade 5 | 9780076951741 | $51.12 |
| Everyday Math 4 Essential Student Materials Set with Home Links, Redbird and Arrive, 1-Year, Grade K | 9781265252144 | $50.68 |
| Everyday Math 4 Essential Student Materials Set with Redbird, 1-Year, Grade 2 | 9780076950379 | $51.12 |
| Indiana Everyday Mathematics 4, Grade 3, Essential Student Materials Set with Redbird, 1-Year | 9781266418990 | $52.12 |
| Indiana Everyday Mathematics 4, Grade 6, Essential Student Materials Set with Redbird, 1-Year | 9781266429699 | $52.12 |
| South Carolina McGraw-Hill My Math 1-year Student Bundle with Redbird and Arrive, Grade 3 | 9780077021429 | $51.20 |
| Everyday Math 4 Essential Student Materials Set with Redbird, 1-Year, Grade 4 | 9780076950515 | $51.12 |
| Everyday Math 4 Essential Student Materials Set with Redbird, 1-Year, Grade 3 | 9780076950461 | $51.12 |
| Indiana Everyday Mathematics 4, Grade 4, Essential Student Materials Set with Redbird, 1-Year | 9781266419478 | $52.12 |
| South Carolina McGraw-Hill My Math 1-year Student Bundle with Redbird and Arrive, Grade 5 | 9780077021474 | $51.20 |
| Florida Reveal Math, Grade 4, Standard Spanish Student Bundle A, 1-year | 9781266295096 | $50.92 |
| Everyday Math 4 Comprehensive Student Materials Set with Redbird and Arrive Math Booster, 1-Year, Grade K | 9780076949168 | $51.56 |
| Everyday Math 4 Comprehensive Student Materials Set with Home Links and Redbird, 1-Year, Grade K | 9780076973606 | $51.92 |
| South Carolina McGraw-Hill My Math 1-year Student Bundle with Redbird and Arrive, Grade K | 9780077021368 | $51.20 |
| South Carolina McGraw-Hill My Math 1-year Student Bundle with Redbird and Arrive, Grade 4 | 9780077021467 | $51.20 |
| Indiana Everyday Mathematics 4, Grade 2, Essential Student Materials Set with Redbird, 1-Year | 9781266418686 | $52.12 |
| South Carolina McGraw-Hill My Math 1-year Student Bundle with Redbird and Arrive, Grade 1 | 9780077021375 | $51.20 |
| Florida Reveal Math, Grade 1, Standard Spanish Student Bundle, 1-year | 9781266259500 | $50.92 |
| Florida Reveal Math, Grade 3, Standard Spanish Student Bundle A, 1-year | 9781266294341 | $50.92 |
| South Carolina McGraw-Hill My Math 1-year Student Bundle with Redbird and Arrive, Grade 2 | 9780077021412 | $51.20 |
| Florida Reveal Math, Grade 2, Standard Spanish Student Bundle, 1-year | 9781266262241 | $50.92 |
| Everyday Math 4 Essential Student Materials Set with Redbird, 1-Year, Grade 6 | 9780076950874 | $51.12 |
| Everyday Math 4 Essential Student Materials Set with Redbird, 1-Year, Grade 1 | 9780076950287 | $51.12 |
| Indiana Everyday Mathematics 4, Grade 5, Essential Student Materials Set with Redbird, 1-Year | 9781266429620 | $52.12 |
| Indiana Everyday Mathematics 4, Grade 1, Essential Student Materials Set with Redbird, 1-Year | 9781266418631 | $52.12 |
| Indiana Everyday Mathematics 4, Grade K, Comprehensive Student Materials Set with Redbird and Arrive Mathematics Booster, 1-Year | 9781266445057 | $52.52 |
| Minnesota Reveal Math, Grade K, Student Bundle with Redbird, 1-year subscription | 9781266345159 | $55.16 |
| Georgia Reveal Math, Grade 4, Student Bundle with Redbird, 1-Year | 9781265238148 | $54.60 |
| Florida Reveal Math, Grade 4, Accelerated Digital Student Resource A, 1-year | 9781264608331 | $54.96 |
| Georgia Reveal Math, Grade 5, Student Bundle with Redbird, 1-Year | 9781265238216 | $54.60 |
| Florida Reveal Math, Grade 3, Accelerated Digital Student Resource A, 1-year | 9781264605156 | $54.96 |
| Georgia Reveal Math, Grade 2, Student Bundle with Redbird, 1-Year | 9781265237493 | $54.60 |
| Minnesota Reveal Math, Grade 1, Student Bundle with Redbird, 1-year subscription | 9781266346736 | $55.16 |
| Georgia Reveal Math, Grade 1, Student Bundle with Redbird, 1-Year | 9781265235192 | $54.60 |
| Minnesota Reveal Math, Grade 3, Student Bundle with Redbird, 1-year subscription | 9781266341199 | $55.16 |
| Minnesota Reveal Math, Grade 2, Student Bundle with Redbird, 1-year subscription | 9781266347092 | $55.16 |
| Minnesota Reveal Math, Grade 4, Student Bundle with Redbird, 1-year subscription | 9781266341557 | $55.16 |
| Minnesota Reveal Math, Grade 5, Student Bundle with Redbird, 1-year subscription | 9781266342639 | $55.16 |
| Georgia Reveal Math, Grade K, Student Bundle with Redbird, 1-Year | 9781265234959 | $54.60 |
| Georgia Reveal Math, Grade 3, Student Bundle with Redbird, 1-Year | 9781265238049 | $54.60 |
| Indiana Reveal Math, Grade 2, Student Bundle with Redbird, 1-year | 9781266474422 | $57.28 |
| Indiana Reveal Math, Grade 5, Student Bundle with Redbird, 1-year | 9781266475160 | $57.28 |
| Indiana Reveal Math, Grade 1, Student Bundle with Redbird, 1-year | 9781266473739 | $57.28 |
| Indiana Reveal Math, Grade 3, Student Bundle with Redbird, 1-year | 9781266474484 | $57.28 |
| Indiana Reveal Math, Grade 4, Student Bundle with Redbird, 1-year | 9781266474811 | $57.28 |
| Indiana Reveal Math, Grade K, Student Bundle with Redbird, 1-year | 9781266473722 | $57.28 |
| Everyday Math 4 Essential Student Materials Set with Redbird and Arrive Math Booster, 1-Year, Grade 5 | 9780076950058 | $58.28 |
| Everyday Math 4 Essential Student Materials Set with Redbird and Arrive Math Booster, 1-Year, Grade 4 | 9780076949977 | $58.28 |
| Everyday Math 4 Essential Student Materials Set with Redbird and Arrive Math Booster, 1-Year, Grade 3 | 9780076949922 | $58.28 |
| Indiana Everyday Mathematics 4, Grade 1, Essential Student Materials Set with Redbird and Arrive Mathematics Booster, 1-Year | 9781266434211 | $59.36 |
| Everyday Math 4 Comprehensive Student Materials Set with Home Links, Redbird and Arrive Math Booster, 1-Year, Grade K | 9780076976232 | $59.08 |
| Everyday Math 4 Essential Student Materials Set with Redbird and Arrive Math Booster, 1-Year, Grade 6 | 9780076950157 | $58.28 |
| Everyday Math 4 Essential Student Materials Set with Redbird and Arrive Math Booster, 1-Year, Grade 1 | 9780076952281 | $58.28 |
| Everyday Math 4 Essential Student Materials Set with Redbird and Arrive Math Booster, 1-Year, Grade 2 | 9780076952298 | $58.28 |
| Reveal Math, Grade 4, MH Student Bundle with Redbird, 1-year | 9781265433499 | $60.12 |
| Reveal Math, Grade 1, MH Student Bundle with Redbird, 1-year | 9781265426965 | $60.12 |
| Reveal Math, Grade 3, MH Student Bundle with Redbird, 1-year | 9781265431877 | $60.12 |
| Indiana Everyday Mathematics 4, Grade 5, Essential Student Materials Set with Redbird and Arrive Mathematics Booster, 1-Year | 9781266437687 | $59.36 |
| Indiana Everyday Mathematics 4, Grade 2, Essential Student Materials Set with Redbird and Arrive Mathematics Booster, 1-Year | 9781266435386 | $59.36 |
| Indiana Everyday Mathematics 4, Grade 6, Essential Student Materials Set with Redbird and Arrive Mathematics Booster, 1-Year | 9781266438585 | $59.36 |
| Reveal Math, Grade K, MH Student Bundle with Redbird, 1-year | 9781265424206 | $60.12 |
| Indiana Everyday Mathematics 4, Grade 3, Essential Student Materials Set with Redbird and Arrive Mathematics Booster, 1-Year | 9781266436321 | $59.36 |
| Reveal Math, Grade 2, MH Student Bundle with Redbird, 1-year | 9781265428440 | $60.12 |
| Reveal Math, Grade 5, MH Student Bundle with Redbird, 1-year | 9781265424237 | $60.12 |
| Indiana Everyday Mathematics 4, Grade 4, Essential Student Materials Set with Redbird and Arrive Mathematics Booster, 1-Year | 9781266436918 | $59.36 |
| Indiana Reveal Math, Grade 2, Student Bundle with Redbird and Arrive Math Booster, 1-year | 9781266513473 | $61.12 |
| Everyday Math 4 Essential Student Materials Set with Home Links and Redbird, 1-Year, Grade 4 | 9781265105150 | $61.80 |
| Everyday Math 4 Essential Student Materials Set with Home Links and Redbird, 1-Year, Grade 5 | 9781265105167 | $61.80 |
| Indiana Reveal Math, Grade K, Student Bundle with Redbird and Arrive Math Booster, 1-year | 9781266511868 | $61.12 |
| Everyday Math 4 Essential Student Materials Set with Home Links and Redbird, 1-Year, Grade 3 | 9781265103965 | $61.80 |
| Everyday Math 4 Essential Student Materials Set with Home Links and Redbird, 1-Year, Grade 1 | 9781265101855 | $61.80 |
| Indiana Reveal Math, Grade 3, Student Bundle with Redbird and Arrive Math Booster, 1-year | 9781266514180 | $61.12 |
| Everyday Math 4 Essential Student Materials Set with Home Links and Redbird, 1-Year, Grade 6 | 9781265105556 | $61.80 |
| Indiana Reveal Math, Grade 4, Student Bundle with Redbird and Arrive Math Booster, 1-year | 9781266481543 | $61.12 |
| Indiana Reveal Math, Grade 1, Student Bundle with Redbird and Arrive Math Booster, 1-year | 9781266512827 | $61.12 |
| Everyday Math 4 Essential Student Materials Set with Home Links and Redbird, 1-Year, Grade 2 | 9781265103125 | $61.80 |
| Indiana Reveal Math, Grade 5, Student Bundle with Redbird and Arrive Math Booster, 1-year | 9781266481925 | $61.12 |
| Georgia Reveal Math, Grade 4, Student Bundle with Redbird and Arrive Math Booster, 1-Year | 9781265335441 | $63.04 |
| Georgia Reveal Math, Grade 5, Student Bundle with Redbird and Arrive Math Booster, 1-Year | 9781265336585 | $63.04 |
| Georgia Reveal Math, Grade 2, Student Bundle with Redbird and Arrive Math Booster, 1-Year | 9781265334567 | $63.04 |
| Georgia Reveal Math, Grade 3, Student Bundle with Redbird and Arrive Math Booster, 1-Year | 9781265335342 | $63.04 |
| Georgia Reveal Math, Grade K, Student Bundle with Redbird and Arrive Math Booster, 1-Year | 9781265332112 | $63.04 |
| Georgia Reveal Math, Grade 1, Student Bundle with Redbird and Arrive Math Booster, 1-Year | 9781265332198 | $63.04 |
| Redbird Math 1 teacher 5 student digital bundle, 1 year subscription | 9781265735432 | $66.40 |
| Everyday Math 4 Essential Student Materials Set with Home Links, Redbird and Arrive, 1-Year, Grade 2 | 9781265254056 | $69.00 |
| Reveal Math, Grade 2, Spanish MH Student Bundle with Redbird, 1-year | 9781265437275 | $68.88 |
| Reveal Math, Grade 5, Spanish MH Student Bundle with Redbird, 1-year | 9781265397982 | $68.88 |
| Everyday Math 4 Essential Student Materials Set with Home Links, Redbird and Arrive, 1-Year, Grade 3 | 9781265258429 | $69.00 |
| Reveal Math, Grade K, Spanish MH Student Bundle with Redbird, 1-year | 9781265436711 | $68.88 |
| Reveal Math, Grade 3, Spanish MH Student Bundle with Redbird, 1-year | 9781265438364 | $68.88 |
| Reveal Math, Grade 1, Spanish MH Student Bundle with Redbird, 1-year | 9781265437169 | $68.88 |
| Everyday Math 4 Essential Student Materials Set with Home Links, Redbird and Arrive, 1-Year, Grade 4 | 9781265259273 | $69.00 |
| Everyday Math 4 Essential Student Materials Set with Home Links, Redbird and Arrive, 1-Year, Grade 1 | 9781265260262 | $69.00 |
| Everyday Math 4 Essential Student Materials Set with Home Links, Redbird and Arrive, 1-Year, Grade 5 | 9781265260187 | $69.00 |
| Reveal Math, Grade 4, Spanish MH Student Bundle with Redbird, 1-year | 9781265396886 | $68.88 |
| Everyday Math 4 Essential Student Materials Set with Home Links, Redbird and Arrive, 1-Year, Grade 6 | 9781265266516 | $69.00 |
| Everyday Math 4 Comprehensive Student Materials Set with Redbird, 1-Year, Grade 2 | 9780076947430 | $78.52 |
| Everyday Math 4 Comprehensive Student Materials Set with Redbird, 1-Year, Grade 5 | 9780076948185 | $78.52 |
| Everyday Math 4 Comprehensive Student Materials Set with Redbird, 1-Year, Grade 6 | 9780076948215 | $78.52 |
| Everyday Math 4 Comprehensive Student Materials Set with Redbird, 1-Year, Grade 3 | 9780076947461 | $78.52 |
| Everyday Math 4 Comprehensive Student Materials Set with Redbird, 1-Year, Grade 1 | 9780076947393 | $78.52 |
| Everyday Math 4 Comprehensive Student Materials Set with Redbird, 1-Year, Grade 4 | 9780076947478 | $78.52 |
| Indiana Everyday Mathematics 4, Grade 2, Comprehensive Student Materials Set with Redbird, 1-Year | 9781266460753 | $80.00 |
| Indiana Everyday Mathematics 4, Grade 5, Comprehensive Student Materials Set with Redbird, 1-Year | 9781266463716 | $80.00 |
| Indiana Everyday Mathematics 4, Grade 3, Comprehensive Student Materials Set with Redbird, 1-Year | 9781266461019 | $80.00 |
| Indiana Everyday Mathematics 4, Grade 4, Comprehensive Student Materials Set with Redbird, 1-Year | 9781266461699 | $80.00 |
| Indiana Everyday Mathematics 4, Grade 6, Comprehensive Student Materials Set with Redbird, 1-Year | 9781266463815 | $80.00 |
| Indiana Everyday Mathematics 4, Grade 1, Comprehensive Student Materials Set with Redbird, 1-Year | 9781266460340 | $80.00 |
| Everyday Math 4 Comprehensive Student Materials Set with Redbird and Arrive Math Booster, 1-Year, Grade 5 | 9780076949298 | $85.64 |
| Everyday Math 4 Comprehensive Student Materials Set with Redbird and Arrive Math Booster, 1-Year, Grade 3 | 9780076949229 | $85.64 |
| Everyday Math 4 Comprehensive Student Materials Set with Redbird and Arrive Math Booster, 1-Year, Grade 2 | 9780076949212 | $85.64 |
| Everyday Math 4 Comprehensive Student Materials Set with Redbird and Arrive Math Booster, 1-Year, Grade 6 | 9780076949304 | $85.64 |
| Everyday Math 4 Comprehensive Student Materials Set with Redbird and Arrive Math Booster, 1-Year, Grade 4 | 9780076949267 | $85.64 |
| Everyday Math 4 Comprehensive Student Materials Set with Redbird and Arrive Math Booster, 1-Year, Grade 1 | 9780076949175 | $85.64 |
| Indiana Everyday Mathematics 4, Grade 6, Comprehensive Student Materials Set with Redbird and Arrive Mathematics Booster, 1-Year | 9781266452024 | $87.28 |
| Indiana Everyday Mathematics 4, Grade 1, Comprehensive Student Materials Set with Redbird and Arrive Mathematics Booster, 1-Year | 9781266446238 | $87.28 |
| Indiana Everyday Mathematics 4, Grade 5, Comprehensive Student Materials Set with Redbird and Arrive Mathematics Booster, 1-Year | 9781266448201 | $87.28 |
| Indiana Everyday Mathematics 4, Grade 2, Comprehensive Student Materials Set with Redbird and Arrive Mathematics Booster, 1-Year | 9781266446542 | $87.28 |
| Indiana Everyday Mathematics 4, Grade 4, Comprehensive Student Materials Set with Redbird and Arrive Mathematics Booster, 1-Year | 9781266448126 | $87.28 |
| Indiana Everyday Mathematics 4, Grade 3, Comprehensive Student Materials Set with Redbird and Arrive Mathematics Booster, 1-Year | 9781266447464 | $87.28 |
| Everyday Math 4 Comprehensive Student Materials Set with Home Links and Redbird, 1-Year, Grade 2 | 9780076973699 | $89.20 |
| Everyday Math 4 Comprehensive Student Materials Set with Home Links and Redbird, 1-Year, Grade 1 | 9780076973651 | $89.20 |
| Everyday Math 4 Comprehensive Student Materials Set with Home Links and Redbird, 1-Year, Grade 6 | 9780076973965 | $89.20 |
| Everyday Math 4 Comprehensive Student Materials Set with Home Links and Redbird, 1-Year, Grade 5 | 9780076973873 | $89.20 |
| Everyday Math 4 Comprehensive Student Materials Set with Home Links and Redbird, 1-Year, Grade 3 | 9780076973743 | $89.20 |
| Everyday Math 4 Comprehensive Student Materials Set with Home Links and Redbird, 1-Year, Grade 4 | 9780076973798 | $89.20 |
| Everyday Math 4 Comprehensive Student Materials Set with Home Links, Redbird and Arrive Math Booster, 1-Year, Grade 6 | 9780076978786 | $96.40 |
| Everyday Math 4 Comprehensive Student Materials Set with Home Links, Redbird and Arrive Math Booster, 1-Year, Grade 1 | 9780076976263 | $96.40 |
| Everyday Math 4 Comprehensive Student Materials Set with Home Links, Redbird and Arrive Math Booster, 1-Year, Grade 5 | 9780076978748 | $96.40 |
| Everyday Math 4 Comprehensive Student Materials Set with Home Links, Redbird and Arrive Math Booster, 1-Year, Grade 4 | 9780076978731 | $96.40 |
| Everyday Math 4 Comprehensive Student Materials Set with Home Links, Redbird and Arrive Math Booster, 1-Year, Grade 3 | 9780076976379 | $96.40 |
| Everyday Math 4 Comprehensive Student Materials Set with Home Links, Redbird and Arrive Math Booster, 1-Year, Grade 2 | 9780076976317 | $96.40 |
| Redbird Math and Language Arts & Writing 1 teacher 5 student digital bundle, 1 year subscription | 9781265738495 | $99.80 |
| Arrive Math Booster/Redbird Mathematics, Classroom Digital Bundle, 1 year | 9780077038564 | $612.00 |
| Arrive Math Booster/Redbird Mathematics, Classroom Bundle, 1 year | 9780077038557 | $1071.00 |
| Arrive Math Booster/Redbird Mathematics, Student Site License Bundle (up to 400 Students), 1year | 9780077038571 | $6797.28 |
| Redbird Math and Language Arts & Writing Building Site License (up to 400 units) Student Subscription Bundle, 1 year | 9780076941049 | $6863.92 |
| Arrive Math Booster/Redbird Mathematics, Student Site License Bundle (up to 1000 Students), 1 year | 9780077038588 | $9180.00 |
| Redbird Math and Language Arts & Writing Building Site License (up to 1000 units) Student Subscription Bundle, 1 year | 9780076941056 | $10643.36 |