PreK–12 educators will see school pricing in their cart after logging in.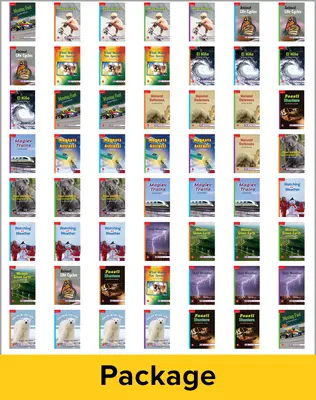 Inspire Science Grade 3, Leveled Reader Library, 6 Each of 56 Books
MHID: 0076660915 | ISBN 13: 9780076660919
Payment Options: During checkout, you can pay with a P.O. (simply enter the number), Credit Card, or PayPal.
Product Details:
The Leveled Reader Library set includes packages of six for four differentiated leveled readers per title, six for On level students, six for Beyond Level Students, six for Approaching Level students and six for English Language Learners. They are differentiated by colored bands using blue, green, yellow, and purple respectively. There are 14 titles in the set for a total of 336 books.
| Title | ISBN 13 | Quantity |
| --- | --- | --- |
| Inspire Science, Grade 3, Leveled Reader, Fossil Hunters Approaching Level | 9780021369287 | 6 |
| Inspire Science, Grade 3, Leveled Reader, Bad Weather On Level | 9780021370450 | 6 |
| Inspire Science, Grade 3, Leveled Reader, Bad Weather Beyond Level | 9780021370467 | 6 |
| Inspire Science, Grade 3, Leveled Reader, Bad Weather ELL Level | 9780021370474 | 6 |
| Inspire Science, Grade 3, Leveled Reader, How Can We Save Them? Approaching Level | 9780021370771 | 6 |
| Inspire Science, Grade 3, Leveled Reader, How Can We Save Them? On Level | 9780021370788 | 6 |
| Inspire Science, Grade 3, Leveled Reader, How Can We Save Them? Beyond Level | 9780021370825 | 6 |
| Inspire Science, Grade 3, Leveled Reader, How Can We Save Them? ELL Level | 9780021370832 | 6 |
| Inspire Science, Grade 3, Leveled Reader, Natural Defenses Approaching Level | 9780021348992 | 6 |
| Inspire Science, Grade 3, Leveled Reader, Natural Defenses On Level | 9780021349012 | 6 |
| Inspire Science, Grade 3, Leveled Reader, Natural Defenses Beyond Level | 9780021349043 | 6 |
| Inspire Science, Grade 3, Leveled Reader, Maglev Trains ELL Level | 9780021359189 | 6 |
| Inspire Science, Grade 3, Leveled Reader, Magnets Attract! Approaching Level | 9780021359226 | 6 |
| Inspire Science, Grade 3, Leveled Reader, Magnets Attract! On Level | 9780021359257 | 6 |
| Inspire Science, Grade 3, Leveled Reader, Magnets Attract! Beyond Level | 9780021359356 | 6 |
| Inspire Science, Grade 3, Leveled Reader, Magnets Attract! ELL Level | 9780021359363 | 6 |
| Inspire Science, Grade 3, Leveled Reader, Natural Defenses ELL Level | 9780021361014 | 6 |
| Inspire Science, Grade 3, Leveled Reader, Claws and Wings and Other Neat Things Approaching Level | 9780021361052 | 6 |
| Inspire Science, Grade 3, Leveled Reader, Claws and Wings and Other Neat Things On Level | 9780021361083 | 6 |
| Inspire Science, Grade 3, Leveled Reader, Claws and Wings and Other Neat Things Beyond Level | 9780021361090 | 6 |
| Inspire Science, Grade 3, Leveled Reader, Claws and Wings and Other Neat Things ELL Level | 9780021361137 | 6 |
| Inspire Science, Grade 3, Leveled Reader, Maglev Trains Approaching Level | 9780021361274 | 6 |
| Inspire Science, Grade 3, Leveled Reader, Maglev Trains On Level | 9780021361311 | 6 |
| Inspire Science, Grade 3, Leveled Reader, Maglev Trains Beyond Level | 9780021361328 | 6 |
| Inspire Science, Grade 3, Leveled Reader, What Makes You Special? Approaching Level | 9780021335732 | 6 |
| Inspire Science, Grade 3, Leveled Reader, What Makes You Special? On Level | 9780021335749 | 6 |
| Inspire Science, Grade 3, Leveled Reader, What Makes You Special? Beyond Level | 9780021335756 | 6 |
| Inspire Science, Grade 3, Leveled Reader, What Makes You Special? ELL Level | 9780021370429 | 6 |
| Inspire Science, Grade 3, Leveled Reader, Watching the Weather Approaching Level | 9780021364039 | 6 |
| Inspire Science, Grade 3, Leveled Reader, Watching the Weather On Level | 9780021364046 | 6 |
| Inspire Science, Grade 3, Leveled Reader, Watching the Weather Beyond Level | 9780021364077 | 6 |
| Inspire Science, Grade 3, Leveled Reader, Watching the Weather ELL Level | 9780021364084 | 6 |
| Inspire Science, Grade 3, Leveled Reader, Mission: Green Earth On Level | 9780021364220 | 6 |
| Inspire Science, Grade 3, Leveled Reader, Mission: Green Earth Beyond Level | 9780021364251 | 6 |
| Inspire Science, Grade 3, Leveled Reader, Mission: Green Earth ELL Level | 9780021364268 | 6 |
| GRADE 3 COLOR CODED STICKER | N/A | 2 |
| Inspire Science, Grade 3, Leveled Reader, Moving Fast Approaching Level | 9780021344970 | 6 |
| Inspire Science, Grade 3, Leveled Reader, Moving Fast On Level | 9780021344987 | 6 |
| Inspire Science, Grade 3, Leveled Reader, Moving Fast Beyond Level | 9780021334681 | 6 |
| Inspire Science, Grade 3, Leveled Reader, Moving Fast ELL Level | 9780021334698 | 6 |
| Inspire Science, Grade 3, Leveled Reader, Machines Approaching Level | 9780021334728 | 6 |
| Inspire Science, Grade 3, Leveled Reader, Machines On Level | 9780021334735 | 6 |
| Inspire Science, Grade 3, Leveled Reader, Machines Beyond Level | 9780021334766 | 6 |
| Inspire Science, Grade 3, Leveled Reader, Machines ELL Level | 9780021334827 | 6 |
| Inspire Science, Grade 3, Leveled Reader, Fossil Hunters ELL Level | 9780021349982 | 6 |
| Inspire Science, Grade 3, Leveled Reader, Fossil Hunters On Level | 9780021375776 | 6 |
| Inspire Science, Grade 3, Leveled Reader, Fossil Hunters Beyond Level | 9780021375783 | 6 |
| Inspire Science, Grade 3, Leveled Reader, Animal Life Cycles On Level | 9780021335688 | 6 |
| Inspire Science, Grade 3, Leveled Reader, Animal Life Cycles Beyond Level | 9780021335718 | 6 |
| Inspire Science, Grade 3, Leveled Reader, Animal Life Cycles ELL Level | 9780021335725 | 6 |
| Inspire Science, Grade 3, Leveled Reader, El Niño Approaching Level | 9780021335763 | 6 |
| Inspire Science, Grade 3, Leveled Reader, El Niño On Level | 9780021335770 | 6 |
| Inspire Science, Grade 3, Leveled Reader, El Niño Beyond Level | 9780021335787 | 6 |
| Inspire Science, Grade 3, Leveled Reader, El Niño ELL Level | 9780021335794 | 6 |
| Inspire Science, Grade 3, Leveled Reader, Bad Weather Approaching Level | 9780021364091 | 6 |
| Inspire Science, Grade 3, Leveled Reader, Mission: Green Earth Approaching Level | 9780021364213 | 6 |
| Inspire Science, Grade 3, Leveled Reader, Animal Life Cycles Approaching Level | 9780021369256 | 6 |