PreK–12 educators will see school pricing in their cart after logging in.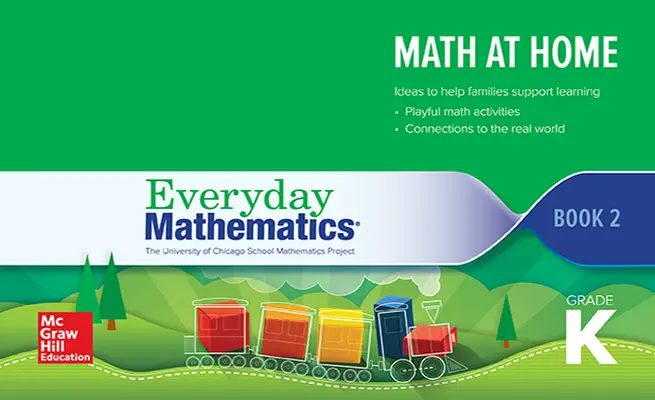 Everyday Mathematics 4, Grade K, Math at Home Book 2
MHID: 0021383286 | ISBN 13: 9780021383283
Payment Options: During checkout, you can pay with a P.O. (simply enter the number), Credit Card, or PayPal.
Product Details:
Book 2 of suggested math activities for Kindergarten students to engage in outside school.
| Title | ISBN 13 | Price |
| --- | --- | --- |
| Comprehensive Student Materials Set Grade K | 9780021441952 | $30.84 |
| Indiana Everyday Mathematics 4, Grade K, Comprehensive Student Materials Set, 1-Year | 9781266447402 | $33.04 |
| Everyday Mathematics 4, Grade K, Comprehensive Student Material Set, 1 Year | 9780021314577 | $32.40 |
| Everyday Math 4 Comprehensive Student Materials Set, 1-Year, Grade K | 9780076951048 | $32.40 |
| Everyday Mathematics 4 National Comprehensive Student Material Set, 1-Year, Grade K | 9780076983797 | $32.40 |
| EM4 Comprehensive Student Materials Set with HomeLinks, 1 Year Subscription, Grade K | 9780076849383 | $40.04 |
| Everyday Mathematics 4 National Comprehensive Student Materials Set with HomeLinks, 1-Year, Grade K | 9780076985128 | $40.04 |
| Everyday Math 4 Comprehensive Student Materials Set with Home Links, 1-Year, Grade K | 9780076971732 | $40.04 |
| Everyday Math 4 Comprehensive Student Materials Set with Arrive Math Booster, 1-Year, Grade K | 9780076948406 | $42.00 |
| Indiana Everyday Mathematics 4, Grade K, Comprehensive Student Materials Set with Arrive Mathematics Booster, 1-Year | 9781266469480 | $42.80 |
| Indiana Everyday Mathematics 4, Grade K, Comprehensive Student Materials Set with Redbird, 1-Year | 9781266459931 | $45.20 |
| Everyday Math 4 Comprehensive Student Materials Set with Redbird, 1-Year, Grade K | 9780076947386 | $44.36 |
| Everyday Math 4 Comprehensive Student Materials Set with Home Links and Arrive Math Booster, 1-Year, Grade K | 9780076976553 | $49.48 |
| Everyday Math 4 Comprehensive Student Materials Set with Redbird and Arrive Math Booster, 1-Year, Grade K | 9780076949168 | $51.56 |
| Everyday Math 4 Comprehensive Student Materials Set with Home Links and Redbird, 1-Year, Grade K | 9780076973606 | $51.92 |
| Indiana Everyday Mathematics 4, Grade K, Comprehensive Student Materials Set with Redbird and Arrive Mathematics Booster, 1-Year | 9781266445057 | $52.52 |
| Everyday Math 4, Chicago Public Schools, Comprehensive Student Materials Set, 3-years, Grade K | 9780076712953 | $57.08 |
| Everyday Math 4 Comprehensive Student Materials Set, 2-Years, Grade K | 9781264724949 | $56.60 |
| Everyday Math 4 Comprehensive Student Materials Set with Home Links, Redbird and Arrive Math Booster, 1-Year, Grade K | 9780076976232 | $59.08 |
| Everyday Math 4 Comprehensive Student Materials Set with Arrive Math Booster, 2-Years, Grade K | 9781264661855 | $79.68 |
| Everyday Mathematics 4 National Comprehensive Student Material Set, 3-Years, Grade K | 9780076983902 | $80.72 |
| Everyday Math 4 Comprehensive Student Materials Set, 3-Years, Grade K | 9780076816804 | $80.72 |
| EM4 Comprehensive Student Material Set, Grade K, 3-Years | 9780021431731 | $80.72 |
| Everyday Math 4 Comprehensive Student Materials Set with Home Links, 2-Years, Grade K | 9781264673070 | $80.08 |
| Everyday Math 4 Comprehensive Student Materials Set with Redbird, 2-Years, Grade K | 9781264739172 | $82.60 |
| Everyday Math 4 Comprehensive Student Materials Set with Redbird and Arrive Math Booster, 2-Years, Grade K | 9781264664306 | $91.56 |
| Everyday Math 4 Comprehensive Student Materials Set with Home Links and Arrive Math Booster, 2-Years, Grade K | 9781264757732 | $92.16 |
| Everyday Math 4 Comprehensive Student Materials Set with Home Links and Redbird, 2-Years, Grade K | 9781264744770 | $96.40 |
| Everyday Math 4 Comprehensive Student Materials Set with Home Links, Redbird and Arrive Math Booster, 2-Years, Grade K | 9781264763191 | $106.44 |
| Everyday Math 4 Comprehensive Student Materials Set with Arrive Math Booster, 3-Years, Grade K | 9780076817160 | $117.28 |
| Everyday Math 4 Comprehensive Student Materials Set with Redbird, 3-Years, Grade K | 9780076816989 | $120.88 |
| Everyday Math 4 Comprehensive Student Materials Set, 4-Years, Grade K | 9781264795185 | $122.36 |
| Everyday Math 4, Chicago Public Schools, Comprehensive Student Materials Set, 6-years, Grade K | 9780076713028 | $123.52 |
| Everyday Math 4 Comprehensive Student Materials Set with Redbird and Arrive Math Booster, 3-Years, Grade K | 9780076817962 | $131.64 |
| Everyday Math 4 Comprehensive Student Materials Set with Arrive Math Booster, 4-Years, Grade K | 9781264807093 | $150.16 |
| Everyday Math 4 Comprehensive Student Materials Set with Redbird, 4-Years, Grade K | 9781264801602 | $156.76 |
| Everyday Math 4 Comprehensive Student Materials Set with Home Links, 4-Years, Grade K | 9781264627905 | $160.16 |
| EM4 Comprehensive Student Material Set, Grade K, 5-Years | 9780021451968 | $162.00 |
| Everyday Mathematics 4 National Comprehensive Student Material Set, 5-Years, Grade K | 9780076984022 | $162.00 |
| Everyday Math 4 Comprehensive Student Materials Set, 5-Years, Grade K | 9780076957552 | $162.00 |
| Everyday Math 4 Comprehensive Student Materials Set with Redbird and Arrive Math Booster, 4-Years, Grade K | 9781264822683 | $171.64 |
| Everyday Math 4 Comprehensive Student Materials Set with Home Links and Arrive Math Booster, 4-Years, Grade K | 9781264836604 | $177.40 |
| Everyday Math 4 Comprehensive Student Materials Set with Arrive Math Booster, 5-Years, Grade K | 9780076970209 | $183.04 |
| Everyday Math 4 Comprehensive Student Materials Set with Home Links and Redbird, 4-Years, Grade K | 9781264829521 | $185.16 |
| Everyday Math 4 Comprehensive Student Materials Set with Redbird, 5-Years, Grade K | 9780076953394 | $192.56 |
| Everyday Math 4 Comprehensive Student Materials Set, 6-Years, Grade K | 9780076951574 | $194.40 |
| Everyday Mathematics 4 National Comprehensive Student Material Set, 6-Years, Grade K | 9780076984121 | $194.40 |
| EM4 Comprehensive Student Material Set, Grade K, 6-Years | 9780021339686 | $194.40 |
| Indiana Everyday Mathematics 4, Grade K, Comprehensive Student Materials Set, 6-Years | 9781266440380 | $198.28 |
| Everyday Mathematics 4 National Comprehensive Student Materials Set with HomeLinks, 5-Years, Grade K | 9780076984947 | $200.20 |
| Everyday Math 4 Nevada Comprehensive Student Materials Set with Home Links, 7-Years, Grade K | 9780079014535 | $200.56 |
| Everyday Math 4 Comprehensive Student Materials Set with Home Links, 5-Years, Grade K | 9780076971916 | $200.20 |
| EM4 Comprehensive Student Materials Set with HomeLinks, 5 Year Subscription, Grade K | 9780021431786 | $200.20 |
| Everyday Math 4 Comprehensive Student Materials Set with Home Links, Redbird and Arrive Math Booster, 4-Years, Grade K | 9781264844012 | $201.24 |
| Everyday Math 4 Comprehensive Student Materials Set with Redbird and Arrive Math Booster, 5-Years, Grade K | 9780076985340 | $211.60 |
| Everyday Math 4 Comprehensive Student Materials Set with Arrive Math Booster, 6-Years, Grade K | 9780076948987 | $214.96 |
| Indiana Everyday Mathematics 4, Grade K, Comprehensive Student Materials Set with Arrive Mathematics Booster, 6-Years | 9781266464645 | $219.08 |
| Everyday Math 4 Comprehensive Student Materials Set with Home Links and Arrive Math Booster, 5-Years, Grade K | 9780076976737 | $220.04 |
| Everyday Math 4 Comprehensive Student Materials Set with Redbird, 6-Years, Grade K | 9780076948222 | $224.48 |
| Everyday Math 4 Comprehensive Student Materials Set, 7-Years, Grade K | 9780076958535 | $226.24 |
| EM4 Comprehensive Student Material Set, Grade K, 7-Years | 9780021389582 | $226.24 |
| Everyday Mathematics 4 National Comprehensive Student Material Set, 7-Years, Grade K | 9780076984190 | $226.24 |
| Everyday Math 4 Comprehensive Student Materials Set with Home Links and Redbird, 5-Years, Grade K | 9780076974016 | $229.60 |
| Indiana Everyday Mathematics 4, Grade K, Comprehensive Student Materials Set with Redbird, 6-Years | 9781266455049 | $228.76 |
| Everyday Mathematics 4 National Comprehensive Student Materials Set with HomeLinks, 6-Years, Grade K | 9780076985043 | $240.24 |
| Everyday Math 4 Comprehensive Student Materials Set with Home Links, 6-Years, Grade K | 9780076973149 | $240.24 |
| EM4 Comprehensive Student Materials Set with HomeLinks, 6 Year Subscription, Grade K | 9780021362004 | $240.24 |
| Everyday Math 4 Comprehensive Student Materials Set with Redbird and Arrive Math Booster, 6-Years, Grade K | 9780076949342 | $243.56 |
| Everyday Math 4 Comprehensive Student Materials Set with Arrive Math Booster, 7-Years, Grade K | 9780076970384 | $245.32 |
| Everyday Math 4 Comprehensive Student Materials Set with Home Links, Redbird and Arrive Math Booster, 5-Years, Grade K | 9780076978816 | $248.64 |
| Indiana Everyday Mathematics 4, Grade K, Comprehensive Student Materials Set with Redbird and Arrive Mathematics Booster, 6-Years | 9781266437625 | $248.20 |
| Everyday Math 4 Comprehensive Student Materials Set with Redbird, 7-Years, Grade K | 9780076953578 | $254.84 |
| Everyday Mathematics 4 National Comprehensive Student Material Set, 8-Years, Grade K | 9780076984268 | $258.92 |
| Everyday Math 4 Comprehensive Student Materials Set, 8-Years, Grade K | 9781264213887 | $258.92 |
| EM4 Comprehensive Student Material Set, 8 Years, Grade K | 9780021432981 | $258.92 |
| Everyday Math 4 Comprehensive Student Materials Set with Home Links and Arrive Math Booster, 6-Years, Grade K | 9780076976454 | $260.44 |
| Everyday Math 4 Comprehensive Student Materials Set with Home Links and Redbird, 6-Years, Grade K | 9780076973613 | $270.00 |
| Everyday Math 4 Comprehensive Student Materials Set with Redbird and Arrive Math Booster, 7-Years, Grade K | 9780076985524 | $273.92 |
| EM4 Comprehensive Student Materials Set with HomeLinks, 7 Year Subscription, Grade K | 9780021339389 | $279.28 |
| Everyday Mathematics 4 National Comprehensive Student Materials Set with HomeLinks, 7-Years, Grade K | 9780076985272 | $279.28 |
| Everyday Math 4 Comprehensive Student Materials Set with Home Links, 7-Years, Grade K | 9780076973323 | $279.28 |
| Everyday Math 4 Comprehensive Student Materials Set with Home Links, Redbird and Arrive Math Booster, 6-Years, Grade K | 9780076978991 | $289.08 |
| Everyday Math 4 Comprehensive Student Materials Set with Redbird, 8-Years, Grade K | 9781264213955 | $291.04 |
| Everyday Math 4 Comprehensive Student Materials Set with Home Links and Arrive Math Booster, 7-Years, Grade K | 9780076978694 | $298.36 |
| Everyday Math 4 Comprehensive Student Materials Set with Home Links and Redbird, 7-Years, Grade K | 9780076974191 | $307.92 |
| EM4 Comprehensive Student Materials Set with HomeLinks, 8 Years, Grade K | 9780076660735 | $318.84 |
| Everyday Mathematics 4 National Comprehensive Student Materials Set with HomeLinks, 8-Years, Grade K | 9780076985395 | $318.84 |
| Everyday Math 4 Comprehensive Student Materials Set with Home Links, Redbird and Arrive Math Booster, 7-Years, Grade K | 9780076979530 | $326.96 |
| EM4 Indiana Print Classroom Resource Package, Grade K | 9780076768936 | $406.60 |
| Everyday Math 4 National Print Classroom Resource Package PPK, Grade K | 9780079004789 | $423.48 |
| Everyday Math 4 Print Classroom Resource Package, Grade K | 9780076983735 | $423.48 |
| EM4 Print Classroom Resource Package PPK, GK | 9780021408047 | $423.48 |
| Indiana Everyday Mathematics, Grade K, Print Classroom Resource Package PPK | 9781264387267 | $431.56 |