9–12 California Inspire Science
The California Inspire Science High School series brings phenomena to the forefront of learning to engage and inspire students to investigate key science concepts through their three-dimensional learning experience. California Inspire Science is available as a Three or Four-Course model.

LearnSmart® is a proven adaptive learning program that helps students succeed by providing a personalized learning path based on their responses to questions. The secret is SmartBook®, the first and only adaptive reading experience designed to change the way students read and learn. As the student progresses, SmartBook® highlights the most impactful concepts the student needs to learn. This ensures that every minute spent with LearnSmart® + SmartBook® is the most productive minute possible.

SyncBlasts provides reading and writing assignments that present science and current event topics relevant to students' lives and their world. Providing a variety of rich multimedia, SyncBlasts challenge students to build critical thinking skills, develop informed opinions, express their opinions, and participate in thoughtful discussion. This engaging resource helps students construct educated responses, while building their writing and research skills, to be active contributors to the conversations that shape the world around them.
9–12 Resources At-A-Glance
California Inspire Science combines online and print resources to support student inquiry into real-world phenomena.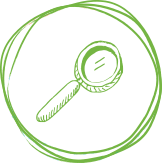 Learn More
Curious to learn more about California Inspire Science? We are here to help. Connect with your local McGraw Hill Representative.