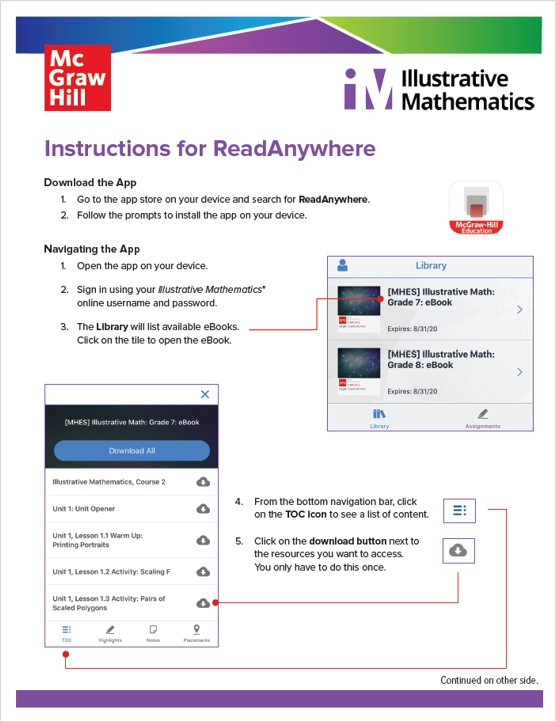 How to use ReadAnywhere with Illustrative Mathematics
, Link will open in a new tab
The free McGraw Hill ReadAnywhere app lets Illustrative Mathematics users access their course eBook anytime, anywhere on their smartphone or tablet – even if they're offline. Login with your McGraw-Hill credentials and start reading Illustrative Mathematics – anywhere – today!
In-Person & Virtual IM Certified Professional Learning
Illustrative Mathematics Professional Learning provides valuable guidance for improving instruction and ensuring successful implementation. The program provides teachers and leaders long-term, sustainable support for developing, refining, and reflecting on instructional practices
Additional McGraw-Hill Professional Development Offerings
Executive Planning Meeting
, Link will open in a new tab
Beginning with an executive planning meeting, a McGraw-Hill team will meet with district curriculum leaders to plan and address specific instructional objectives. This meeting will help bring the right specialists to work with district teachers for implementation success.
Initial Teacher and Administrator/Coach Training
, Link will open in a new tab
Our goal is to provide teachers with a comprehensive introduction to McGraw Hill curriculum, ensuring teachers have acquired the knowledge and skills to begin using the resources immediately in their classroom. A curriculum overview will be customized to address district requirements.
Virtual Training
, Link will open in a new tab
Led by nationally-recognized educators, these training sessions lead teachers through video and printable guided practice, available 24/7 from wherever teachers and administrators access the program. Initial Program Training and Weekly Webinars.
Follow Up Training
, Link will open in a new tab
Following the initial implementation, McGraw Hill representatives and designated district and/or school personnel will determine a plan for further training.