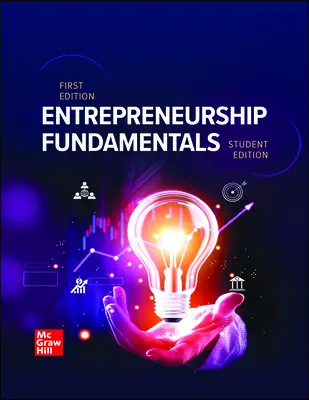 Entrepreneurship Fundamentals ©2024
Entrepreneurship Fundamentals is the high school student's guide to understanding how entrepreneurs identify opportunities, develop an idea, and bring it to market.

The digital world has leveled the playing field and every student can be a successful entrepreneur, if they are prepared with some basic principles.  
Students begin each chapter with an introduction to a real-life entrepreneurial scenario and experience dialog as they learn how to think and solve problems like an entrepreneur. Authentic simulations throughout the digital course immerse the student in engaging scenarios and help students understand how to obtain and evaluate data and make informed decisions.
• Digital teaching resources
including pacing guide, instructor's manual, presentation materials for each chapter, discussion prompts, extensive question and assessment bank.
• High-quality simulations
that allow students to observe and react to authentic experiences and receive instant feedback.
• Short, contemporary, and engaging animated videos
summarizing some of the most challenging marketing concepts.
• Over 900 business-related questions and exercises to build critical soft skills.• Updated content and real-world business scenarios.• Built using Blooms Taxonomy
and motivational strategies based on the
Keller's ARCS Model.
See Resources Tab for additional information. 
Students that have completed our foundational Entrepreneurship Fundamentals course and wish to explore entrepreneurship in greater detail may wish to consider our intermediate course,
Entrepreneurship © 2020
.
Click here to view the program: 
Entrepreneurship (c)2020