PreK–12 educators will see school pricing in their cart after logging in.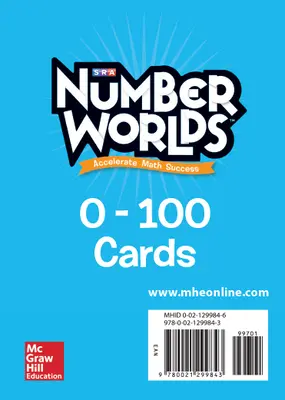 Number Worlds 0-100 Cards
MHID: 0021299846 | ISBN 13: 9780021299843
Payment Options: During checkout, you can pay with a P.O. (simply enter the number), Credit Card, or PayPal.
Product Details:
0-100 Cards are included in the Manipulatives Plus Pack for Number Words to use used in lessons or game play to reinforce various math concepts.
| Title | ISBN 13 | Price |
| --- | --- | --- |
| Number Worlds Level J, Manipulatives Plus Pack | 9780021296033 | $204.84 |
| Number Worlds Level D, Manipulatives Plus Pack | 9780021295975 | $204.84 |
| Number Worlds Level G, Manipulatives Plus Pack | 9780021296002 | $204.84 |
| Number Worlds Level F, Manipulatives Plus Pack | 9780021295999 | $204.84 |
| Number Worlds Level I, Manipulatives Plus Pack | 9780021296026 | $204.84 |
| Number Worlds Level E, Manipulatives Plus Pack | 9780021295982 | $204.84 |
| Number Worlds Level H, Manipulatives Plus Pack | 9780021296019 | $204.84 |
| Number Worlds Level G Transition Package, 6-month teacher subscription | 9780021385386 | $548.44 |
| Number Worlds Level H Transition Package, 6-month teacher subscription | 9780021410521 | $548.44 |
| Number Worlds Level J Transition Package, 6-month teacher subscription | 9780021410576 | $548.44 |
| Number Worlds Level E Transition Package, 6-month teacher subscription | 9780021385331 | $548.44 |
| Number Worlds Level F Transition Package, 6-month teacher subscription | 9780021385348 | $548.44 |
| Number Worlds Level I Transition Package, 6-month teacher subscription | 9780021410538 | $548.44 |
| Number Worlds Level D Transition Package, 6-month teacher subscription | 9780021367122 | $548.44 |
| Number Worlds Standards Neutral Level F, Intervention Print Teacher Package | 9780021374151 | $888.20 |
| Number Worlds Standards Neutral Level G, Intervention Print Teacher Package | 9780021374168 | $888.20 |
| Number Worlds Standards Neutral Level J, Intervention Print Teacher Package | 9780021374229 | $888.20 |
| Number Worlds Standards Neutral Level E, Intervention Print Teacher Package | 9780021334490 | $888.20 |
| Number Worlds CCSS Level J, Intervention Print Teacher Package | 9780021296415 | $888.20 |
| Number Worlds CCSS Level D, Intervention Print Teacher Package | 9780021296354 | $888.20 |
| Number Worlds CCSS Level H, Intervention Print Teacher Package | 9780021296392 | $888.20 |
| Number Worlds CCSS Level G, Intervention Print Teacher Package | 9780021296385 | $888.20 |
| Number Worlds Standards Neutral Level I, Intervention Print Teacher Package | 9780021374212 | $888.20 |
| Number Worlds CCSS Level I, Intervention Print Teacher Package | 9780021296408 | $888.20 |
| Number Worlds Standards Neutral Level H, Intervention Print Teacher Package | 9780021374199 | $888.20 |
| Number Worlds CCSS Level E, Intervention Print Teacher Package | 9780021296361 | $888.20 |
| Number Worlds Standards Neutral Level D, Intervention Print Teacher Package | 9780021363735 | $888.20 |
| Number Worlds CCSS Level F, Intervention Print Teacher Package | 9780021296378 | $888.20 |