PreK–12 educators will see school pricing in their cart after logging in.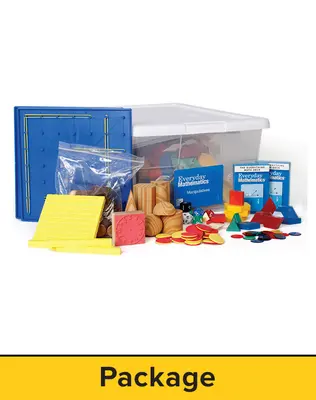 Everyday Mathematics 4, Grade 3, Manipulative Upgrade Kit for EM4
MHID: 0021363560 | ISBN 13: 9780021363568
Payment Options: During checkout, you can pay with a P.O. (simply enter the number), Credit Card, or PayPal.
Product Details:
The Manipulative Upgrade Kit is a reduced kit geared for EM2, EM3, and EM-CCSS classrooms that already have the current EM Manipulative Kit. It serves 20-25 students and has the following, packaged in 3 storage tubs: Base 10 - Hundreds Flat (3 pkgs of 10); Beakers, Nested Graduated (4 Sets of 5); Clock Faces (1 pkg of 25); Clock Face Stamp (2); Counters, Translucent (1 pkg of 200); Dice, 10-Sided (1 pkg of 25); Fraction Circles Pieces (25 pkgs); Medicine Dropper, 1ml (1 pkg of 12); Quick Look Cards: Equal Groups (1 set of 35 cards); Quick Look Cards: Fractions (1 set of 35 cards); Rulers, 12in. (5 pkgs of 5); Standard Metric Masses (1); Tape Measures, Retractable (15); Meter Sticks, Dual Scale (1 pkg of 10).
| Title | ISBN 13 | Quantity |
| --- | --- | --- |
| TUBS | N/A | 3 |
| P/N Everyday Math Manipulative Kit Tub Sticker Grade 3 | N/A | 3 |
| P/N EM4 Manipulative Shipper for 3-4 Tubs | N/A | 1 |
| P/N EM4 Shipper Tub Insert | N/A | 4 |
| Everyday Mathematics, Grades 1-5, Base-10 Hundreds Flats (Package of 10) | N/A | 3 |
| Everyday Mathematics, Grades 1-2, Clock Face Stamp | N/A | 2 |
| Everyday Mathematics, Grades K-6, Tape Measure - Retractable | N/A | 15 |
| Everyday Mathematics, Grade K, 12 Inch Rulers 5-Pack | 9780076142644 | 5 |
| P/N Everday Math Upgrade Manipulative Kit Conent List Grade 3 | N/A | 1 |
| Everyday Mathematics 4, Grades K-4, Counters; translucent; multi-colored, 4 colors | 9780021433650 | 1 |
| Everyday Mathematics 4, Grades 3-5, Fraction Circle Pieces | 9780021448388 | 25 |
| EM4 10-Sided Dice, 1-10 | 9780021339723 | 1 |
| Everyday Mathematics 4, Grade 3, Standard Metric Masses | 9780021354467 | 1 |
| Everyday Mathematics 4, Grade 3, Quick Look Cards - Equal Groups | 9780021362349 | 1 |
| Everyday Mathematics 4, Grades 3-4, Beakers, Nested Graduated Set | 9780021391370 | 4 |
| Everyday Mathematics 4, Grades 3-4, Medicine Dropper, 1ml | 9780021416608 | 1 |
| Everyday Mathematics 4, Grade 3, Quick Look Cards - Fractions | 9780021445721 | 1 |
| P/N Everyday Math Upgrade Manipulative Kit Shipper Sticker Grades 3-5 | N/A | 2 |
| Everyday Mathematics 4, Grades 1-3, Clock Faces | 9780021372195 | 1 |
Title
P/N Everyday Math Manipulative Kit Tub Sticker Grade 3
Title
P/N EM4 Manipulative Shipper for 3-4 Tubs
Title
P/N EM4 Shipper Tub Insert
Title
P/N Everday Math Upgrade Manipulative Kit Conent List Grade 3
Title
P/N Everyday Math Upgrade Manipulative Kit Shipper Sticker Grades 3-5