Pedagogy for McGraw Hill Networks
Spark Inquiry and Promote Critical Thinking
The Inquiry Journals are interactive work texts that will equip students to think critically through active learning. By researching, evaluating sources, and completing evidence-based writing tasks, students learn how to reach informed conclusions and take action.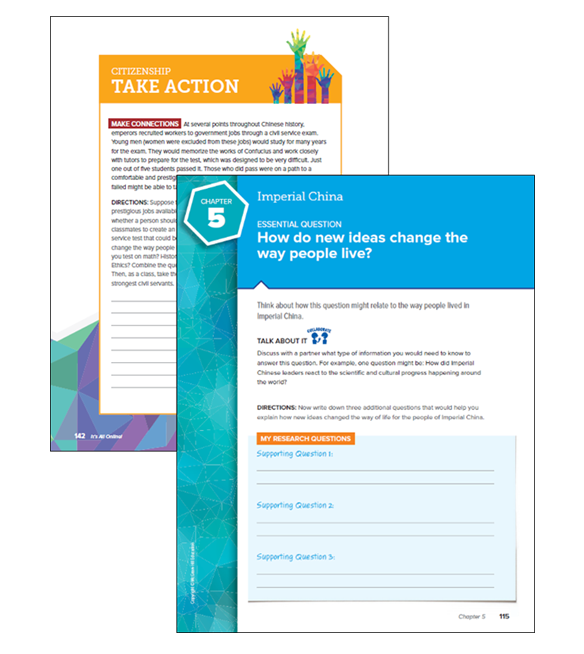 Meaningful Support for Students and Teachers
Point-of-use differentiation strategies for approaching-level, beyond-level, and ELL students 

Adjustable reading levels, audio, and closed captioning 
Reading Essentials and Study Guide to support below-level readers
Comprehensive Spanish language resources, with print Spanish Student Editions for select titles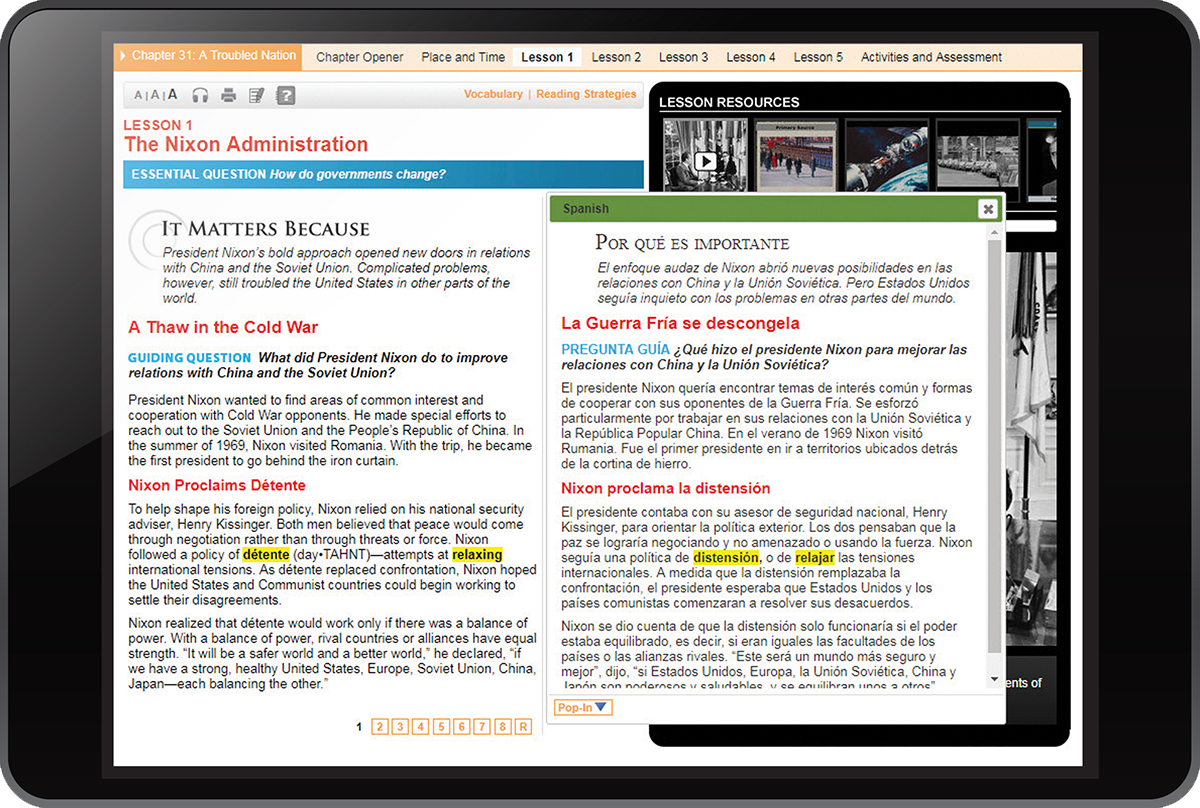 Teach Your Way With Flexible Pathways
Networks enables flexible pathways for teaching and learning. Planning guides offer a custom path to use the resources – print, digital, inquiry, or project-based - so you can teach your way.
Inquiry Path: Encourages students to engage with the essential question by analyzing primary sources, reporting findings, and taking action.
Teacher-Directed Path: Supports teachers by providing interactive, differentiated activities and a linear path through the content. Assessments wrap-up the lessons and chapters.
Project Path: Encourages students to engage with the essential question by creating a product or project, often developing the skills of collaboration and teamwork.
Features for McGraw Hill Networks
Online Teacher Center
Access online lesson plans and library of resources.
Send and receive messages from students.
Review recent assignments.
Access interactive activities, printable worksheets, and other resources that support the lesson.
Start a lesson presentation, made up of slides showing maps, timelines, and resources, for whole class instruction.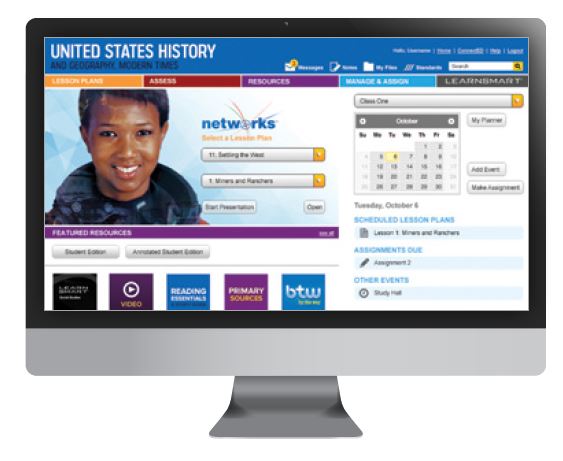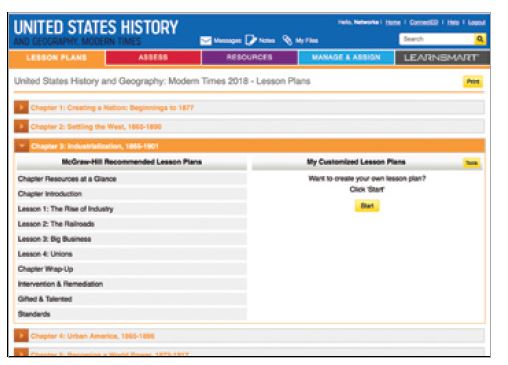 , Link will open in a new tab
Teachers can access pre-built lesson plans that are easily customizable and reference point of use differentiation strategies.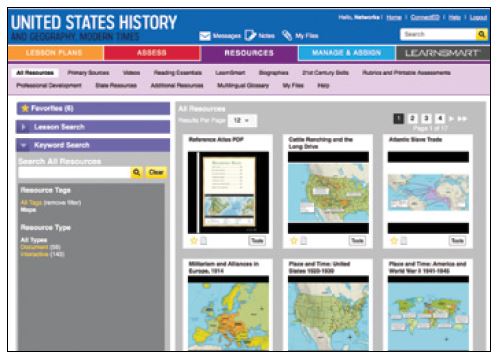 , Link will open in a new tab
Hundreds of additional resources are available in the resource library. Teachers can upload their own resources, too.
Online Student Center
Students can plan, study, check teacher messages, get assignments, and save work. Students can also access these engaging resources:
Maps
Games
Timelines
Infographics
Primary Sources
Images
Videos
Inquiry Journal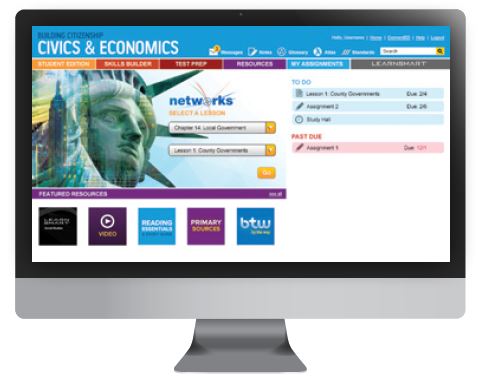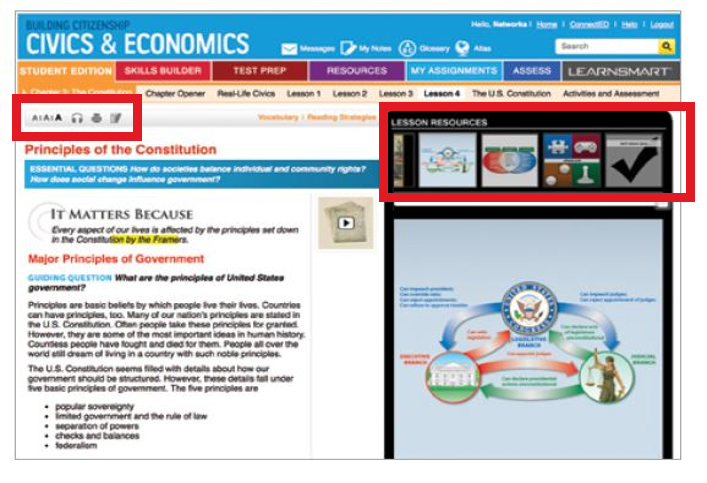 , Link will open in a new tab
Resources are accessible right at the lesson via a carousel. Students can also change the text size for ease of reading, access audio read-aloud, and annotation tools for close reading.
, Link will open in a new tab
Reading and writing support such as guided notes, vocabulary pop-ups, and graphic organizers, help improve understanding of the content.