 Pedagogy and Features for
Our 9–12 Music Curriculum
Pedagogy for Music! Its Role and Importance in Our Lives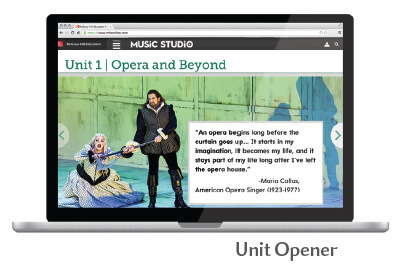 Making Connections
Music! Its Role and Importance in Our Lives helps students focus on this question: How is music woven into our culture and, ultimately, our lives? Each section focuses on the ways we interact with, share, and relate to music.
Engage your students with activities designed to help them connect with the cultural and historical context of the music they are learning about. Travel through time and space to learn about the gamelan, the connection between Rent and La Bohème, and minimalism without leaving your seat.
Social Context
Music! Its Role and Importance in Our Lives brings the world to your classroom with interactivity, videos, artist interviews, authentic recordings, and more—all housed within a carefully designed curriculum focused on the many ways music enriches our lives.
The program encourages students to view music in a social context and supports elements such as melody, rhythm, form, and tone color. It presents music as a natural and essential ingredient of one's own life in all cultures.
Culturally Authentic Music
Our unique partnerships with Music Theatre International, From the Top, and Hal Leonard are what make Music! Its Role and Importance in Our Lives stand out. Beautiful recordings and representations of culturally authentic music help students understand how music functions in their lives.
A few of the notable artists and composers featured in Music! Its Role and Importance in Our Lives:
Benny Goodman
Celine Dion
Charlotte Church
The Chieftains
Christopher O'Riley
Dolly Parton
Ella Fitzgerald
Flaco Jiménez
Sir James Galway
Jose Carreras
Features for Music! Its Role and Importance in Our Lives
Student Features
Online Student Center
Resources Page
Streaming Audio and Video Libraries
Interactive Songs
Virtual Instruments
Presentation Slides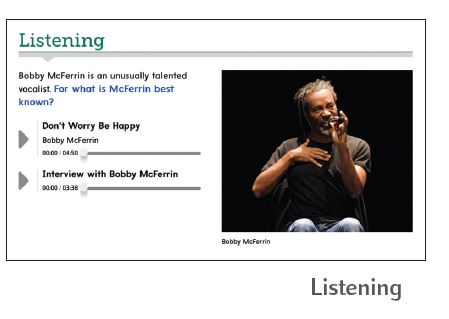 Teacher Features
Online Teacher and Student Centers
Resources Page
Streaming Audio and Video Libraries
Resource Masters eBook
Interactive Songs
Virtual Instruments
Presentation Slides
Online Assessment Tools
Planning Wizard
Class Management Tools
Standards Correlations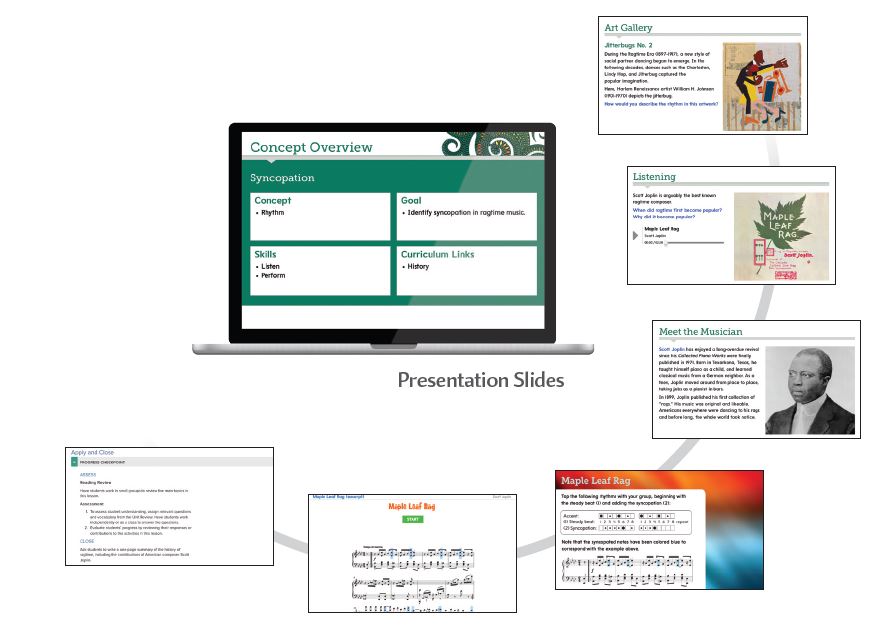 Teaching Command Center
Use the Lesson Planning Wizard to
Populate your Homepage with lessons (across all courses!)
Quickly launch any lesson you've planned to teach
Easily launch key resources
Print any lesson plan