World of Wonders: An Overview
Build a Strong Early Learning Foundation
World of Wonders builds a strong foundation for early literacy and provides developmentally appropriate instruction for early learners, ages three to five, including cross-curricular activities, a focus on social-emotional development, and preparation for kindergarten and beyond.
Components for World of Wonders

Components
The comprehensive World of Wonders curriculum is also available with Spanish resources.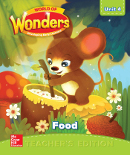 Teacher's Edition
Comprehensive support and guidance for weekly lesson plans, thematic units, and professional resources to ensure teachers are ready from day one.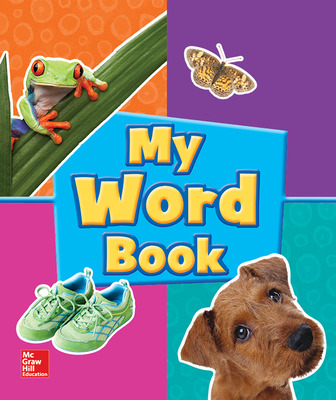 My Word Book
Designed for small-group use with children needing additional instruction and practice to learn basic English words and concepts.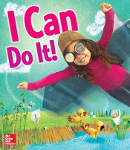 Social-Emotional Big Book
I Can Do It! is one title in a set of Social-Emotional Books meant to guide young learners through their feelings, how to express them, and learn that others have feelings too.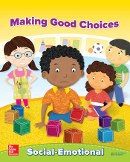 Social-Emotional Flip Chart
Provides engaging visuals, ideas for role play and pantomime, and prompts to inspire classroom conversations about feelings, friends, family, and more.

Literacy and Language Flip Chart
Interactive, on-the-spot support that uses popular nursery rhymes, poems, and fingerplays to develop children's listening and phonological awareness skills.

Patterned Books
My Yummy Food is one title in a set of Patterned Books meant to teach print concepts such as page turning, left-to-right progression, word spaces, and learning to distinguish between words, letters, and numbers.

Little Reader Books
What Can Pop? is one title in a set of Little Reader Books meant to teach phonics skills such as letter pronunciation, upper vs. lower case, and alphabet review.
Big Book of Nursery Rhymes and Songs
This large-format book introduces children to classics like "Twinkle, Twinkle, Little Star" and "Humpty Dumpty," which are used to support music and movement throughout the week.
Assessment Mini Flip Chart
Periodically assess students' growth in language, math, and motor skills.
Read-Aloud Anthology
Children will enjoy classic tales, multicultural stories, nursery rhymes, and more as they build background knowledge and overall literacy. Paired with the Retelling Cards, the Read-Aloud Anthology prepares children to narrate and write about what they've read.
Retelling Cards
The Retelling Cards illustrate the Read-Aloud Anthology selections, helping students identify key story events.
Concept Picture Cards
The Concept Picture Cards are organized around key science and social studies concepts to help build content area vocabulary.
Oral Language Cards
The Oral Language Cards are organized around basic theme-related concepts, such as school items and food, to help build oral language.
Letter Cards
The Letter Cards include both uppercase and lowercase letters used in the alphabet lessons, which introduce letters and sounds, compare letterforms, and build simple words.
Photo Cards
The Photo Card set includes cards for each letter of the alphabet, used in phonemic awareness activities, such as sorting pictures by initial sound.
Alphabet Cards
The Alphabet Card set includes Illustrated cards for each letter of the alphabet, showing a keyword (e.g., fish) and the uppercase and lowercase form of the letter (e.g., Ff).
Trade Books Package and Literature Big Books Package
A rich library of beloved selections from popular authors and illustrators, including classics and new stories in literary and informational text.
Add-On Components
The comprehensive World of Wonders curriculum is also available with Spanish resources.
Manipulatives Kit
Set of small musical instruments, magnifying glass, motor, alphabet puzzle, lacing button, and storage bag.
Additional Trade Library Book Set
Trade books for use with Teacher's Choice Mini-Units.
Evaluation Materials for World of Wonders
Scope & Sequence for World of Wonders
Correlations for World of Wonders

Infographic: Connecting Social-Emotional Development and Early Learning
A colorful guide to three key social emotional skills that impact a child's success in the classroom: effortful control, emotion understanding, and emotional expressivity.