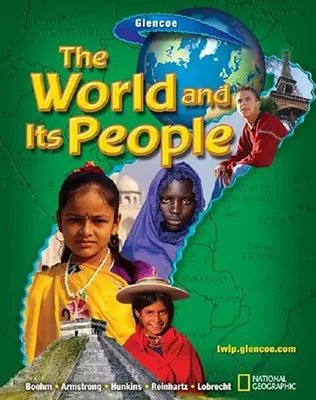 The World and Its People 2005
A middle school program co-authored by National Geographic, The World and Its People introduces students to an enriched view of the interrelationships of geography, history, economics, government, citizenship, and current events - in one compelling package.

Suitable for World Geography or World Cultures classes, a strong geographic thread is interwoven with history, government, economics and culture to analyze different regions of the world and issues facing the regions. The World and Its People is available as a full survey or Western Hemisphere, Europe, and Russia and Eastern Hemisphere.
Features:
Connect your students with their world through in-depth coverage of major contemporary issues with TIME Magazine using stories, activities, and highlights
Ensure reading success with a wealth of features. Built-in, research-based active reading strategies enable
students of every ability level to read, learn, and understand the content.
Organize your program activities by the way you teach with Unit Resources. Each unit book includes multiple opportunities for review, assessment, and enrichment with hands-on and skill activities.
Enhance reading, writing, and study skills with Foldables™. Foldables are unique student-made, three-dimensional graphic organizers that help students learn, retain, and review important information and concepts.
Give students a global perspective with National Geographic's journalists, photographers, and cartographers.