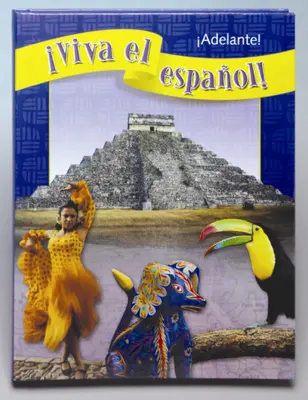 Since 1987 ¡Viva el espanol! has been surpassing the expectations of teachers, students, and families. Its flexible format, which includes three integrated systems for the primary grades, and three textbooks supported by an array of ancillary materials for upper elementary schools, makes implementation of an articulated Spanish curriculum easy in any elementary school setting.

Designed specifically for young children, Systems A, B, and C develop communicative competence in listening, speaking, reading, writing, and Hispanic cultures. The progression is gradual and linguistically appropriate. Language acquisition becomes a positive, non-threatening experience, similar to the way children learn their first language.
The ¡Viva el espanol! textbook series—¡Hola!, ¿Que tal?, and ¡Adelante!—has been designed with a dual entry point, so ¡Hola! can be used both with those students just beginning their Spanish studies and with those students who have previously acquired some knowledge of Spanish.
The textbooks and their accompanying components develop and advance proficiency while promoting basic language-acquisition principles through an enthusiastic, lively, and positive approach. Students not only develop immediate language skills, but are also equipped with useful, life-long language acquisition strategies!
Hallmarks:
comprehensive coverage
extensive teacher support
ease of use flexibility
research-based methodology
language-acquisition as a positive and fun experience
colorful, engaging materials
a broad variety of activities, games, stories, and songs for interaction and participation
Features:
Convenient Lesson Planner Cards that can be stored in a binder and taken to class as needed are now the basic source of instruction in the systems.
A Teacher's Wraparound Edition, containing a reduced reproduction of the student textbook with unit overviews and page-by-page plans in the wrap, now accompanies each student textbook.
Audio CDs have replaced all audiocassettes.
Language Across the Curriculum is taught explicitly through communicative activities that call upon students to integrate skills from math, language arts, science, social studies, art, and other content areas.
Differentiated Instruction is facilitated by lessons designed to enable the teacher to tailor content to students' varying abilities and needs.
The Total Physical Response Storytelling (TPRS) technique is now a part of lessons in the systems and in the textbooks.
A separate Heritage Speaker Activity Book is provided at each level to help children who have learned Spanish at home and in their communities.
A separate Cultural Resource Book is provided at each level to increase opportunities to develop awareness and appreciation of diversity.
Assessment Strategies have been expanded to include one-on-one assessment, group assessment, portfolio assessment, peer assessment, and self assessment.
A Classroom Library has been added for each of the textbook levels. There is a book provided for each unit, with theme and content tied to each textbook unit.
Strategies for Home-Community Participation have been expanded at every level.