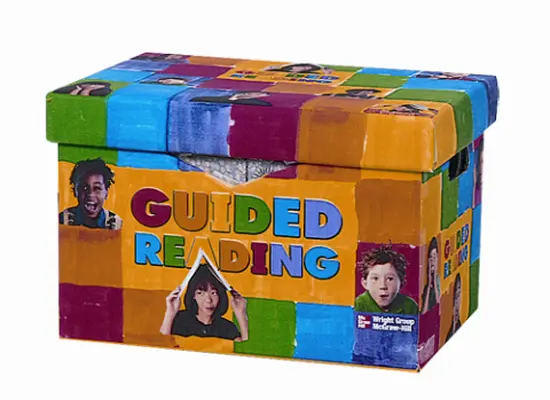 A comprehensive reading program, The Story Box focuses on building skills using a variety of instructional and classroom practices. Shared reading and guided reading lay the groundwork; literacy centers, content-area centers, and resource centers reinforce skill study and invite students to practice with hands-on word games and activities. The Story Box is an inviting, integrated classroom reading program structured to help each child realize their reading potential.

Shared reading, the whole-group instructional model of The Story Box reading program, is enjoyable and purposeful. It demonstrates the reading process, scaffolds instruction, and provides support for beginning readers while giving them opportunities to behave as independent readers. Shared reading:
Develops and reinforces phonological awareness, oral language skills, concepts of print, and phonics skills
Expands vocabulary
Increases comprehension
Each shared reading title has a 16-page, five-day lesson plan that provides effective, flexible teaching strategies in a simple-to-use format. The valuable information and instructional guidance allows teachers to implement a reading program that balances skills instruction and quality literature.
Guided reading, the formal instructional component of a reading program, builds a bridge between whole-group shared reading and independent reading. It provides an effective structure to extend previous instruction, introduce and model new skills and strategies, and to assess individual programs. With guided reading, teachers can:
Create flexible reading groups
Tailor instruction to students' needs
Extend previous learning
Guide learning skills
Introduce new skills and strategies
Assess individual progress
Sequence instruction
Guide reading strategies
Each guided reading title has a detailed six-step lesson plan on cardstock that can be removed from the teacher guide binder for easy use and classroom management. As with the shared reading lesson plans, the two-sided guided reading lesson plans include icons that highlight lessons, activities, and strategies.
Features:
The Story Box program features:
Big Books
Read-Together student books
Poetry Posters with teacher notes
Cassettes
Teacher guides for shared and guided reading
Guided reading student books
Take-Me-Homes™ blackline masters