Sociology and You © 2014
Grade Levels: 9-12
Sociology & You is written exclusively for high school to introduce students to the discipline of sociology and the sociological study of society. Trusted authorship communicates the theory and application of sociology principles in understandable, age-appropriate language. Sociology and You is built around the educational philosophy of Understanding by Design and Essential Questions.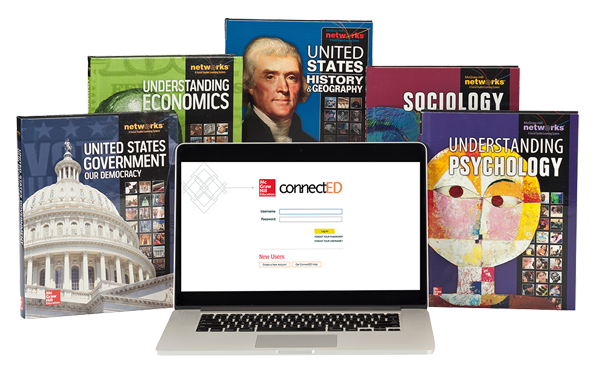 About the Program
Student features include:
Print Student Edition and online Student learning center create a dynamic and interactive learning experience
Up to date information and statistics connect concepts and theories to real world situations
Quick Case Studies and Hands-on Chapter Projects develop critical thinking skills and engage students in the learning process
Teacher features include:
The Teacher Edition provides a clear pathway through the content using print, digital, or your own combination
Designed with you in mind, the Teacher Lesson Center puts all of your teaching resources in one convenient, easy to use location
eAssessment - 2014 SIIA CODiE Finalist
Everything you need to administer tests and track data – completely online! Included as part of your McGraw-Hill program purchase, eAssessment contains a robust test generator, differentiated online administration options, complete CCSS reporting capabilities and easy access from any device.

Program Components
Sociology & You, Complete Classroom Set, Digital, 1-year subscription (set of 30)

Sociology & You, Complete Classroom Set, Digital, 6-year subscription (set of 30)

Sociology & You, Complete Classroom Set, Print (set of 30)

Sociology & You, Complete Classroom Set, Print and Digital, 1-year subscription (set of 30)

Sociology & You, Complete Classroom Set, Print and Digital, 6-year subscription (set of 30)
Sociology & You, Chapter Tests and Lesson Quizzes

Sociology & You, Teacher Edition

Sociology & You, Teacher Lesson Center, 1-year subscription

Sociology & You, Teacher Lesson Center, 6-year subscription

Sociology & You, Teacher Suite, 1-year subscription

Sociology & You, Teacher Suite, 6-year subscription

Sociology and You, Student Learning Center with StudySync Blasts Bundle, 1-year subscription

Sociology and You, Student Learning Center with StudySync Blasts Bundle, 6-year subscription

Sociology and You, Student Learning Center with StudySync Blasts Bundle, 7-year subscription

Sociology and You, Student Suite with StudySync Blasts Bundle, 1-year subscription

Sociology and You, Student Suite with StudySync Blasts Bundle, 6-year subscription

Sociology and You, Student Suite with StudySync Blasts Bundle, 7-year subscription
Sociology & You, Student Edition

Sociology & You, Student Learning Center, 1-year subscription

Sociology & You, Student Learning Center, 6-year subscription

Sociology & You, Student Suite, 1-year subscription

Sociology & You, Student Suite, 6-year subscription
Narrow by
Clear All Filters
Products
To learn about the specific purchase options for this program, please contact our Customer Service team at 800-338-3987
Additional Details & Resources