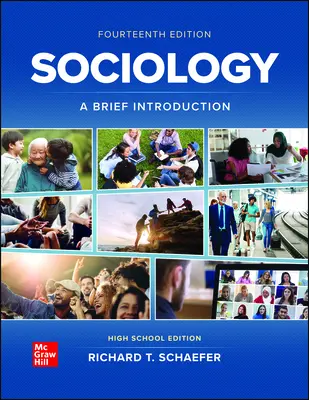 Schaefer, Sociology: A Brief Introduction, High School Edition, © 2023, 14e
Sociology: A Brief Introduction is written in a student-friendly, accessible voice that allows learners to contextualize sociological theories, research, and concepts in real-world scenarios with vivid examples that promote engagement and understanding.

The high school edition of
Sociology: A Brief Introduction
directly aligns with the American Sociological Association's National Standards for High School Sociology and delivers full coverage of the domains, competencies, and concepts students need to master in their sociology course. Concrete examples, contextualized in real-world scenarios, bring relevance to the learning experience. In-chapter features include:
•
Critical Thinking and Use your Sociological Imagination
activities that encourage students to use higher-order thinking skills.
•
Research Today
activities that present current data, statistics, and research applied to engaging real-world topics.
•
Tracking Sociological Perspectives
to highlight the major sociological perspectives.
•
Sociology in the Global Community
activities that build cross-cultural awareness.
•
Careers in Sociology and Taking Sociology to Work
features that showcase career possibilities.
•
Taking Sociology with You
, which delivers engaging activities specifically developed for high school students to connect what they've learned to their daily lives and includes a writing activity. 
•
Rich multi-media resources that provide students with multiple opportunities to contextualize and apply their understanding and personalize the learning experience.
Understanding Sociology
Sociological Research
Culture
Socialization and the Life Course
Social Interaction, Groups, and Social Structure
Mass Media and Social Media
Deviance, Crime, and Social Control
Stratification and Social Mobility in the United States
Global Inequality
Racial and Ethnic Inequality
Stratification by Gender and Sexuality
The Family and Household Diversity
Education and Religion
Government and the Economy
Health, Population, and the Environment
Social Change in the Global Community