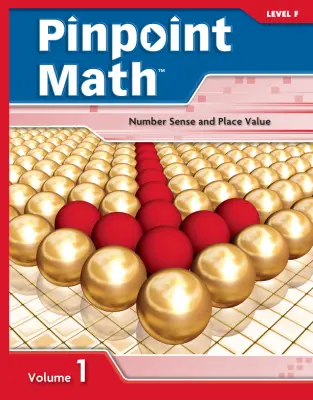 Pinpoint Math's complete intervention solution incorporates diagnostic assessment, targeted instruction, and progress monitoring – all necessary to improve mathematics performance among struggling students. The program includes five to six separate student booklets per level, along with a teacher guide, assessment resources, and student tutorials available online or via CD-ROM.
An Optional Online Assessment Management System provides educators with the ability to manage test assignments and generate reports.
Instructional Model
Pretest – Pretest for the first volume is given to all students, either online or by paper and pencil.
Assignments – Student booklet pages and online computer tutorials are assigned based on individual student needs.
Summary and Review – Students complete Topic Summary, Mixed Review and Progress Monitoring informal assessment pages and receive teacher feedback.
Student Action Plan – The teacher prepares individual or group standards-based assignments based on test results
Teaching a Topic – Students complete the introduction page; the teacher demonstrates, questions, and/or presents an overview of the topic based on student introduction responses.

Components for All Levels A-G (Grades 1-7)
Student booklets: 6 per level
Teacher's Guides: 1 per level
Assessment Resources: 1 per level
Student Tutorials CD-ROM: 1 per level