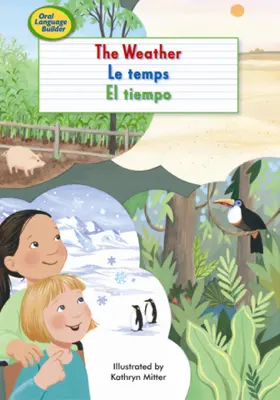 The 10 thematic units of Oral Language Builder provide young ELL, French, and Spanish learners with fun and engaging ways to build communicative competence in a new language. The 10 independent Oral Language Builder kits build social and content-related language through topics students can truly relate to.
Program Authors: Donna Clementi, Marcela Matienzo Gerber, and Mona Scheraga
Program Consultants: Helena Curtain and Carol Ann Dahlberg
Features:
Gives students multiple experiences with new language
Provides differentiated instruction
Builds social and academic language simultaneously
Establishes links to literacy
Allows students to listen to stories and create their own stories
Provides opportunities to reuse the kits to tell multiple stories
Correlated to TESOL and ACTFL standards
Components:
Stick-On Storybook™
These wordless Big Books build background knowledge and vocabulary on topics connected to Language Arts, Science, Social Studies, and Math
Story Stick-On™ Writing Pads
As the story develops, the teacher or student writes the story on the Story Stick-Ons and places them in the Stick-On Storybook. A 2-pack of Story Stick-Ons comes in each kit.
Teacher's Guide
Each thematic unit includes a Teacher's Guide, which provides instruction and activities for Before Storytelling, During Storytelling, and After Storytelling. The teacher introduces Vocabulary, Activities, Games, Curriculum Connections, Chats, and Songs from the Teacher's Guide. Teacher-talk is provided in English, French, and Spanish.
Home Connection Letters in English or Spanish help family members extend the child's learning experience and reinforce new language.
Blackline Masters include Practice Cards, Game/Activity Masters, and performance-based Assessments.
Two Graphic Organizers per thematic unit build students' conceptual knowledge and higher-order thinking skills
Picture Cards
Picture Cards support language acquisition
Audio CD
Basic stories, songs, and assessment prompts are provided in all three languages (English, French and Spanish) on the Audio CD.
Take-Home Books
Provide additional reinforcement as the students share their stories with their families at home. A 6-pack of Take-Home Books comes in each kit.