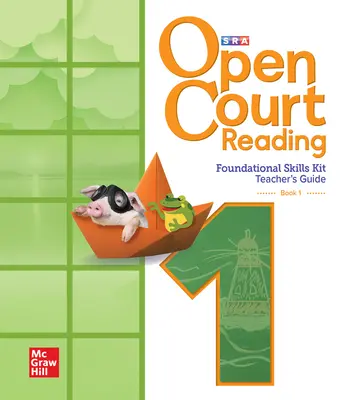 Open Court Reading: Foundational Skills Kits and Word Analysis Kits © 2023
Grounded in decades of literacy research and a proven history of efficacy in the classroom, SRA Open Court Reading has been building strong readers, writers, and thinkers for more than 60 years.
The Science of Reading reveals a clear link between early literacy skills and later success in reading and writing. It tells us that complex learning cannot take place without strong foundational skills.
Open Court Reading Foundational Skills Kits
and
Word Analysis Kits
provide students with the building blocks needed to read and comprehend texts across genres, synthesize information to develop and discuss complex thoughts and ideas, and become fluent storytellers themselves;
Foundational Skills Kits
lay the critical groundwork for fluency and comprehension. In Grades K-3, instruction will emphasize: 
Letter knowledge and phonemic awareness
Oral blending and segmentation
Phonics to learn sound/spelling relationships
Oral language and vocabulary
Fluency, including decoding and encoding
Foundational word analysis
Word Analysis Kits prepare students to figure out new vocabulary, read complex text, and make the transition from learning to read to reading to learn. In Grades 4-5, instruction will emphasize:

Root words, base words, and affixes
Analysis of morphemes to determine word meaning
Oral language and vocabulary
Reading and comprehending complex text