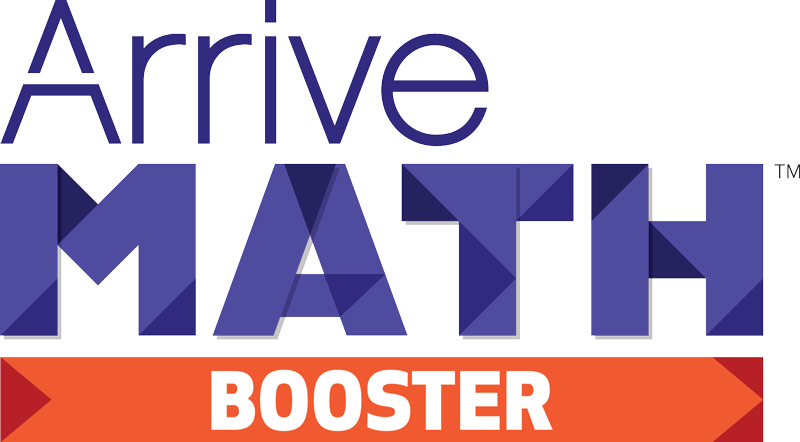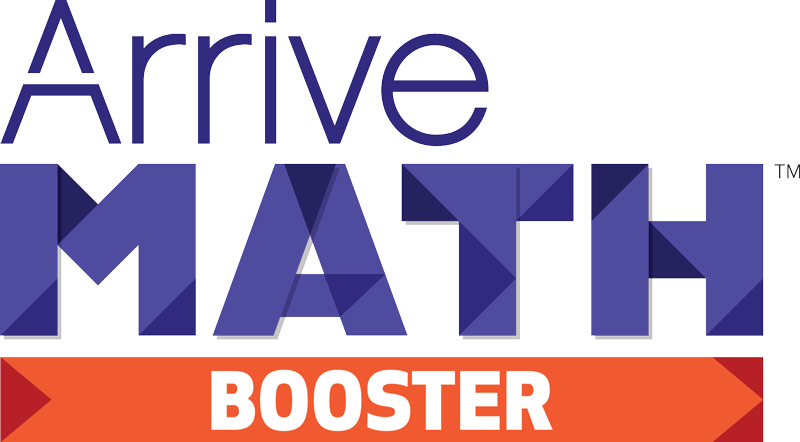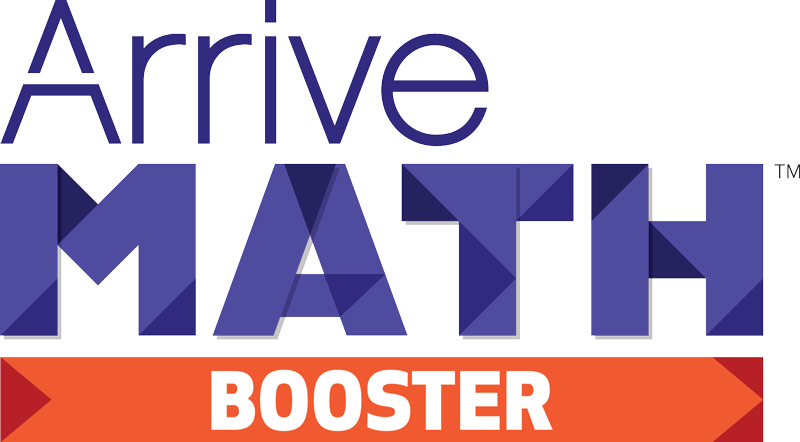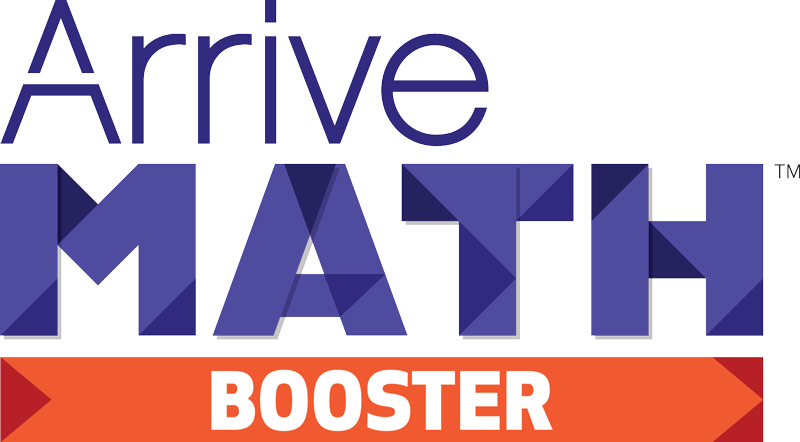 Getting Started with Arrive Math
Differentiation doesn't need to be difficult! Arrive Math® Booster makes it easy for you to find the targeted resources you need to address every skill covered in the mathematics standards and make a plan that is just right for your classroom. ​
​Align your classroom data with supplemental lessons quickly and easily. ​
Preview, assign, or add lessons to your calendar directly from standard or skill-based search results. ​
Teach with minimal prep by launching scripted lessons, launching scripted lessons, printable resources, assignments, and digital lessons directly from the teacher's dashboard. ​
​
Arrive Math Booster
provides an intuitive and easy-to-use platform where you can plan and implement student instruction. The teacher subscription provides the teacher access to all of the following: ​
Quick start course​
Class management and planning tools​
242 standards-based modules​
Printable game resources and blackline masters
Gradebook and assignment management tools ​
Customizable digital and print assessments​
Teacher and administrator reports
Dashboard
Click Browse Your Course to select the content strand and module that you would like to utilize.​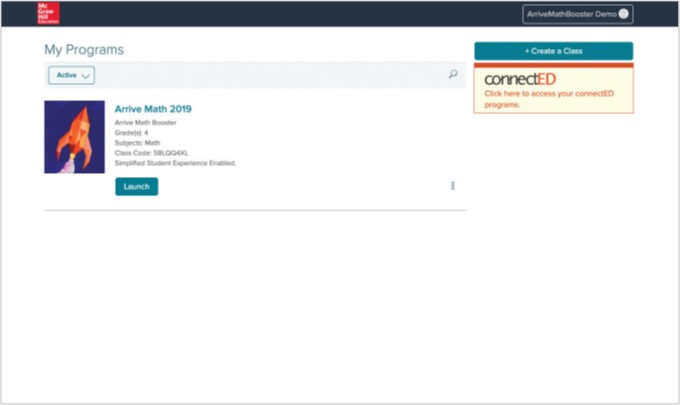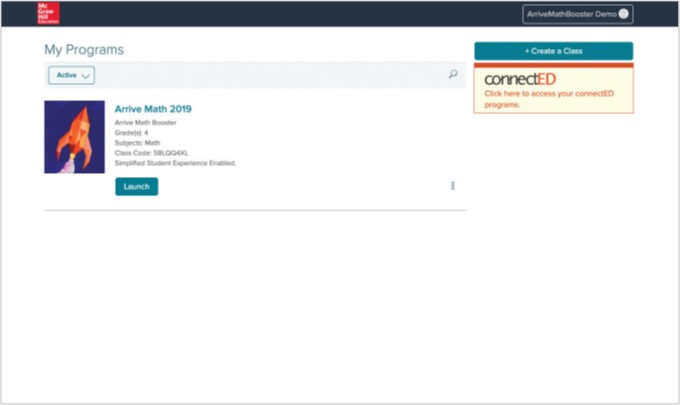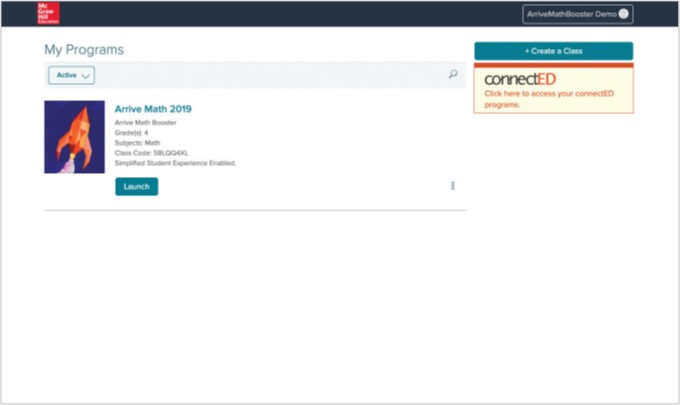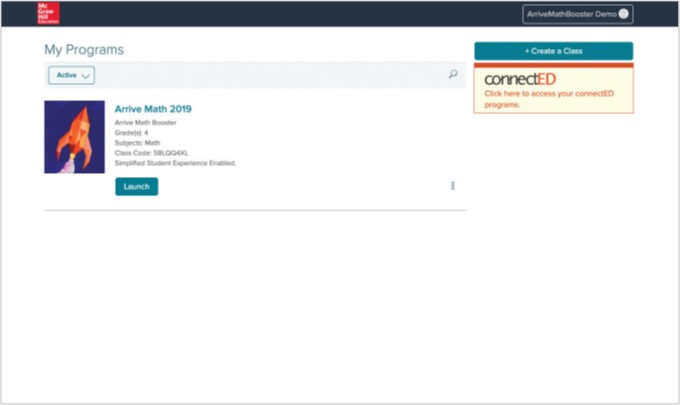 My Programs
Click Launch for the class you would like to review.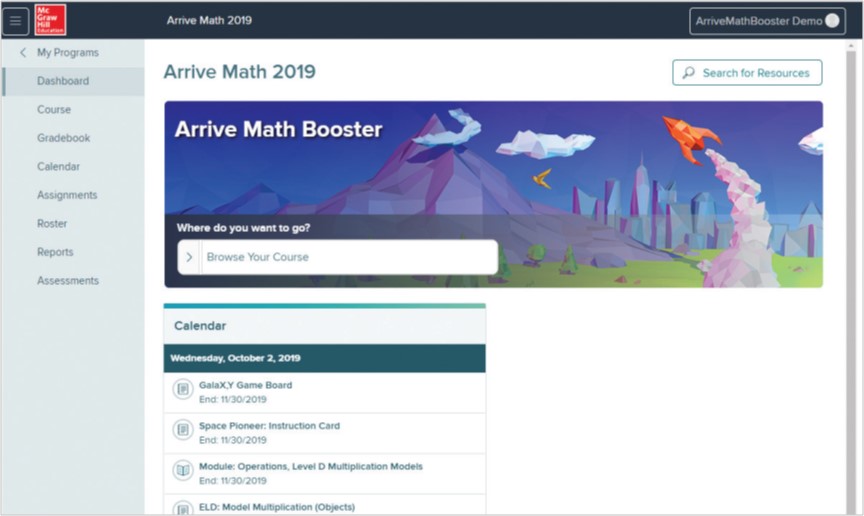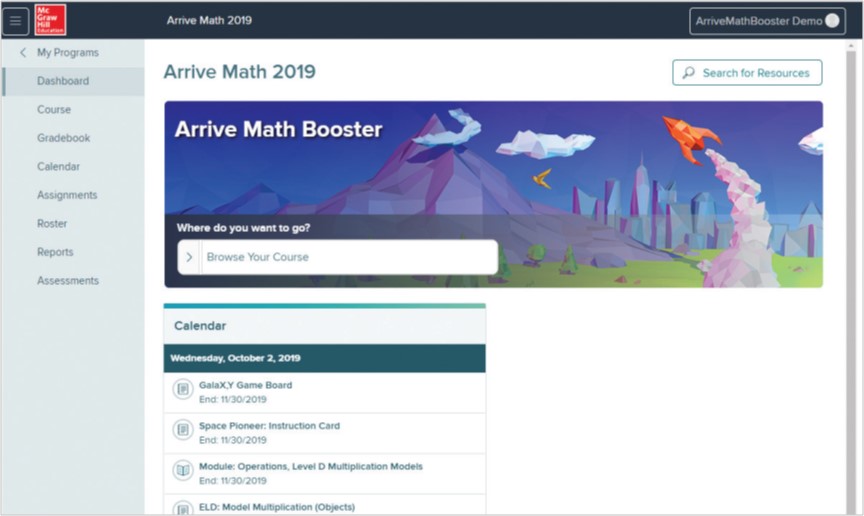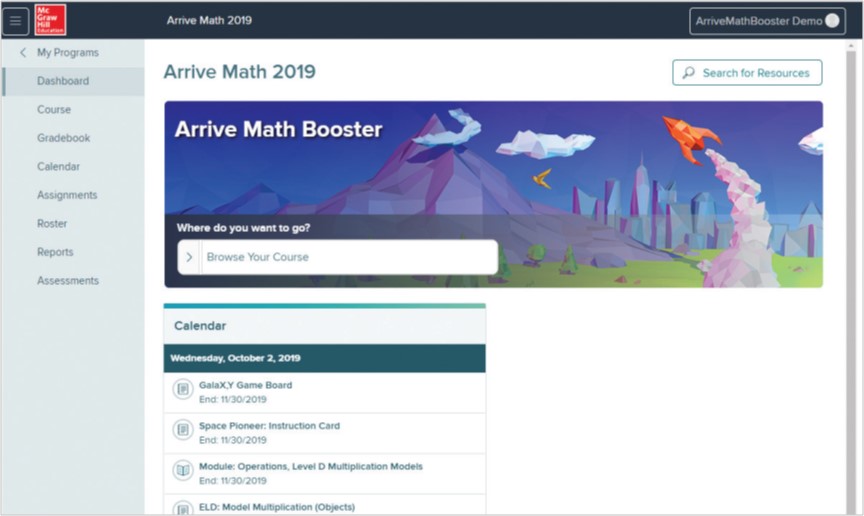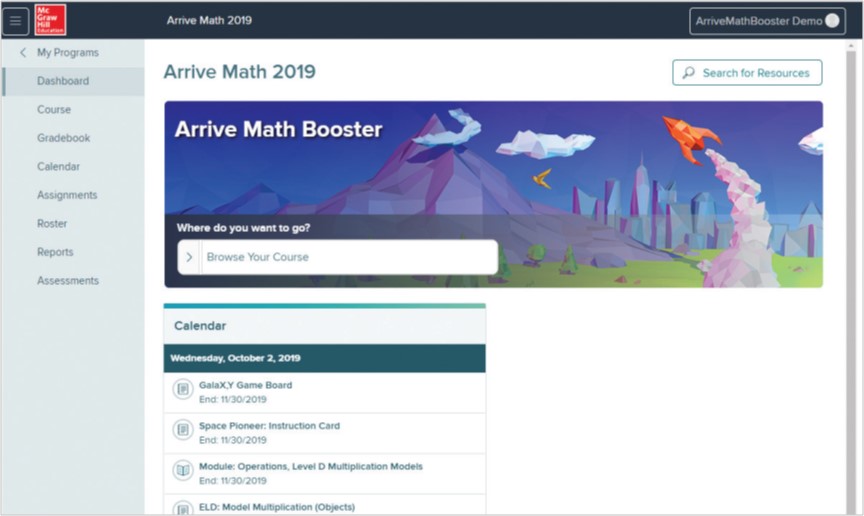 Manage Your Classroom
The tools within the Roster page are designed to help you maximize your planning time by allowing you to preview the student experience, organize students into instructional groups, and share resources with other educators.​
Preview Student Page Using the dropdown menu icon across from a student's name, click Emulate this Student to view which resources students will see and have access to in their Student Digital Center. This will help you ensure that assignments are set up correctly and will allow you to demonstrate usability and teach digital routines.​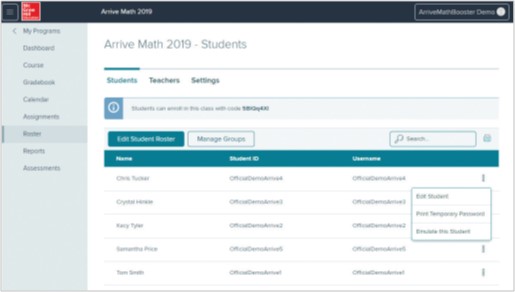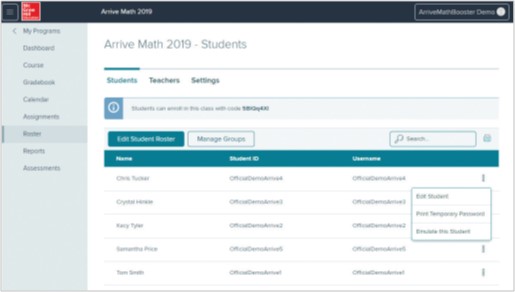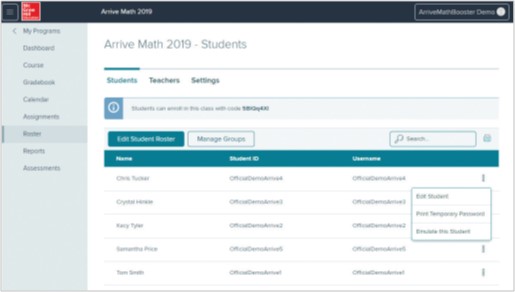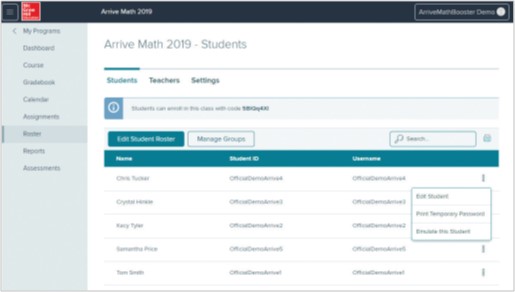 Group Your Students Click on Roster within your main sidebar menu to open your rostering page. From there, click on Manage Groups to create and manage instructional groupings. By making groups, teachers can differentiate assignments and assessments by instructional grouping as well as filter their gradebook by group.​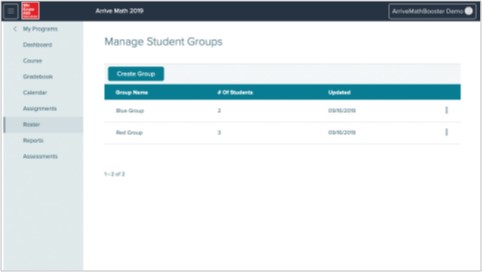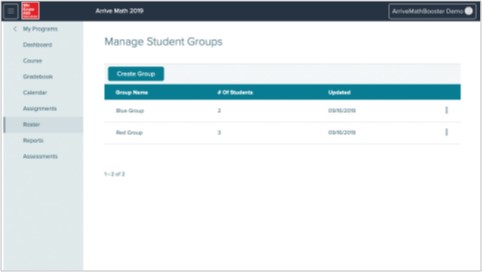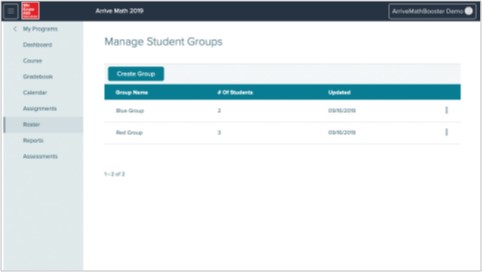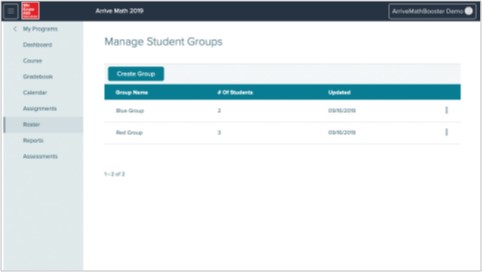 Share Your Class Click on Roster within your main sidebar menu to open your rostering page. From there, click on Teachers. From here, you can share your class rosters, groupings, reports, assignments, lesson plans, and more with fellow educators for the purpose of co-teaching, intervention, or instructional planning.​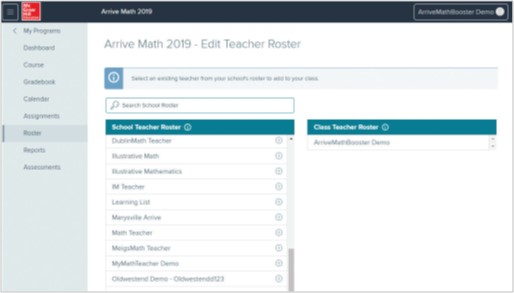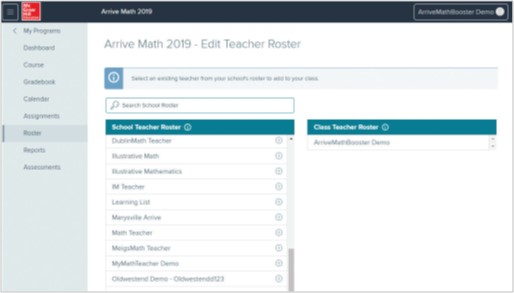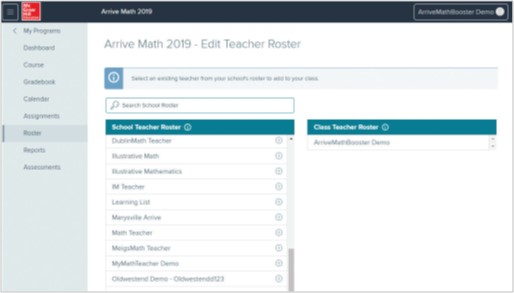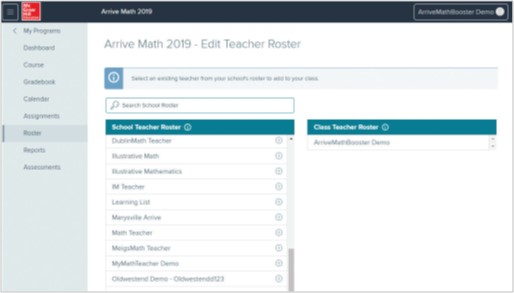 Copy Your Class Click on Roster within your main sidebar menu and then on the Settings Tab. Here you can copy all assignments and customizations you make to your course to another class.​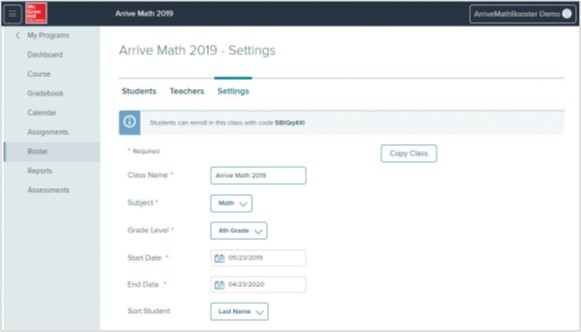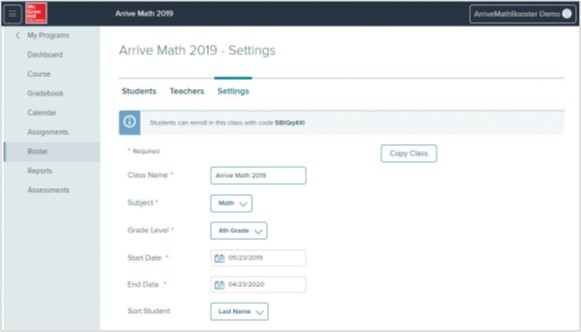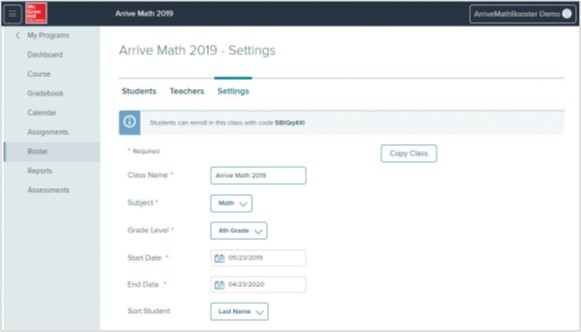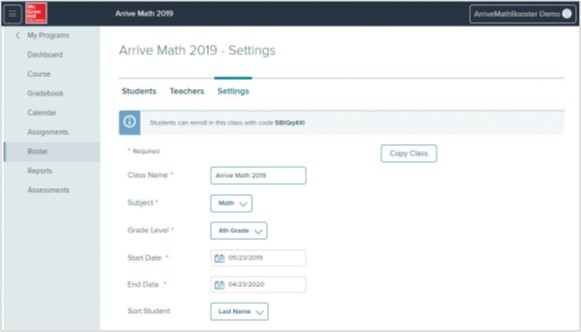 Each content standard—across all grade levels from kindergarten through eighth grade—is broken into single skill sets to make up a module of instructional resources to help target misconceptions and build toward a full understanding of the standard. Plan, assign, and prep lessons with functionality features that allow you to:​
Quick link them to your calendar. ​
Assign resources to a group, individual, or whole class ​
Print needed materials at point-of-use. ​
Add your own resources, including links and documents.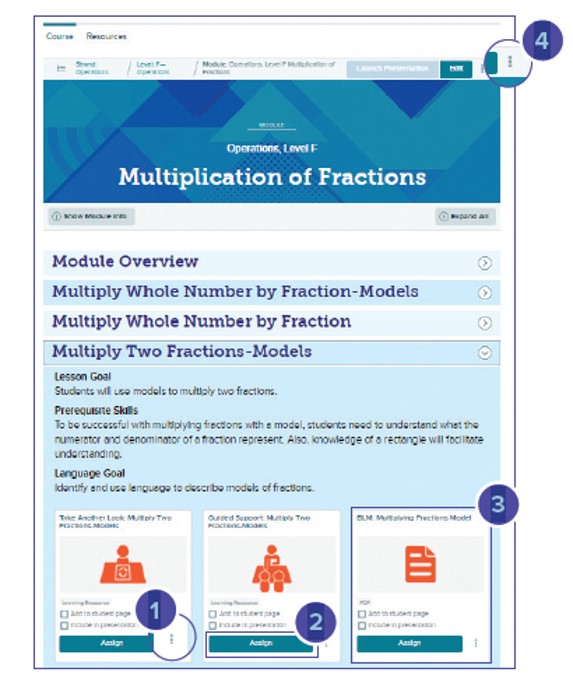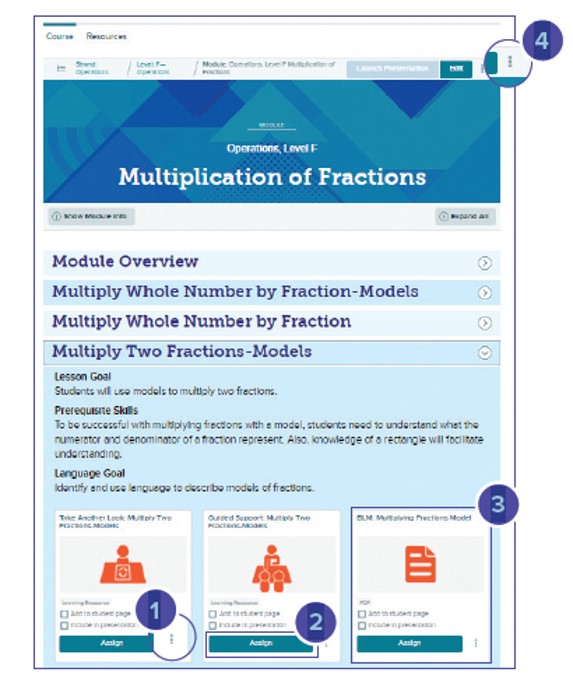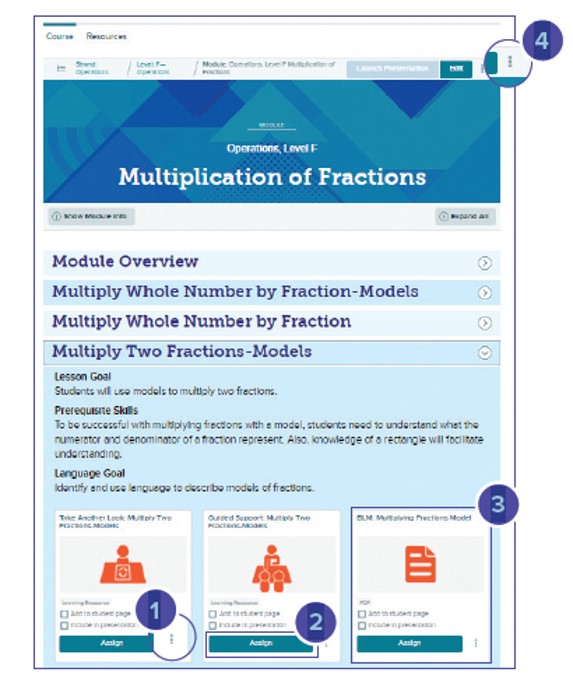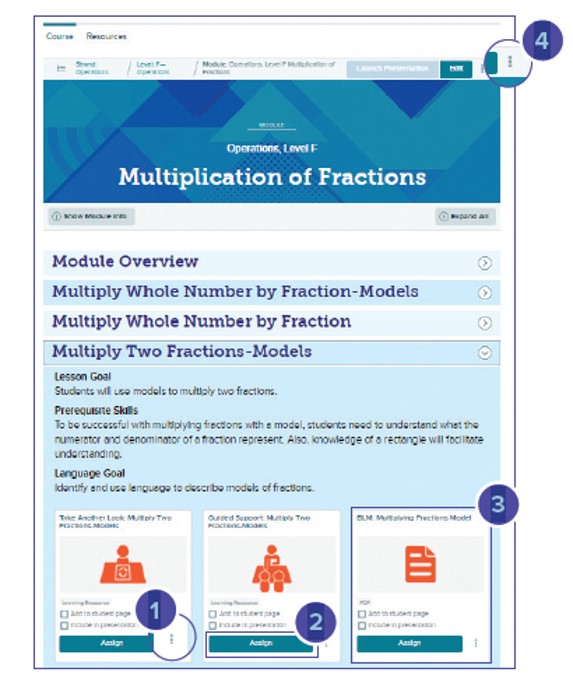 Hands-on Games​
Within the digital experience, on the level planning pages of each instructional strand, you will find the Recommended Game blade with printable versions of the Instruction Cards, Game Boards, and Game Cards. These board and manipulative-based games allow for practice and application of critical math skills and peer-to-peer collaboration.​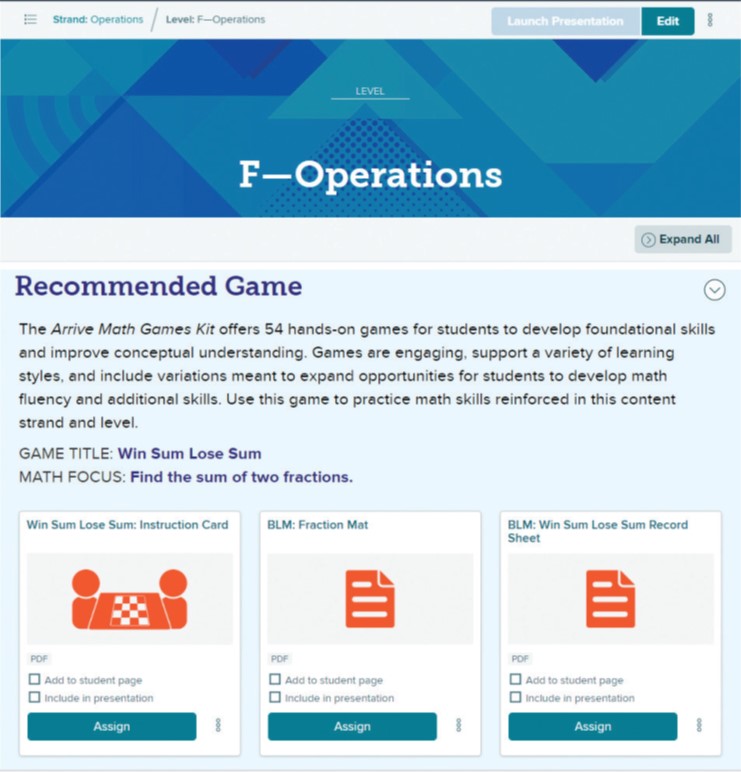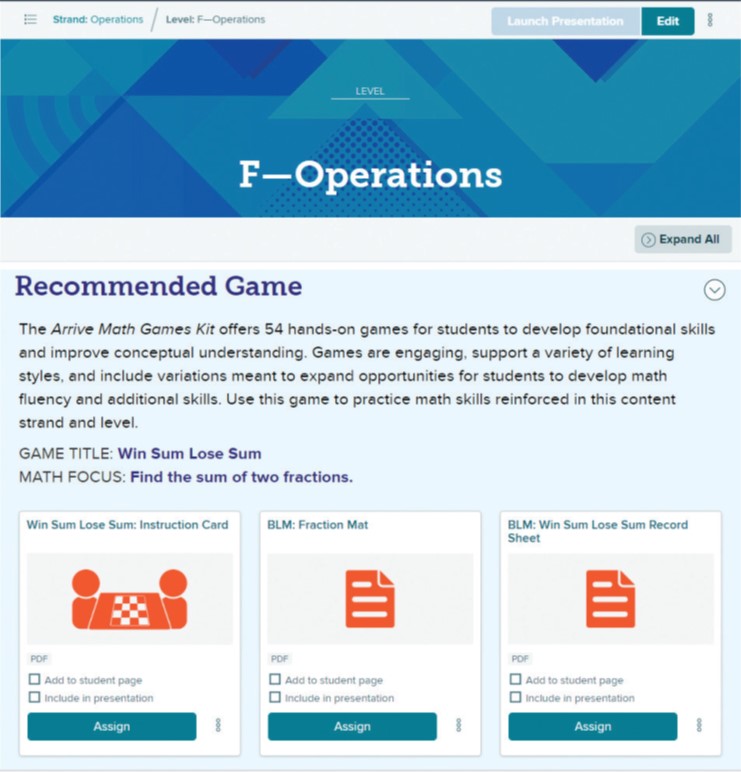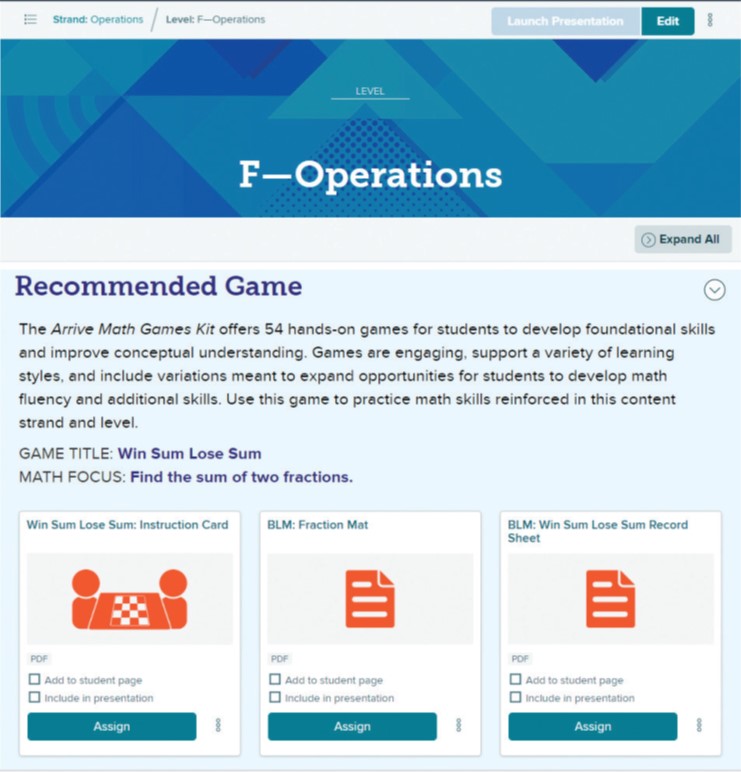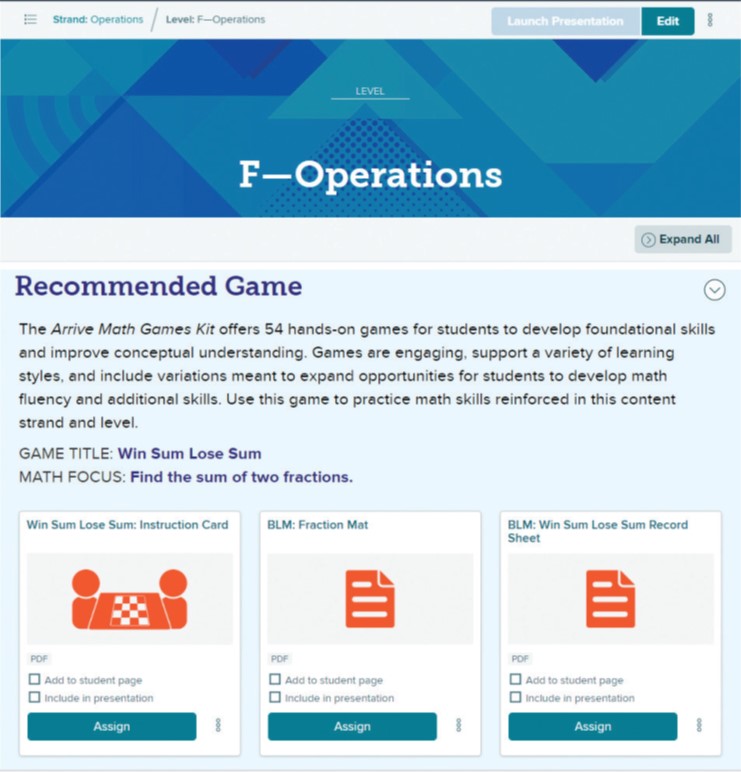 Planning workstations is easy with a searchable library of mini-lessons From the left-hand Main Menu, select Course. Then, click the Resources tab. Navigate the library of instructional resources using a keyword search. From Search results, you can preview, schedule, or assign lessons and activities. You can also open the course location to view connected resources.​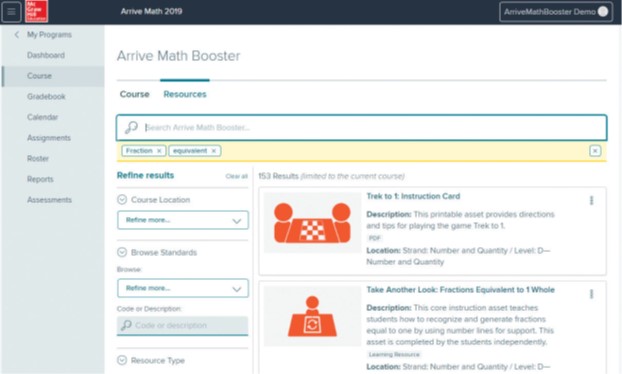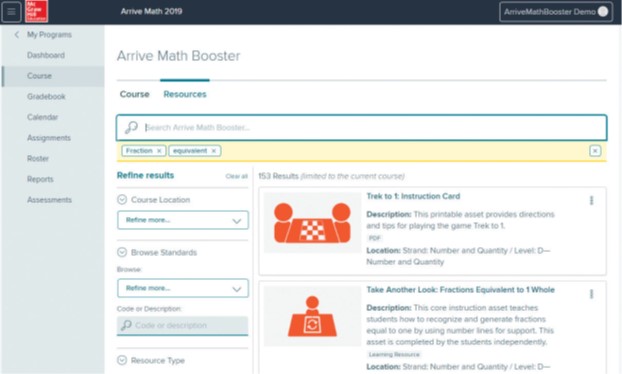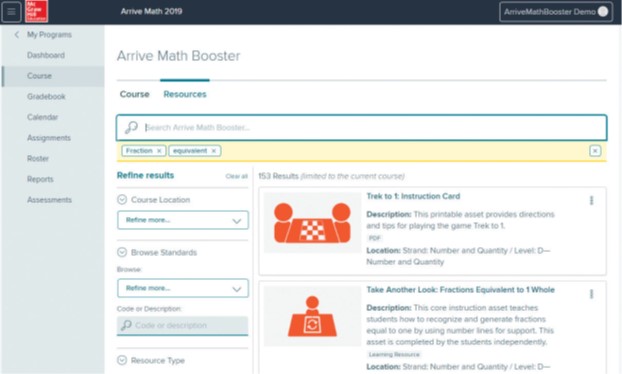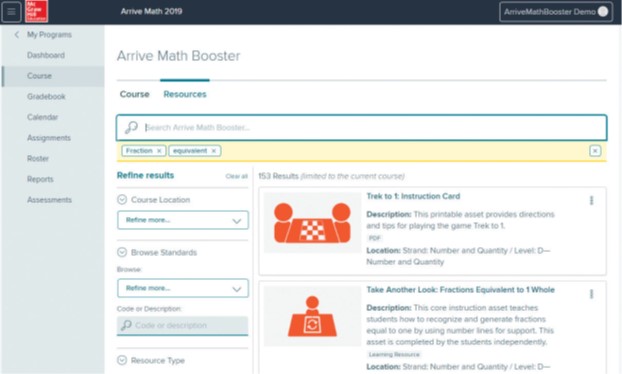 Filter resources by: ​
Course Location​
Grade Level​
Standard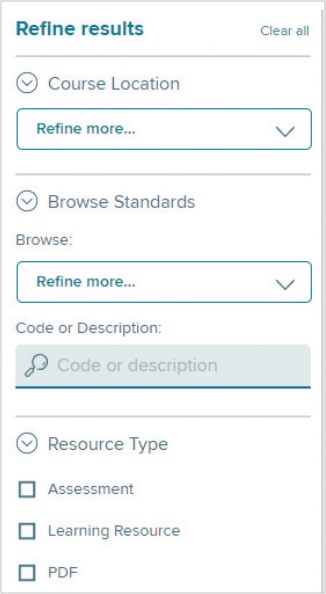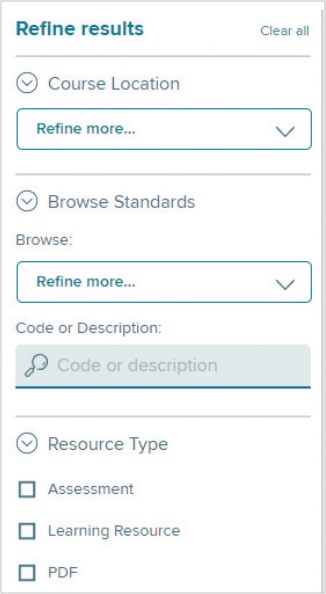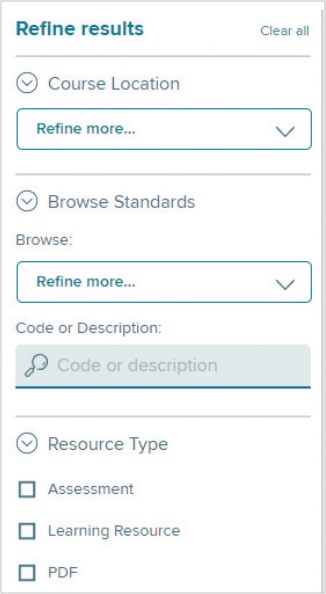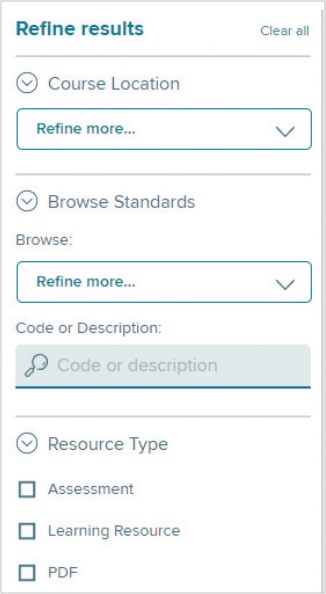 Access Reports
From the Main Menu in the left-hand sidebar, click Reports. These interactive performance reports provide immediate feedback to teachers allowing them to make data-driven instructional decisions.
The Activity Performance Report provides a number of useful data points for class activities, including item analysis by student and class as well as overall performance.​
The Standards Performance Report provides information on class performance by standard, including a cumulative score by class and student as well as the number of questions answered.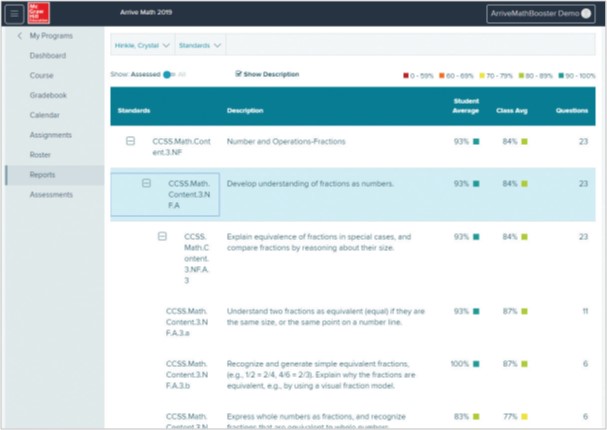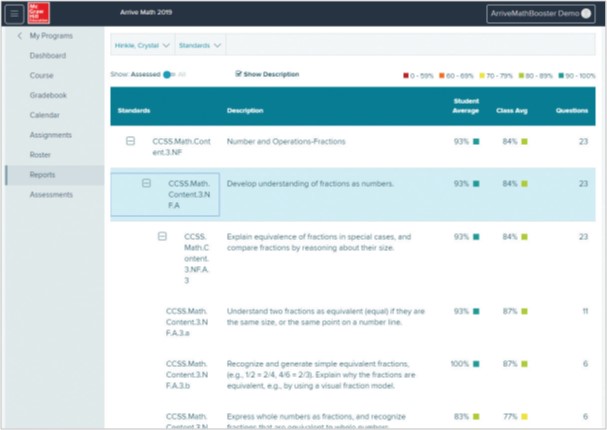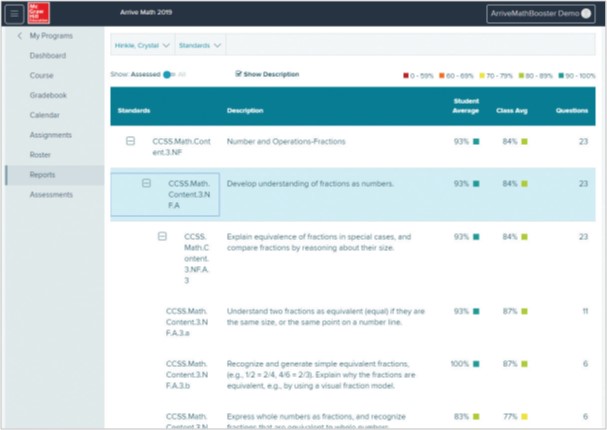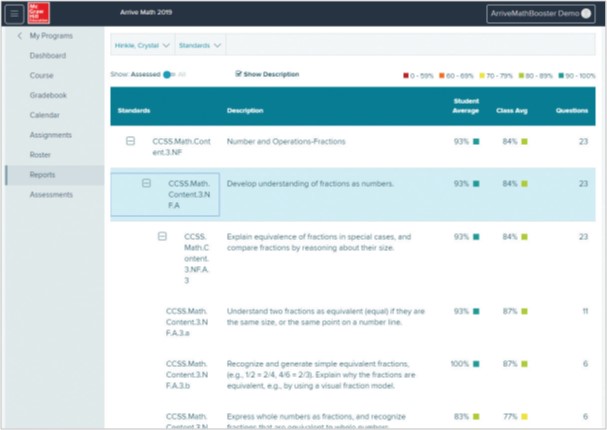 Launch Assessments​
From the Main Menu in the left-hand sidebar, click Assessments.
In addition to the assessments within Arrive Math Booster, interactive assessments can be created and assigned to any grouping of students. Access interactive authoring templates to make digital assessments that align with standardized testing, such as drag and drop, equation entry, and more. ​
​Digital and printable versions are available to meet the needs of you and your students. Create and customize assessments to meet your needs. Tailor assessment features by class or student. Randomize questions with premade answer keys.​