Every Student Is a Success Story
Wonders is designed to foster a love of reading in all children. Through exploration of texts and daily development of their skills as readers, writers, speakers, and active listeners, students experience the power of literacy. Combining the work of literacy experts with research on social emotional learning, Wonders helps educators strengthen skills, bolster learning, and encourage independence, enhancing the important and inspiring work that takes place in classrooms every day.
On this page, you can learn about these topics that are woven throughout Wonders: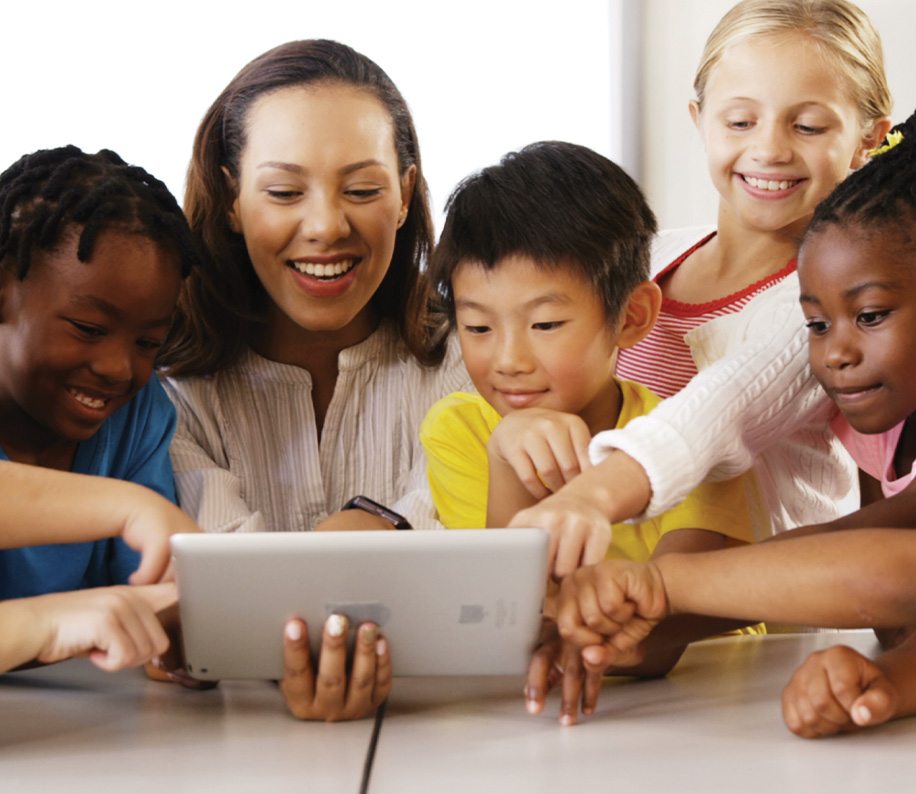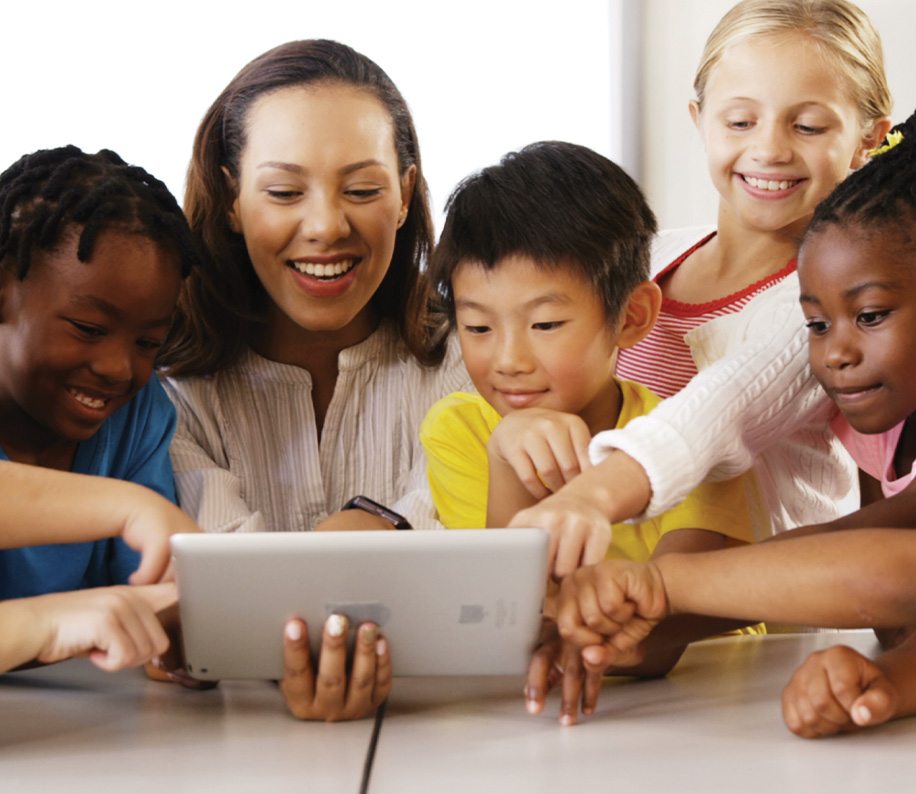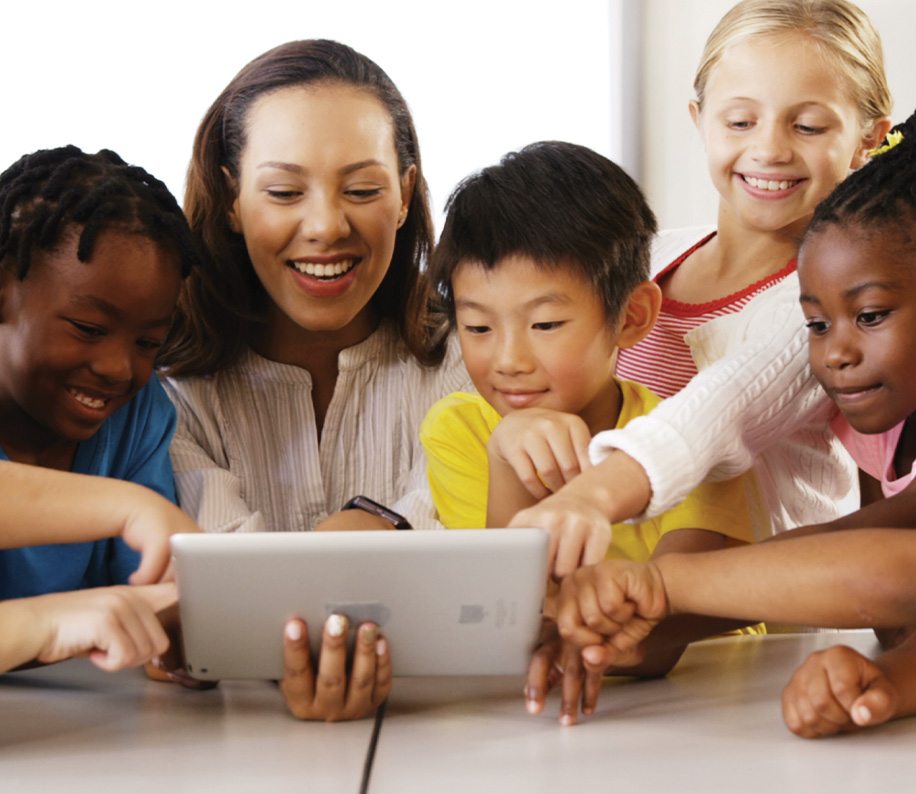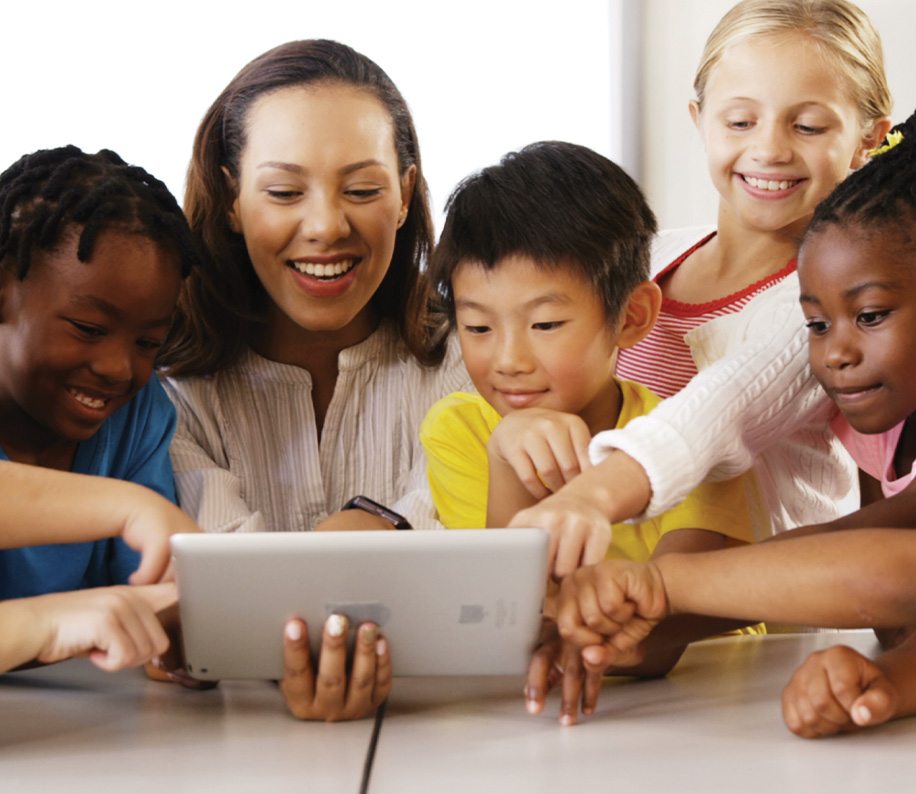 Foundational Skills
Literacy Begins with Firm Foundations
Wonders offers a thorough grounding in foundational skills, from children's first steps in phonemic awareness and print concepts, through academic vocabulary and advanced morphological analysis.
Building Foundational Skills
Word Work in Wonders refers to the explicit, systematic sequence of instruction provided for the foundational skills of phonological and phonemic awareness, phonics, structural analysis, high-frequency words, and spelling. Word Work is essential for all students, because it helps them learn to decode and encode words they need while reading and writing. Wonders Word Work instruction integrates phonological and phonemic awareness, phonics, and spelling skills with reading instruction to support and reinforce student learning.
Phonological and Phonemic Awareness
Wonders supports direct development of phonological and phonemic awareness to ensure every student can grow into a strong reader. The Word Work lessons in the Wonders K–2 Teacher's Editions include explicit, sequential, and systematic lessons. Wonders lessons teach sounds in sequence, moving from easier to more complex. All the phonological and phonemic awareness lessons follow a consistent, gradual release approach that also provides guidance for giving students corrective feedback. Instruction is targeted and differentiated, so students get the level of support and amount of practice they need to develop their skills. Phonemic awareness instruction occurs in Grades K–1 for all students and in Grades 2 and beyond for students who need the support.
Phonics Story from Wonders 2020 (30m)
Phonics Instruction for All Readers
Wonders ensures complete coverage of phonics and spirals instruction to build this key foundational skill for every student. Research has shown that direct, systematic phonics instruction is appropriate and beneficial for advancing students' skills from Kindergarten on (NICHD, 2001).
Phonics instruction in Wonders begins in the Start Smart unit in Kindergarten, with explicit instruction in letter recognition and letter-sound relationships. In Grades K–2, phonics instruction continues with daily systematic and explicit whole- and small-group lessons that are linked to phonemic awareness and phonics instruction each week. In Grades 3 and up, a weekly phonics lesson helps students decode multisyllabic words and is integrated with reading instruction. Throughout the grades, phonics and word study instruction is variable and based on students' goals and needs.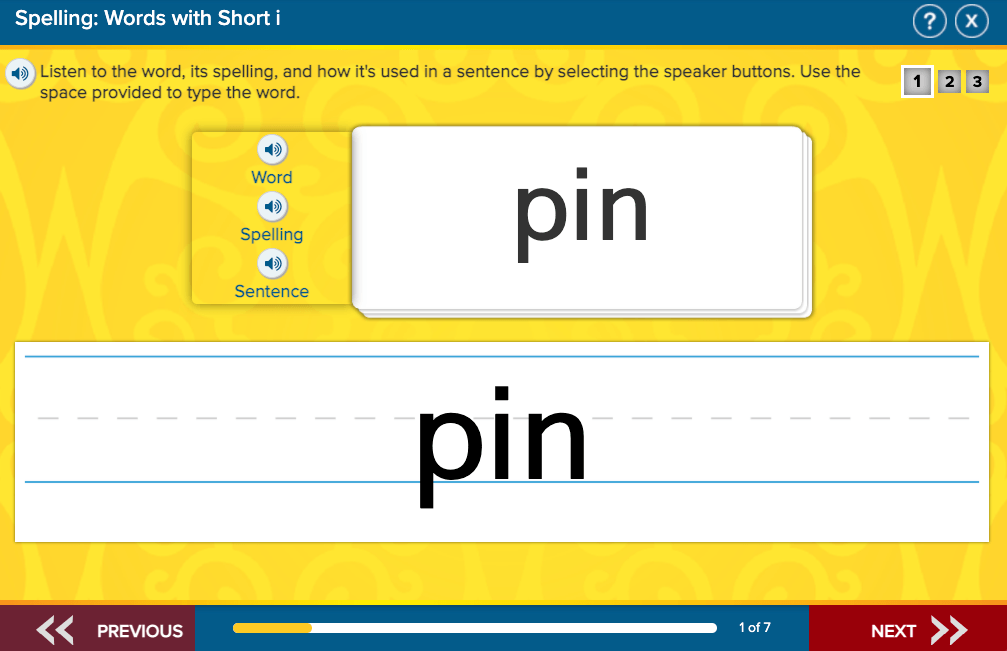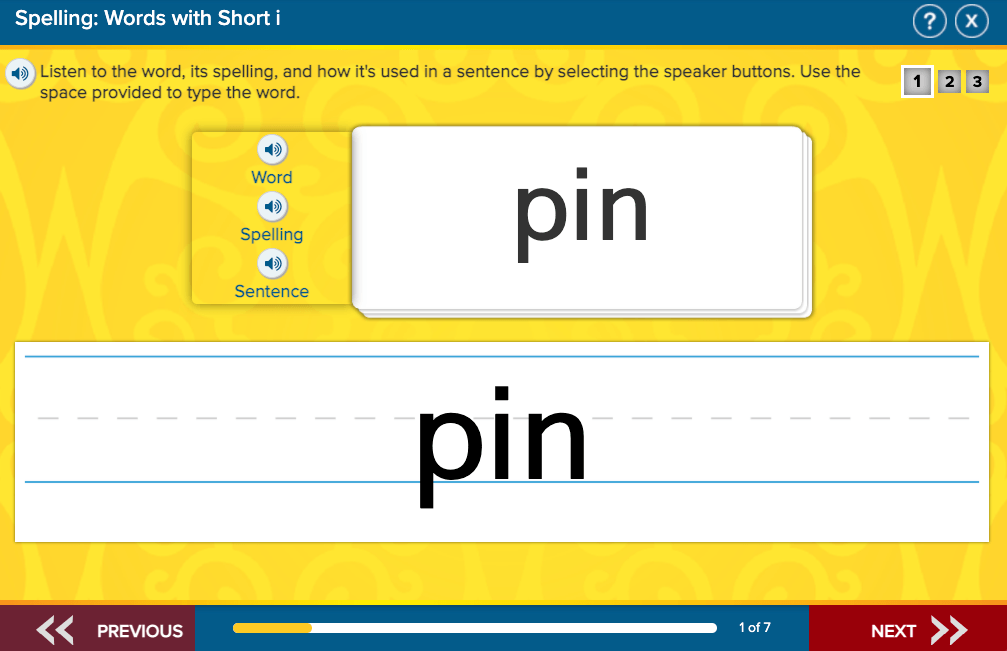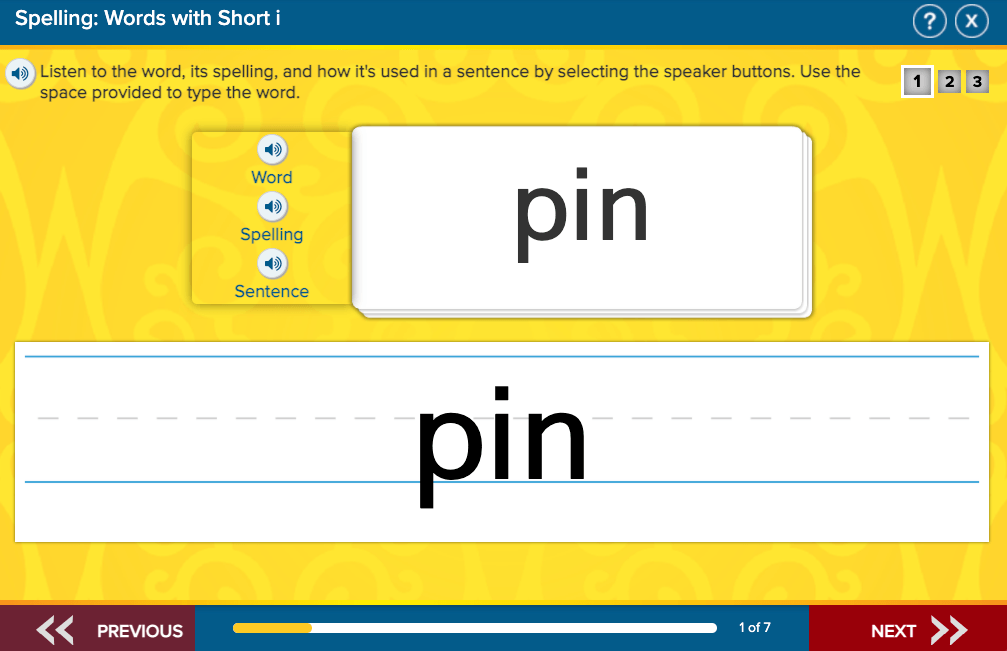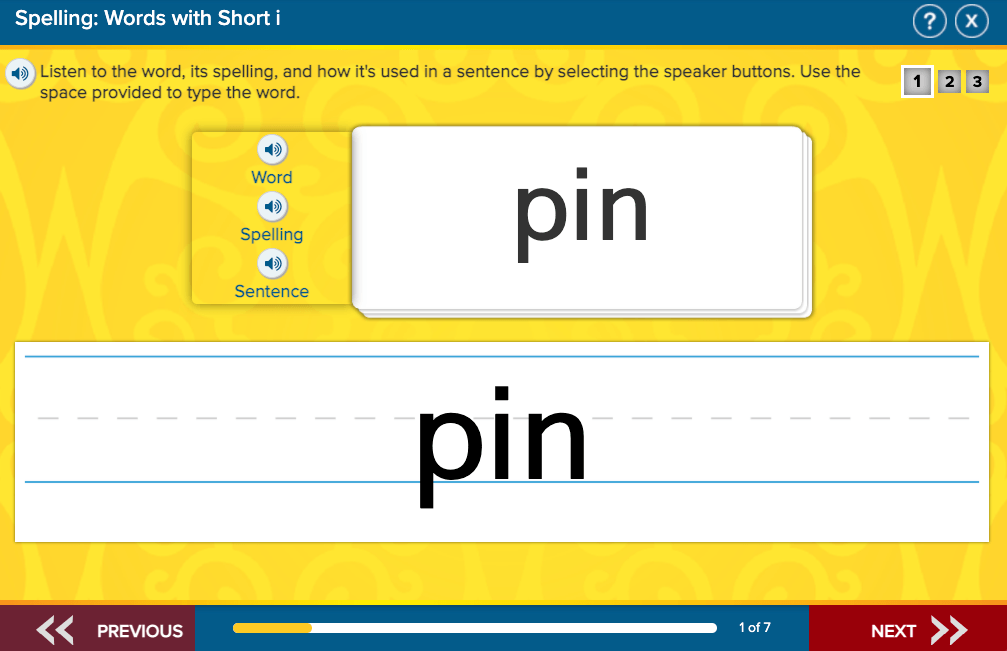 Beyond the Need for Speed: Reading Fluency
Wonders supports the careful spiraling of discrete reading fluency skills to guide all students to reading success. The focus of the instruction is accuracy, and teachers model aspects of fluency, including good expression, and then have children apply those skills to connected text. As students encounter more complex text, teachers model how to chunk the text into meaningful units for comprehension.
Wonders provides resources for daily fluency practice, including Shared Reads in the Reading/Writing Companion, Differentiated Genre Passages, Leveled Readers, and Reader's Theatre plays. Shared reading offers a prime opportunity to focus on fluency, while students read as a class or in small groups, and then reread in pairs; fluency routines support weekly development. In Wonders, echo reading, choral reading, cloze reading, and structured partner reading are used as effective fluency practice techniques.
Learn more about the importance of foundational skills from Wonders program author, Dr. Jan Hasbrouck.C

Close Reading & Text Complexity
Wonders Strengthens Close
Reading Skills
Guided by lead author Douglas Fisher, an expert in close reading, Wonders provides a consistent Close Reading Routine – Read, Reread, Integrate – with a range of text dependent questions that challenge the implicit and explicit meaning of a text. Reread Minilessons and Respond to Reading prompts in the Reading/Writing Companion are text dependent and are at a variety of DOK levels. The questions and tasks in Wonders allow for surface, deep, and transfer learning. All close reading tasks are presented so that students need to reread and cite text evidence in their responses. Synthesis of texts is accomplished with oral discussion (Respond to the Text: Summarize) and written response (Write About the Text). These questions are directly related to the text at hand and require students to support responses with text evidence.
Read what Dr. Fisher has to say about developing schema for close reading. C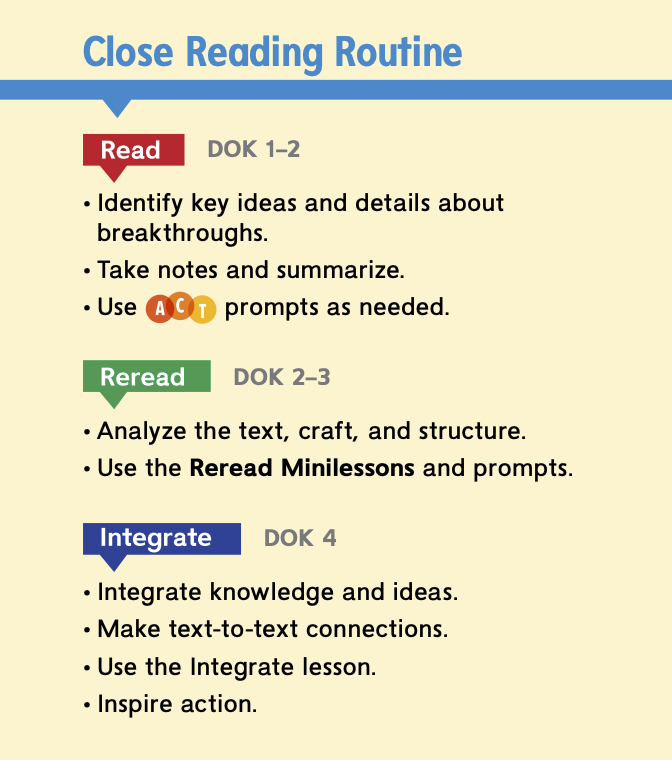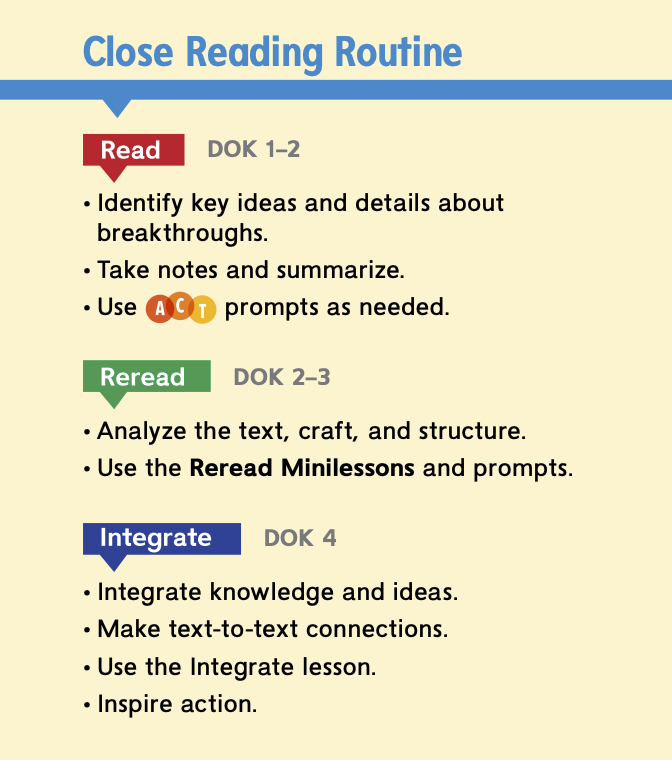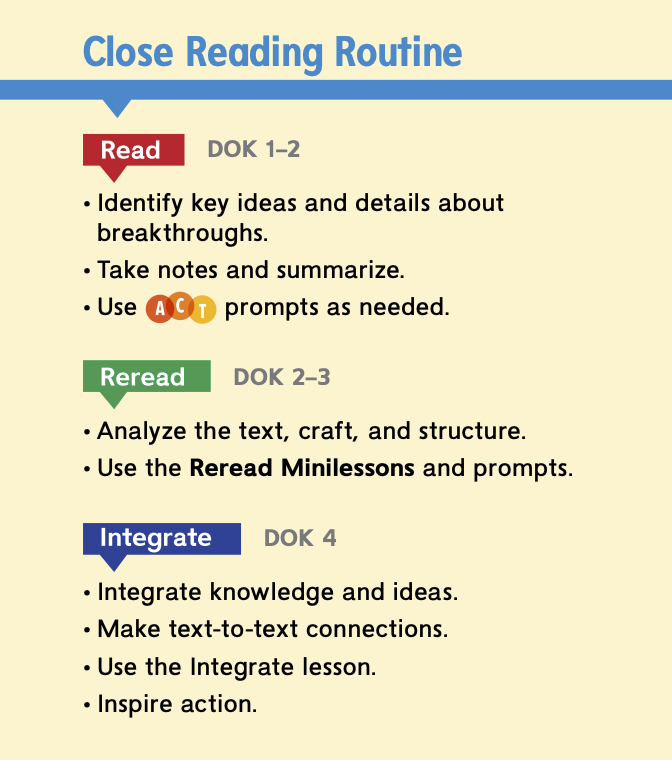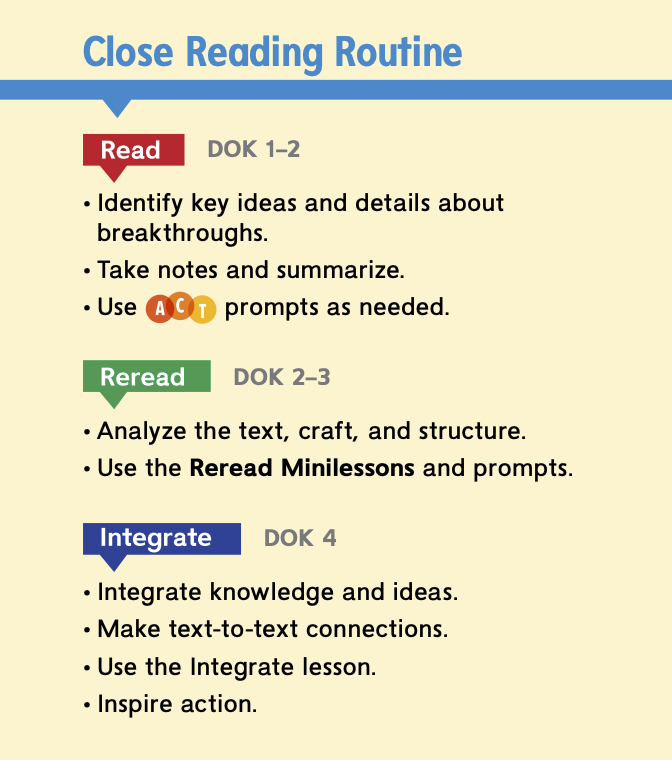 The Close Reading Routine reinforces skills from grade to grade as students read increasingly complex texts.
When students close read, they actively engage with complex texts and use strategies to think critically about and dig deeply into texts. As students read and reread the Shared Read in Wonders for different purposes, they learn to annotate, ask and answer questions about what they are reading, talk about text with partners, cite text evidence, and apply what they are learning about genre, comprehension, vocabulary, and writing. To equip all students with the tools they need to unlock complex text, the Shared Reads provide multiple opportunities for teaching, modeling, guided practice, and independent practice.
The Access Complex Text (ACT) feature provides scaffolded instruction for text features that relate to text complexity, with the goal of having all students read closely while accessing and comprehending complex texts. Teaching suggestions and prompts relate to the different elements that may make a text complex.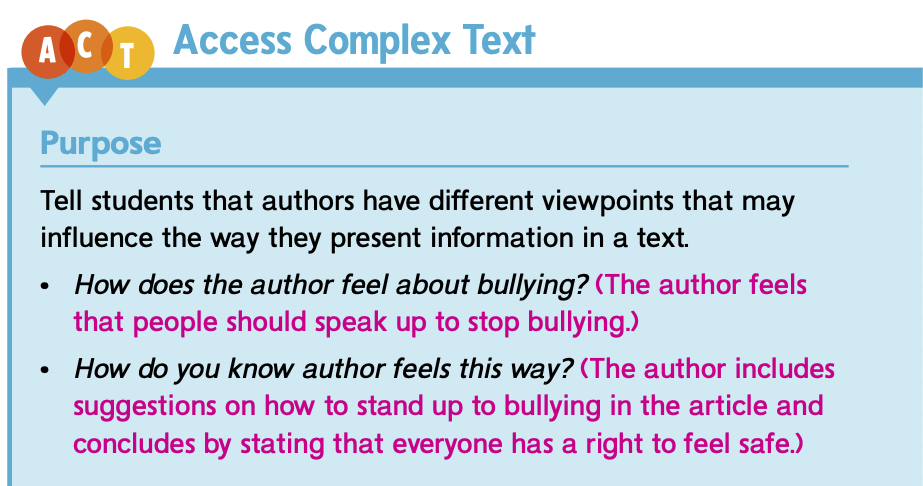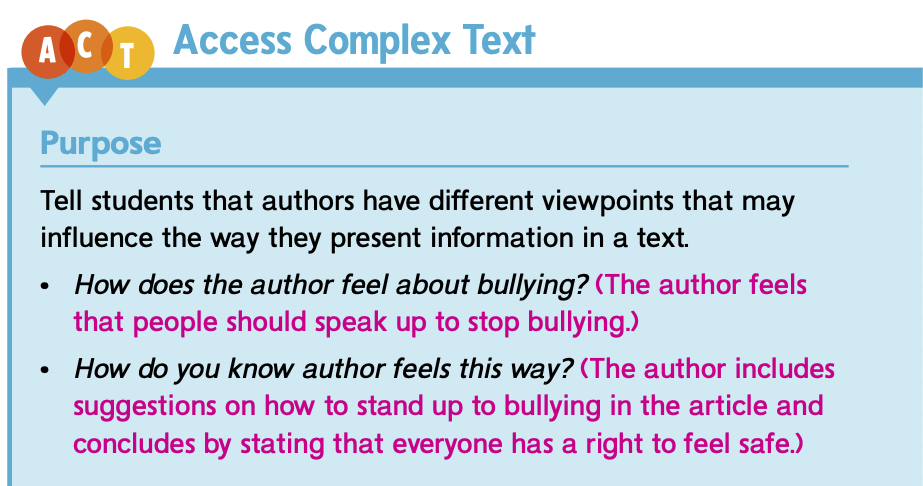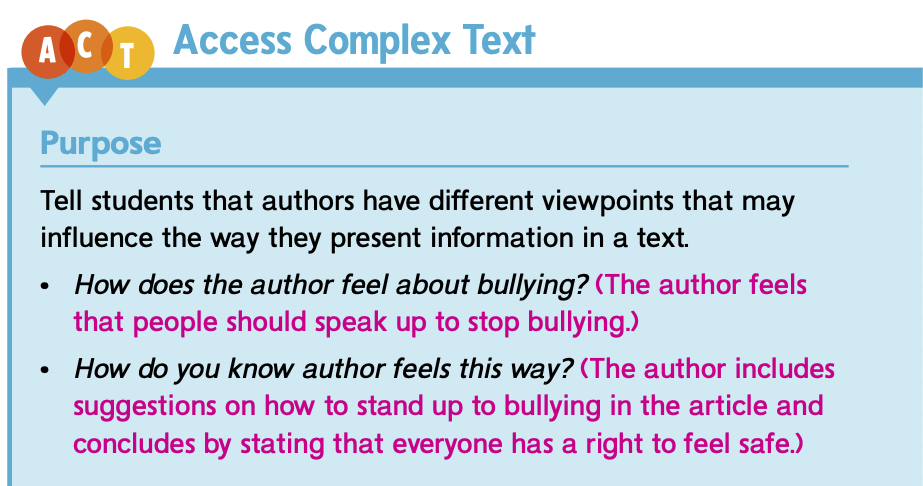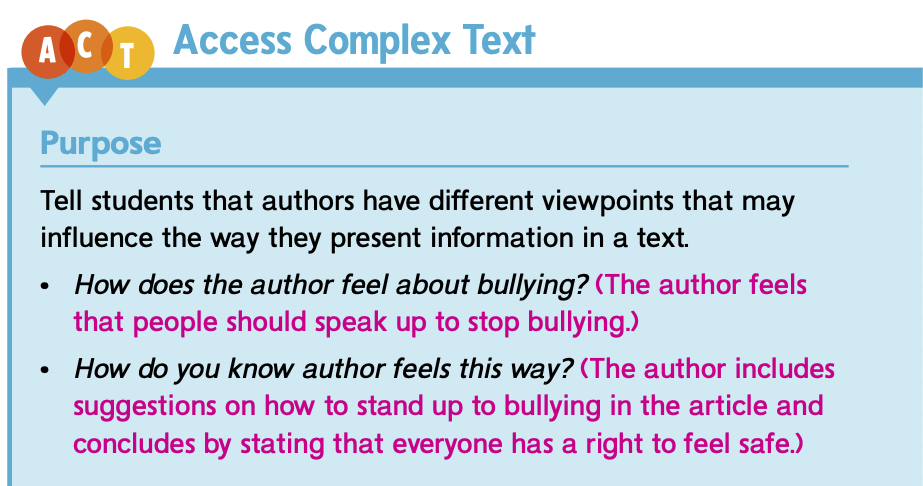 Science of Reading
What is the Science of Reading?
Instruction based on the Science of Reading requires that instructional approaches and practices are evaluated empirically and proven to provide students with clear learning advantages (Shanahan, 2020). Wonders was designed with this science of reading instruction in mind.
As a learning science company, McGraw Hill is dedicated to the application of foundational and current research toward the development of products designed to improve student and educator outcomes. We have drawn upon decades of rigorous literacy research studies, as well as our collaborative work with preeminent reading researchers and experts, to inform the design, development, and ongoing efficacy testing of Wonders.
How does Wonders address the Science of Reading?
Wonders is based upon the findings of large-scale research into instructional practices. With this base, Wonders supports the delivery of high-quality literacy instruction aligned to the science of reading. It provides a comprehensive, integrated plan for meeting the needs of all students.
Carefully monitoring advances in literacy research, the program is developed to ensure that lessons focus on teaching the right content at the right time. The "right content" refers to teaching sufficient amounts of the content that has been proven to deliver learning advantages to students. The right time refers to a carefully structured scope and sequence within a grade and across grades. This ensures that teaching is presented in the most effective and efficient manner, with sound guidance to better support diverse learners.
Foundational Skills
Research shows that the explicit teaching of phonemic awareness, phonics, and text reading fluency are the most successful ways to succeed in foundational skills. Wonders presents a sequence of research-aligned learning activities in its grade-level placements, sequences of instruction, and instructional guidance across phonemic awareness, phonics/decoding, and text reading fluency.

Reading Comprehension
Reading comprehension requires that students extract and construct meaning from text. Wonders provides lessons built around a high-quality collection of complex literary and informational texts, focused on both the natural and social worlds. Teachers using Wonders will find explicit, research-based lessons in vocabulary and other language skills, guidance for high-level, high-quality discussions, and well-designed lessons aimed at building the executive processes that can shift reading comprehension into high gear.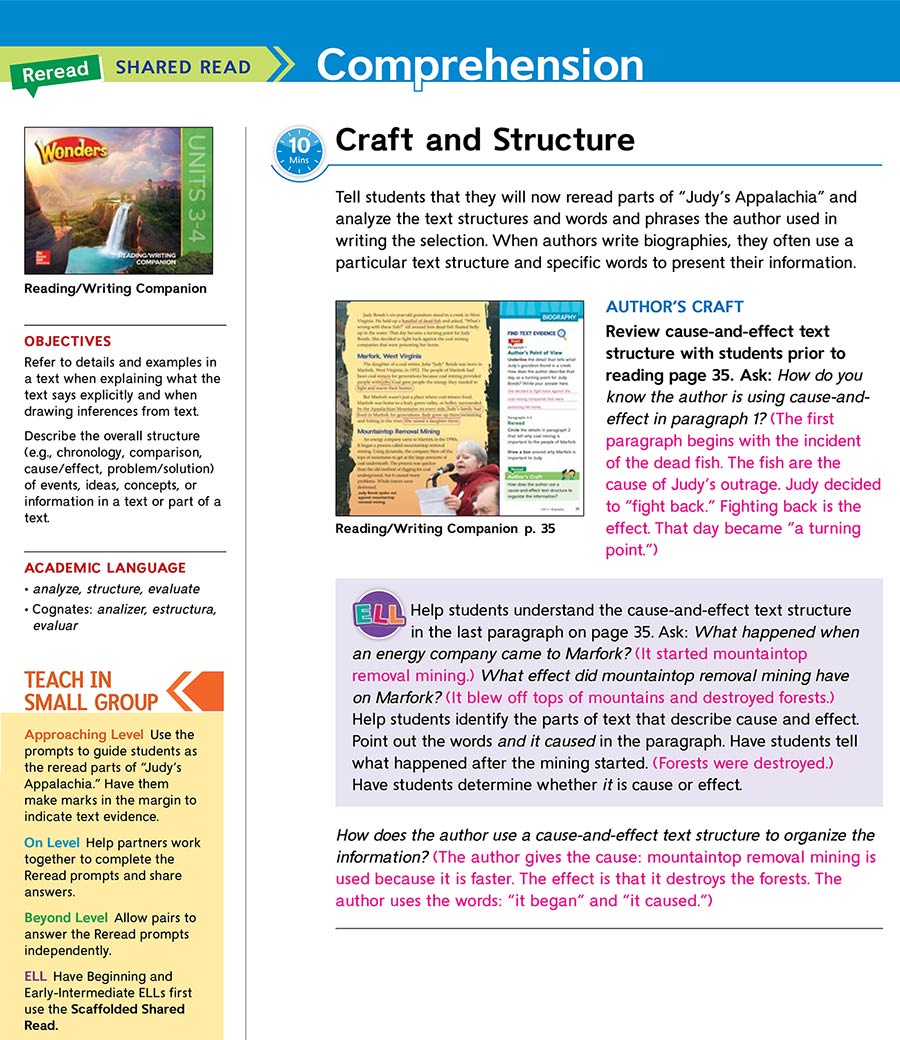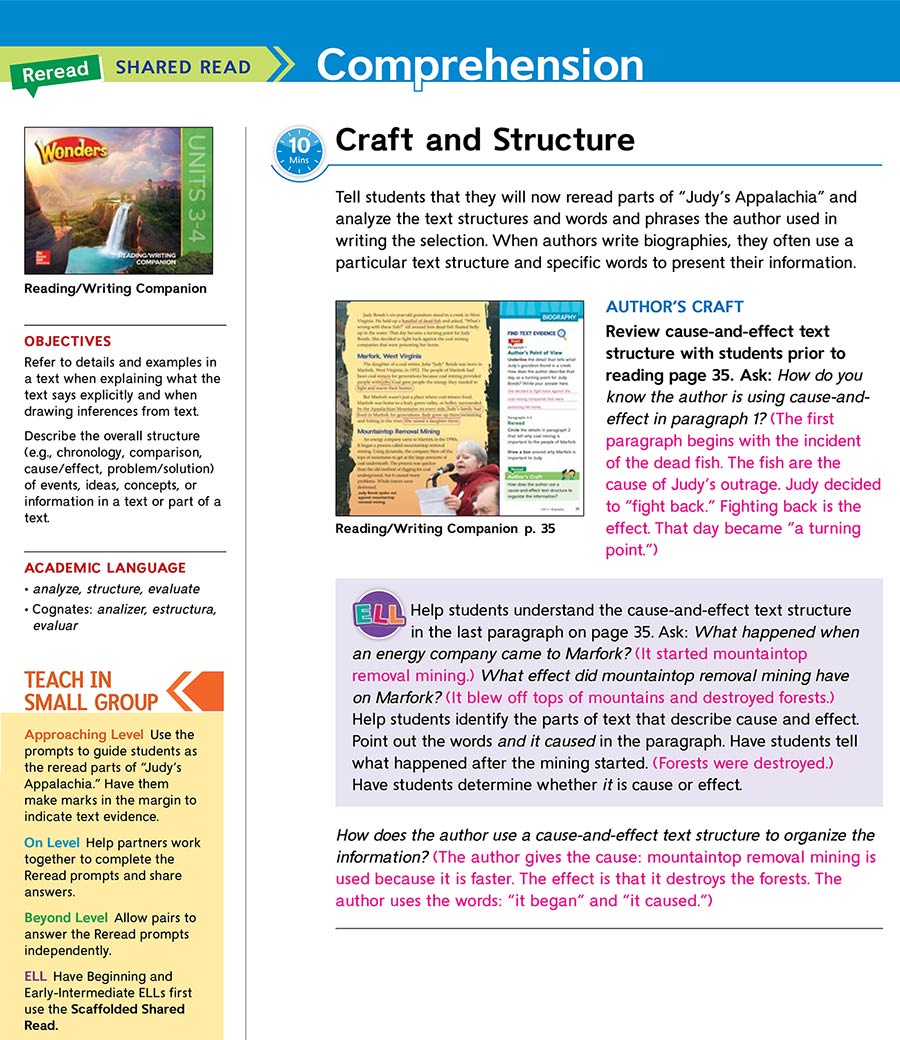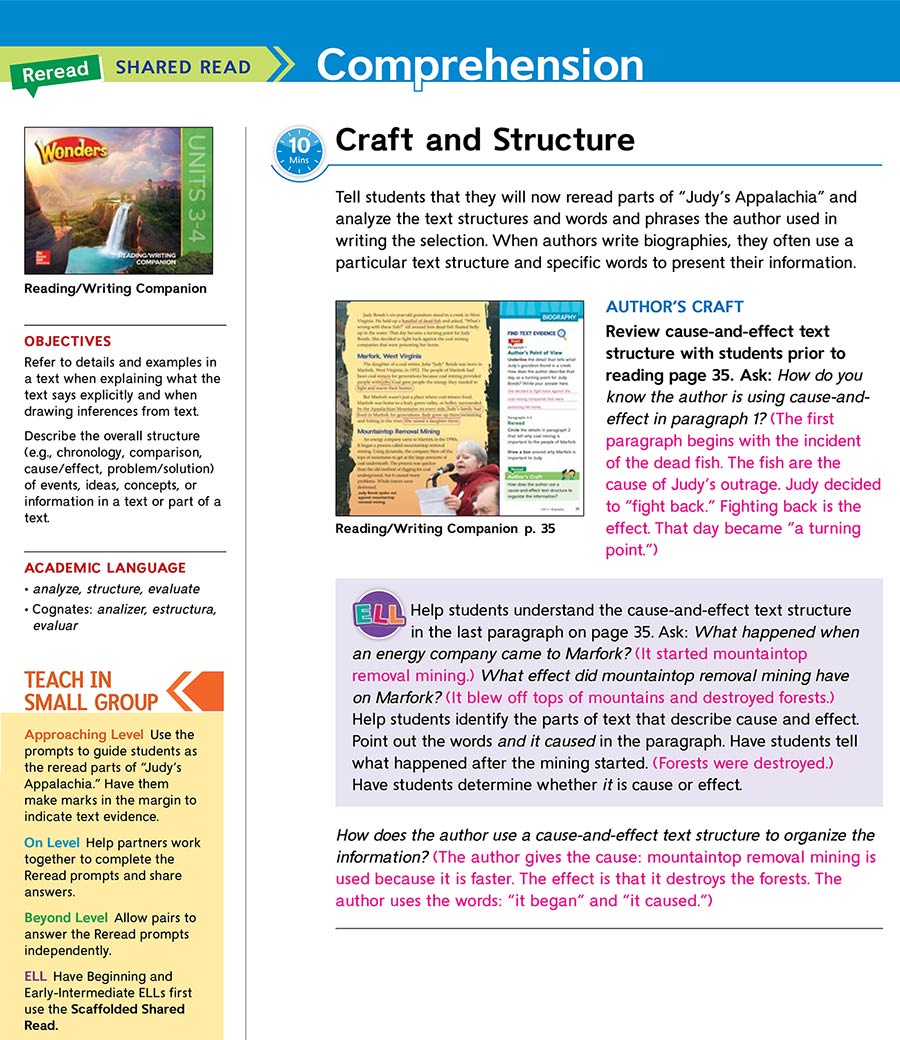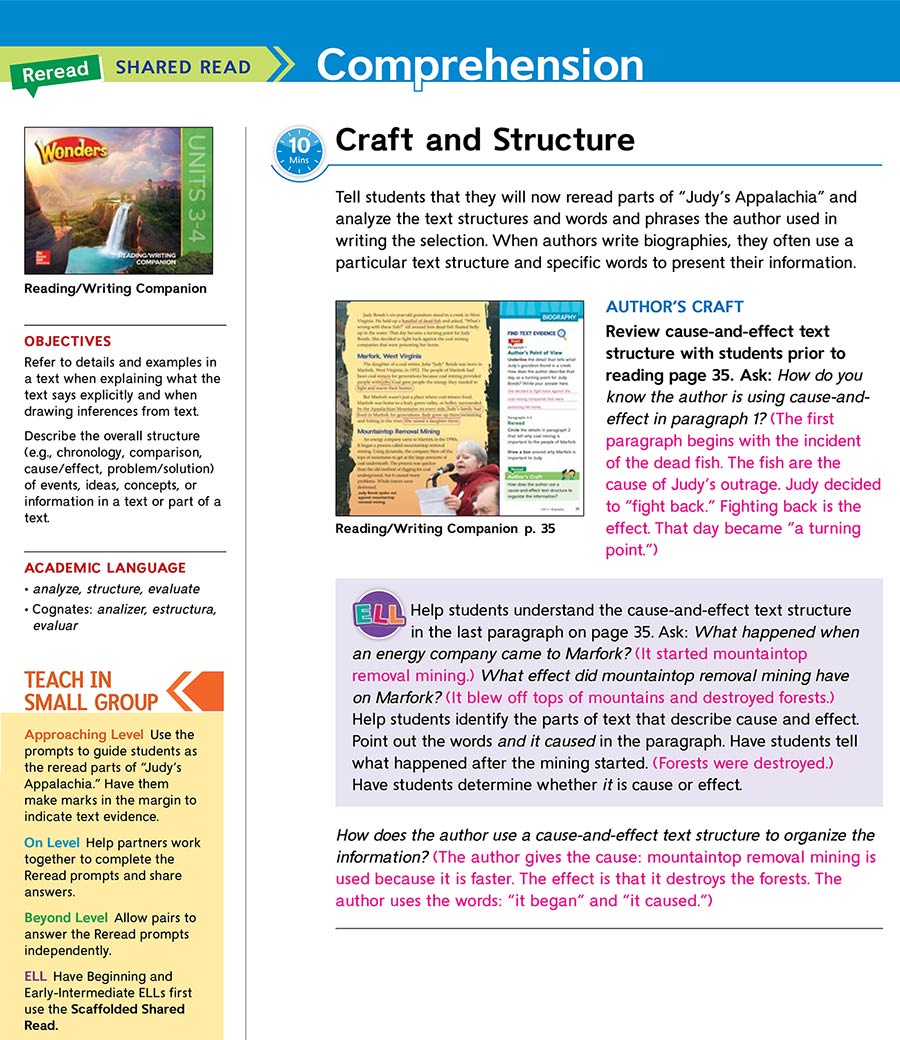 Writing
In the 21st century, it is not enough to be able to read, understand, and learn from the writing of others. Being able to communicate one's own ideas logically and effectively is necessary, too. Research shows that reading and writing are reciprocal skills that strengthen one another. Wonders provides focused writing instruction in the following areas that help students improve their reading: writing foundations; quality writing for multiple purposes; the writing processes; and writing to enhance reading.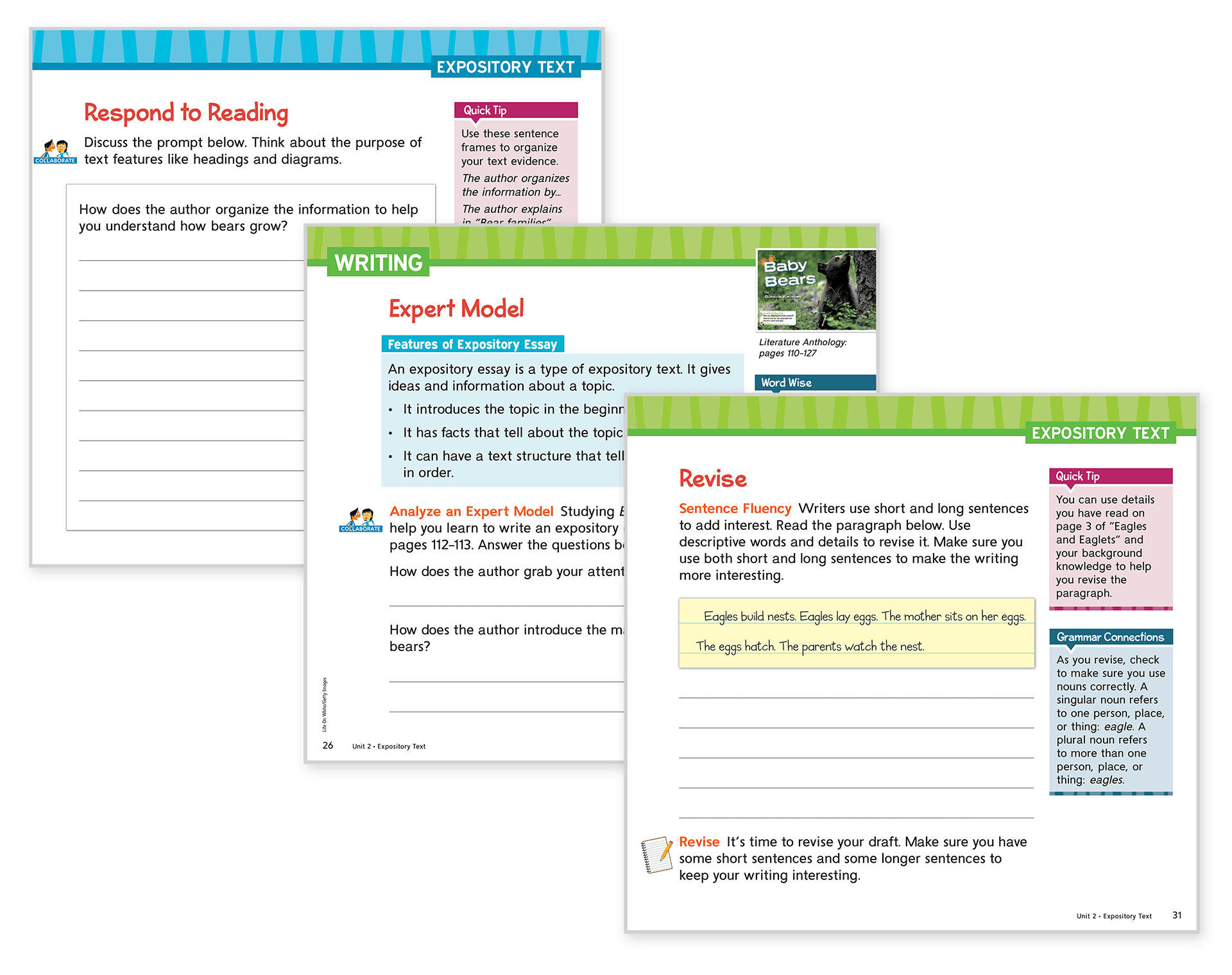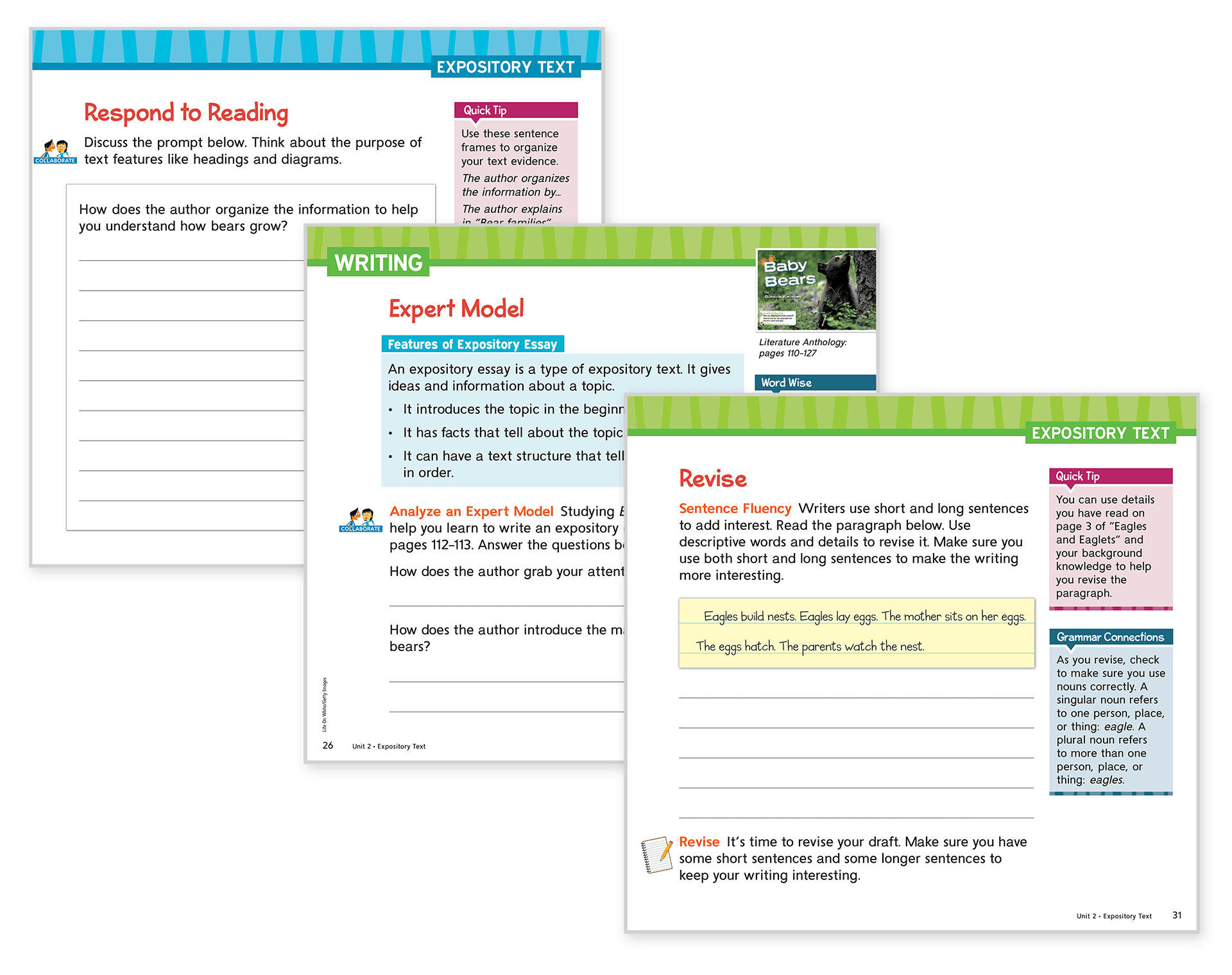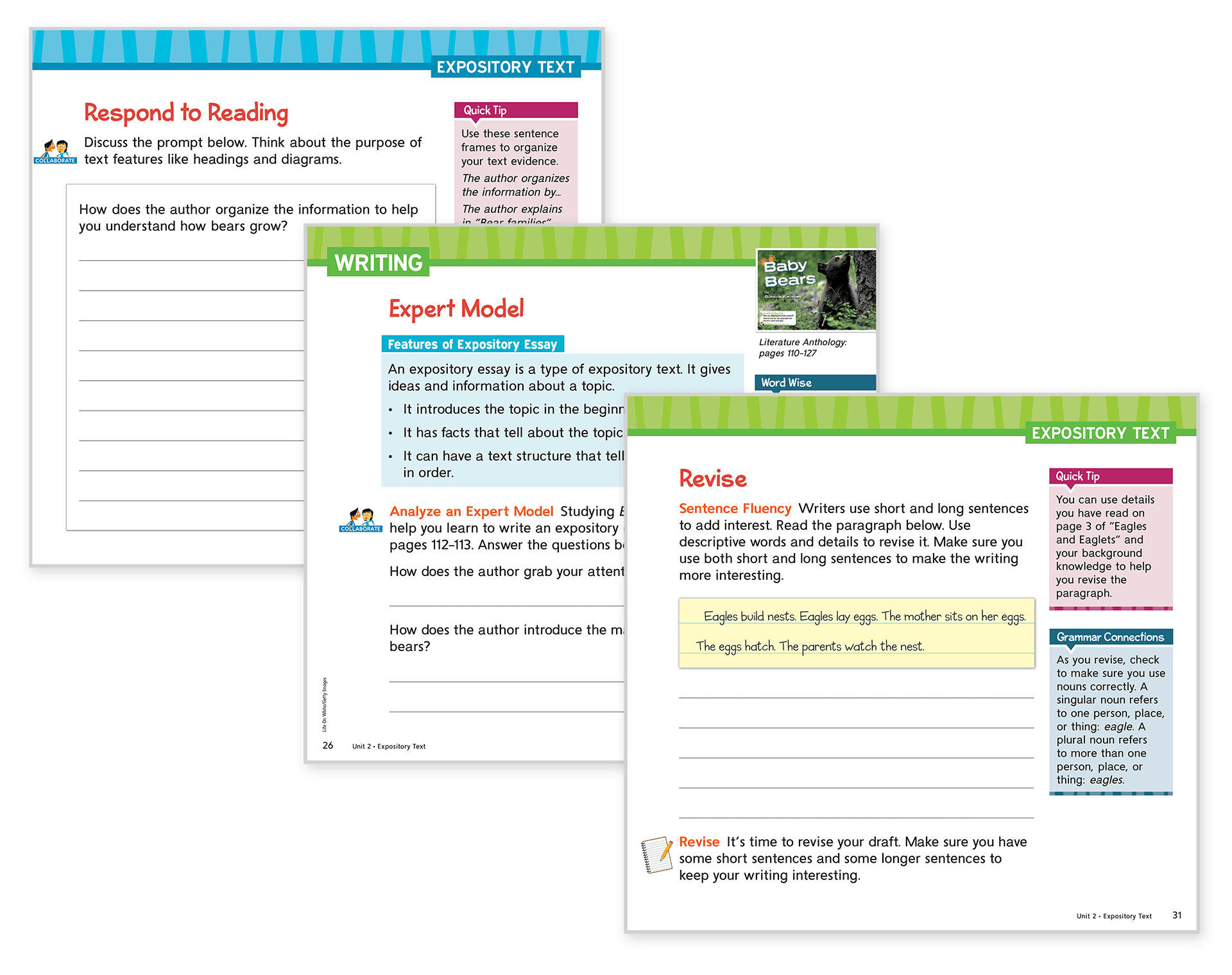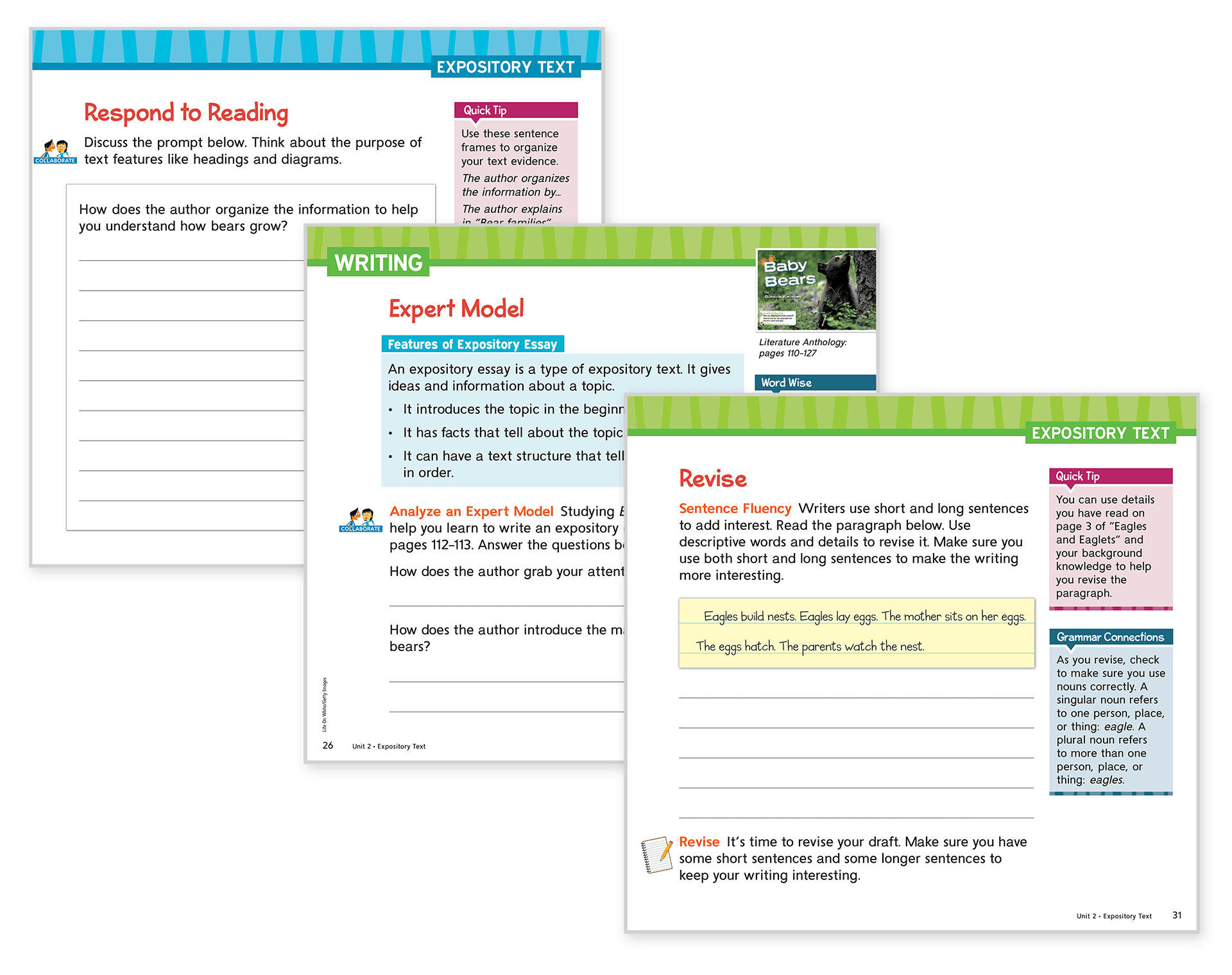 Quality of Instruction
The science of reading is dependent upon the sciences of teaching and learning, as well as on reading research. Reading research has identified specific best practices for teaching aspects of literacy. However, research has also revealed other important features of quality instruction that have implications for all learners and that may better support certain student populations. Wonders lessons reflect these quality issues in teaching, including lessons with explicit and appropriate purposes; high-challenge levels; appropriate opportunities for review; quality discussions promoted by high DOK-level questions; ongoing monitoring of learning; supports for English language learners; and connections to social emotional learning.
Get some straight talk on the Science of Reading from Dr. Tim Shanahan.C

Writing
Helping Students Become Strong, Confident Writers
Reading and writing are reciprocal processes that enhance and reinforce the skills that students must develop to be college and career ready. Wonders emphasizes the importance of reading and writing every day, in every grade, to ensure that even your youngest learners have opportunities to observe mentor writing and take their first strokes as budding writers.
Writing in Wonders
Wonders provides explicit instruction for each of the following areas:
Analytical Writing Lessons
Students write about what they read. They read texts closely and use text evidence to support their ideas and conclusions about the text. Wonders provides scaffolded instruction to help children grow as writers.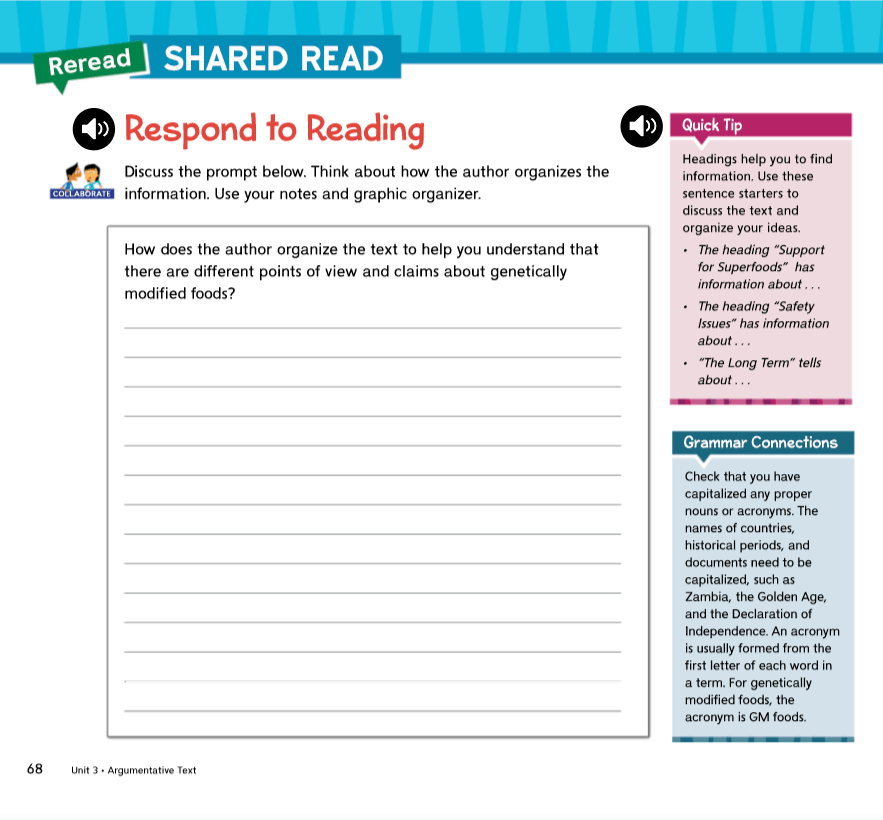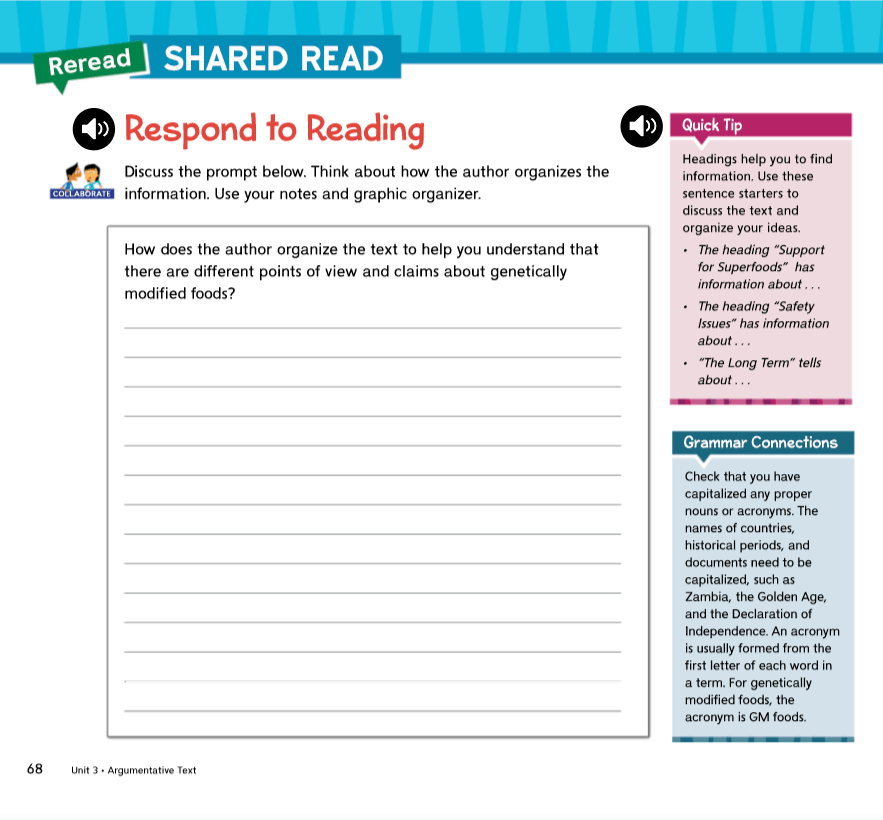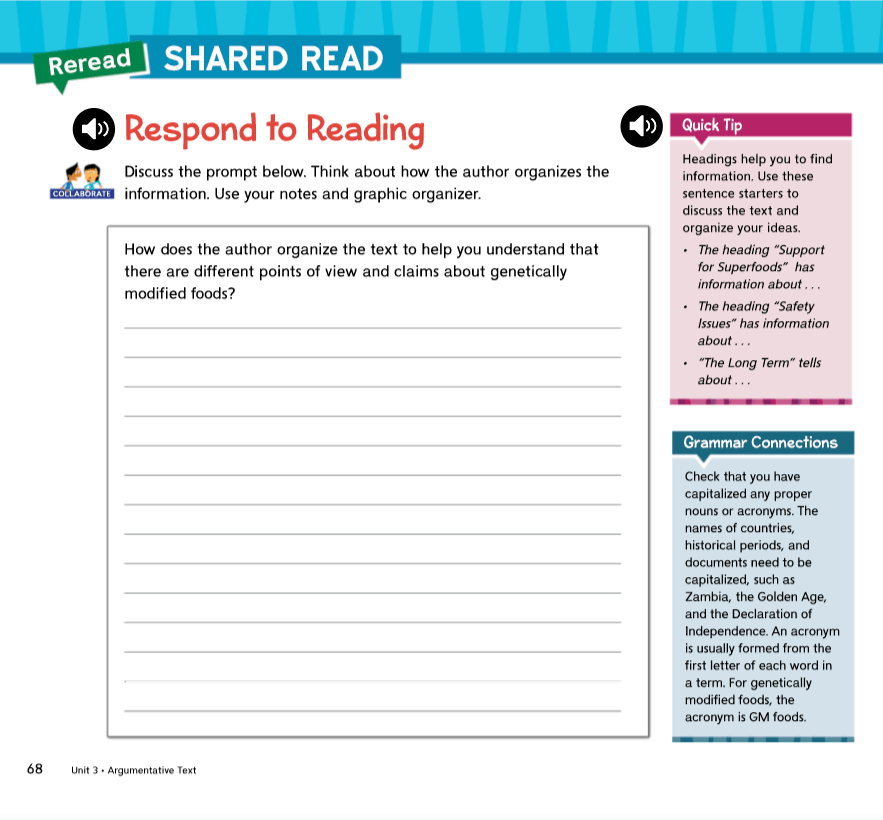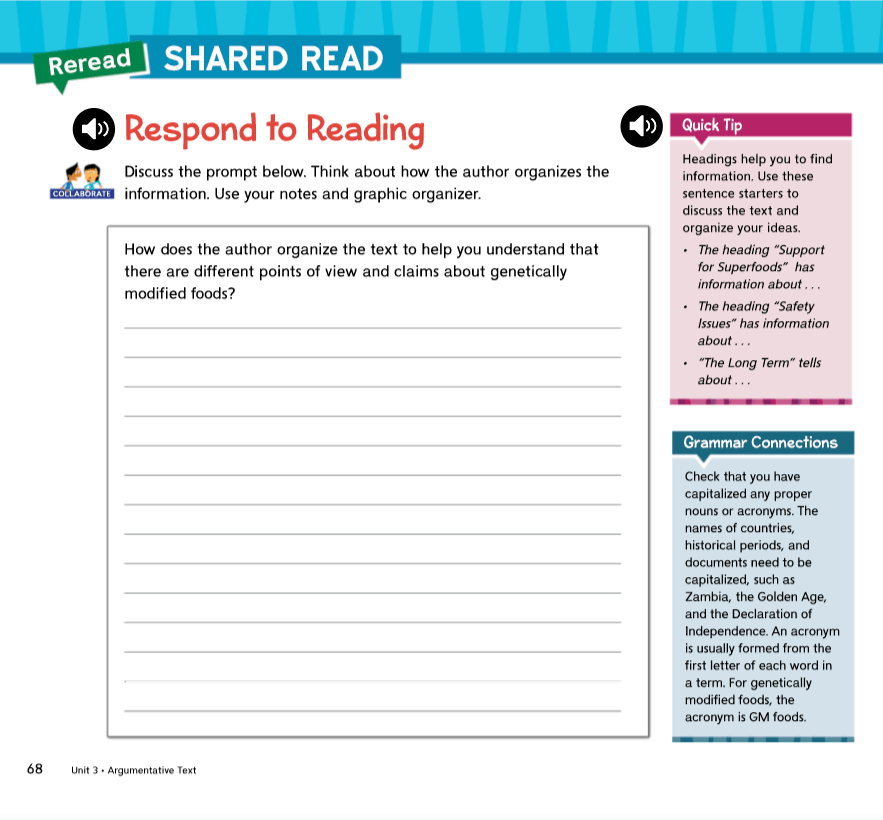 Writing Process Lessons
Children learn to write using a 6-step writing process: Expert Model, Plan, Draft, Revise, Edit and Proofread, and Publish. The steps of the writing process can be applied to all types of writing.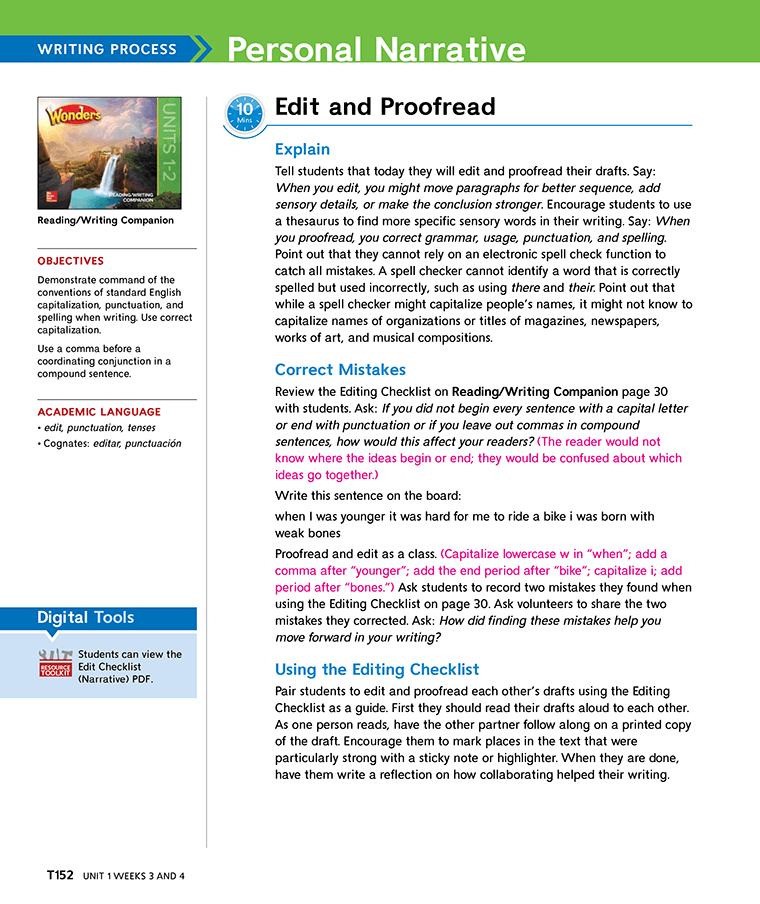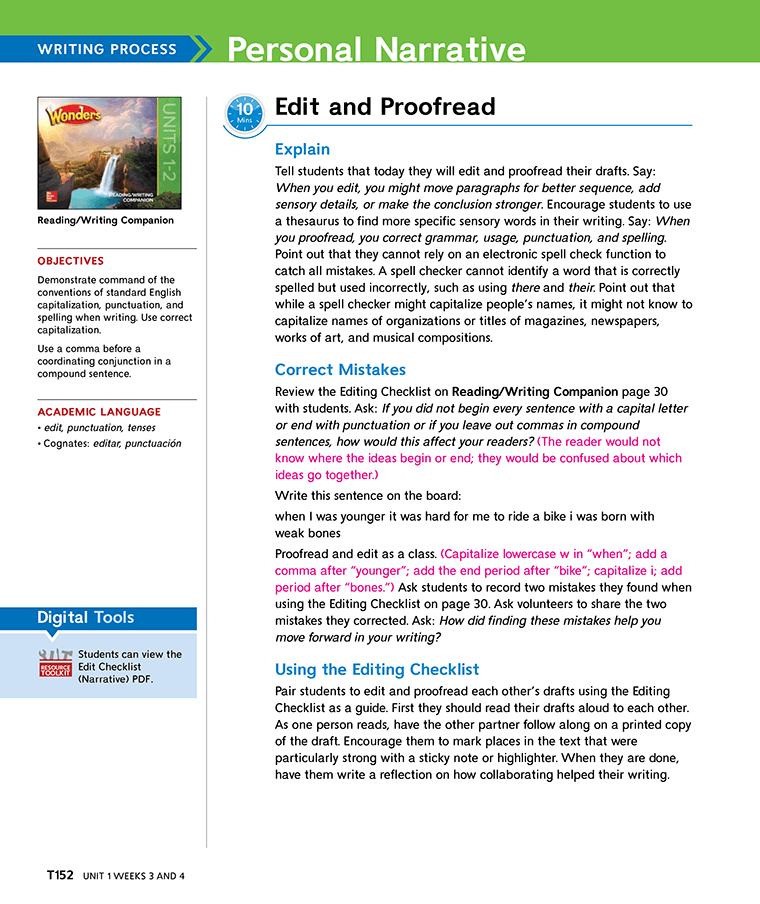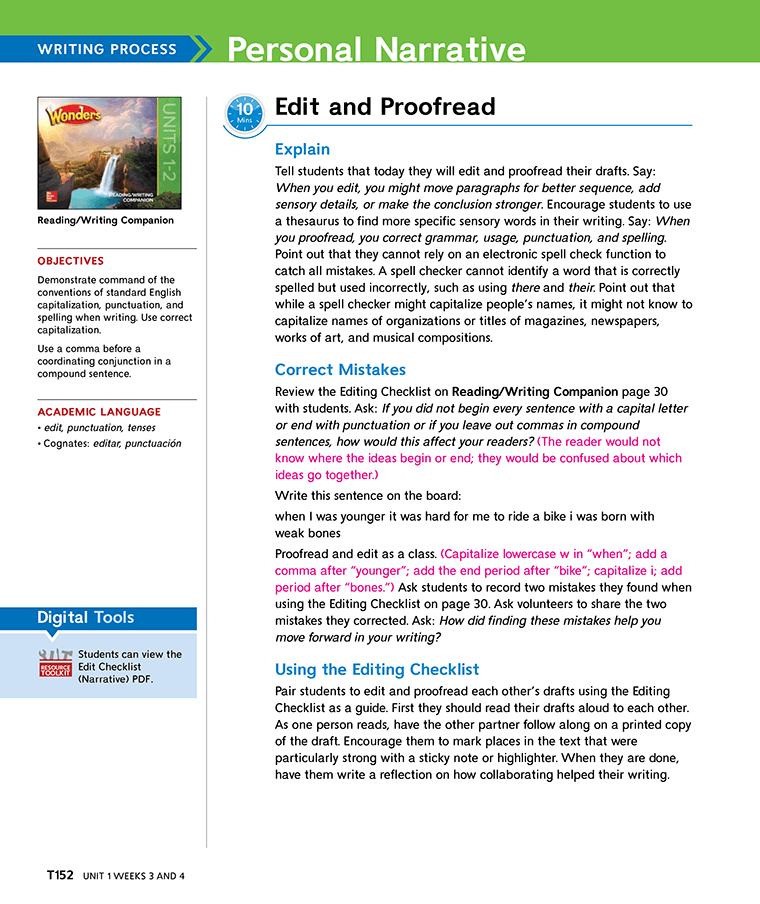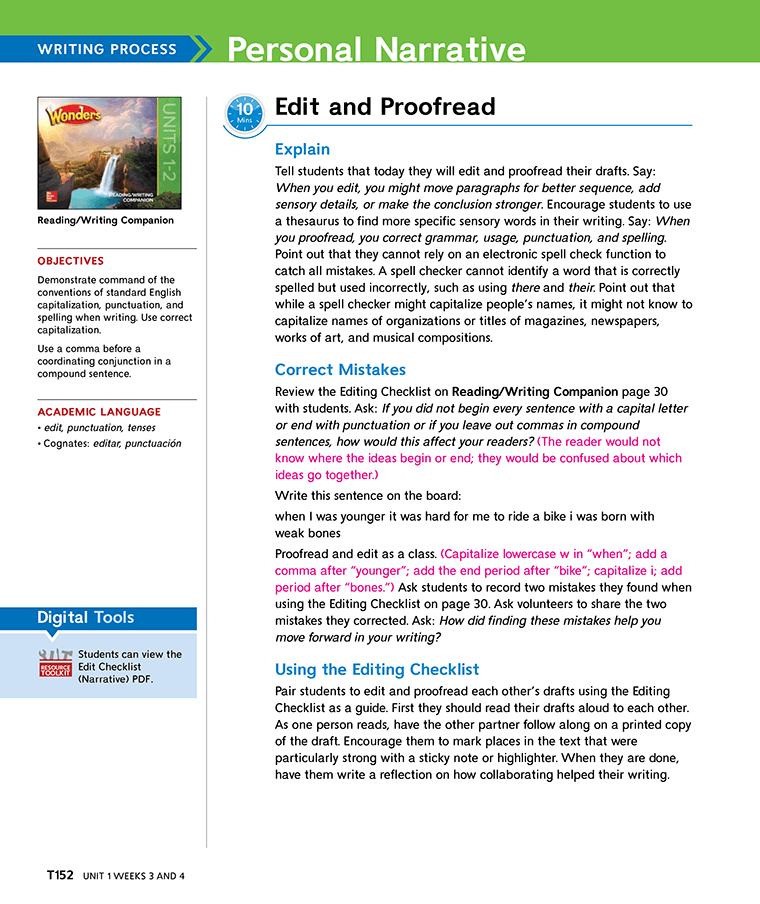 Grammar Lessons
Grammar lessons are explicitly and systematically taught each week and are applied to students' writing. Scaffolded instruction allows all students to understand the purpose of using these skills as writers. Students then apply these skills to achieve their own purpose as writers. This allows students to understand the effects of their writing on their readers.
Download our Writing Brochure to learn more about the Wonders writing experience.C
When They Read About It, They Write About It
In Wonders, comprehension and analytical writing are deeply connected. Students engage in daily writing practice and learn to develop habits of writing by practicing writing skills and strategies every day with the Reading/Writing Companion. This interactive student edition ensures that students read with pencil in hand, talk productively with partners, and write whenever they read. Students master the close reading routine, respond to the shared read, apply skills and strategies, talk, cite text evidence, and write.
Analytical writing in Wonders requires students to use their annotations and notes. Lead author Doug Fisher's research has shown that taking notes during reading is useful in analytical writing, as "students consult their annotations to formulate arguments, analyze information, and make connections within and outside the text."
Dive into Dr. Doug Fisher's thoughts on writing from sources.C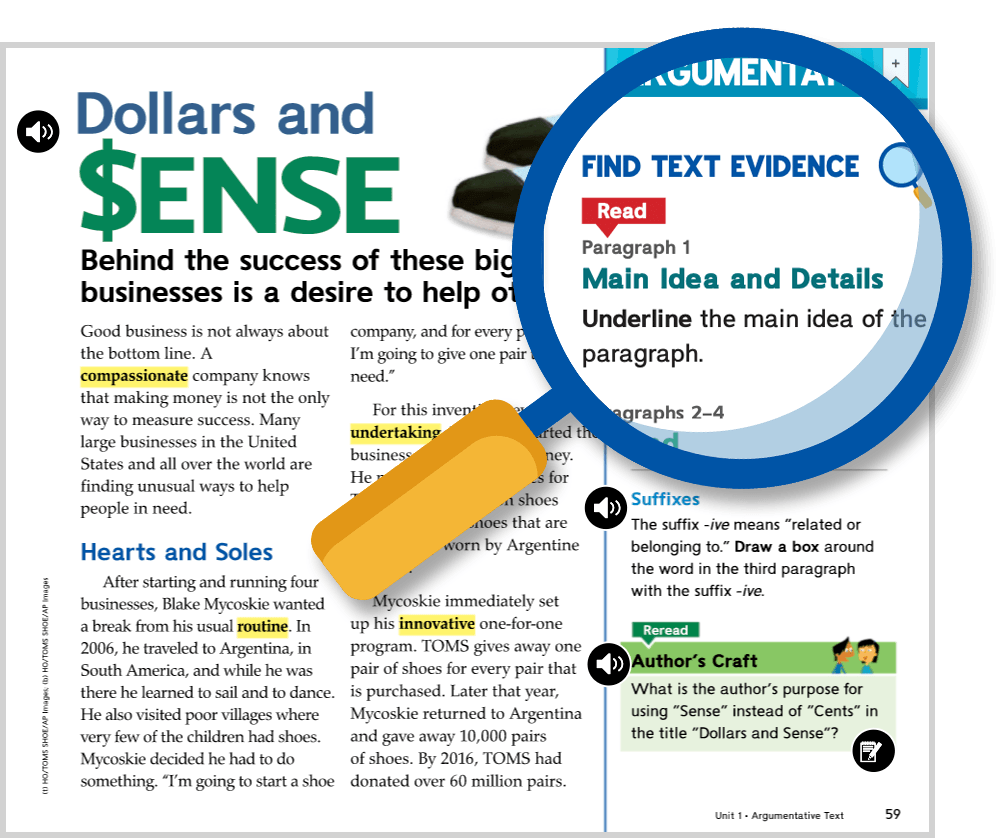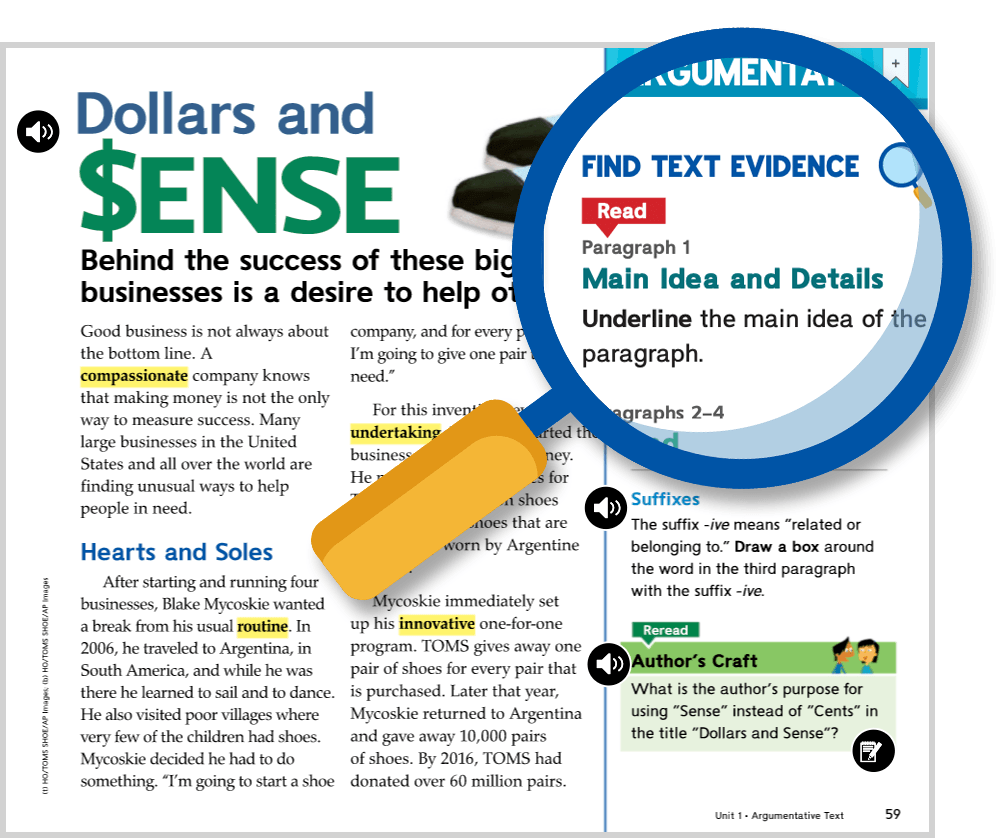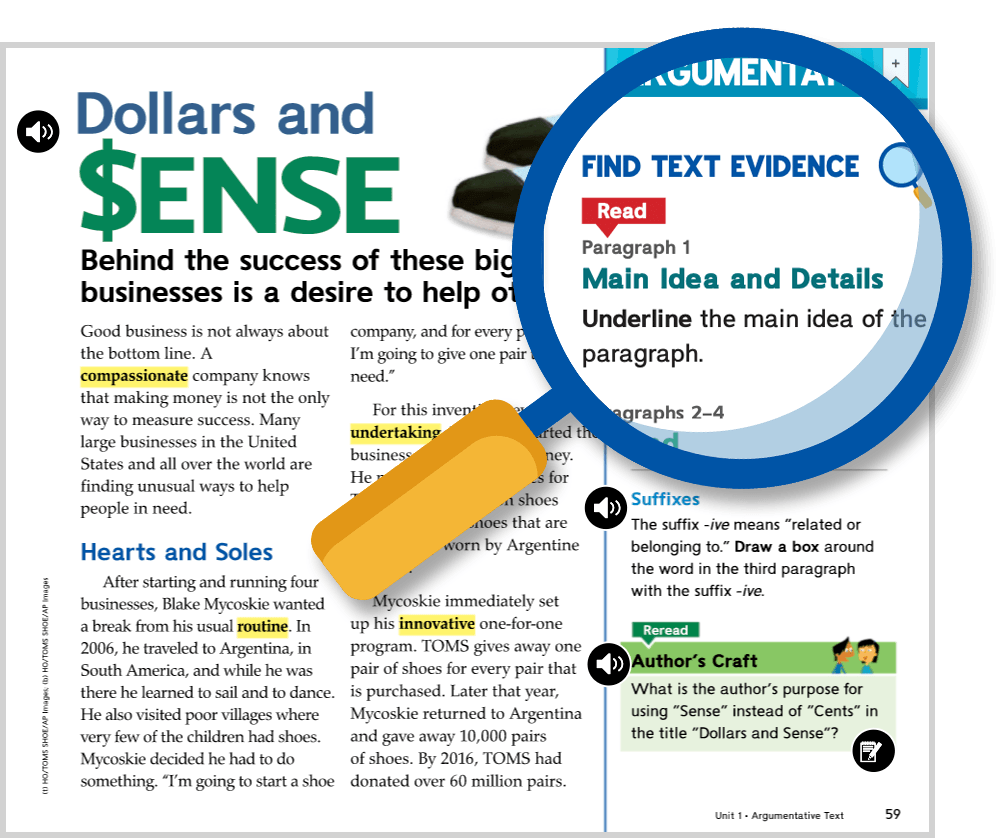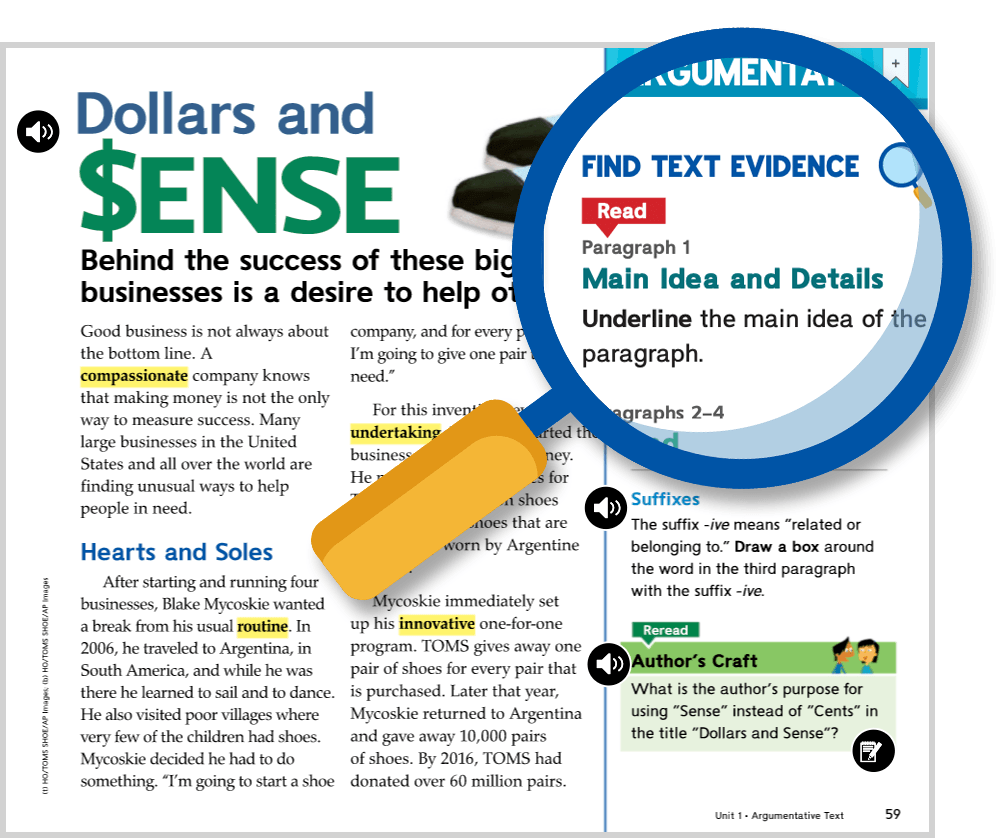 Wonders provides lessons that follow the steps of the Writing Process: Expert Model, Plan, Draft, Revise, Edit and Proofread, and Publish.
In Kindergarten and Grade 1, shared writing and interactive writing help teachers model the steps in the writing process and allow students to participate in creating longer writing pieces. Students also write independently. In Grades 2–6, lessons support students working through each step of the writing process. Students write in the same genres they have been reading and use the anchor texts as models. Anchor papers provide strong models of quality writing, and the student models provide insight into how the writing process works. Students learn how to develop real and imagined narratives, opinion/argumentative writing, and informational/explanatory texts. Minilessons provide direct instruction in key writing skills, such as organization, adding facts and details, and word choice. Rubrics and checklists allow students to evaluate the quality of their own writing.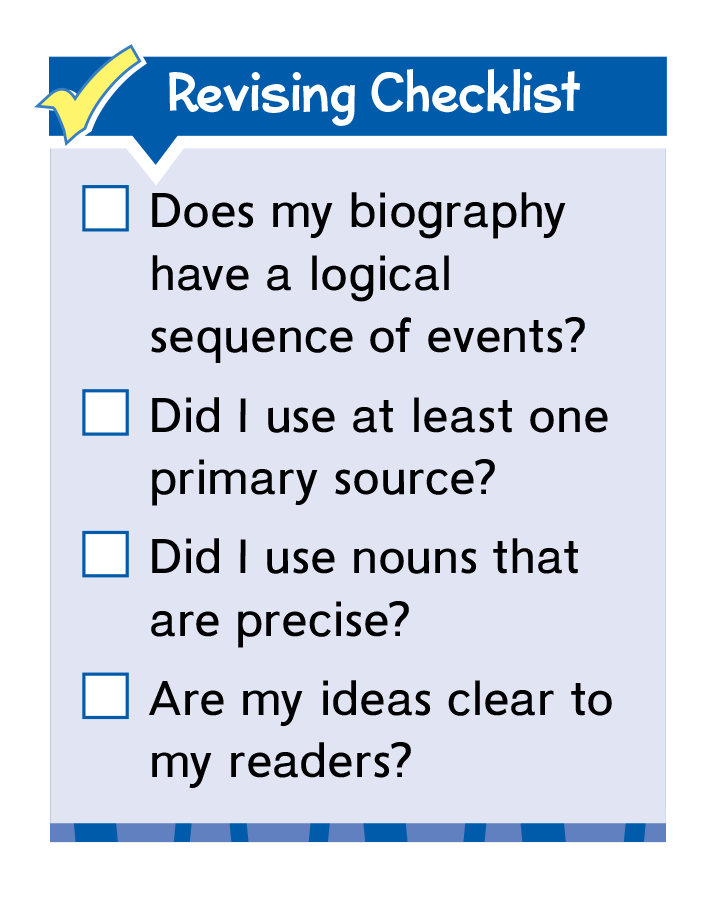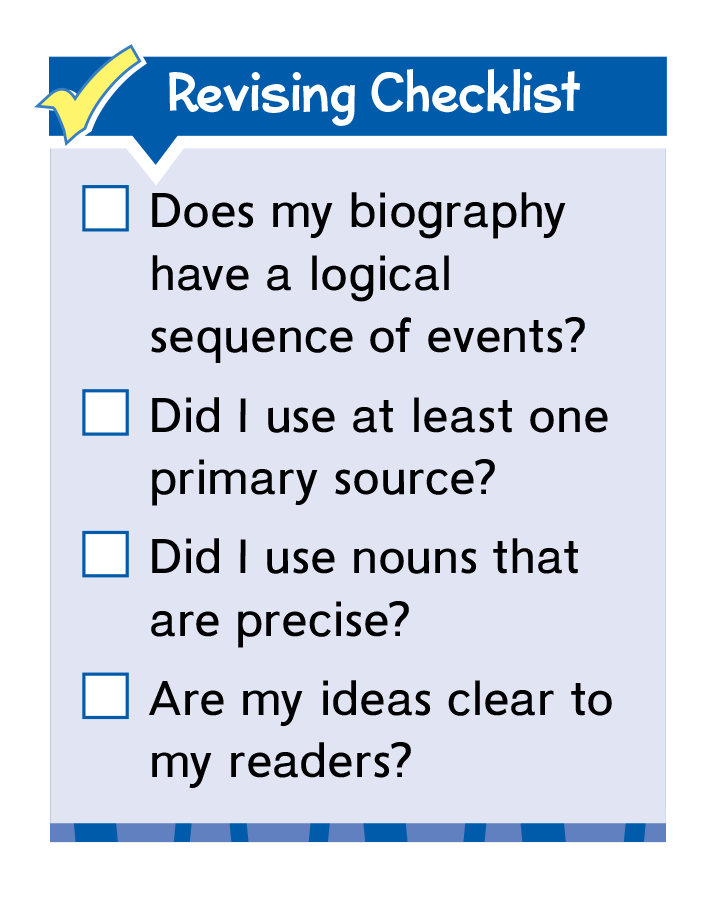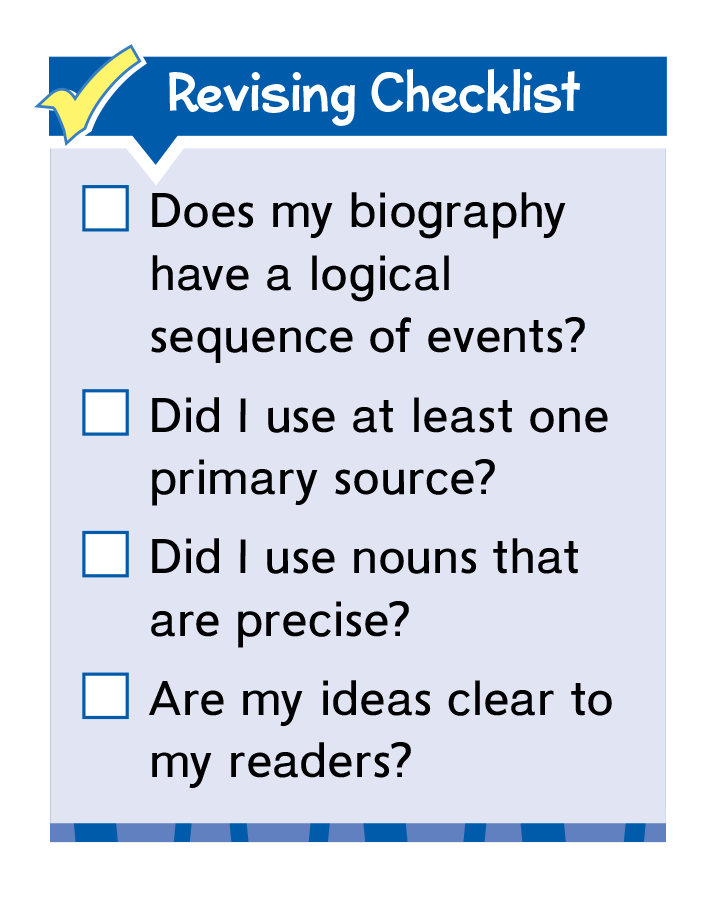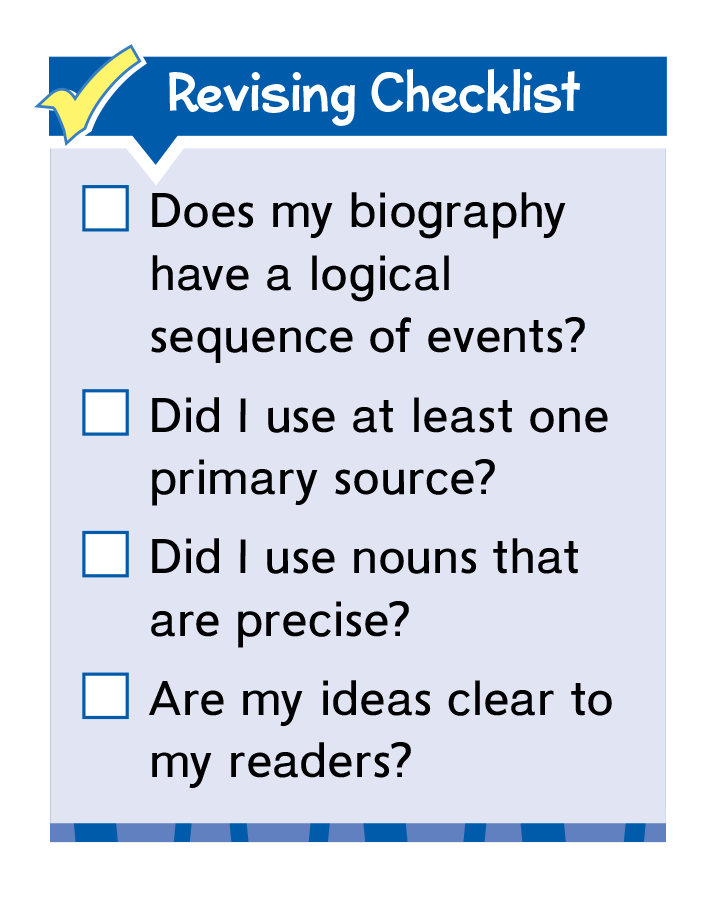 Grammar
Daily direct and explicit instruction in standard English grammar, mechanics, and usage is provided in each grade of Wonders and taught in the context of writing. After learning a particular skill, students apply that skill in writing activities—for example, as they draft, revise, and edit their work. They can also apply the skill during speaking activities, such as the Talk About It activities that accompany each grammar lesson. In Grades 2–6, students can use the Grammar Handbook as a resource to develop their own writing, while the Grammar Connections in the Reading/Writing Companion teach grammar rules alongside student writing. Editing and Presenting checklists support students in incorporating the conventions in language as they communicate with an audience, whether through writing or speaking.

Small Group Differentiation
A Path Forward for Every Learner
Wonders provides you with a collection of resources and instruction to move students ahead as soon as they're ready. Differentiated instruction is built into the resources and lessons, providing all students with the scaffolding or extensions they need to be an active part of their classroom community of learners.

One of the most difficult challenges teachers face is how to support the varied learning levels in a classroom. Wonders places a strong focus on small group instruction, since teaching in whole and small groups has proven more effective for student achievement gains than teaching solely in whole groups (Tilly 2003; Vaughn 2003). The goal of all small group instruction is to provide targeted, differentiated teaching to support every student's reading development. Wonders helps differentiate instruction by varying content, adjusting the instructional process, using specialized resources, and ensuring that all students have an access ramp to learning.
In their Teacher's Edition, educators will find embedded support for:
English language learners (ELLs)
students who may benefit from Tier 2 support
gifted and talented learners
Wonders provides intervention for some and enrichment for all by accommodating learner variability through:
Small group time: The most effective learning happens during small-group instruction.
Scaffolded instruction and resources: supporting materials embedded in the instruction offer reinforcement, provide access to all, close learning gaps, and help students "level up".
Independent learning: Additional choices to extend the student's knowledge and area of interest, create ownership and accountability, and boost motivation.
Leveled readers: A wide range of levels within each of four complexity bands to ensure students continue to grow as readers, writers, and critical thinkers.
Universal Design for Learning (UDL): Wonders employs the three main principles of UDL throughout instruction: Representation, Action and Expression, and Engagement.
Learn more about how Wonders supports differentiated instruction.C

Teach the Whole Child
Reading, Writing, and Resilience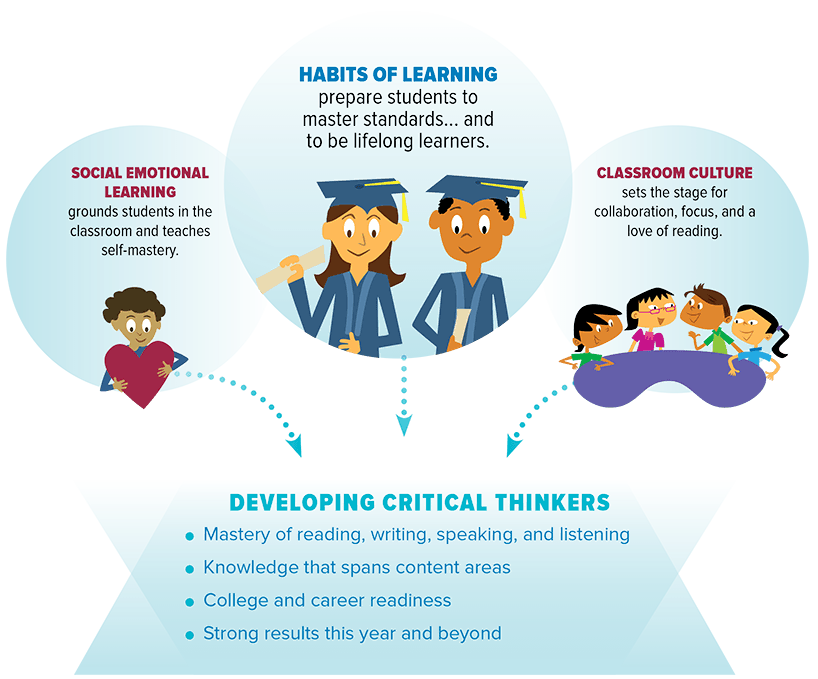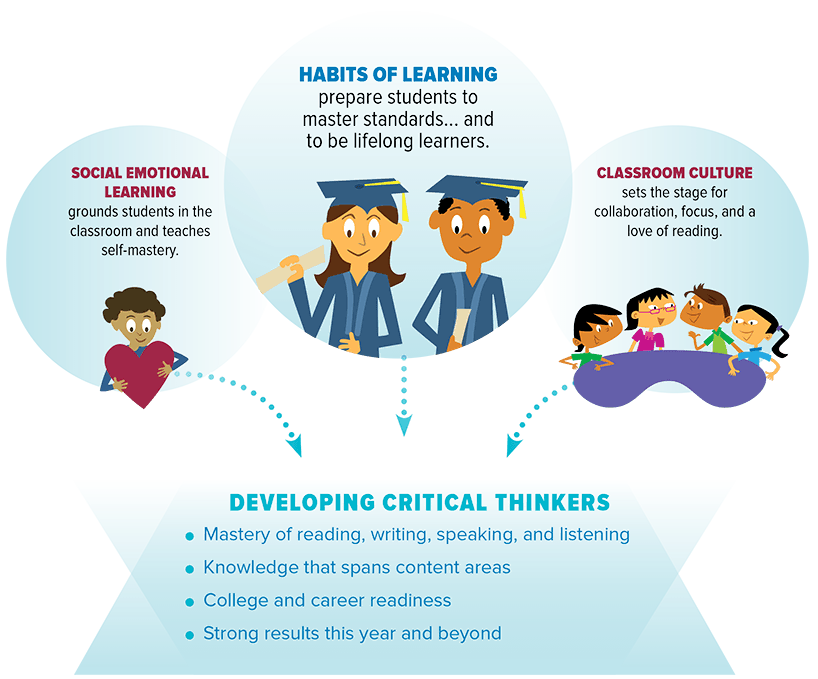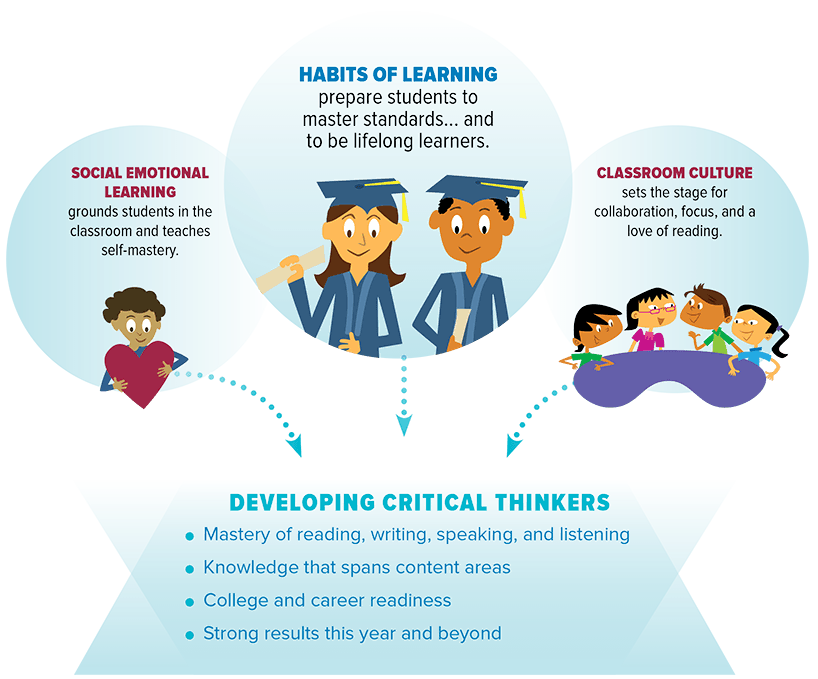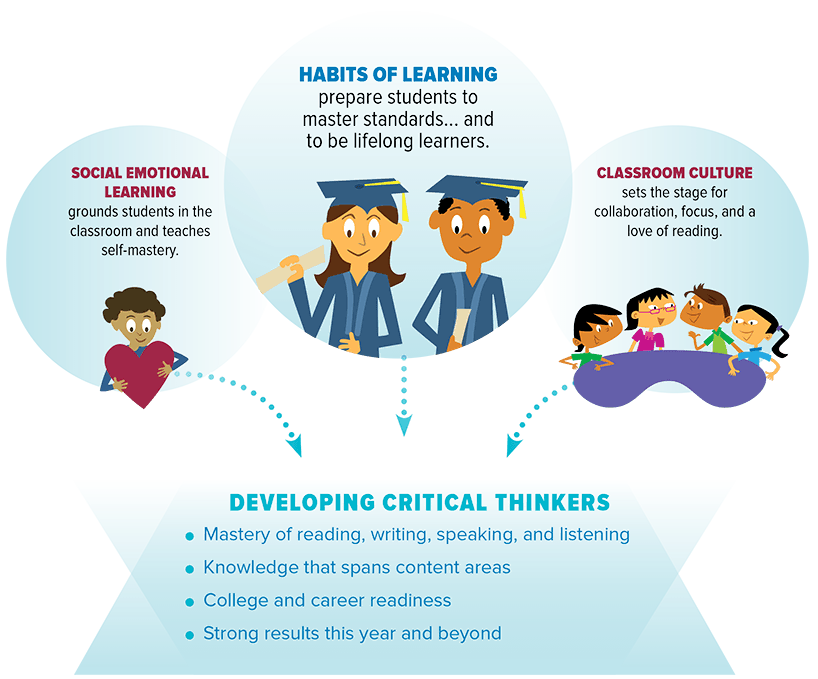 Students are learning so much more than reading in their classrooms. They're learning how to learn, how to master new content areas, and how to handle themselves in and out of the classroom. Wonders resources have been developed to support you in teaching the whole child, for success through the school year—and throughout their lives.
Wonders focuses on three related areas to help students learn how to learn and become critical thinkers: social emotional learning, habits of learning, and classroom culture.
Habits of Learning
The six habits of learning in Wonders were specifically designed to encourage curiosity and critical thinking and are reinforced throughout the year and across the grades. They teach children how to learn, and to master the skills that will prepare them for the high-stakes assessments. Each unit of instruction focuses on one habit that will set students up for success.
"I use a variety of strategies to understand."
make predictions
take notes
think about how a piece is organized
visualize
"I think critically about what I read."
ask questions
look for text evidence
think across domains
make inferences
"I write to communicate."
think about my message
think about my audience
talk with my peers
use rubrics
"I am part of a community of learners."
listen actively
build on others' thoughts
choose the right words
gather information before I act or speak
"I believe I can succeed."
challenge myself
stay on task
analyze the problem
try different ways
Classroom Culture
Classroom culture fosters the development of your community of learners. The Wonders Teacher's Edition highlights opportunities to strengthen classroom relationships, such as collaboration, restating your community focus, and developing a love of reading. The resources in Wonders are designed to help you build mastery of reading, writing, speaking, listening, and thinking—across content areas—giving students the tools they'll need for academic success in every subject and every grade.
Social Emotional Learning
Wonders' focus on developing habits of learning and a supportive classroom culture, with an eye toward strengthening social emotional skills, supports students in developing their ability to regulate their emotions and motivations. Social emotional learning (SEL) helps students recognize emotions and develop social skills so they can express themselves effectively and work together productively.
McGraw Hill's collaboration with Sesame Workshop focuses on the social emotional skills within the context of literacy instruction. Sesame Workshop, which provided on-page lessons in Grades K–1, has collaborated with the Wonders authorship team to develop a comprehensive K–5 scope and sequence for social emotional learning at any age.
We're also collaborating with Character LabC to provide relevant, research-based SEL support and content that is connected to the Essential Question for each genre study/text set in Wonders.

Educational Equity
Building Educational Equity
Research identifies several factors that support classroom equity and enable the underpinnings of culturally responsive teaching: high academic expectations for all students; a socially and emotionally positive classroom; a safe school climate; authentic and rigorous tasks; inclusive, relevant, and meaningful content; open and accepting communication; drawing from students' strengths, knowledge, culture, and competence; critically and socially aware inquiry practices; strong teaching; and school staff professional support and learning about equity and inclusion (Aronson & Laughter, 2016; Gay, 2010; Krasnoff, 2016; Ladson-Billings, 2006; Morrison, Robbins, & Rose, 2008; NYSED, 2019; Saphier, 2017; Snyder, Trowery & McGrath, 2019; Waddell, 2014).
Culturally Responsive Teaching
Through the high-quality content and research-based best practices of the instructional routines embedded in the program, the Wonders curriculum supports all important aspects of culturally responsive teaching.
The Learning Community: Wonders promotes classroom practices that best support meaningful learning and collaboration among peers. Valuing students' voices on what they think about the world around them and what they know allows teachers to build on students' funds of knowledge and adapt instruction and application opportunities. Starting in Kindergarten, students develop their ability to engage in focused academic discussions, assisting each other in deep understanding of the texts they read and building knowledge on various topics.
Authentic and Rigorous Learning Tasks: Many of the texts center on relevant issues, examples, and real-world problems, along with prompts and questions that encourage students to engage and think critically about how they would address a similar problem or issue. The Essential Question for each text set in Wonders introduces the topic that will be explored, culminating in a Show What You Learned activity. This allows students to synthesize information they learned analyzing all the texts.
Differentiation Opportunities: In Wonders, clarity around differentiation of instruction, flexibility, adaptability, and choice are some of the key guiding principles on which the resources have been built. In addition to providing a range of differentiated leveled texts, Wonders is designed to ensure all students have access to rich, authentic grade-level informational and literary texts.
Evidence of Learning: Teachers use informal observations of students with the Check for Success features in the Teacher's Edition to inform decisions about small group differentiated instruction. A range of innovative tools equip the teacher for assessment-informed instructional decision making, and ensure students are equipped to fully participate in responsive, engaging instruction. The Data Dashboard uses student results from assessments and activities to provide instructional recommendations tailored to the individual student.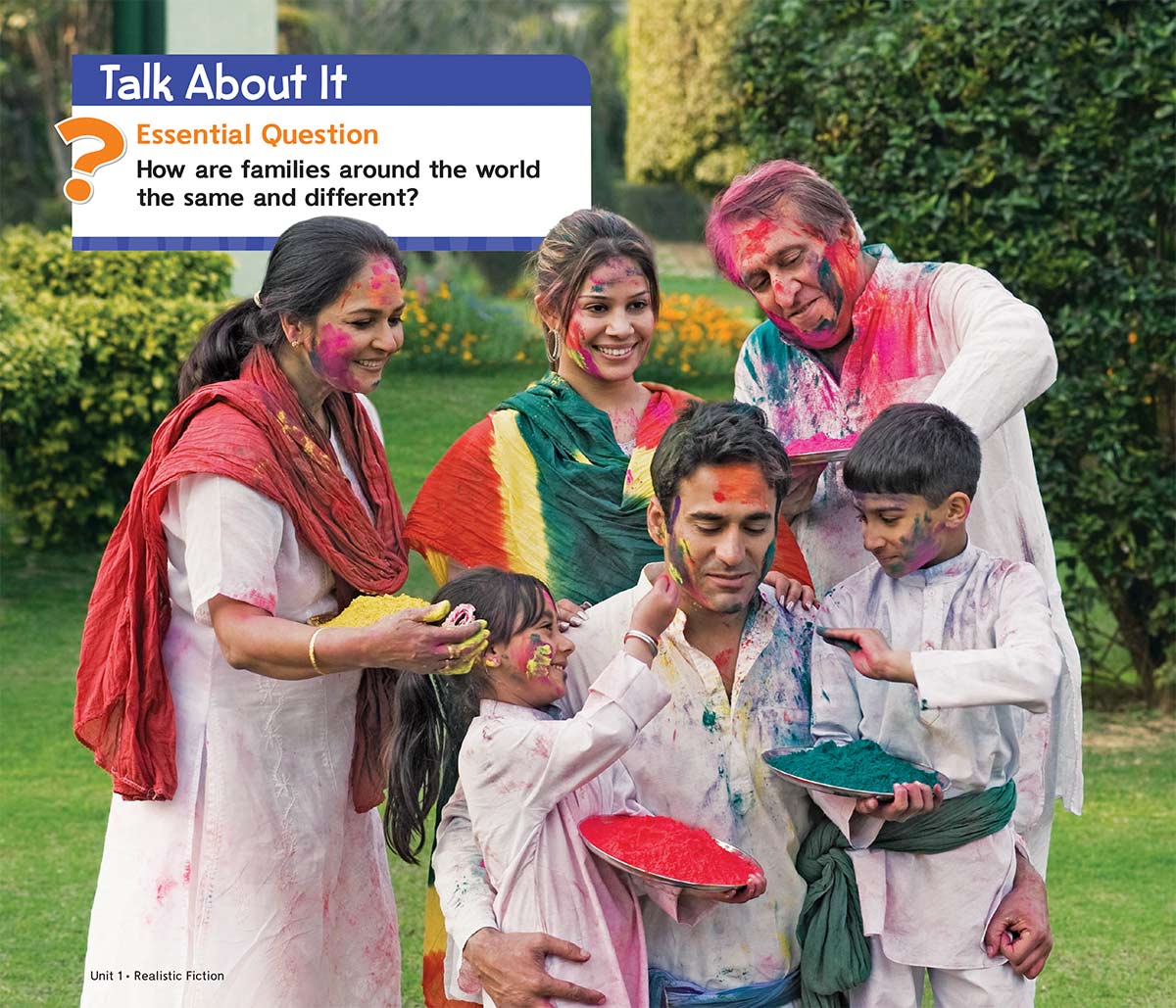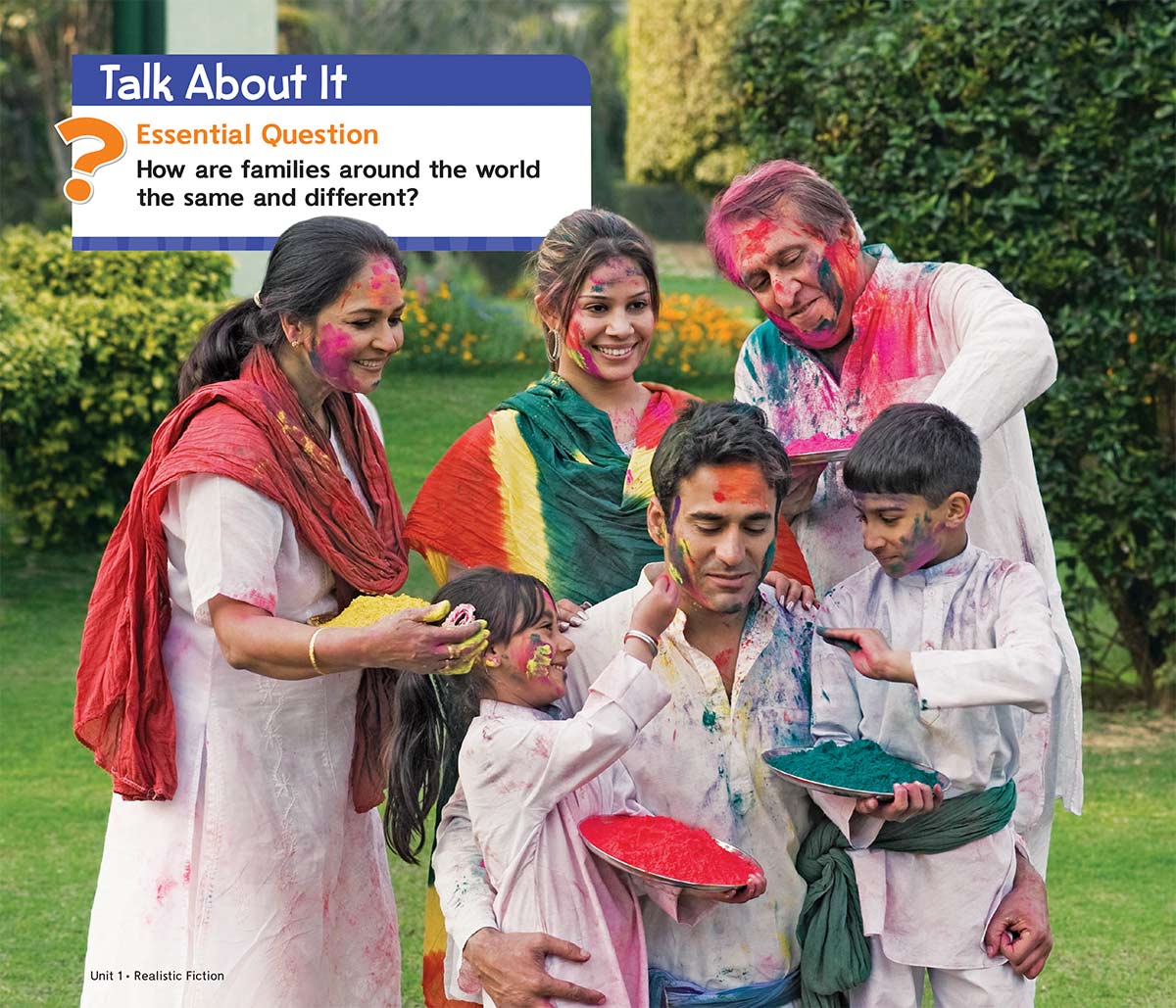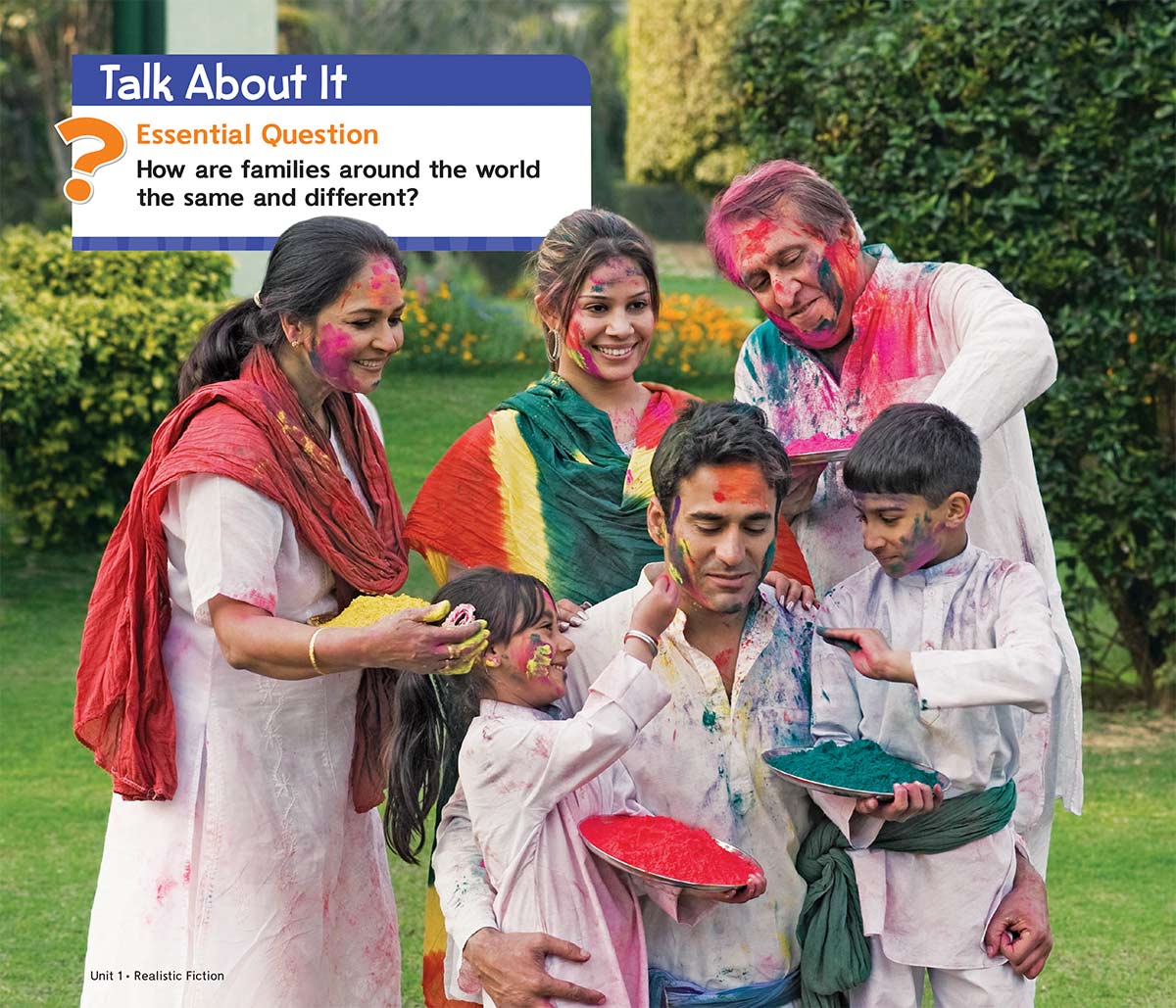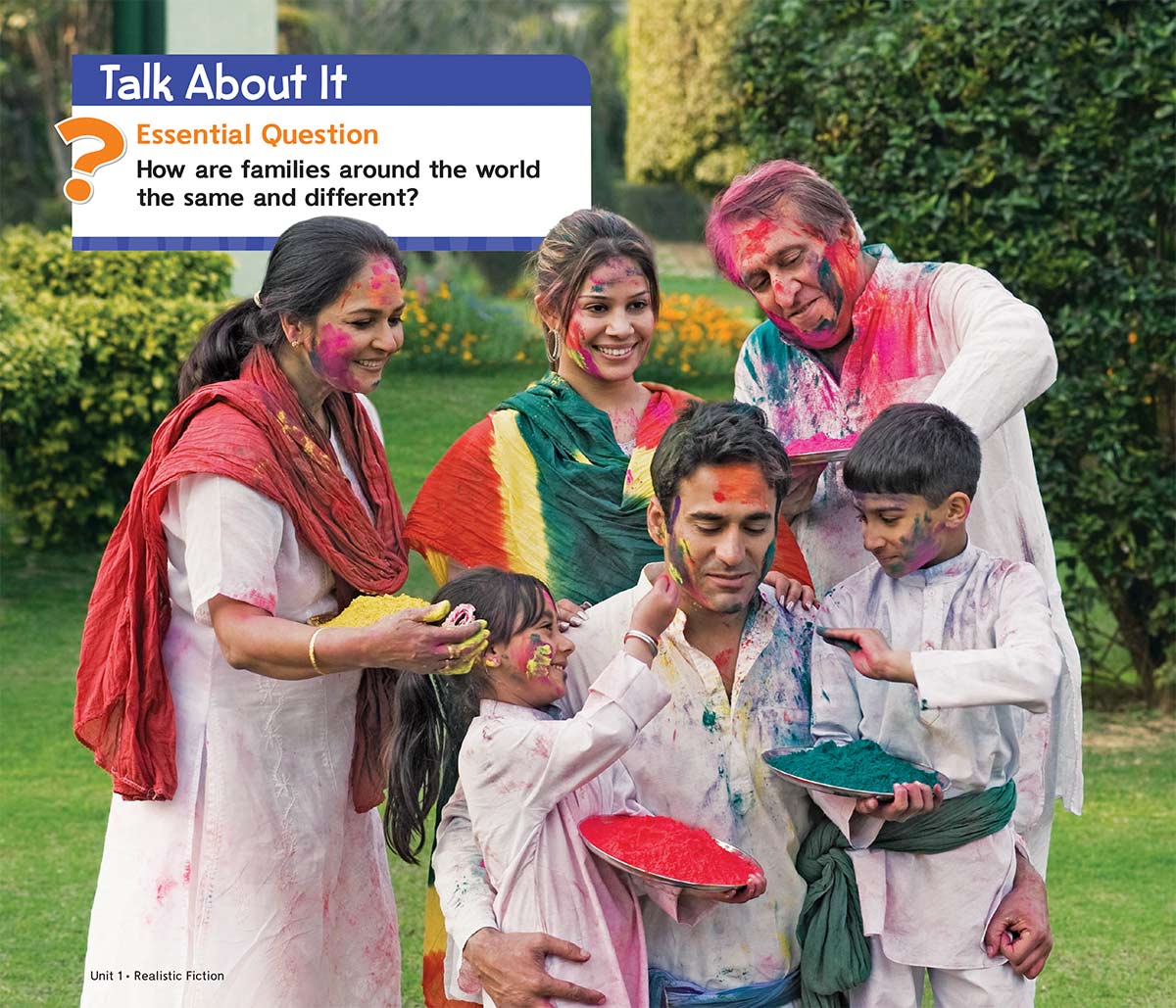 Authentic and Rigorous Learning Tasks
Supporting Family Communication: The School to Home tab in the Wonders student workspace provides information to families about what students are learning. The letters introduce the Essential Questions that the students will be investigating in each text set, as well as the key skills and standards and at-home activities that support classroom learning. School-to-home letters and audio summaries of student texts are available in multiple languages to support students whose home language may not be English.
Relevant, Respectful, and Meaningful Content: Wonders resources have been created and curated to promote literacy and deepen understanding for every student. A commitment to multicultural education and our nation's diverse population is evident in the literature selections and themes found throughout every grade. The authors of the texts in Wonders are also diverse and represent a rich range of backgrounds and cultures, which they bring to their writing.
Professional Learning: A comprehensive set of resources in Wonders assists administrators and teachers in a successful implementation of the program to ensure teacher and student success. Information embedded in the Teacher's Edition and targeted components such as the Instructional Routines Handbook, as well as online Professional Learning Videos and resources, provide a wide range of support.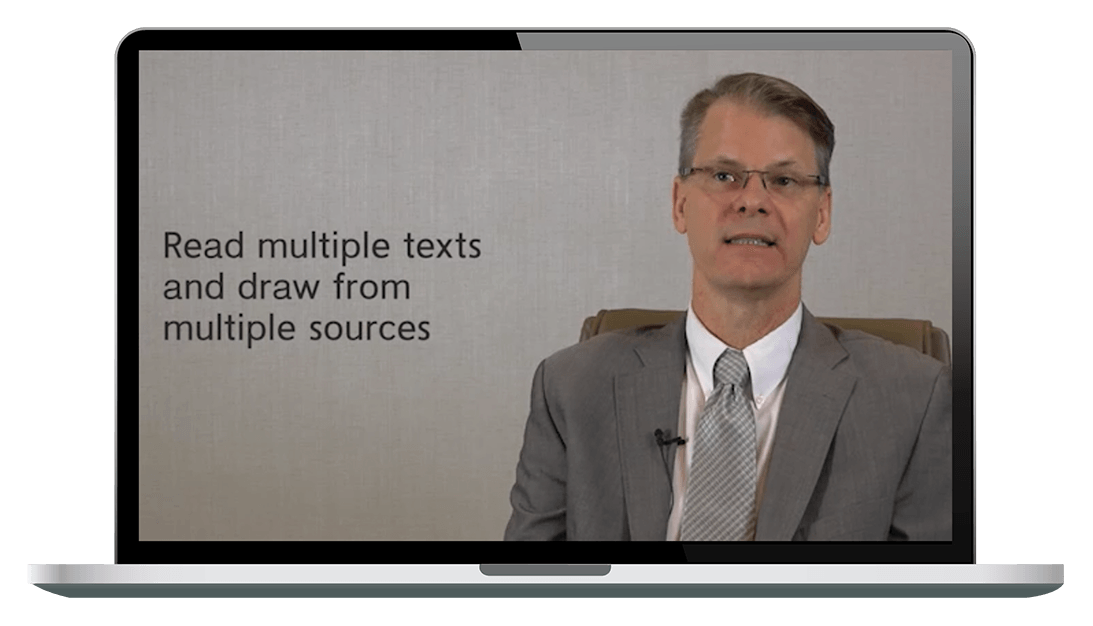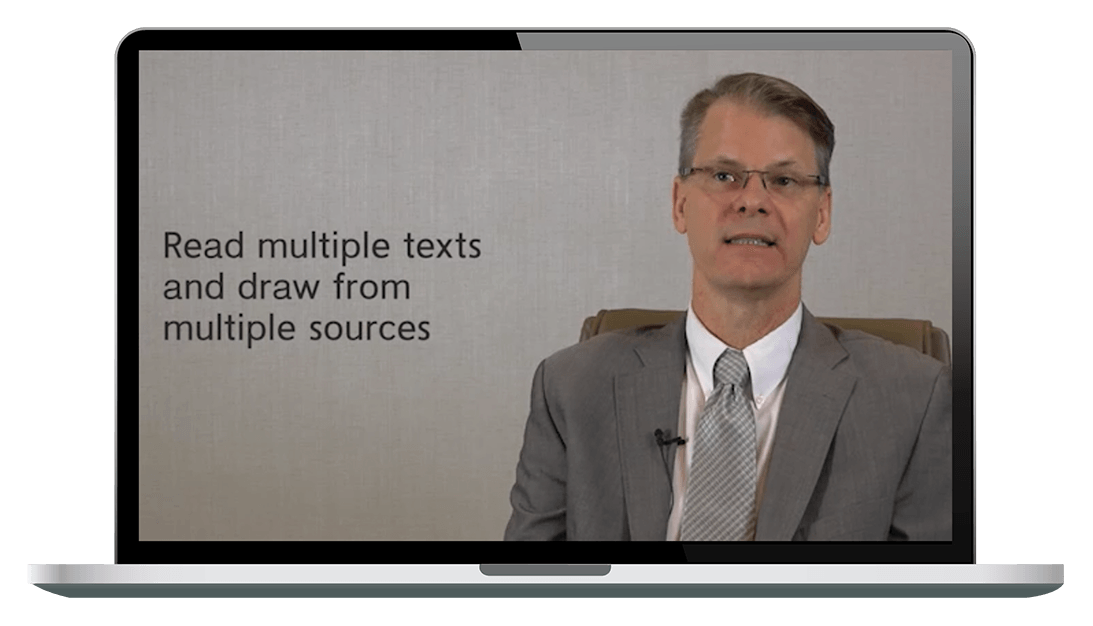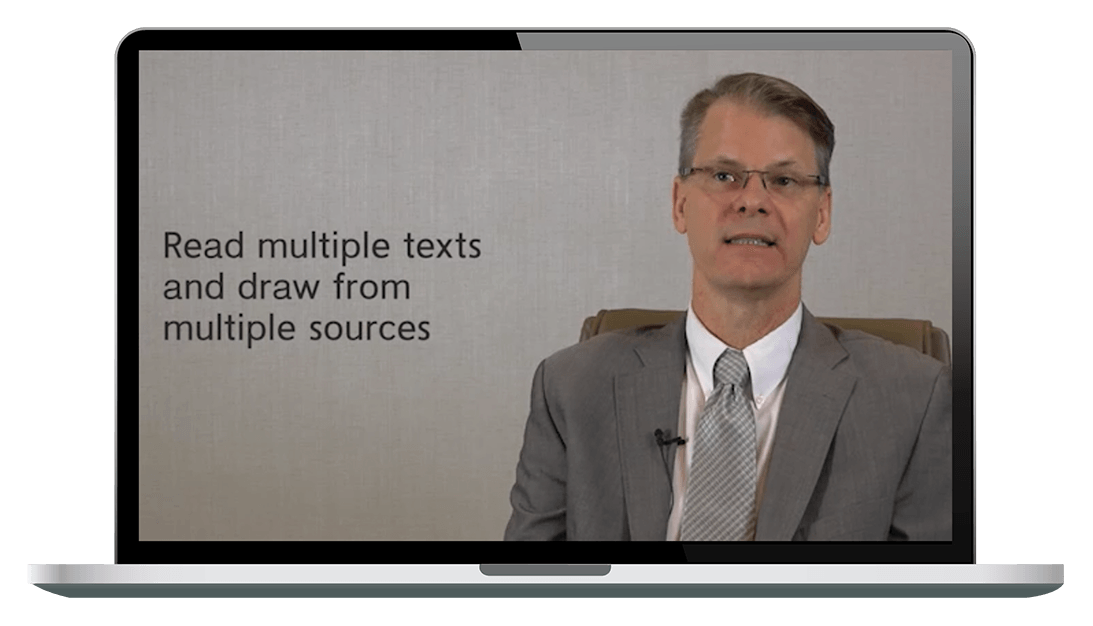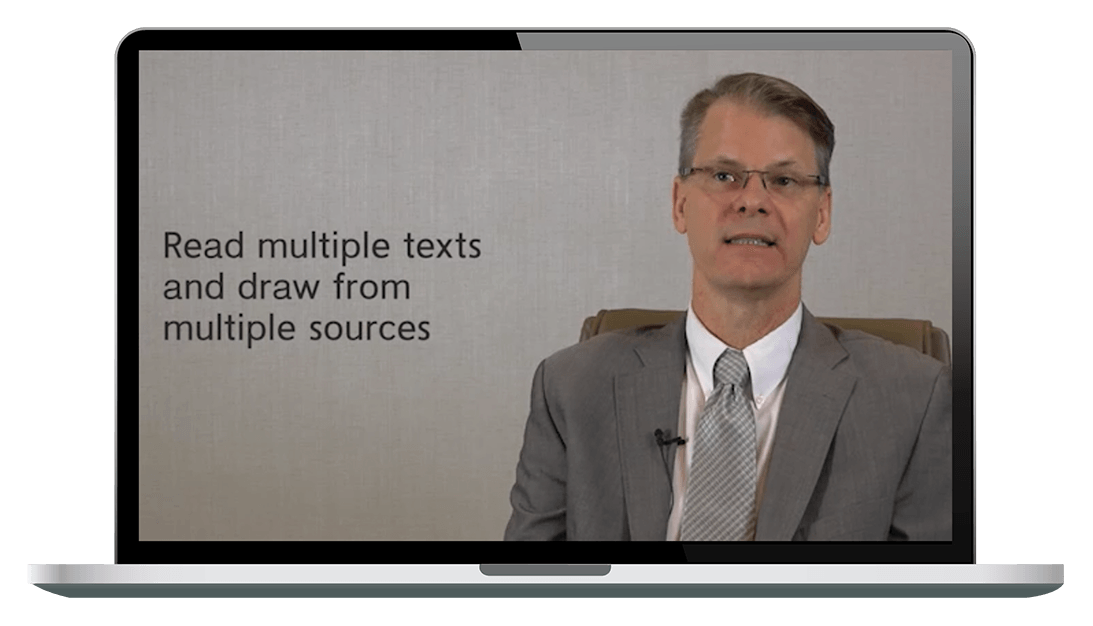 Building on the Strengths of English Learners
The English language learners in your classroom are not "blank slates." Their oral language proficiency and literacy in their first languages can be used to facilitate literacy development in English. Systematic, explicit, and appropriately scaffolded instruction and sufficient time help English language learners attain English proficiency and meet high standards in core academic subjects.




Your English language learners may have different language abilities depending on their proficiency levels. They can be newcomers, beginners, intermediate, or advanced/advanced-high, and their abilities may vary in listening, speaking, reading and writing.Wonders provides whole group, integrated scaffolded instruction at several proficiency levels to support English learners in both content and language acquisition.
Research shows that for English language learners, exposure to grade-level content provides crucial access to the language required for academic achievement and for becoming fully proficient in English. Because grade-level materials are challenging for ELLs, instruction must be coupled with methods that support ELLs.
Wonders provides scaffolded texts to support ELLs at various levels of proficiency, as well as opportunities for students to "level up", and research-based routines that are designed to support ELLs. Teacher's Edition lessons provide opportunities for oral language development. Providing multiple opportunities to speak in the classroom and welcoming all levels of participation will motivate English language learners to participate in class discussions and build oral proficiency. These basic teaching strategies will encourage whole class and small group discussions for all English language learners. In this collaborative environment, students can connect what they already know to grade-level content in order to acquire new knowledge and build literacy.
Find out which instructional supports for ELLs can improve outcomes in this paper from Dr. Jana Echevarria, Wonders author and co-author of the SIOP model.C