The Digital Experience for the Wonders Literacy Curriculum
Explore the Digital Learning Experience
The resources within Wonders are designed to make technology purposeful to support the work you do in the classroom. The Wonders curriculum can be taught 100 percent digitally, with resources available online to help teachers plan and customize lessons and for students to read and complete assignments.
Wonders Walkthrough and Digital Access
Experience the digital features in Wonders by taking the guided Digital Walkthrough. See how Wonders helps simplify lesson planning, grading, and progress monitoring.
Now, see how Wonders comes alive in your classroom. Request a free, 30-day digital trial.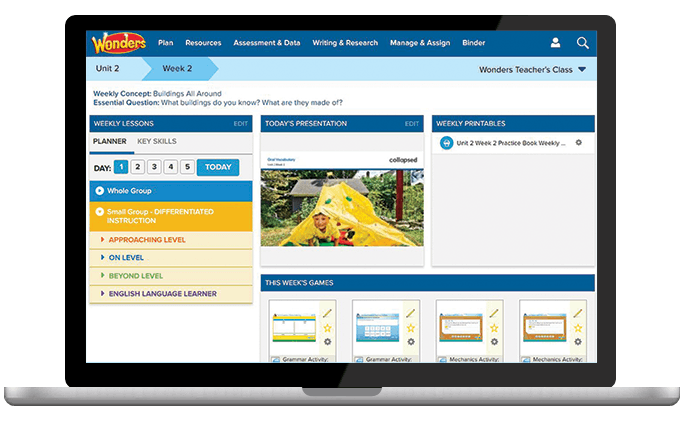 Wonders Data Dashboard
Transform Data Into Action
The Wonders Data Dashboard is an interactive, responsive reporting tool for educators. Drawing on performance data from student assessments, online activities, and observational rubrics, Wonders Data Dashboard:
Enables immediate, leveled re-teaching and targeted assignments.
Groups students automatically to recommend individual lessons.
Reports results at the individual, class, and district levels.
Tracks progress in key literacy skills and standards.
Share how you use Wonders in your classroom by using the hashtag #ReadingWonders when you post on social media.