McGraw-Hill Reading Wonders 2014
Grade Levels: K-6
Reading Wonders is the first and only reading program designed specifically for the Common Core State Standards for Reading/Language Arts. Combining research-based instruction with new tools to meet today's challenges, every component and every lesson is designed for effective and efficient CCSS instruction.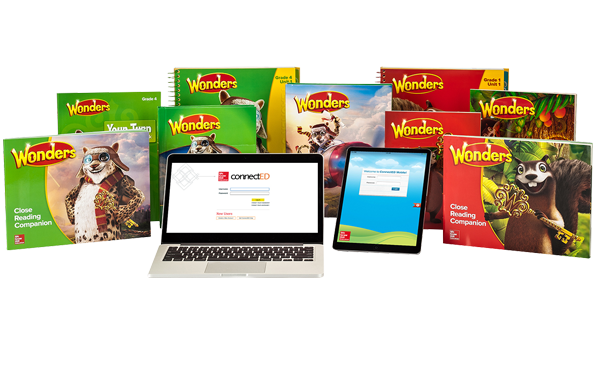 About the Program
Using a rich range of diverse print and digital media, Reading Wonders provides the instructional support and materials you will only find in a program that was created to teach the rigor, intent, and depth of the new Common Core State Standards.
The program provides unmatched support for
Building a strong reading foundation

Accessing complex text

Finding and using text evidence

Engaging in collaborative conversations

Writing to sources
eAssessment - 2014 SIIA CODiE Finalist
Everything you need to administer tests and track data – completely online! Included as part of your McGraw-Hill program purchase, eAssessment contains a robust test generator, differentiated online administration options, complete CCSS reporting capabilities and easy access from any device.

Program Components
Core Reading, Grade 2, Decodable Reader Package 6 Of 6

Lectura Maravillas, Classroom Library Package, Grade 2

Lectura Maravillas, Classroom Library Package, Grade 3

Lectura Maravillas, Grade 1, Classroom Library Package

Lectura Maravillas, Grade 1, Workstation Activity Cards Package (4 Cards)

Lectura Maravillas, Grade 2, Workstation Activity Cards Package (4 Cards)

Lectura Maravillas, Grade 3, Workstation Activity Cards

Lectura Maravillas, Grade 4, Classroom Library Package

Lectura Maravillas, Grade 4, Workstation Activity Cards Package, (4 Cards)

Lectura Maravillas, Grade 5, Workstation Activity Cards Package (4 Cards)

Lectura Maravillas, Grade K, Workstation Activity Cards

Reading Wonders Reading Response Boards Grade K/1
Countdown to Common Core Assessment Grade 6: ELA

Countdown to Common Core Assessments Grade 2: ELA

Countdown to Common Core Assessments Grade 3: ELA

Countdown to Common Core Assessments Grade 4: ELA

Countdown to Common Core Assessments Grade 5: ELA

Lectura Maravillas, Grade 1, Weekly Assessment

Lectura Maravillas, Grade 2, Teachers Edition Package, Grade 2

Lectura Maravillas, Grade 2, Teachers Edition Volume 1

Lectura Maravillas, Grade 2, Teachers Edition Volume 2

Lectura Maravillas, Grade 2, Weekly Assessment

Lectura Maravillas, Grade 3, Teachers Edition Package

Lectura Maravillas, Grade 3, Teachers Edition Volume 1
Lectura Maravillas, Grade 1, High Frequency Word Cards

Lectura Maravillas, Grade 1, Your Turn Practice Book

Lectura Maravillas, Grade 2, High-Frequency Word Cards

Lectura Maravillas, Grade 3, Your Turn Practice Book

Lectura Maravillas, Grade K, Retelling Cards

Lectura Maravillas, Grades 2-5, Reading Response Boards

Lectura Maravillas, Grades K-1, Reading Response Board

Reading Wonders Benchmark Assessment Grade K

Reading Wonders Interactive Read-Aloud Cards Grade K

Reading Wonders Leveled Reader Lesson Cards Grade 1

Reading Wonders Leveled Reader Lesson Cards Grade 2

Reading Wonders Leveled Reader Lesson Cards Grade 3
Narrow by
Clear All Filters
Products
To learn about the specific purchase options for this program, please contact our Customer Service team at 800-338-3987
Additional Details & Resources