High-Performance Writing
Grade Levels: 1-13
A comprehensive program designed for all students including special education and ESL populations, High Performance Writing helps students master skills addressed in state standards. Writing and revising strategies included in the program help students incorporate the six traits of effective writing.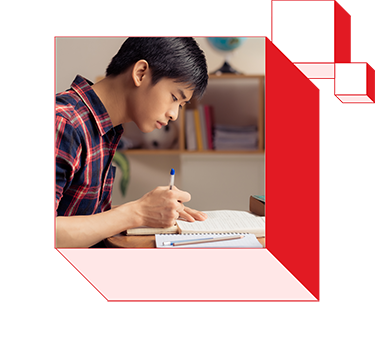 About the Program
Using the direct-instruction method, High-Performance Writing addresses the writing instruction needs of all students including special education and ESL students. Each unit follows a sequence of instruction and contains a complete sequence of activities to achieve a particular piece of writing. Terry Dodds, author of several other SRA direct-instruction programs including Readers and Writers, Learning Through Literature, and Language for Learning, developed the program.
Features:
Units built around specific topics address the writing genre frequently identified in state frameworks, allowing you to target grade-appropriate writing skills.
Straightforward lessons provide the scaffolding students need to internalize the writing process and emerge as independent writers.
Writing and revising strategies help students incorporate the six traits of effective writing.
High-Performance Writing is a comprehensive resource that gives you ways to get your students writing right away. The lesson plans that make up each unit are based on key traits of effective writing and provide:
Instructional practices substantiated by research
Explicit strategies for writing
Clear procedures for implementing those strategies
Detailed scoring rubrics to help you assess writing objectively
Skill instruction at points when students will use the skill in their writing
Instruction in basic grammar and language usage
Practice in demand-writing to develop fluency and expression
Processes that help children produce pieces that are polished, expansive, expressive
Components:
Writing Units
Writing Units contain placement tests, daily lesson plans and blackline masters for activities that help students develop their ideas, organization, and voice.
Writer's Guide
Writer's Guide provides efficient review and practice of mechanics, grammar, and usage and suggestions for using technology for proofreading and publishing.
Complete Package
Complete Packages include six Writing Units, Writer's Guide, and the Program Guide.
Program Guide
Program Guide - a handy reference with assessment tools, writing samples, and a bibliography of children's literature to use as models.
Program Components
High-Performance Writing Advanced Level, Expository Writing

High-Performance Writing Advanced Level, Persuasive Writing

High-Performance Writing Advanced Level, Program Guide

High-Performance Writing Advanced Level, Report Writing

High-Performance Writing Beginning Level, Expository Writing

High-Performance Writing Beginning Level, Narrative Writing

High-Performance Writing Beginning Level, Persuasive Writing

High-Performance Writing Beginning Level, Report Writing

High-Performance Writing Beginning Level, Writer's Guide

High-Performance Writing Intermediate Level, Narrative Writing
High-Performance Writing Beginning Level, Practical Writing
Narrow by
Clear All Filters
Products
To learn about the specific purchase options for this program, please contact our Customer Service team at 800-338-3987
Additional Details & Resources