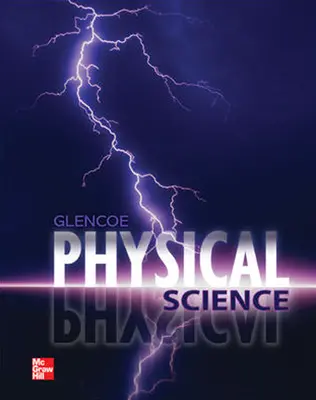 Glencoe Physical Science © 2012
Glencoe Physical Science integrates accurate and comprehensive coverage of physics and chemistry with mathematics through accessible text, engaging features, and a variety of hands-on experiences. The critical-thinking opportunities, real-world applications, and technology resources lead students to a deeper understanding of physical science, while building science process skills.

Glencoe Physical Science leverages technology to drive personalized student success while engaging and motivating students with hands-on, project-based activities and real-world applications.
The increased pace of change in education in the last few years has created seismic shifts in the delivery and consumption of educational materials. Students want to connect what they learn in the classroom to what they see happening in the real world – today. Helping students draw these parallels and keeping them engaged is what McGraw-Hill is all about. We deliver to you the most effective, innovative, and inspiring high school physical science curriculum that meets both Next Generation Science Standards (NGSS) and local science standards. Glencoe Physical Science comes alive with engaging, relevant, explorations geared toward building an in-depth understanding of the Big Ideas of the physical world, combining dynamic content, engaging lab experiences, and a rich array of resources.
Whether you're looking for a hybrid digital-print or a digital-first program, Glencoe Physical Science gives you proven, comprehensive content with real-world applications to help your students lead the way in physical science!