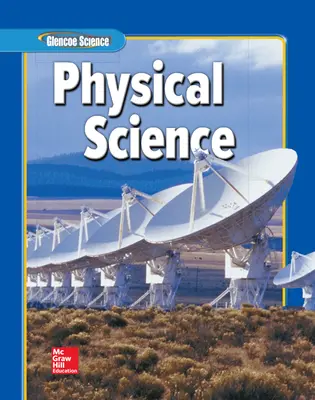 Glencoe Physical Science © 2005
Glencoe Physical Science integrates accurate and comprehensive coverage of physics and chemistry with mathematics through accessible text, engaging features, and a variety of hands-on experiences. The critical-thinking opportunities, real-world applications, and technology resources lead students to a deeper understanding of physical science, while building science process skills.

With Glencoe Physical Science, you can:
Meet every student's reading needs with our comprehensive reading strand—from in-text features to ancillary components.
Help students learn with step-by-step math support. Students are guided through solving the problem and the final step of checking their answer. Extra practice problems are in the book and on the Web site
Supply you and your students with ongoing formative and summative assessment tools. Make sure your students understand the concepts from the beginning of the chapter to the final exam.
Provide the entire content of the Student Edition written at a lower level with Reading Essentials — a perfect solution for struggling readers and ELL students.
Contents:
Unit 1 Energy and Motion
The Nature of Science
Motion
Forces
Energy
Work and Machines
Thermal Energy
Unit 2 Electricity and Energy Resources
Electricity
Magnetism and Its Uses
Energy Sources
Unit 3 Energy on the Move
Waves
Sound
Electromagnetic Waves
Light
Mirrors and Lenses
Unit 4 The Nature of Matter
Classification of Matter
Solids, Liquids, and Gases
Properties of Atoms and the Periodic Table
Radioactivity and Nuclear Reactions
Unit 5 Diversity of Matter
Elements and Their Properties
Chemical Bonds
Chemical Reactions
Unit 6 Interactions of Matter
Solutions
Acids, Bases, and Salts
Organic Compounds
New Materials Through Chemistry