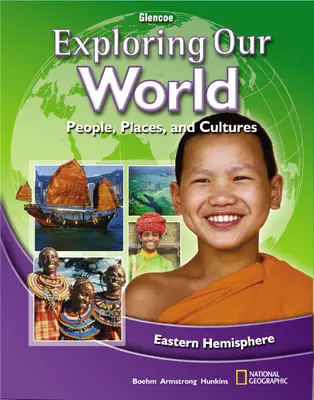 Exploring Our World, Eastern Hemisphere © 2010
Exploring Our World is a middle school program co-authored by National Geographic. This program introduces students to an enriched view of the interrelationships of geography, history, economics, government, citizenship, and current events—in one compelling package. A strong geographic thread is interwoven with history, government, and current events to analyze different regions of the world and the issues they face.
Suitable for a world geography or world cultures class, Exploring Our World is available as a full survey; Eastern Hemisphere; and Western Hemisphere, Europe, and Russia.
Contents:
Unit 1 The World
Chapter 1 Using Geography Skills
Chapter 2 Earth's Physical Geography
Chapter 3 Earth's Human and Cultural Geography
Unit 2  Europe
Chapter 4 Physical Geography of Europe
Chapter 5 History and Cultures of Europe
Chapter 6 Europe Today

Unit 3  Russia
Chapter 7 Physical Geography of Russia
Chapter 8 History and Cultures of Russia
Chapter 9 Russia Today
Unit 4 North Africa, Southwest Asia, and Central Asia
Chapter 10 Physical Geography of North Africa, Southwest Asia, and Central Asia
Chapter 11 History and Cultures of North Africa, Southwest Asia, and Central Asia
Chapter 12 North Africa, Southwest Asia, and Central Asia Today
Unit 5  Africa South of the Sahara
Chapter 13 Physical Geography of Africa South of the Sahara
Chapter 14 History and Cultures of Africa South of the Sahara
Chapter 15 Africa South of the Sahara Today
Unit 6  South Asia
Chapter 16 Physical Geography of South Asia
Chapter 17 History and Cultures of South Asia
Chapter 18 South Asia Today
Unit 7 East Asia and Southeast Asia
Chapter 19 Physical Geography of East Asia and Southeast Asia
Chapter 20 History and Cultures of East Asia and Southeast Asia
Chapter 21 East Asia and Southeast Asia Today
Unit 8 Australia, Oceania, and Antarctica
Chapter 22 Physical Geography of Australia, Oceania, and Antarctica
Chapter 23 History and Culture of Australia, Oceania, and Antarctica
Chapter 24 Australia, Oceania, and Antarctica Today