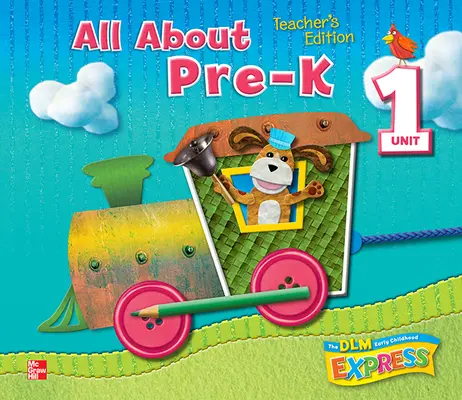 DLM Early Childhood Express
This exciting early childhood program guides children along the proven track to academic success! The DLM Early Childhood Express® offers a comprehensive child-centered curriculum with teacher support and 21st century technology.

The DLM Early Childhood Express is a holistic, child-centered program that nurtures each child by offering focused, meaningful instruction that is developmentally appropriate. The complete system provides a wealth of English and Spanish materials to help foster the social-emotional, intellectual, and physical development of children.
Focused Instruction

Children learn best by connecting what they know with what they learn. Essential Questions in units connect children to new ideas and understanding.
Meaningful Instruction
Easy-to-use lessons link essential disciplines to make instruction more relevant and help children recognize patterns in learning.

Social-emotional development is addressed everyday through positive reinforcement, interactive activities, and engaging songs to help model and build interpersonal skills.
Reading/ language arts lessons are focused on language acquisition which include oral language development and vocabulary activities.
Mathematics is based on Building Blocks, the result of NSF-funded research, and designed to develop children's early mathematical knowledge through various individual and group activities.
Science instruction provides students with skills in investigating and observing scientific concepts and methods during weekly science-focused, large-group activities, and Center Time activities.
Fine arts provides student opportunities for expressing art, dance, and music.
Social studies is addressed weekly and allows children to learn about community, history, geography, and citizenship.
Physical movement is integrated into each lesson to help each child develop appropriate gross and fine motor skills.
Technology skills for the 21st century are incorporated each week with the use of online math activities, computer time, and eBooks.
Health and safety lessons help children begin to make good decisions about healthy living and safety.
The DLM Early Childhood Express provides literature, technology, and teacher resources in English and Spanish to help every teacher set up and deliver a dynamic learning environment for all children.