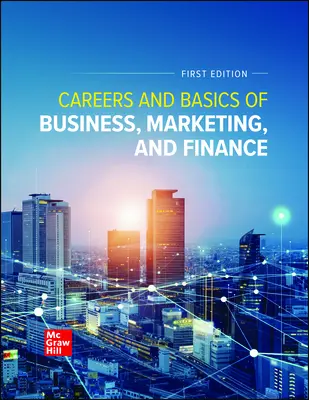 Careers and Basics of Business, Marketing, and Finance ©2024
Careers and Basics of Business, Marketing, and Finance is the high school student's guide to exploring and understanding how companies operate and the key occupations that lead organizations.

Nearly every student will go on to work for or run a business at some point, and a basic understanding of how businesses and functional groups within companies operate will help them succeed. 
Designed with student engagement in mind, students will gain a broad, foundational introduction to critical business functions. What are the important principles that guide companies and industries each day? How does interdepartmental collaboration impact performance? Students experience these questions and more first-hand as they walk the halls of a company" experiencing real-life business scenarios and authentic decision simulations.
• Digital teaching resources
including pacing guide, presentation materials for each chapter, discussion prompts, extensive question and assessment bank.

• Detailed Instructor Manual
including "Module-at-a-Glance" and "how-to" use questions to engage students to discover the "why" behind discussion prompts.
• High-quality simulations
that allow students to observe and react to authentic experiences and receive instant feedback.
• Over 900 business-related questions and exercises to build critical soft skills. • Updated content and real-world business scenarios.• Built using Blooms Taxonomy
and motivational strategies based on the
Keller's ARCS Model.
See Resources Tab for additional information. 
Students that have completed our foundational Careers and Basics of Business course may find our intermediate business explorations course,
Business Foundations © 2021
more suitable.
Click here to view the program: 
Business Foundations: A Changing World, 2021