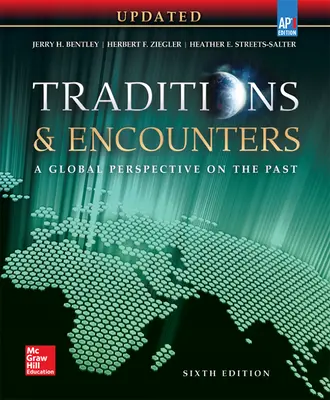 Bentley, Traditions & Encounters: A Global Perspective on the Past UPDATED 6e, AP Edition ©2017
Traditions & Encounters new Advanced Placement Updated Edition text and supplemental materials have been revised to support teachers and students as they transition into the new AP World History course and exam beginning in 2016. Integrated AP features and hundreds of primary documents and images enhance the learning experience and prepare students for the new AP World History Redesigned Exam.

The Updated AP Edition engages AP teachers and students through:
NEW AP-style Test Practice multiple choice, short answer, and long essay questions at the end of each chapter help students prepare for these new test items.
NEW AP Test Banks match the question type, style, and rigor of the newly redesigned AP Exam.
NEW AP Teacher Manual helps teachers transition seamlessly into teaching the new course with extended subthemes and new exam style and format.
NEW Primary Source Library is organized by Historical Time Period. Each Time Period includes a variety of primary sources and historical arguments, and a set of focused documents and images to analyze and interpret one topic in depth.
AP Themes-based Part Openers illustrate themes and new thematic learning objectives in context and help students connect themes across time.
AP Chapter Focus features in Chapter Opener spreads highlight the vital content for AP Exam success.
The best prepared students use Bentley's Traditions & Encounters!