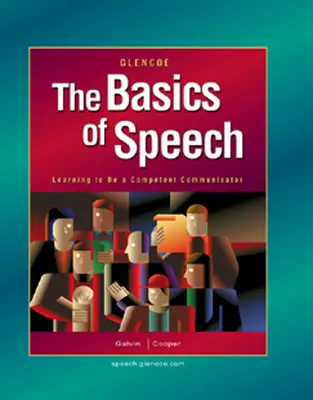 The Basics of Speech: Learning to be a Competent Communicator
The Basics of Speech teaches students to be more competent communicators by helping them understand the communication process, appreciate their own communication skills, and develop greater strengths in communication. The text is based on five communication functions identified by the National Communication Association: controlling, feeling, informing, ritualizing, and imagining, and is ideal for both middle and high school.

In the Program Highlights section of the Teacher's Resource Book, the authors write: "Young adolescents are concerned about building relationships with their peers, becoming more adept at socializing, formulating reasons for their actions and beliefs, evaluating the messages of others, and becoming more skilled at speaking in front of others." Young adolescents are deciding "who they are and how they fit in." The educational experiences in The Basics of Speech are designed to help students build confidence in their communication abilities as they make these decisions.
Contents:
Unit 1: The Basics of Communication
Chapter 1 - The Communication Process
Chapter 2 - Elements of Communication
Chapter 3 - The Work of Speaking and Listening
Chapter 4 - The Competent Communicator
Unit 2: Communication with Self and Others
Chapter 5 - Communication and Yourself
Chapter 6 - Communication with Others
Unit 3: Group Communication
Chapter 7 - Communication in Groups
Chapter 8 - Forms of Group Discussion
Unit 4: Public Communication
Chapter 9 - Introduction to Public Speaking
Chapter 10 - Finding and Using Information
Chapter 11 - Constructing the Speech
Chapter 12 - Delivering the Speech
Chapter 13 - Creating the Informative Speech
Chapter 14 - Creating the Persuasive Speech
Chapter 15 - Learning about Debate
Unit 5: Interpretive Communication
Chapter 16 - Preparing for Oral Interpretation
Chapter 17 - Performing Oral Interpretation
Chapter 18 - Group Interpretation