Integrated iScience © 2012
Grade Levels: 6-12
Designed for today's tech-savvy middle school students, the McGraw-Hill Education iScience program offers hands-on investigations, rigorous science content, and engaging, real-world applications to make science fun, exciting, and stimulating.
With iScience you can teach with confidence. Trust McGraw-Hill Education to deliver a truly comprehensive solution that provides the academic rigor and scientific accuracy you need, and the relevant hands-on learning opportunities and dynamic digital resources students want.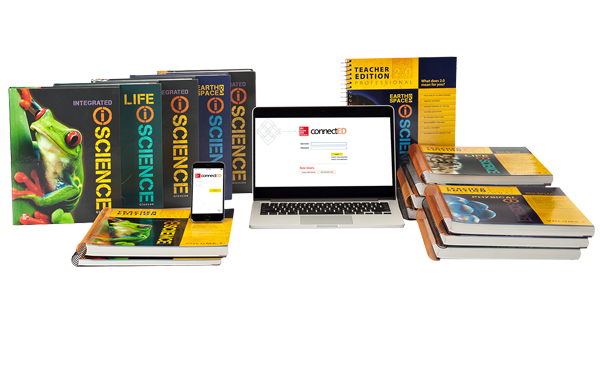 About the Program
We are your partner in delivering a balanced learning experience to meet the needs of your diverse 21st century students. The McGraw-Hill Education iScience program engages students with project-based learning activities to demonstrate how science solves real-world problems.
With iScience, you are equipped to:
Meet science standards Performance Expectations (PEs)
Integrate scientific and engineering practices into your science classroom
Apply the Disciplinary Core Ideas (DCIs)
We firmly believe that the betterment of people, communities, and the world is grounded in education without limits—exclusive to no one, personalized to everyone.
---
eAssessment - 2014 SIIA CODiE Finalist
Everything you need to administer tests and track data – completely online! Included as part of your McGraw-Hill program purchase, eAssessment contains a robust test generator, differentiated online administration options, complete CCSS reporting capabilities and easy access from any device.

Program Components
Glencoe Integrated iScience, Course 1, Grade 6, Classroom Presentation Toolkit CD

Glencoe Integrated iScience, Course 1, Grade 6, Teacher Classroom Resources

Glencoe Integrated iScience, Course 2, Grade 7, Classroom Presentation Toolkit CD 2012

Glencoe Integrated iScience, Course 2, Grade 7, Teacher Classroom Resources

Glencoe Integrated iScience, Course 3, Grade 8, Classroom Presentation Toolkit CD

Glencoe iScience, Grade 6-8, What's Science Got to Do With It? DVD'

Glencoe iScience, Integrated Course 3, Grade 8, Teacher Classroom Resources

Glencoe iScience, Level Blue, Grade 8, Dinah Zike's Teaching Science with Foldables CD-ROM
Glencoe Integrated iScience, Course 1, Grade 6, ExamView Assessment Suite CD-ROM

Glencoe Integrated iScience, Course 1, Grade 6, Reading Essentials, Answer Key

Glencoe Integrated iScience, Course 1, Grade 6, Science Notebook, Teacher Edition

Glencoe Integrated iScience, Course 1, Grade 6, Teacher Edition, Volume 1

Glencoe Integrated iScience, Course 1, Grade 6, Teacher Edition, Volume 2

Glencoe Integrated iScience, Course 1, Grade 6, eTeacherEdition DVD

Glencoe Integrated iScience, Course 2, Grade 7, ExamView Assessment Suite CD-ROM

Glencoe Integrated iScience, Course 2, Grade 7, Reading Essentials, Answer Key

Glencoe Integrated iScience, Course 2, Grade 7, Science Notebook, Teacher Edition

Glencoe Integrated iScience, Course 3, Grade 8, ExamView Assessment Suite CD-ROM

Glencoe Integrated iScience, Course 3, Grade 8, Teacher Edition, Volume 1

Glencoe Integrated iScience, Course 3, Grade 8, Teacher Edition, Volume 2
Glencoe Integrated iScience, Course 1, Grade 6, Student Edition

Glencoe Integrated iScience, Course 1, Grade 6, StudentWorks Plus DVD

Glencoe Integrated iScience, Course 1, Grade 6, iScience Notebook, Student Edition

Glencoe Integrated iScience, Course 2, Grade 7, Science Notebook, Student Edition

Glencoe Integrated iScience, Course 2, Grade 7, Student Edition

Glencoe Integrated iScience, Course 2, Grade 7, StudentWorks Plus DVD

Glencoe Integrated iScience, Course 3, Grade 8, Reading Essentials, Student Edition

Glencoe Integrated iScience, Course 3, Grade 8, Student Edition

Glencoe Integrated iScience, Course 3, Grade 8, iScience Notebook, Student Edition

Glencoe Mid Sch Sci, LA, SACL Grade 7 StudentWorks Plus 1-year online subscription

Glencoe iScience, Integrated Course 1, Grade 6, Digital & Print Student Bundle, 1-year subscription

Glencoe iScience, Integrated Course 1, Grade 6, Digital & Print Student Bundle, 6-year subscription
Narrow by
Clear All Filters
Products
To learn about the specific purchase options for this program, please contact our Customer Service team at 800-338-3987
Additional Details & Resources