United States History & Geography © 2013
Grade Levels: 9-12
Students explore the history of our nation in a whole new way with the first fully integrated print and digital curriculum for today's technology-ready students. Networks combines print resources grounded in solid pedagogy with a full suite of teaching and learning tools for a flexible, customized learning experience.

Visit McGrawHillNetworks.com for more information!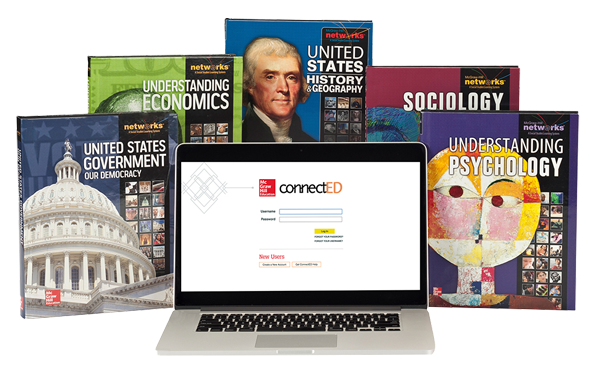 About the Program
United States History & Geography explores the history of our nation and brings the past to life for today's high school students. The program''s robust, interactive rigor includes a strong emphasis on biographies and primary sources, document-based questions, critical thinking and building historical understanding, as well as on developing close reading skills. Renowned authorship presents the history of the United States in a streamlined print Student Edition built around Essential Questions developed using the Understanding by Design® instructional approach.
eAssessment - 2014 SIIA CODiE Finalist
Everything you need to administer tests and track data – completely online! Included as part of your McGraw-Hill program purchase, eAssessment contains a robust test generator, differentiated online administration options, complete CCSS reporting capabilities and easy access from any device.

Program Components
United States History and Geography, Complete Classroom Set, Digital, 1-year subscription (set of 30)

United States History and Geography, Complete Classroom Set, Digital, 6-year subscription (set of 30)

United States History and Geography, Complete Classroom Set, Print & Digital, 1-year subscription (set of 30)

United States History and Geography, Complete Classroom Set, Print & Digital, 6-year subscription (set of 30)

United States History and Geography, Student Suite, 1-Year Subscription

United States History and Geography, Student Suite, 6-year subscription

United States History and Geography, Teacher Edition

United States History and Geography, Teacher Suite, 1-year subscription

United States History and Geography, Teacher Suite, 6-year subscription
United States History and Geography, Student Edition
United States History and Geography, Student Learning Center, 1-Year Subscription

United States History and Geography, Student Learning Center, 6-Year Subscription

United States History and Geography, Teacher Lesson Center, 1-Year Subscription

United States History and Geography, Teacher Lesson Center, 6-Year Subscription
Narrow by
Clear All Filters
Products
To learn about the specific purchase options for this program, please contact our Customer Service team at 800-338-3987
Additional Details & Resources