Discovering Our Past: A History of the United States, Early Years © 2013
Grade Levels: 6-8
Bring the people, issues, and events of yesterday to life for the students of today with the first truly integrated print and digital curriculum for Middle School U.S. History. Networks combines print resources grounded in solid pedagogy with a full suite of teaching and learning tools for a flexible, customized learning experience.
Visit www.McGrawHillNetworks.com for more information!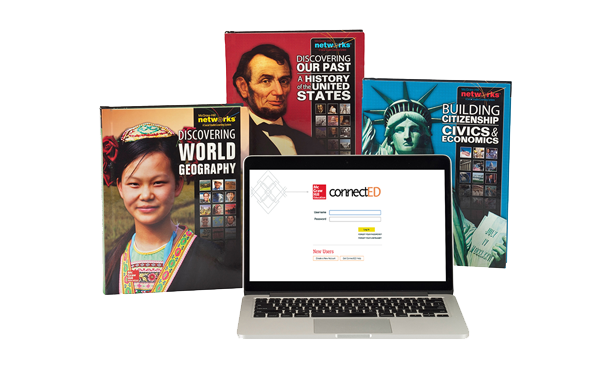 About the Program
McGraw-Hill Networks meets you wherever you are today in the use of classroom technology and takes you wherever you're going on the digital spectrum. Whether your school uses print, digital, or a combination of both, Networks combines resources into a seamless educational experience.
Trusted core print Student Edition and Teacher Edition
Dynamic digital resources for students and teachers
Robust management, communication, and collaboration tools
Each link in the Networks program provides you with the content and tools you need.
Powerful, standards-based curriculum to ensure mastery
Hands-on, interactive activities to bring abstract concepts to life
Project-based learning opportunities to increase critical thinking, engagement, and academic skill development
eAssessment - 2014 SIIA CODiE Finalist
Everything you need to administer tests and track data – completely online! Included as part of your McGraw-Hill program purchase, eAssessment contains a robust test generator, differentiated online administration options, complete CCSS reporting capabilities and easy access from any device.

Program Components
Discovering Our Past: A History of the United States-Early Years, Complete Classroom Set, Print
Discovering Our Past: A History of the United States-Early Years, Complete Classroom Set, Digital 1-Year Subscription

Discovering Our Past: A History of the United States-Early Years, Complete Classroom Set, Digital 6-Year Subscription

Discovering Our Past: A History of the United States-Early Years, Complete Classroom Set, Print and Digital 1-Year Subscription

Discovering Our Past: A History of the United States-Early Years, Complete Classroom Set, Print and Digital 6-Year Subscription

Discovering Our Past: A History of the United States-Early Years, Spanish Reading Essentials and Study Guide, Answer Key

Discovering Our Past: A History of the United States-Early Years, Student Suite, 1-Year Subscription

Discovering Our Past: A History of the United States-Early Years, Student Suite, 6-Year Subscription

Discovering Our Past: A History of the United States-Early Years, Teacher Suite, 1-Year Subscription

Discovering Our Past: A History of the United States-Early Years, Teacher Suite, 6-Year Subscription
Discovering Our Past: A History of the United States-Early Years, Reading Essentials and Study Guide, Answer Key

Discovering Our Past: A History of the United States-Early Years, Reading Essentials and Study Guide, Student Workbook

Discovering Our Past: A History of the United States-Early Years, Spanish Reading Essentials and Study Guide, Student Workbook

Discovering Our Past: A History of the United States-Early Years, Student Edition
Narrow by
Clear All Filters
Products
To learn about the specific purchase options for this program, please contact our Customer Service team at 800-338-3987
Additional Details & Resources