PreK–12 educators will see school pricing in their cart after logging in.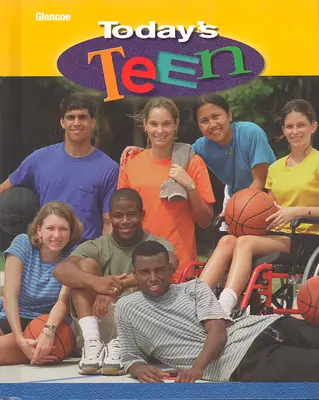 Today's Teen, Student Edition
MHID: 0078463696 | ISBN 13: 9780078463693
Payment Options: During checkout, you can pay with a P.O. (simply enter the number), Credit Card, or PayPal.
Product Details:
Equip your students, grades 7-9, with the basic life skills they'll need! This updated, 7th edition provides a hands-on approach to personal development, relationship skills, managing resources, food and nutrition, clothing, housing, and more. Special feature strands throughout the text maximize student learning. Try It Out features encourage students to use their problem-solving skills. Safety First provides students with safety tips that relate to chapter content. Making a Difference features suggest ways that students can make a difference within their families, schools, or communities. How-To features offer students practical, usable information designed to enhance the development of life skills. Take Note extends text information and highlights key topics. Career Network pages offer students insight into the world of work within the various career clusters. Linking School to Career activities help students explore careers of interest.
All Features
Comprehensive program for grades 7-9 emphasizes practical skills today's teens need. Students learn necessary skills from an upbeat, reader-friendly text.
Encourages practical, hands-on learning. Students become engaged, active learners.
Offers flexible course organization so teachers can choose Units/Chapters in any sequence to fit course needs.
Unit 1: You and Your World
Chapter 1 Reaching Your Potential
Chapter 2 Growing and Changing
Chapter 3 Building Character
Chapter 4 Taking Responsible Action
Unit 2: Exploring Careers
Chapter 5 Pathways to Careers
Chapter 6 Workplace Skills
Chapter 7 Entering the World of Work
Unit 3: Building Relationship Skills
Chapter 8 Respecting Others
Chapter 9 Communication Skills
Chapter 10 Conflict Resolution
Chapter 11 Dealing with Peer Pressure
Unit 4: Your Friends and Family
Chapter 12 Quality Friendships
Chapter 13 Going Out with Friends
Chapter 14 Building Strong Families
Chapter 15 Family Changes and Challenges
Unit 5: Relating to Children
Chapter 16 How Children Grow
Chapter 17 Caring for Children
Chapter 18 Understanding Parenting
Unit 6: Managing Your Life
Chapter 19 The Balancing Act
Chapter 20 Managing Money
Chapter 21 Living with Technology
Chapter 22 Making Consumer Choices
Chapter 23 Conserving the Environment
Unit 7: Your Health and Wellness
Chapter 24 Good Health
Chapter 25 Staying Fit
Chapter 26 Health Risks
Chapter 27 Personal Safety
Unit 8: Food and Nutrition
Chapter 28 How Nutrients Work
Chapter 29 Guidelines for Healthy Eating
Chapter 30 Making Food Choices
Chapter 31 Buying and Storing Food
Chapter 32 Eating Together
Unit 9: Working in the Kitchen
Chapter 33 Kitchen Equipment
Chapter 34 Safety and Sanitation
Chapter 35 Recipes and Measuring
Chapter 36 Quick Meals and Snacks
Chapter 37 Basic Cooking Techniques
Chapter 38 Preparing Grains, Fruits, and Vegetables
Chapter 39 Preparing Protein and Dairy Foods
Unit 10: Clothing
Chapter 40 Clothing that Suits You
Chapter 41 Fibers to Fabrics
Chapter 42 Caring for Clothing
Chapter 43 Sewing Equipment
Chapter 44 Preparing to Sew
Chapter 45 Basic Sewing Techniques
Unit 11: Housing and Interiors
Chapter 46 Where You Live
Chapter 47 Decorating Living Space
Chapter 48 A Clean, Safe Home